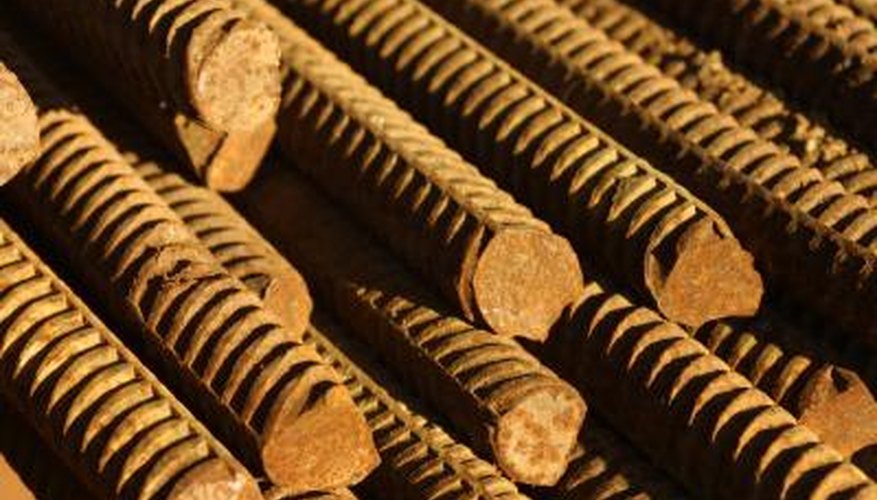 Rebar is a metal rod intended to help reinforce a concrete driveway, patio or stairs. In order for rebar to give the strongest reinforcement possible, it should form a grid pattern and be positioned about 2 inches above ground level. Elevating the rebar allows cement to be poured both underneath and on top of the rebar. Rebar is sold at home builder's supply stores and comes in a variety of lengths and diameters. Ask a knowledgeable store employee what type of rebar will work best with your specific project.
Step 1
Lay the rebar in a grid pattern across the length and width of your cement project. Position the rebar 18 to 24 inches apart, so they form perfect grid squares. Keep the last piece of rebar, horizontal with that edge, about 15 inches away from the edge.
Step 2
Connect overlapping rebar by tying them together with a rebar tie wire. Wrap the wire around the two rebars to form an "X." Then twist the ends around themselves. Use pliers to bend the wire, if necessary. Repeat at each point where rebar overlaps.
Step 3
Position rebar supports underneath the rebar so it does not sag. To install a rebar support, gently lift the rebar, slide the support underneath so the rebar rests in the support's groove. The number of supports you need and the distance between supports depends on the rebar's weight and the size of the project.