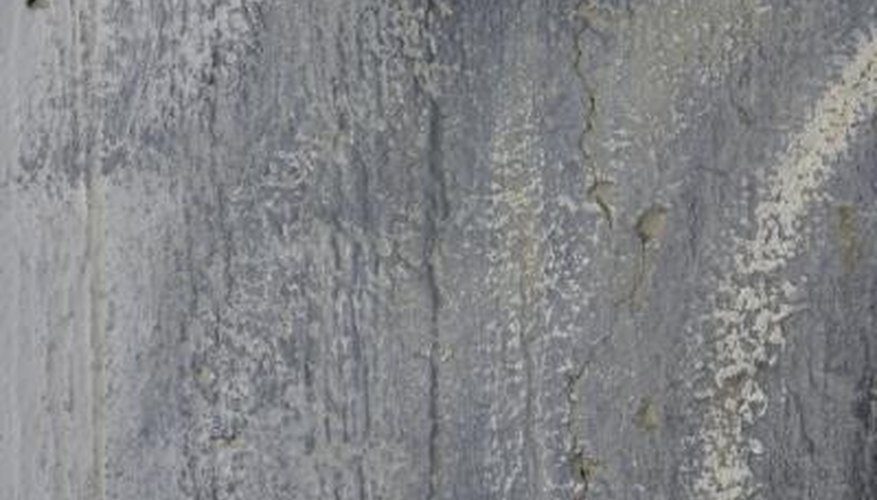 Hemera Technologies/AbleStock.com/Getty Images
If you need to cut back or grind away concrete due to a home reconstruction, remodel or repair, you will find that you do not require the assistance of a stone mason to complete the job. However, if you plan to cut the concrete, you will likely need to take a trip to a rental center to rent a concrete saw. This makes the task easier and prevents the need for you to crawl around the concrete floor on your knees with a circular saw.
Concrete Cutting
Step 1
Place one end of a chalk line at the starting point for your cut, and then place the other end of the chalk line at the end point for your cut. Snap the center of the line against the concrete. This transfers a straight line to the concrete.
Step 2
Center the blade on a walk-behind saw over the starting point of the line. Lift the blade off the ground slightly.
Step 3
Turn on the walk-behind saw and then slowly allow the blade to cut into the concrete. The blade will attempt to force the saw forward. You must hold the saw back to keep it steady.
Step 4
Move the saw forward and allow it to cut. Do not force the saw through the concrete. Stop the saw once you reach the end of the cut and then, only after the blade has stopped, lift the saw out of the concrete.
Grinding Concrete
Step 1
Remove the flapper-sanding disc from an angle grinder and install a concrete blade on the arbor of the angle grinder. To do this, remove the screw that secures the original pad to the arbor with the arbor tool, place the new blade on the arbor and then tighten the nut in place with the arbor tool.
Step 2
Turn on the angle grinder by pulling the trigger.
Step 3
Hold the blade at a 45-degree angle to the edge of the concrete, and then make contact between the blade and concrete.
Step 4
Move the grinder in a circular motion as you grind away the concrete. Stop frequently and check the blade for wear. If you see cracking, replace the blade with a new one.
Things You Will Need
Chalk line

Walk-behind concrete saw

Angle grinder

Ear plugs

Safety goggles
Tip
Always wear ear and eye protection when cutting concrete.
References