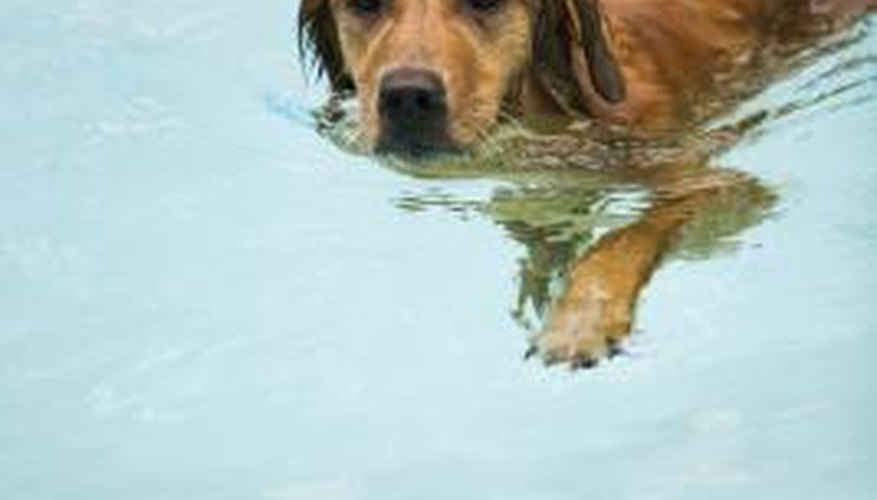 In-ground swimming pools use skimmers to filter the surface of pool water and remove floating debris from the pool. Floating objects, such as leaves and debris, float on top of the water and enter the skimmer when the weir swings open to allow access. A weir is the swinging door on the front of a skimmer that lets objects enter the skimmer but keeps them from back-flowing into the pool. Large debris, such as limbs or floating toys, can lodge in the weir and cause it to crack. Replacing your skimmer weir requires no tools and takes only a few minutes.
Step 1
Turn the pool pump and filter off so there is no water flow inside the pool.
Step 2
Open the skimmer lid by pressing down and turning it counterclockwise. Lift the lid straight off and set it aside.
Step 3
Reach down inside the skimmer to access the weir from the rear. Locate each of the two lock pins on each side of the weir bottom. Press both pins in simultaneously to unlock the weir.
Step 4
Pull the skimmer weir back from the pool wall and lift it up and out of the skimmer top.
Step 5
Hold a new weir by the top with the locking pins on the bottom facing you. Insert the weir through the skimmer opening and place it inside, aligning the pins with the holes in the skimmer.
Step 6
Slide both hands down to the bottom of the weir. Press the locking pins inward on both sides while inserting them into the skimmer holes. Release both locking pins to secure the new weir.
Step 7
Place the skimmer lid on top of the skimmer. Press down and turn the lid clockwise to lock it.
Step 8
Turn the pool pump and filter on.