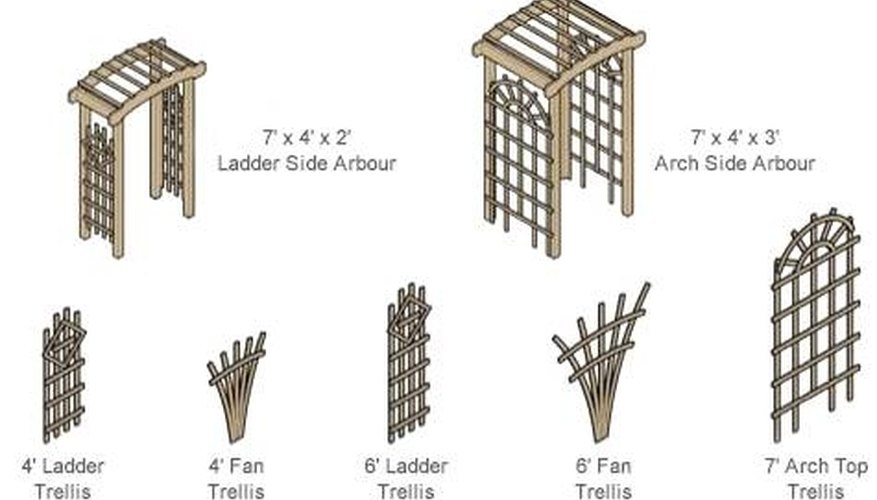 Support Group for Plants
A trellis is a support for vine and cane plants, such as the rose, clematis and morning glory. It can be made from a variety of materials, including wood, string, saplings, vines and old coaxial cable. A trellis that makes a wall at two ends, with a roof across the top, is an arbor. Arbors are used to support grapes and provide shade.
A trellis can increase yield in the garden by providing vertical support to vine plants, such as peas and beans. Squash, cucumbers, eggplant and tomatoes can also be trained onto a trellis, but the size and weight of the fruits require frequent picking to avoid loss. Trellises can provide privacy and storage and divide one portion of the garden from another to form outdoor rooms.
Teach a Vine the Way It Should Grow
Training a vine onto a trellis takes a little initial work. Wrap a tendril around the trellis, close to the ground. Check daily to ensure that the vine continues to follow the path provided by the trellis as it grows. Do not force offshoots to train onto the trellis. Offshoots that do not have flowers or bear fruit should be trimmed from the plant to force additional growth along tendrils that have already set fruit or formed flowers.
Use trellises to create green walls. An open picnic shelter can be transformed into a cool grotto by training plants along strategically placed trellises. Use thick thread or kite string to create a patterned string trellis across one or more sides. Plant clematis, grapes, sweet pea and morning glory about 1 foot apart and train the vines onto the lower strings. These fast-growing vines will finish the job on their own, twining themselves along each line of the threaded pattern until the entire wall blots out the sun.
Shaping Up
Trellises come in many shapes. They can be simple fans made from 1/2-inch, 1-inch or 2-inch stock wood, then leaned against a wall.
Tipi gardens are a grouping of triangular-shaped trellises formed into a cone.
Box trellises can include storage in the seats and across the top. They are usually made from a plywood or hardwood box with an optional hinged lid for storage and a rectangular trellis up each side and across the top made from 1-by-1/2 inch lattice on a 1-by-2 inch stock wood frame. Box trellises work well on patio gardens, as they maximize growing space while adding private seating areas. Arched trellises are used over gates and walkways. By including a variety of trellis shapes, your garden will have maximum eye appeal.