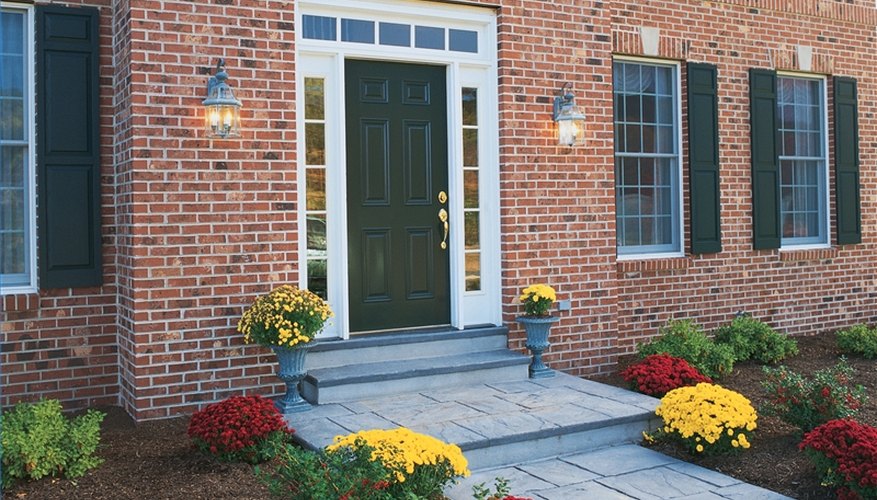 If the disheveled mess that is your front yard doesn't make you feel welcome, imagine how your guests must feel.
"You really want to create a positive, emotional reaction the moment a person arrives at your property," said Jonathan Goldstein, CEO of Beverly Hills, California-based Jonny Appleseed Landscaping. By concentrating on a few areas, you may give your home the facelift it needs to create show-stopping curb appeal.
Pull Quote
[Quote] | Your front door should be bold, almost ornamental. You want to make the visual interesting to draw people to it.
[Attribution] | Pamela Berstler, a founding member of G3, the Greens Garden Group
Where's the Door?
[Intro] |
[Body] | Part of curb appeal is being able to imagine yourself in the home, to imagine entering through the front door. But without a proper path or highlighting features, you can't see the door---or yourself inside.
"Determine how you actually approach the house from the street," said Pamela Berstler, a founding member of Los Angeles-based G3, Green Gardens Group, an organization devoted to sustainable landscape design. She suggests asking yourself questions like, "Do you walk up the driveway or is there a pathway from the sidewalk to the door?"
"There should certainly be a defined pathway to the door," said Berstler, who has been featured on HGTV and in the Los Angeles Times and Better Homes and Garden.
That defined path to the front door does not have to be ho-hum. Whether you approach from the curb or driveway, make it stand out by using patterned brick, concrete pavers, bluestone, stone pavers, gravel or crushed stone. You may highlight the path by lining it with plants or solar path lights. Make sure to keep the path clear of overgrown plants or weeds. Also, give it a bit of intrigue. "Make sure your walkway has a sense of interest and beauty," says Goldstein, whose clients include the Hotel Bel Air, Sheryl Crow and Tom Hanks, "and maybe even a little mystery." Goldstein says it's as simple as giving the path a curve rather than making a linear walkway to the door.
Even if you don't have a lot of money, Goldstein says, you may still create a sense of arrival. "You should have a nice designed area around your front," he says. "With two beautiful pots by the front door and a little planted area at the curb, you can lead your eyes to the door."
Another way to beautify your entrance is to plant a tree that can grow to create a frame around or over the door. "Trees are often associated with gracious living," Berstler says. "A deciduous tree is better than an evergreen because it has interest in all the different seasons."
And don't forget the door. "Your front door should be bold, almost ornamental," Berstler says. "You want to make the visual interesting to draw people to it." If your house lacks architectural features, your door can make up for it. Berstler suggests painting it a bold color like red, blue or plum. Another idea: Use a glass paneled door. An inexpensive way to add pizzazz is changing out dated hardware. New knobs, doorknockers and numbers will spruce up any old door.
Paints & Plants
[Intro] |
[Body] | Before beginning any paint or planting project, Goldstein suggests, take a step back (literally) and look at what is working and what isn't. "If there's a beautiful tree, I want to keep that and accentuate it," Goldstein says. "If there are a lot of bushes growing out of proportion under window, then the first thing I want to do is trim those back and balance it again. If it's not possible, then remove the shrubs that are beyond saving."
Planting is one of two upgrades that will give you the proverbial "biggest bang for your buck." "The best way to get the most emotional appeal for the least amount of money is just beautiful planting," says Goldstein. Among his favorite flowers are delphiniums and rhinoculous.
Paint is the second inexpensive upgrade that will make a huge impact. "Paint will definitely spruce up your house," Berstler says. "It's a great investment no matter where you live." If painting seems daunting, consider getting a professional to help out. It will cost a bit more, but then you won't be the one climbing on ladders to reach that second story.
With so many options in paint colors, it can be difficult to choose. Berstler suggests starting with a quick Internet search for inspiration if you have a specific style house, like a craftsman or old Victorian home. Another option is to take a stroll around the block and see what your neighbors have done. Take cues from what you like about their homes and incorporate it into your own. Goldstein advises to look for inspiration in parts of your own house that are working. If you like the color of your shutters, use that as a launching point and build your color palette around them.
One important thing to remember is that paint will look different out of the can. Goldstein recommends picking out a few color options and testing them on the house. Sample cans can be made at your local paint store for just a few dollars. "Make sure you test the colors in the sun and in shade because they will look very different in different lighting conditions," Goldstein says.
If you have a bigger budget, you can begin to consider more expensive masonry improvements, such as fixing a cracked driveway or building a new fence. Goldstein says, "This can be costly, but definitely well worth it in the long run."
Commitment to Maintenance
[Intro] |
[Body] | There's been sweat, dirt and perhaps a few wormy encounters in the process of boosting your curb appeal. After all your hard work, and money, the best thing you can do for curb appeal is not let it fall by the wayside. "Maintenance is typically the elephant in the room to any landscaping project," says Goldstein. "How you maintain your garden and what's going to happen when it's done should be thought of before you begin with any changes at all."
Goldstein says a garden needs care once or twice a week at minimum, usually more. For example, you will need to set aside time to mow a lawn, trim hedges, weed and water newly planted flowers. "A commitment of time in addition to a good gardening program is something I recommend," says Goldstein.
If you're a really busy person and you don't have a lot of time or a lot of money, there are options. "You can use granite as a walkway or a sitting area instead of a lawn," says Goldstein. "There is also a lot you can do with a succulent garden. You can plant cacti, agave or beautiful grasses that don't require a lot of water. These are simple and drought-tolerant. You can have a wonderful garden that is low-maintenance."
Curb Appeal: More than Pretty
[Intro] | For decades curb appeal had to do only with the aesthetics of your home, but it's not just about looks anymore. As people become ever more aware of depleting natural resources, the paradigm of curb appeal has shifted to be more about sustainable practices. "Many municipalities are now putting restrictions on what kind of irrigation you have and how often you can water or what to do with storm water," says Berstler.
Consider plants indigenous to the area or plants that are drought-resistant. Because lawns require so much water and other resources to be maintained, Berstler suggests alternative ground covers made of permeable materials such as gravel or decomposed granite. Just as you adopt sustainable practices like recycling inside the home, adopt them outside, too.
[Body] |
[Intro] |
[Body] |
[Intro] |
[Body] |
[Intro] |
[Body] |
[Intro] |
[Body] |
Sidebar
[Winged Friends] | As you think about plants for your garden, consider nectar-producing flowers, vines and shrubs that will attract butterflies and hummingbirds. Some things to remember when creating a hummingbird and butterfly garden:
Do a quick Internet search or consult with a local expert to find out what species are native to your area. Once you know which species are local, you may pick the appropriate plants. For example, monarchs love milkweed while black swallowtails can't resist parsley or fennel. Hummingbirds are suckers for azaleas and bee balm.

Avoid the use of insecticides, which will kill butterflies and the insects hummingbirds require as a source of protein.

After feasting on nectar, both hummingbirds and butterflies need water. A water source, like a birdbath, will keep your new friends from getting parched.