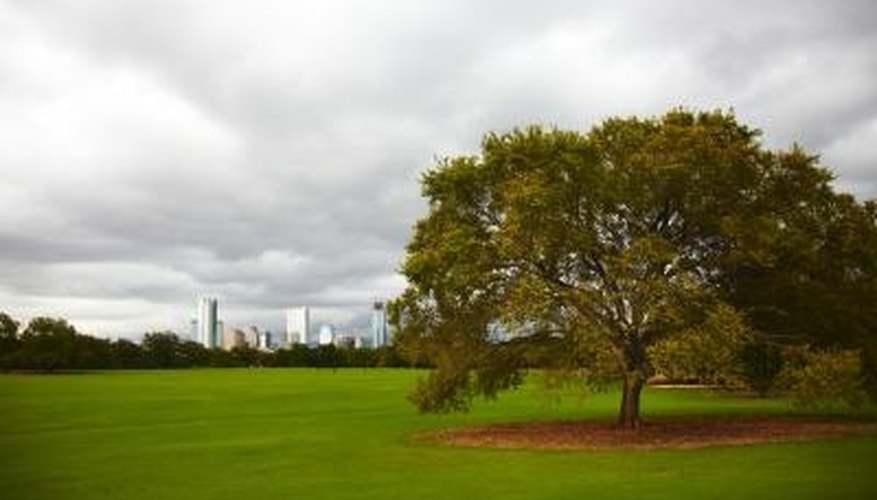 With crabgrass preventer, timing is everything. The pre-emergent herbicide has no effect once crabgrass sprouts. The application window is fairly narrow in smaller states, but timing crabgrass killer application in Texas is much more difficult to pin down.
Germination Temperatures
Understanding when crabgrass sprouts is the key to correct pre-emergent timing. Crabgrass seeds germinate when soil temperatures reach 55 to 60 degrees F and remain at that level for three to seven days. Apply crabgrass preventer roughly two weeks before soil warms to this temperature.
Spring Application
In north Texas, apply crabgrass preventer by April 1. Central Texas warms up earlier and needs an application by March 15, while southern Texas requires an application by March 1. Sunny slopes and lawns near sidewalks warm up quicker than the rest of the lawn and may need early treatment.
Summer Application
Crabgrass thrives in hot weather and continues to germinate until late summer. Treat your lawn again with crabgrass preventer six to eight weeks after the spring treatment, or according to the manufacturer's directions. Be aware that crabgrass preventer interferes with warm-season grasses. If your lawn is patchy or recovering from stress, wait until the grass rhizomes have suitably filled in bare areas before using crabgrass preventers.