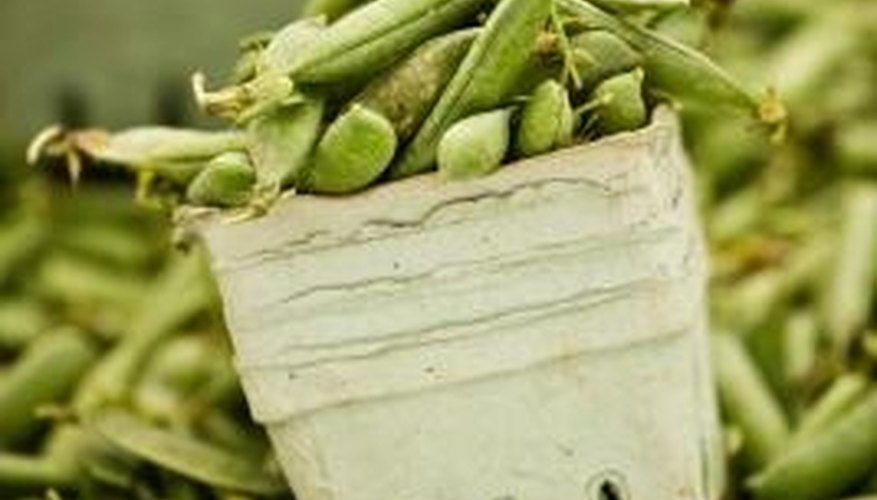 Green beans or snap beans, formerly known as string beans, have tender, sweet pods. Green beans were called string beans because of the fiber running along the seams of the pods. With selective plant breeding, the strings or fibers are much smaller. The time between planting the seed and emergence of the plant is eight to 10 days under normal conditions.
Types of Plants
Bush green beans stand erect and do not require support. Pole beans grow 5 to 10 feet and climb supports. Popular green bush beans include the Bush Romano and Tendergreen varieties. Kentucky Wonder is a well-known green pole bean variety. Some snap bean varieties are purple or yellow. All are annual plants.
Planting Requirements
Green beans are a warm-season crop. Plant the seeds after the danger of frost has passed. Green bean seeds do not transplant well. The optimal soil temperature is 70 to 80 degrees Fahrenheit. Germination is slow and poor when the soil temperature is less than 60 F. It often takes two or more weeks for the seeds to germinate and plants to emerge in cool soil.
Cool Soil
When planted in 50 F soil, green bean seeds tend to crack. This allows microbes to enter the seed and germination is poor. Darker seeds often crack less than white-colored seeds when planted in cool soil. Do not soak green bean seeds prior to planting. This may reduce germination.