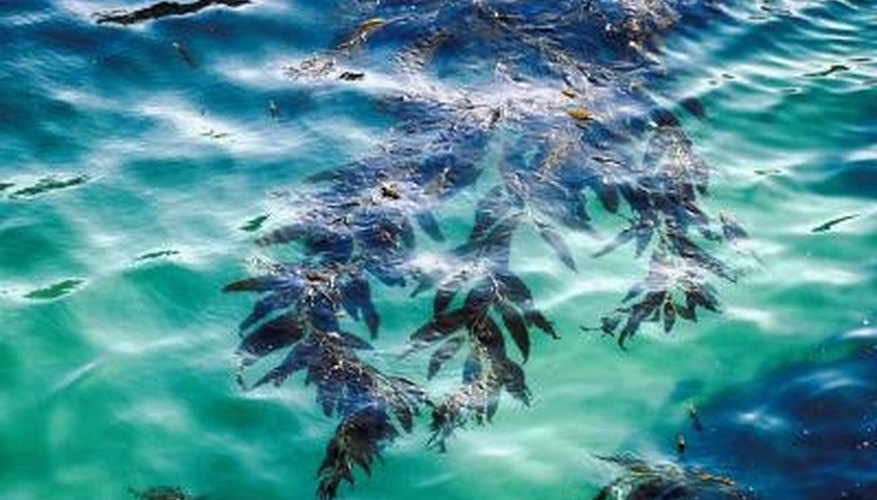 A biome is a complex community of plants and animals that grows in a specific type of climate and geography. The saltwater biome --- the world's largest --- covers three-quarters of the earth. It consists of three areas: the ocean, coral reefs and estuaries.
Oceans
Common plants that live in the ocean are seaweed, algae and sea grasses. Seaweed grows at the bottom of the intertidal zone or on the surface of the water. Algae flourish in the intertidal zone where water and land meet and in the open ocean. It's the main food source for most marine animals. Sea grasses are flowering plants that grow in coastal waters.
Coral Reefs
The dominant life form of coral reefs is coral, which consists of a plant and an animal living together in a symbiotic relationship. The plant part of the coral consists of algae called zooxanthellae. The animals are polyps. The polyps depend on the zooxanthellae's ability to use sunlight to convert carbon dioxide and water into food. In return, the zooxanthellae use the coral's wastes for growth and live within the coral's tissue.
Estuaries
Estuaries are areas where the ocean meets freshwater streams and rivers. Dominant plants that grow here include algae, seaweeds and marsh grasses. A specialized tree called the mangrove tree, which has the ability to live in saltwater, grows in tropical estuaries.