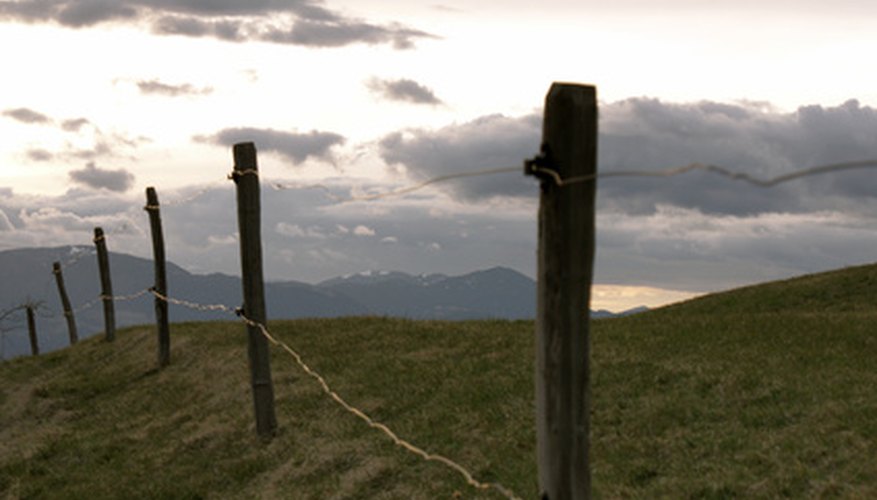 The power usage of an electric fence is affected by many variables. However, the University of Missouri Extension states that 1 joule of output from a fence charger should be enough to power 3,000 feet of electric fence. Individual needs can be estimated based on this statement.
Cost
According to the University of Missouri Extension, the cost of running an electric fence energizer at 4 joules for one year is the same as running a single 40-watt light bulb for the same amount of time. The exact cost of running the fence will, naturally, vary based on fence length, condition and voltage needed to keep particular types of animals away from the fence. It takes more power to stop a bull from going through an electric fence than it does to stop a smaller animal, such as a deer.
Solar Power
It is possible to power electric fences with solar energy. Solar panels are used to charge a battery, which hold a charge large enough to power the fence for two or three weeks worth of cloudy days. Unfortunately, solar technology makes solar powered fence chargers cost about twice what a traditional electric fence charger costs.
Power Drains
The cost of running an electric fence increases if the fence is not properly installed and maintained. For maximum efficiency, fence wires should all be made of the same metal and be very well grounded. New electric fences should be installed well away from old fences since, as the old fence deteriorates, it is common for its wires to find their way to the new fence and create a short. It is also important to keep wet grass and vegetation away from electric fence wires.