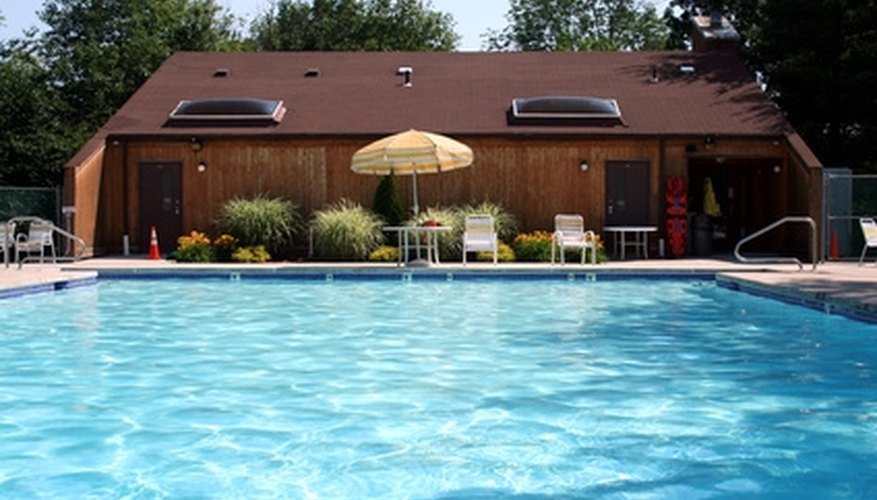 A Hayward Vari-Flo multi-port valve's ability to be quickly and easily switched between the filter, backwash, rinse, waste, recirculate, closed and/or winter positions make it a popular choice among pool owners. Troubleshooting and repair can be just as easy.
Function
A Vari-Flo valve is a multi-port valve that helps to direct the flow of water within your pool filter as it comes from the pool pump. While positions such as "filter" or "backwash" may be common to you, bypass features should be understood as well. The position "rinse" is used to rinse the tank after a backwash, "recirculate" is used to bypass the filter and send the water directly from the pump to the pool; "closed" shuts off water flow while making filter repairs and the position marked "waste" or "drain" will allow you to vacuum out water that you do not want to return to pool.
Maintenance
Keeping your pool chemicals properly balanced and periodically checking to make sure that your valve is functioning properly can help add to the longevity of all of your pool equipment. Winterize your equipment correctly by removing the drain plug and blowing out the valve with air and removing the site glass by unscrewing it from base. These steps can help to prevent damage that can be attributed to the freezing of water trapped within the valve.
Common Repairs
There are three common problems that may cause your Vari-Flo valve to work improperly. If your valve is leaking water it may be due to a damaged o-ring around the top of the valve lid or the Teflon washer on the stem of the valve. Noticing water leaking into the backwash hose or unfiltered water returning to the pool can be a sign of a bad spider gasket--the gasket that seals each of the functions. A hard to turn handle can be the result of a corroded spring. Follow manufacturer's directions for repair or consult a pool professional.