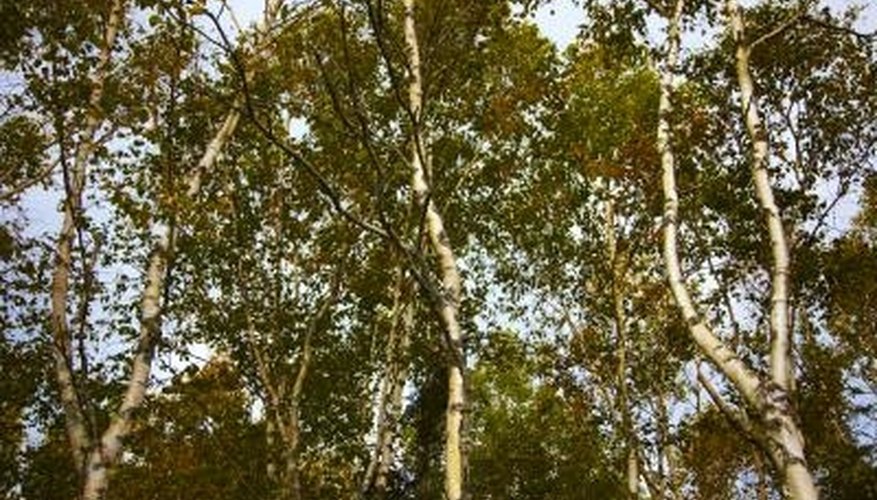 Birch trees are medium-sized trees valued for their easy growth and white bark. Birch leaf drop is a symptom of two major problems, the bronze birch borer or anthracnose fungus. Prevention and early control are vital for reducing tree injury.
Types
The bronze birch borer is a small beetle that measures 3/8-inch long that infests wood under the bark of birch, reports the University of Minnesota. The beetle and larvae feed on birch tissue, which causes tree girdling at the spot of infestation. Anthracnose is a serious fungal disease that causes leaf drop. The fungus favors free moisture and warm weather conditions for development.
Identification
Symptoms of a bronze birch borer infection consist of premature leaf yellowing, branch dieback, white larvae under bark, leaf drop and tree death. Anthracnose infections on birch produce brown, irregular shaped spots on leaves during the initial stages of infection. Branch dieback, leaf drop, reduced tree vigor and girdling are common symptoms, reports Virginia Tech.
Control
Prevent the bronze birch borer by improving tree vigor through fertilization, regular watering, pruning and reducing tree stress. Insecticides are an effective method of control for severe infestations. Perennial anthracnose infections can cause substantial harm to birch. Preventative fungicidal sprays are effective for preventing and controlling the severity of infection.