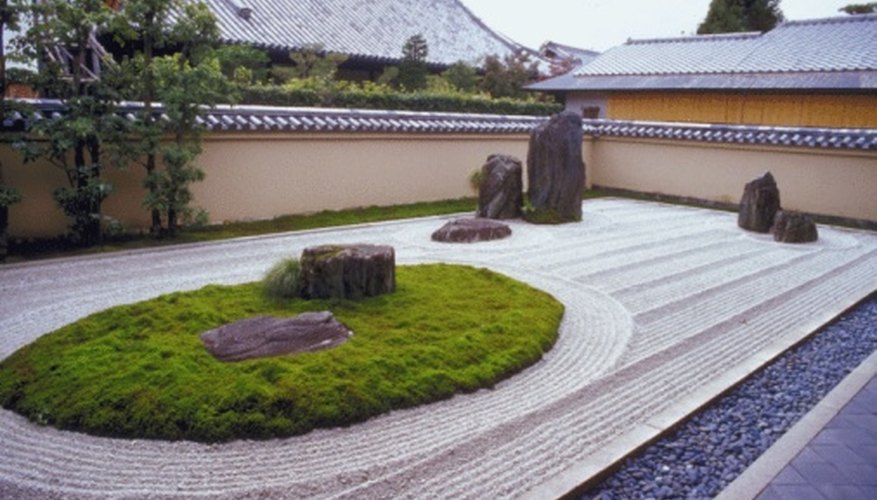 If you want to promote feelings of peace and tranquility around your home, designing a Japanese garden will help accomplish this. The shapes and angles of the garden are elaborate and visually appealing, and are sure to make your front or backyard space especially impressive.
History
Japanese gardens are landscaping designs made of sand and stone, and they traditionally adorn the outside of Japanese Buddhist temples. The monks do not meditate in the gardens, as is often depicted in the Western world, and professional gardeners tend to the gardens to keep them intact, according to the "Journal of Japanese Gardening." The term 'Japanese Zen Garden' was first mentioned in 1935 by Loraine Kuck, a Western writer, although the Japanese do not refer to them as such.
Types
There are three main types of Japanese gardens -- Tsukiyama, Karesansui, and Chaniwa. Tsukiyama gardens are the recreation or natural scenery, and include mini hills, streams and flowers; these gardens are composed in China as well. Karensansui Japanese gardens are abstract representations of nature, and includes sand, gravel and rocks, and Chaniwa gardens are often the site of tea ceremonies, and include a tea house and decorative stepping stones.
Considerations
If you want to include a Japanese garden in your own landscape, including the correct elements can give the impression of balance. For instance, Karensansui Japanese gardens don't include greenery, but moss sometimes grows on or between the stones and can be left there to adorn the garden. Also, when including the stones in a Japanese garden, they must be stones that are shaped by nature to give the garden authentic character.