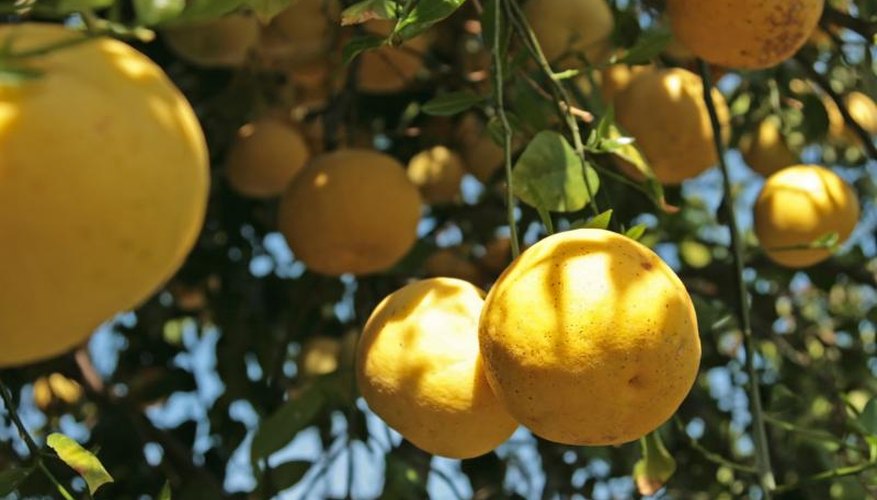 Floridians enjoy fresh grapefruit (Citrus x paradisi) straight from their backyard trees from November through May each year. Seasonal weather and varietal differences can extend the season in both directions, but Thanksgiving generally announces peak eating quality has come. Ripe grapefruit store well on the tree, so harvesting is at your leisure. Enjoying the season in your Florida garden starts with caring for your grapefruit tree.
Selecting a Grapefruit Variety
Grapefruit varieties grow in U.S. Department of Agriculture plant hardiness zones 9 through 11, but Florida weather can surprise you. If your area experiences frequent freezes, resilient varieties, including "Duncan" may be best. Its seedy, white flesh offers exceptional taste and harvest from December through May. The near-seedless, pink-fleshed "Redblush," also known as "Ruby Red," begins one month earlier and lasts just as long. Harvest for deep red-fleshed "Burgundy" doesn't happen until April and May, leaving its unripe fruit vulnerable to freezes. Trees grown from seed may not flower and fruit for up to 15 years. Budded or grafted trees usually fruit within three years.
Choosing the Right Spot
With grapefruit's heavy, extended yields, one tree is enough for most homes. They grow up to 50 feet tall and spread 25 feet or more. Full, direct sun promotes maximum fruit. Allow a minimum 15 feet between a mature grapefruit and its surroundings, so sun isn't blocked from fruit-bearing branches. Grapefruit trees don't enter true winter dormancy, so protected, south-facing sites are a smart choice. Plant container-grown grapefruit trees any time of year in Florida. Dig a hole three to five times as wide and the same depth as the root ball. Loosen the soil from the roots to encourage quick establishment and reduce differences between nursery and garden soil. Plant the tree at the same depth it was in its pot, and fill the hole with unamended, native soil.
Caring for a Grapefruit Tree
Mature Florida grapefruit trees don't require water except during extended drought, but newly planted trees need regular watering. Form a water basin capable of holding 5 to 10 gallons of water in the soil around your tree. Fill it twice each week the first month -- about 15 minutes with a garden hose at normal pressure. After that, fill the basin whenever new growth wilts in the heat. Keep the area beneath the tree free of grass and weeds to eliminate competition for water and nutrients that support your grapefruit harvest. Don't use mulch because it encourages fungal root disease. Grapefruit trees fruit best when not pruned. Only remove dead or damaged branches and base suckers. Use sharp bypass pruners, and spray your blades with household disinfectant to sterilize them before and after pruning. Single grapefruit trees in a yard rarely need pest control.
Fertilizing Grapefruit Trees
Extra nutrients promote bountiful grapefruit harvests. Start a regular fertilizer program three weeks after planting, as new growth begins. Fertilize every six weeks from February through October the first year, gradually increasing the fertilizer amount each feeding. Start with 1/2 cup granulated, 8-8-8 citrus fertilizer, working your way up to 3 cups by the final, sixth feeding. Apply it within the basin area, away from the trunk, and water it in. Decrease the number of applications by one each of the next three years, increasing the amount of each application. Apply fertilizer beyond the basin, up to 10 feet beyond the drip line of 5-year-old trees. Encourage prolific, flavorful harvests by fertilizing mature trees three times per year with 4.6 to 5.8 pounds of fertilizer per application. One pound equals roughly 2 cups.