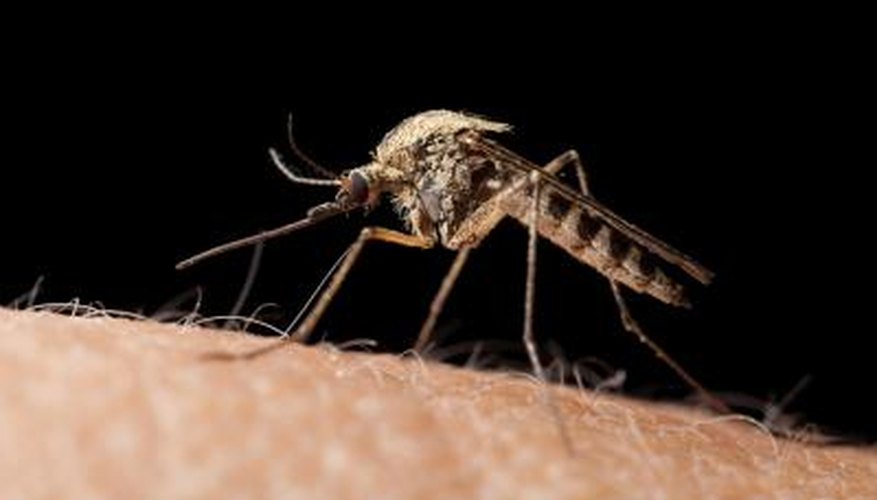 Mosquitoes transmit dangerous diseases to humans, including the West Nile virus. If nothing else, mosquito bites often produce itchy, red bumps—which are caused by a mild allergic reaction.
Repellents In the Yard
Mosquitoes do not like lavender, citronella, catnip, basil, marigolds, tansy or pennyroyal. Planting these in portable pots and shifting them around deck or garden seating areas can help discourage mosquitoes. Rubbing skin with the freshly plucked leaves of any one the plants—or a combination of them—also has a repellent effect.
Essential Oils
A mosquito repellent solution may be made quickly by combining one cup of 190-proof grain alcohol with a total of 2 tsp. of any one of the following essential oils or a combination of them: rose geranium, pine, rosemary, lemon, juniper, citronella, palmarosa and myrrh. Mix the ingredients thoroughly and then rub or spray the solution onto skin.
Foods as Repellents
Eating bananas, garlic or vitamin B is not scientifically proven to repel mosquitoes, although they are home remedies, according to the University of Florida IFAS Extension. Mosquitoes are attracted to individuals due by complex interactions of chemical and visual cues, not all of which are understood. As of 2010, scientists have not determined how—or if—foods interact with body chemistry to serve as repellents.