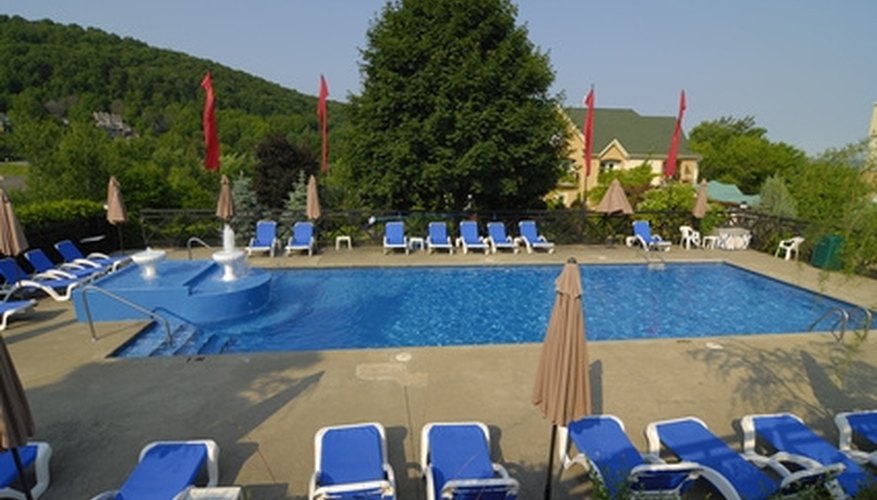 Sharing a pool with friends and family is fun--but sharing germs isn't such a great idea. Maintaining an appropriate level of chlorine kills off undesirable microbes like bacteria and viruses in your pool water.
Types
When you're measuring chlorine, there are several different numbers you'll want to track. Free chlorine is chlorine that hasn't yet been used, so it's still available to kill microorganisms. Combined chlorine has already reacted with organic compounds and is no longer useful as a disinfectant. Combined chlorine is the total of the two different measurements.
Features
According for the Centers for Disease Control, pool chlorine should usually range between 1 and 3 parts per million; this is the normal range. The maximum for pool chlorine is 10 ppm. Sometimes it may be necessary to superchlorinate your pool to prevent the buildup of combined chlorine. During superchlorination, you'll add another 10 ppm of chlorine to the water. Make sure that no one swims in the pool during superchlorination, and test the levels to make sure they're back down into the normal range before anyone swims in the water.
Considerations
According to the North Carolina Division of Environmental Health, .2 ppm is the maximum for combined chlorine. It's also crucial to monitor the pH as well; if the pH strays too far outside the 7.2 to 7.8 range, the disinfection power of the pool chlorine will decrease rapidly.