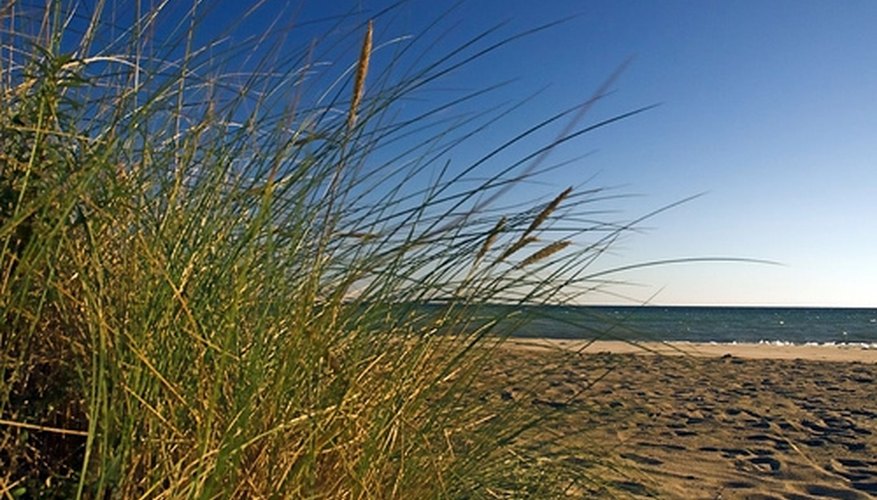 How far back to cut ornamental grass in winter depends on the variety of grass. Large grasses such as Maiden Grass have larger crowns and must be cut higher than smaller grasses such as Japanese Forest Grass or Blood Grass. Some grasses should not be cut back. Do not cut down Bamboo, Acorus, Fescue, Blue Oat Grass or Flax. These plants should be selectively thinned as needed to remove dead or damaged growth.
Maiden Grass
Cut Maiden Grass or Miscanthus down to 6 inches in winter. If you cut too high, the old foliage will delay spring growth. If you cut too low, you can damage the new shoots.
Mexican Feather Grass
Prune Mexican Feather Grass or Nassella tenuissima to 4 inches tall in winter. Alternately, prune Mexican Feather Grass in August so it has time to grow back before winter, so it can provide you with winter interest.
Japanese Forest Grass and Blood Grass
Cut back Japanese Forest Grass or Hakonechloa macra 'Aureola', and Japanese Blood Grass or Imperata cylindrica 'Rubra' to 2 inches tall once their foliage turns brown.
Feather Reed Grass
Trim Calamagrostis x acutiflora 'Karl Foerster' or Feather Reed Grass to 6 inches tall in winter.
Do Not Trim
Don't cut back New Zealand Wind Grass or Anemanthele lessoniana, Giant Pheasant's Tail Grass or Stipa gigantea, Flax or Phormium, Blue Oat Grass or Helictotrichon sempervirens, Sweet Flag or Acorus, Bamboo and Fescue. Instead, selectively prune only dead or damaged stalks.