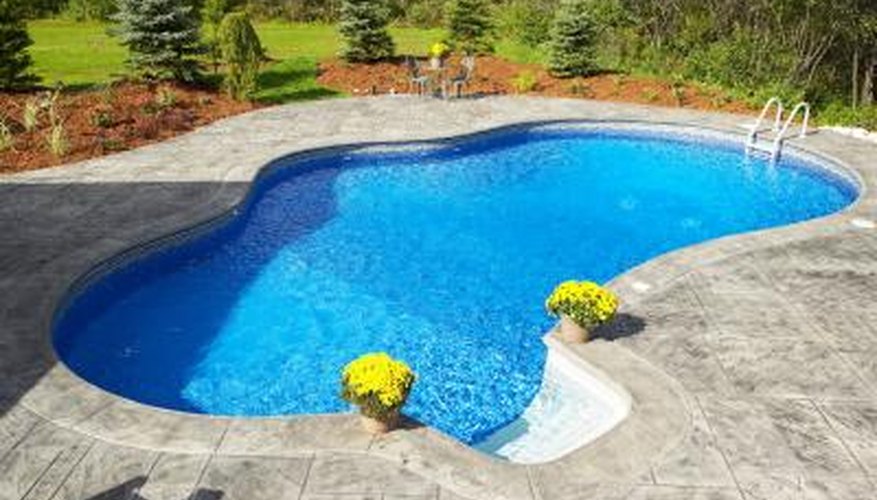 Swimming pools require constant maintenance in order to keep the water safe and clean. By adding various chemical substances to the water, the ultimate water quality can be obtained. The pH level of the pool water can be measured easily and is vitally important to the overall interaction of the added chemicals.
pH
The pH scale measures the amount of Hydrogen atoms (H+) contained in a substance. A higher concentration of Hydrogen atoms indicates an acidic substance, while a lower number of atoms indicates a basic substance. The scale ranges from 0 to 14. A pH measurement of 7 is considered a neutral substance. Water, and most of the body's internal environment has a pH level of slightly above 7.
Pool pH
The optimum range for a swimming pool's pH should be between 7.4 and 7.6. This level allows the best environment for other chemicals to work properly. Adding these chemicals, such as chlorine or calcium carbonate, can alter the pH of the water.
Acids
Chlorine and acidic rain water have the potential to lower swimming pool pH to below 7. The addition of calcium carbonate, or soda ash, will raise the pH. For a 10,000 gallon pool, 2 pounds of soda ash can be added at a time. After each treatment, check the pH.
Bases
Adding too much soda ash, or other carbonate chemicals will raise the pH to a basic level. To lower the pH levels, an acid can be added to the water. The most common is hydrocholoric acid. Use extreme caution when dealing with this acid. Add the acid in the deepest part of the pool away from walls and liners.
Potential
Damage can occur if a neutral pH is not maintained in a swimming pool. Acidic conditions cause corrosion and depletion of chlorine, while basic conditions cause cloudy water and eye irritation in swimmers. Monitoring the pH of your pool daily will prevent any undesirable changes to acidic or basic levels.