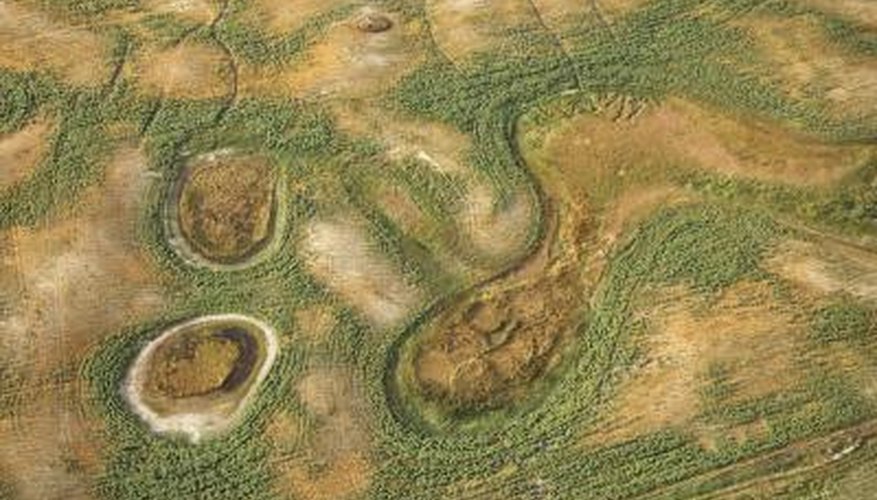 The Great Plains is a geographical region in the center of the United States. It is primarily agricultural with a few urban centers. The climate is considered continental, with cold winters, warm summers, little precipitation and much wind.
Spring
Spring in the Great Plains can go from summer-like to frigid in a few hours. Late, wet snowstorms are common. Much of the area's precipitation comes in the form of wet snow in the spring. Temperatures are variable, often in the mid-50s to 60s, but can drop below zero and reach the 90s.
Summer
Summers in the Great Plains are often hot, with temperatures above 90 and even 100 degrees. Rain is infrequent and often comes in the form of sudden, violent thunderstorms. Hail is also common in the summer in the Great Plains. Wind is a typical part of Great Plains summers.
Fall
Fall can be as variable as spring in the Great Plains. In many cases, summer-like weather lasts well into the fall, but sometimes it snows as early as September. Days usually cool down, with temperatures in the 50s to 70s and nights nearing freezing or below. The first frost usually hits the Great Plains in mid-September.
Winter
Winters on the Great Plains can be mild or wild. Sometimes winter weather starts in early fall and doesn't stop until May, and other times it doesn't snow until January. In the western Great Plains snow is more common than ice, but in the eastern Great Plains rain often precedes freezing temperatures and snow.
Variability
Since the Great Plains stretch from North Dakota and Montana to Texas, both the temperature and precipitation can vary greatly. The precipitation averages from 12 to 25 inches, depending on the location. The climate is also variable from year to year in any single area. The one thing that can be said of the climate in the Great Plains is that it is variable and unpredictable.