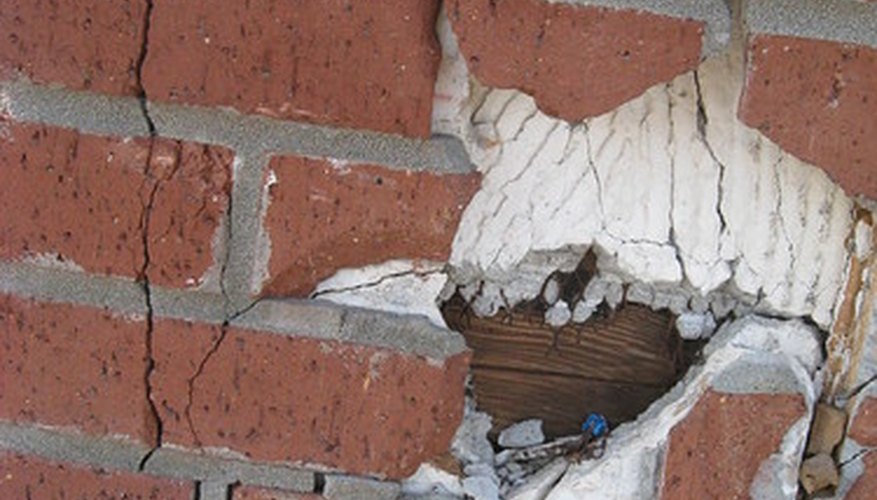 According to Popular Mechanics magazine, tuck pointing is the process of replacing deteriorating mortar in the joints between bricks. Also known as "pointing" and "repointing," tuck pointing is necessary when the mortar becomes loose, which threatens the stability of the structure that it supports.
When to Tuck Point
Tuck pointing becomes necessary when mortar develops cracks and holes. These can come from various causes, including the burrowing of bees and the entrance of water into hairline cracks, which during the winter can freeze and expand, widening the holes.
Why Tuck Point
According to the Masonry Advisory Council, good-quality brick can last between 25 and 100 years, far longer than much mortar. To maintain a waterproof seal, occasional maintenance of the mortar becomes necessary over the life of the structure.
What to Tuck Point
Because tuck pointing is labor intensive and original mortar is preferred to replacement mortar, the council advises tuck pointing only when necessary. This includes when mortar is crumbling, when erosion exceeds 6 mm, when hairline cracks appear and when cracks form between the brick and mortar.
How to Tuck Point
Tuck pointing is done by removing old mortar to uniform depth and replacing it with new mortar of a similar consistency
Results
According to CRX, Inc., good tuck pointing offers a waterproof seal, an aesthetic match to the rest of the wall and an extension of the life of the building.