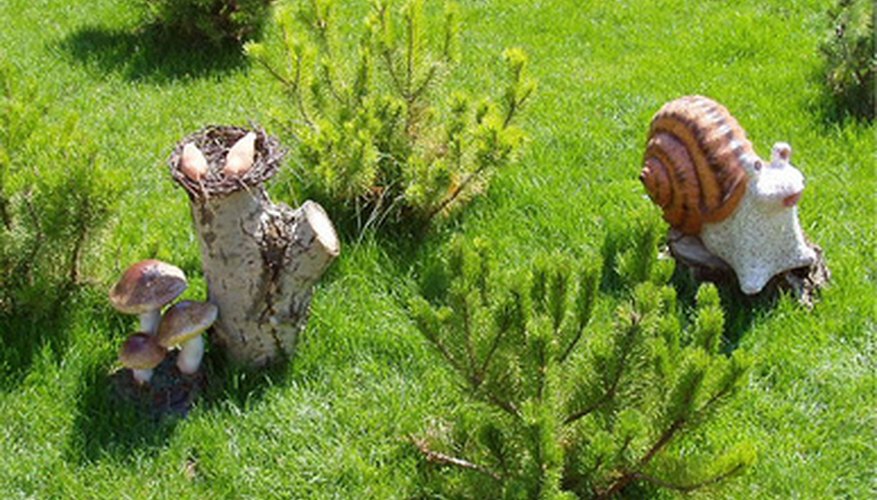 How to Use Top Soil to Level a Yard
Filling in problem areas with topsoil is a good landscaping technique to level a yard. Often, high traffic areas or run-off areas of the yard can become uneven. A level yard is aesthetically appealing, while uneven spots or holes in a yard create tripping or falling hazards. The cost to use topsoil to level a yard is relatively inexpensive.
Walk around your yard to locate holes, dips or uneven areas. The best time to spot problem areas is after a rainfall. Place one or more gardening stakes at the edges of the problem areas to mark them for leveling.
Fill a wheelbarrow with topsoil. Shovel topsoil onto problem areas. Use a hand-gardening rake for small areas or a garden till for large areas, to work the topsoil into the original soil.
Remove the gardening stakes.
Use a regular gardening rake to smooth and level the problem area.
Roll a lawn roller over the topsoil. Check how level the area is with a leveling tool. Fill in uneven spots with more topsoil and use the lawn roller again. Repeat until the yard area is level again.
Repeat steps 2 to 5 until all the areas are repaired and yard is level.
Sow grass seed heavily in the topsoil spots. Cover with straw. Water thoroughly. Repeat watering as needed until grass seed germinates. Remove straw.
How to Keep Toads Out of My Yard
Step 1
Install a sheet metal fence around your yard. You need to bury the fence 3 to 4 inches into the ground and the fence should be approximately 10 inches high. Don't use materials with gaps such as mesh, as the toads can use the gaps to climb up and over the fence. Make sure to check the fence regularly. For example, if a branch falls on it, the toads could use it as a beam to climb up, over and into your yard.
Step 2
Remove all debris and trash from your yard, especially things like empty flowerpots, old tires and railroad ties. Toads use these items for shelter, and without the shelter, they may not want to inhabit your yard.
Step 3
Landscape your yard with plants and flowers. Toads like to live in open spaces with bare lawns.
Step 4
Reduce the moisture in your yard. Toads need to drink regularly, and they also need to moisten themselves every few days. Therefore, if you have a lawn that has automatic sprinklers or standing water ponds, toads are more likely to inhabit your yard. Fence off standing water and reduce the use of sprinklers.
Step 5
Turn off outdoor lights at night. Toads feed on small bugs, such as moths, that are attracted to artificial nighttime lights. By turning these lights off at night, you may be able to reduce the food source.
How to Remove Copperheads With Sulfur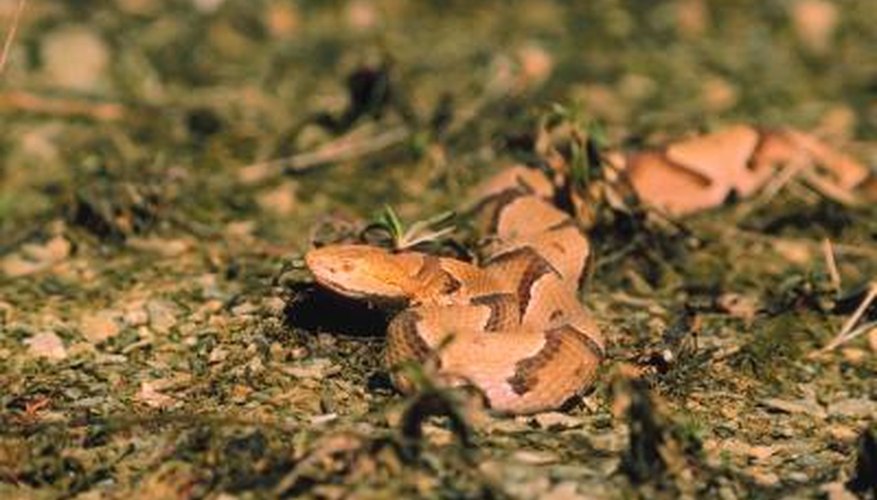 Step 1
Sprinkle powdered sulfur and moth crystals in cracks and around other openings throughout your house (such as below outside doors) and in the parts of your yard snakes frequent. Use the sulfur and moth crystals separately or combine using equal parts.
Step 2
Clear up yard debris, such as wood piles, and apply sulfur to the area. 
Step 3
Mow your lawn regularly and apply sulfur and other snake repellents to areas where you have spotted snakes. Reapply at your own discretion whenever the sulfur smell begins to die down.
Step 4
Combine equal parts cat litter and mothballs. Spread the mixture around areas of your home where the copperheads tend to enter, or you fear they could enter.
How to Landscape a Front Yard
Choose plants in scale with the size of your home. Boxwoods look fine in a knot garden but seem Lilliputian in the front yard of a grand colonial home.
Consider potential maintenance problems before you select plantings. You may like the appeal of a shaped hedge until you have to get the clippers out every two weeks. Also, consider the mature height of a deciduous tree planted too close to a home, leading to clogged gutters.
Select trees and shrubs to enhance a pleasing view or to block an unsightly one. If you decide to plant a privacy hedge to screen a neighbor's front yard, choose a mixed planting for your hedge. If one specimen dies, you can replace it without creating an odd gap between young and old plants.
Dull the harsh edges of your home's foundation with natural, flowing curves. You can situate masses of plants at each corner of your home, planting the tallest shrubs closest to the foundation, followed by successively smaller plants.
Include strategic splashes of color and fragrance to welcome friends and family. Rather than let fragrance waft down the street with the wind, plant a small stand of hyacinths by your front door where visitors can enjoy the color and scent.
Reduce the effects of wind and weather with trees. Homeowners in rural settings use windbreaks frequently, but suburban dwellers can also plant a row of evergreens on the side of the yard with prevailing winds. Deciduous trees can block summer heat and allow winter sun to shine through bare branches.
Gardening: Yard Flowers
What Kind of Flowers Should I Plant in My Yard?
How to Landscape a Front Yard for Under $500
Plant grass seed in your front yard instead of using sod. This costs far less, about $150 for 6250 square feet, and grass seed will take in a matter of just a few weeks. See Resources below for an online grass seed store or purchase locally at one on the super centers or lawn and garden stores.
Visit an online store, such as Michigan Bulb to buy trees, cost is $150 for 10 trees on average. Your local nursery will cost much more and not offer the variety. You may request a landscape catalog which tells you what trees should be planted in your area, as well as tips and guidelines for planting and care of the trees.
Go to your local nursery to see what kind of flowering bushes are offered and what the prices are. Choose low cost rose bushes, average price 10 for $80, that flower each year, to landscape your front yard.
Do the front yard work yourself. Plant the grass seed first. Now decide where you want the trees and bushes and plant according to the instructions you were given.
Water your new lawn and plants and trees regularly so they don't wilt. Feed them the recommended plant food.
Add more plants and trees to your front yard landscape from year to year. Look for bargains, such as buy two get one free, and buy when you see them.