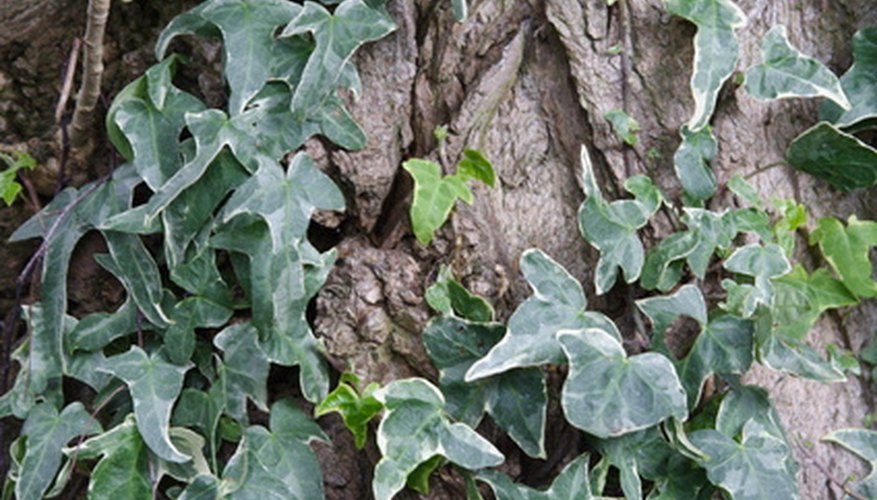 Evergreen Plants for Window Boxes
Evergreen plants are the ultimate in low-maintenance window boxes. They will survive through the year, eliminating the need to replant as the seasons change. Use evergreen plants as a durable, all-season backdrop to your other window-box elements or as the main attraction in your window planter.
Green Euonymus
Also known as green boxleaf, Japanese boxlea Euonymus and Euonymus japonicus, green Euonymus is an all-year shrub that holds its color through the winter. Rather than the thin needles of some evergreens, the boxleaf has narrow leaves densely clustered along its branches. The glossy leaves, lined with attractive pale borders, start off as new pale-green shoots and grow darker as they mature.
Dwarf English Ivy
Whether you view English ivy as a wonderfully hardy decorative vine or a frustratingly stubborn pest, there's no denying that it is a durable evergreen plant adept at growing just about anywhere. According to Mo Plants, miniature strains of Hedera helix are hardy to U.S. Department of Agriculture Zone 5 and have elegant, delicate leaves that look much nicer than full-sized ivy in the limited space of a window box.
Dwarf Needle-Leaved Conifers
According to Mo Plants, dwarf conifers look like miniature Christmas trees and are "remarkably cold hardy." Dwarf conifers such as Juniperus communis are normally small or slow growing, and the limited root space afforded by a window box keeps them this way for a long time. Buy your dwarf trees as small as possible and carefully shear new growth to keep them small enough to grow in a window box.
How to Grow Plants Near Low-E Windows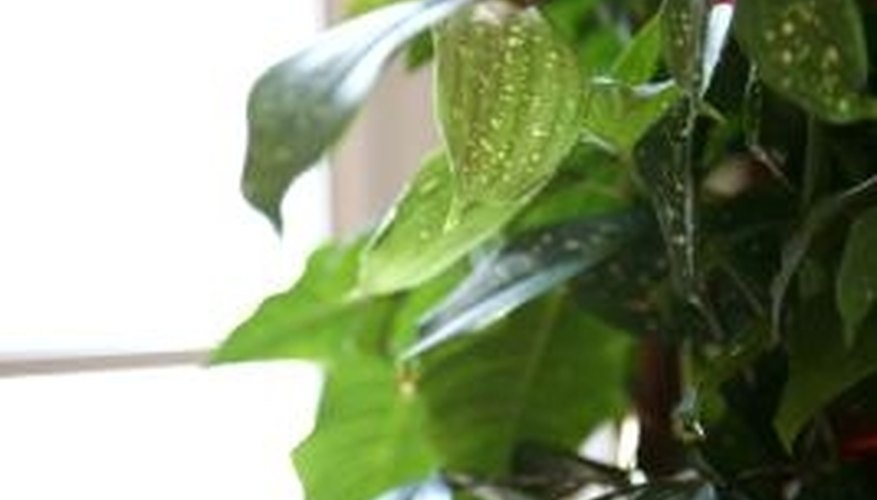 Compare the amount of sunlight that transmits through a standard double-paned clear window and a Low-E double-paned window. According to Pilkington North America, a standard window transmits 81 percent of the available sunlight. One Low-E window transmits 75 percent of the sunlight and a different Low-E window designed to block more sunlight transmits 59 percent of the sunlight. The difference between the first two windows is 6 percent and the difference between the second two windows is 22 percent.
Note the amount of ultraviolet light that filters through windows. Comparing the same three windows, Pilkington states that the first window transmits 57 percent UV rays, the second window transmits 45 percent and the third window transmits 38 percent. According to a NASA website, excessive ultraviolet radiation can harm some plants, contributing to decreased growth. Low-E windows may provide a beneficial growing environment because they block some UV radiation.
Select plants that require medium direct sunlight for best results. Place the plants about 12 inches away from the windows for ideal light exposure. Provide water and fertilizer according to the specific plants' needs and monitor the health of the houseplants. If you notice the plants declining with yellowed foliage, decreased growth or failure to bloom, the plants may need more light.
How to Prepare Window Boxes
If your window box is not empty, remove everything from it. Wearing gloves, disinfect the window box with a mixture of 1 cup of bleach to 1 gallon of water to prevent the transmission of plant diseases. Do not splash the bleach mixture on your clothes. Let the window box dry overnight.
Paint or varnish the outside of the window box. Plants are affected by chemicals, so try to find non-toxic, eco-friendly paint. Let the window box dry thoroughly.
Drill holes in the bottom of the box for water drainage. Make the holes 1/8 to 1/4 inch in diameter. Make sure that any existing holes are free of debris. Window boxes need good drainage so the flower roots do not sit in water and rot
Cover the bottom inside of the window box with a mesh screen to hold the dirt inside the planter. Do not use rocks; they will increase the weight of the window box.
Fill the window box with a lightweight soil mixture. You can purchase lightweight soil mixes in garden stores, or create your own by mixing 1 part peat moss, 1 part perlite and 1 part compost.
Care of a Viola Plant
Plant violas in full sunlight if you live in a northern climate. In southern climates, plant violas where the plants will be exposed to sun during the morning, and in the shade during the afternoon.
Work 3 to 4 inches of compost or manure into the soil with a shovel before planting, along with a general-purpose granular or liquid fertilizer. Apply the fertilizer according to the package directions once every month during spring and summer.
Water violas whenever the soil feels dry to the touch. Violas may need to be watered once or twice a week during hot, dry weather, and less during cooler weather.
Spread an inch of organic mulch around the plants. A mulch such as shredded bark or dry grass clippings will conserve moisture and keep the roots cool during warm weather.
Garden Boxes: Do They Have to Have Holes in the Bottom for Drainage?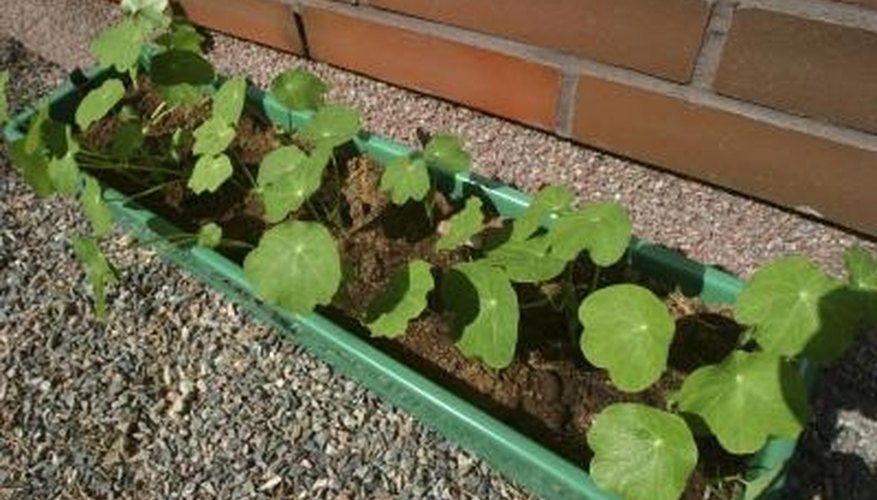 Style Options
Some garden boxes are simply holders for container plants. The plant pots fit inside square or rectangular wooden boxes for display. Other garden boxes are designed to have potting soil placed directly inside along with the plants.
Holes and Drainage Considerations
Holes provide drainage and prevent root rot resulting from plants sitting in stagnant water. Drill one or two holes in container bottoms and for boxes, drilling a hole every foot or so is adequate. To ensure optimum drainage, garden boxes and pots should be placed on a bed of drainage pebbles or elevated a few inches above the deck or sidewalk on which they are placed. Regularly check plants and boxes to ensure there is no water pooling underneath.
Runoff
The water that drains from garden boxes and containers contains ingredients from soil and plant food that may stain wooden or concrete. To prevent discoloration, attach a plastic pipe or hose to the bottom of the box to route the runoff underneath or along the side of the structure.
How to Clean Out Window Boxes
Scoop out the old soil from the window boxes, using a hand trowel.
Scrape any remaining soil from the sides and bottom of the boxes using a putty knife. Take care not to gouge the window box itself.
Wipe down the inside of the window boxes, using a rag dipped in water. Rinse the rag often until the window boxes are free of old soil and clean of all sediment.
Allow the window boxes to air dry before you refill them with soil and plants.