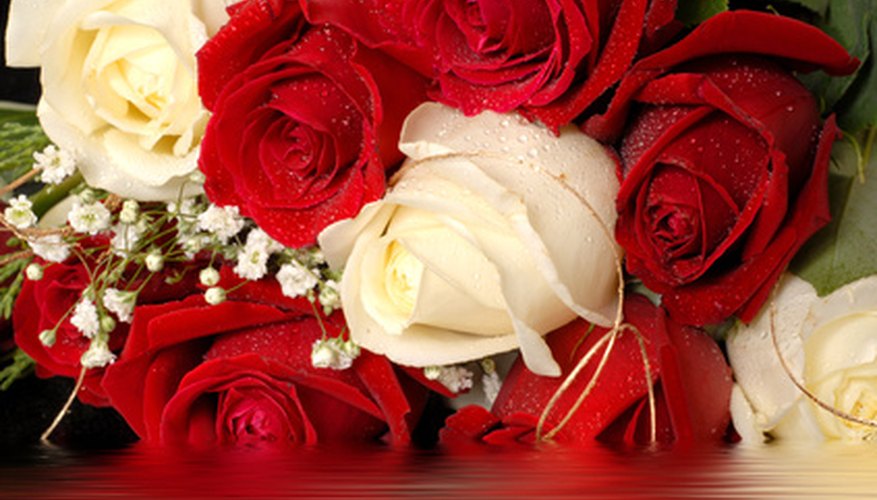 Flowers That Mean Unity
Allium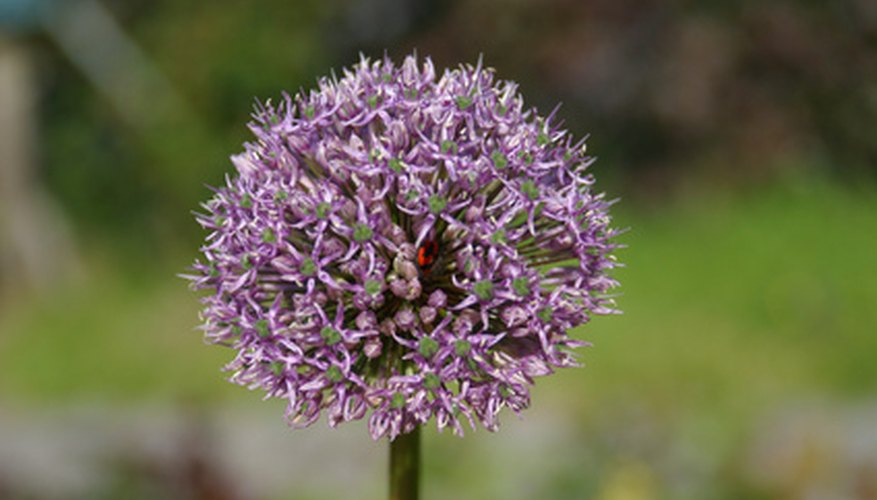 A member of the onion family, this flower is also known by the less-romantic name "ornamental onion." This flower has come to be a symbol of unity, often given between married couples, according to FlowerInfo.org. Allium flowers grow from bulbs, sometimes producing several stalks per bulb, with blossoms resembling snowballs of white, yellow, purple or blue.
Lily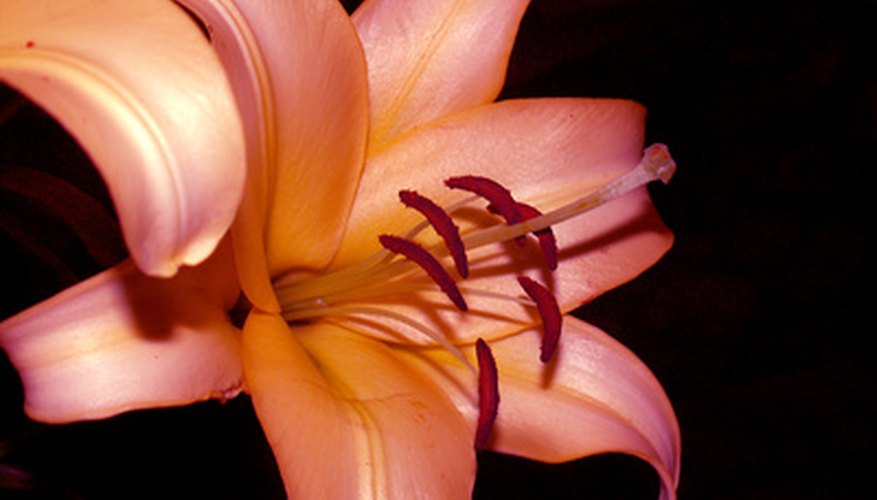 Although the lily most commonly speaks of purity or sympathy, in Chinese tradition, the lily also has come to represent unity. According to Wong Yee Lee, writing for Chinatown Connection, lilies are appropriate gifts for weddings as emblems of long-lasting love, and as expressions of unity between friends. Commonly found as pink, white or yellow blossoms, lilies also come in many varieties, including the calla lily and the peace lily (most often given as a live plant).
Red and White Roses
Historically a floral emblem of England representing the houses of Lancaster and York, respectively, the red and white rose in combination are possibly the most common floral symbol of unity in use today. Red and white roses are often used in weddings or given between sweethearts as a bouquet. Specifically, the strapping together of red and white roses symbolizes a pledge of unity for life, making it a popular symbol for engagement or marriage.
Blue Flowers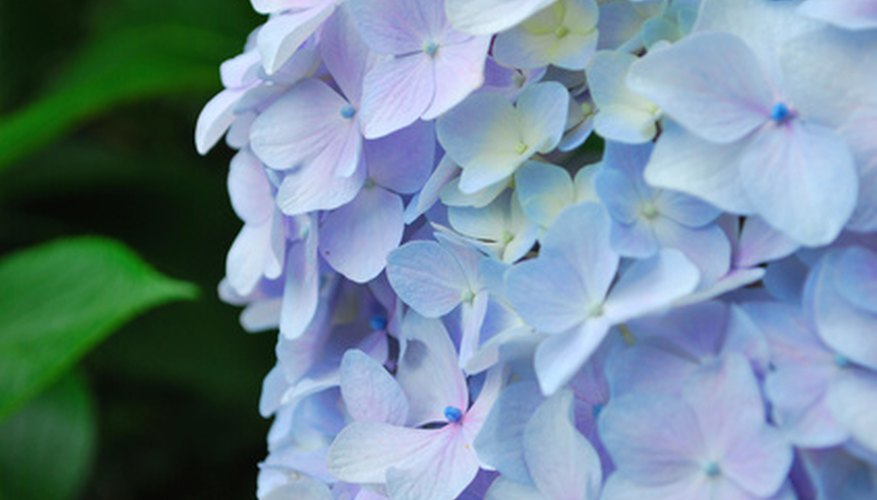 Because blue is a color that traditionally symbolizes trust and unity, it is common to use blue blossoms as a unity symbol, particularly at weddings. Hyacinth, hydrangea, sweet pea, hibiscus and morning glory are just a few of the popular flowers that can yield blue blossoms.
How to Prune Swamp White Oak
Swamp white oak (Quercus bicolor) is native to the Midwest but can be found as far north as Quebec and as far south as North Carolina. Swamp white oaks are generally self-pruning, although some cultural maintenance is required to keep these moisture-loving trees healthy. They can grow from 30 to 80 feet tall.
Prune swamp white oaks during the dry season when the tree is dormant. Pruning from April to the first hard freeze in late October or November can expose trees to oak wilt, an invasive disease that hails from Southern oak forests. Sterilize tools before and after use.
Remove low branches from the trunk, or leader. Cut close to the bulging branch collar near the trunk, but not into it. This collar will shrink around the vulnerable edges after pruning. Double-cut any branch more than 2 inches in diameter to avoid shredding the branch and damaging the collar. Saw from under the branch about 4 inches out from the trunk, then make a second cut down near the collar all the way through the branch. Cut away from the collar but do not leave a stump that will extend too far for the collar to grow over.
Trim damaged, diseased or dangerous branches that hang over walkways or driveways.
Shape swamp white oaks to maintain their open crown by removing branches that crowd the center or cross over and rub against each other. Remove the entire branch rather than just part of it.
Consult a tree expert or your city forester before undertaking any major pruning of a white oak. These large trees have irregular crowns that can be easily damaged.
Tiny White Bugs on House Plants
Mealybugs
Mealybugs are small, whitish insects. They are about one-eighth to a quarter inch long and sometimes have a cottony appearance. Mealybugs can be removed by hand and then destroyed by wiping them with a cotton swab dampened with rubbing alcohol. A plant that is heavily infested should be destroyed.
Whiteflies
Whiteflies take their name from their powdery white appearance. They are about one-sixteenth to a tenth of an inch long and look like tiny moths. You can remove whiteflies from houseplants by washing plants with a spray of water and then spraying them with insecticidal soap. Vacuum flying adult whiteflies out of the air.
Scales
If you've noticed white waxy or weblike spots on your plants, you may not have realized you were looking at scales, insects that hide under white or brown scales. Removal involves scraping the scales from the plant and then spraying it with insecticidal soap to kill immature insects.
Meaning of a White Rose
White Rose Meaning
White roses are associated with purity and innocence. When you give white roses to someone, it means she is heavenly to you. A gift of white roses says the intention is pure. It shows an everlasting love, one that will endure through the ages.
Myths
The Greek goddess of love, Aphrodite, is said to have been born with sea foam that fell to the Earth and became white roses. This legend has it that this goddess also gave the rose its name.
White Wilted Roses
If the gift is of withered or already dead white roses, it conveys the belief that the giver has "no impression" of the recipient. Alternatively, it also says that the relationship is ending.
Rose Buds
White rose buds show young love and innocence. A bouquet or collection of nothing but white rose buds symbolizes a different shade of meaning than roses in bloom.
Traditions
In the 1800s, a bouquet of white roses and flowers told the groom that the bride was pure and innocent. It meant the bride "was worthy" of the groom. The white rose in this instance shows virginity and purity.
Crinum Asiaticum
Description
The dark green leaves of Crinum asiaticum grow 3 feet long and form an erect rosette. The plant grows 5 to 6 feet tall and 5 to 7 feet wide. The bulb of the plant may weigh up to 20 lbs.
The white flowers are mildly fragrant. Crinum asiaticum will flower year round, if the plant is not killed by freezing temperatures. The globe-shaped fruit contains large seeds.
Varieties
Variegatum is a smaller plant with white stripes on the leaves. Sunray has yellow stripes, while Starstruck has yellow dots: both of these are rare.
Uses
Crinum asiaticum can be used as a specimen plant or in a perennial bed. It can be grown as a houseplant in a bright room with a cool nighttime temperature (55 degrees F).
Culture
Crinum asiaticum grows in full sun or partial shade. It tolerates poor soil and is drought tolerant, but will also grow in brackish water. It grows in USDA zones 9 to 11. It is root hardy in zone 8, where the top is killed by frost, but will return in the spring. Crinum asiaticum can be divided in the winter when it is not actively growing.
Warning
Although the crushed leaves of Crinum asiaticum are used for aches and sores in Asia, all parts of the plant are poisonous. The sap may cause skin irritation. It causes stomach discomfort if ingested. Check with a licensed medical practitioner before using this or any other natural treatment.