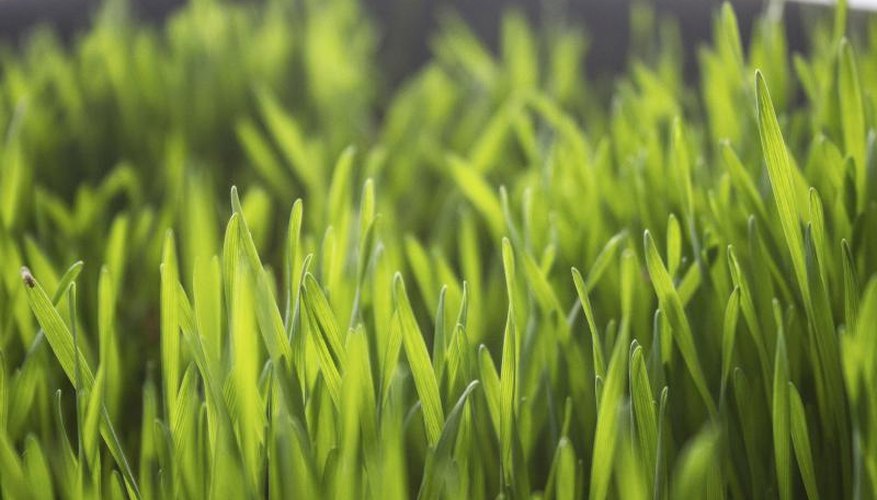 How to Grow Wheatgrass Outside
Wheatgrass is often used as a medicinal plant for humans as well as a nice snack for cats. Due to its intolerance of both hot and cold weather conditions, it is generally grown in small batches indoors. In order to survive, wheatgrass needs to stay in between 60 and 90 degrees Fahrenheit. However, if planted at the right times and in ideal conditions, wheatgrass can be successfully grown outdoors in the spring and fall seasons.
Soak the wheatgrass seeds in a bowl of water for 12 hours to soften the outer shell. Remove them from the water and let them air dry for an additional 12 hours.
Prepare a spot in a shady area to plant the seeds. Loosen the top inch of soil to make root growth easier.
Water the soil so it's just moist enough that it packs when pressed.
Sprinkle the wheatgrass seeds on the prepared soil. Try to lay around 10 seeds for every square inch of space. Press down lightly on the seeds with the palm of your hand to press them into the soil.
Keep the soil moist at all times. The seeds should germinate within a week.
Check the soil daily after the seeds germinate. Add water when the top of the soil begins to feel dry. Wheatgrass can survive short periods of drought, but it's best to keep the soil moist for the entire growth cycle.
How to Buy Wheatgrass Seeds
Choosing Wheatgrass Varieties
Of the more than 500 types of wheat (Triticum spp.), you only need to know a handful of varieties when purchasing seed for sprouting, including "Hard Red" (Triticum aestivum "Hard Red"), "Liquid Sunshine" (Triticum aestivum "Liquid Sunshine") and "Kamut Ultimate" (Triticum aestivum "Kamut Ultimate"). "Hard Red" is one you're likely to find online because it has a high germination rate and you can grind it into a medium-gluten all-purpose flour, too. "Liquid Sunshine" is a favorite among heirloom lovers as is "Kamut Ultimate," an versatile seed known as an early sprouter.
Understanding Wheatgrass Quality
Check seed quality before and after you buy. When buying online, look for the seed's germination rate, microbial testing and its USDA certification. A quality wheatgrass seed has a 98 to 100 percent germination rate, undergone microbial testing and has a USDA organic certification, if you're buying organic.
When you've opened the seeds, pass them through a sieve, and onto a flat white surface and inspect for any damage, such as cracking, splitting or discoloration on the seed coat. If you purchase in five- or 10-seed packets, each seed should be perfect. If you buy in bulk, expect a 5 percent damage rate.
How Long Will a Flat of Wheatgrass Last Indoors?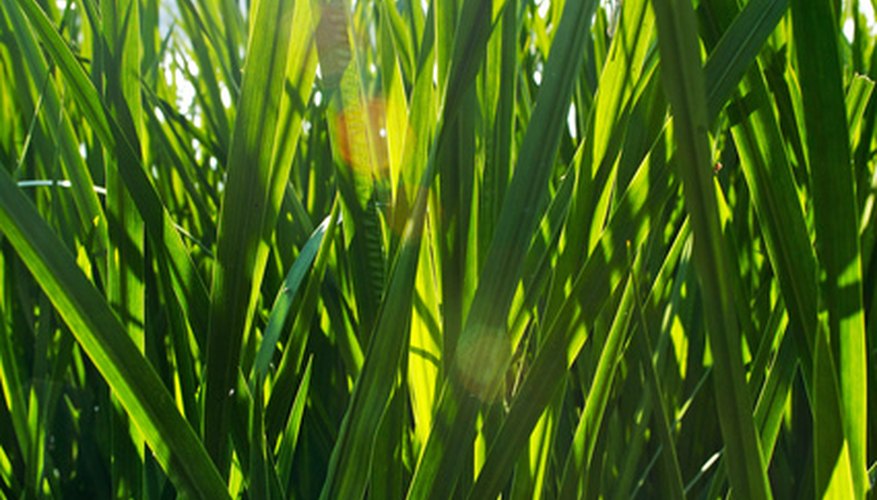 Indoor-grown wheatgrass lasts from 10 to 17 days. It matures within 10 days of planting. A second round takes an additional six to seven days to mature. However, since the majority of nutrients come from the seed, any additional regrowth produces less nutritional value, tougher blades and an increased chance for mold formation within the growing flat.
How to Grow Wheatgrass Hydroponically
Buy wheatgrass seeds from a local greenhouse or seed dealer, or online at Tribest.com.
Place the seeds in a 1-inch-deep tray. The seeds should be evenly spread throughout the tray so that seed covers the entire floor of the tray.
Use a spray bottle to wet the seeds. The seeds should be submerged in the water about halfway. Do not drown the seeds by covering them totally with water.
Cover with a second tray, because the seeds need no light at this time. Do not seal it, though, as the seeds do need air.
Water every day. After three to four days, you will see sprouts. Remove the cover and place the tray near a window to get indirect sunlight. Continue to water the seedlings, once in the morning and again at night.
How to Remove Wheat Grass
Water the soil the day before you intend to remove the wheat grass. This will make the soil easier to dig.
Use a spade with a sharp, flat edge to dig up the wheat grass and the inch of soil just beneath it.
Sprinkle 3 oz. of corn gluten meal per 10 square feet over the former wheat grass patch as soon as you notice any wheat grass seed germinating. Water the area with 1 inch of water. Then withhold water until the top inch or so of soil remains dry for several days. The corn gluten will prevent the remainder of the seeds from germinating and dehydrate the existing seedlings without harming any desirable wheat grass patches nearby.
How to Grow Wheat
Prepare the area selected to grow wheat. If the field has been previously used for farming purposes, smooth the soil with a rake. Dig long trenches using a shovel or rent a commercial wheat drill attached to a tractor to plow the field and dig long narrow furrows.
Use a moderate quantity of a natural manure to fertilize the soil and ensure proper growth of the wheat stalks. Throw wheat seeds in the furrows using a semi circular movement of your wrist or attach a grain drill to a tractor to plant the seeds. For a dry area, sprinkle a small quantity of seeds. A heavily cultivated wheat uses up the water in the ground more quickly.
Water the field two to three times during a dry summer season. Winter wheat crops require water only when the seeds are planted. Wheat grows best in a dry climate; however, check the soil moisture of the winter crop at the start of spring and water if the wheat stems look parched and unusually dry. Consider irrigating the cultivated land by using commercial sprayers on wheels.
Apply a light insecticide/pesticide spray to the harvested field if you spot any infestation on the crop. Discuss appropriate products with an agricultural expert and read the manufacturer's instructions carefully before administering any spray.
Monitor the wheat field regularly. Use a scythe to cut the wheat kernels once the wheat stems turn yellow and the kernels are fully dried up. Or use a "combine" machine to cut off the crop in a neat quick manner.
How to Kill Bugs in Stored Wheat
Prevent bug infestations in the first place. Only use clean, airtight storage bins. If reusing a bin that previously stored wheat, wash out and dry the bin thoroughly. Make sure you are only storing dry grain, as moisture in the bin will create mold and grain rot while also encouraging dormant bug eggs to hatch.
Open the wheat storage bin. Sprinkle diatomaceous earth (DE) into the stored wheat to kill bugs. The powder's microscopic edges will slice into the bugs and dehydrate them quickly. Use approximately 1.4 grams of DE for every pound of wheat, or six pounds for every ton.
Mix the grain to thoroughly distribute the DE throughout the wheat. Close the storage bin.
Refrigerate the stored wheat as an alternative to using food-grade DE. Bring the stored wheat to zero degrees Fahrenheit for three to four days. Refrigerating will kill most live bugs, but may not kill any dormant eggs, which may hatch when the wheat returns to room temperature.
Fumigate the stored wheat with carbon dioxide. The gas will suffocate any bugs in your grain and kill them. Carbon dioxide fumigation services are typically offered by local pest control services.
Growing Wheatgrass Without Soil
Place your plastic tray onto the ground. Drill holes into the bottom of the tray with the 1/4-inch bit on your drill to allow for water drainage. Wipe away any debris from the pan with a clean, dry rag.
Place your plastic pan on a metal sheet pan near a window where it will be exposed to sunlight for most of the day. The sheet pan will capture any excess water so that it can be easily disposed of without harming your growing grass. Wet a paper towel, wring out the excess water, smooth the paper towel and lay it in the bottom of the plastic pan. Line the plastic pan with 1/2-inch of wet paper towels.
Sprinkle wheat grass seeds onto the wet paper towels. Cover the entire surface of the top layer of paper towels with seeds without piling seeds on top of each other. Allow the seeds to sit on the towels in the tray and germinate. Check your wheat grass daily. Spray the grass with water from your misting bottle daily. Check the paper towels, water the tray as necessary to keep the paper towels damp.
Restaurants with Heart-Healthy Menus
Applebee's
Applebee's low-fat menu options appear under the Weight Watchers program, featuring both calorie counts and point breakdowns. Order grilled options to keep meat lean and the flavors in, such as the Garlic Herb Chicken, served with steamed potatoes and fresh vegetables, or a flame-broiled 4 oz. sirloin steak topped with mushrooms. Enjoy an individual dessert shooter after dinner, where you can savor the flavors of strawberry cheesecake or hot fudge sundae in a shooter glass without overindulging.
T.G.I.FRIDAY'S
Friday's created the right portion, right price and the better-for-you options on their menu, smaller portions that would not overwhelm you and healthier choices. Choose salad or sandwich options like a Strawberry Fields salad, with a bed of mixed greens, pecans and marinated strawberries, or a California turkey burger on a whole-wheat bun. Opt for Dragonfire chicken, a grilled chicken breast, covered with Chinese kung pao sauce and served with brown rice and pineapple salsa.
Outback Steakhouse
This steakhouse offers recommendations to its customers on how to maintain a heart-healthy diet. Order your steak or chicken and tell your server to prepare it without butter. This will save you some fat calories, as will ordering your bake potato plain and only adding margarine as needed. Stick to the Victoria's Fillet, the Outback Special, or a shrimp and vegetable griller. When ordering your salad, select a noncreamy dressing, such as tomato or Italian, and only eat one slice of bread before dinner to save room for your steak and fresh vegetables.
Chicago Uno Grill
This restaurant features several menu options for customers to choose from. Select a flatbread pizza instead of a deep-dish pizza and you will shave off 330 calories and 29 grams of fat. Add a salad to your meal for half of the menu price when you select any pizza or entrée. Choose to substitute whole-wheat penne in the pasta dishes and stick to combinations that include vegetables and grilled chicken like Tuscan Chicken Penne, which is tossed in a sun-dried tomato sauce.
Fertilizers Used for Wheat Growth
Nitrogen
Nitrogen is the most prominent fertilizer required for exceptional wheat growth. According to the University of Minnesota, the best way to calculate nitrogen amounts for wheat crops is the calculation, "NRec = (2.5) YG - STN(0-24 in.) - NPC," where YG stands for yield goal, STN stands for "nitrate-nitrogen (NO3-N) measured to a depth of 2 feet, lb. per acre" and NPC stands for the amount of nitrate naturally occurring from the previous crop. This equation is especially useful for calculating nitrogen supplementation for soils with a high level of organic nutrients.
Phosphate
If efficiency is your goal, apply phosphate with a gardening drill aimed directly at the roots. Phosphate is not always necessary with wheat crops. For example, if the soil contains high amounts of phosphorus, phosphate supplementation is not necessary. On the other hand, if the soil is extremely damp at the time of planting, apply phosphate with the seeds.
Potash
Potash application varies based upon the levels of potassium in the soil. If the soil tests above 121 ppm or higher, no potash fertilizer is required that year. Potash does not absorb well into the soil, so it should be applied before planting and tilled into the ground. Ideally, potash should only be applied to the soil once every two years.