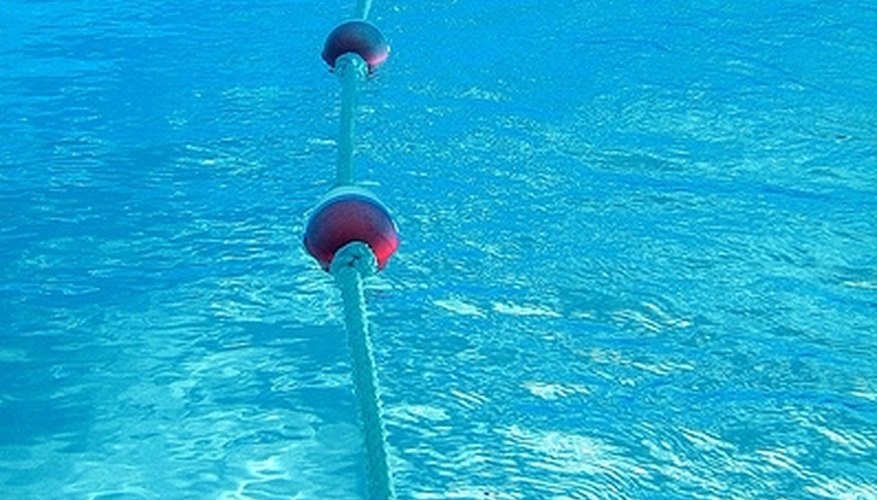 Why Is Soft Water Bad for Pools?
The terms "soft water" and "hard water" describe the concentration of dissolved minerals in water. A low concentration of calcium, magnesium, iron and other elements results in soft water, whereas hard water contains more of these minerals.
Soft Water
Very soft water will attempt to balance itself by absorbing minerals until it becomes saturated. In the pool, the predominantly available mineral is calcium.
Corrosion
Soft pool water becomes corrosive and leaches available minerals. According to Poolcenter.com, soft water can damage the surface inside the pool by dissolving calcium from the plaster and tile grout. Soft water can also corrode metal fixtures and thereby causes metal stains on the walls and floor of the pool.
Determining Water Softness
In order to determine water softness, periodically measure the pH, alkalinity and calcium hardness of the pool water. Most home test kits have the necessary tools to analyze these properties. Pool stores provide a complimentary detailed analysis of a pool water sample.
Increasing Calcium Hardness
If the pool water is found to be too soft, water hardeners such as calcium chloride will increase water hardness.
Perfect Balance
A correct water balance is necessary to maintain the life of pool surfaces and pool equipment. It also ensures that the pool stays clean and hygienic.
Calcium Levels in Swimming Pools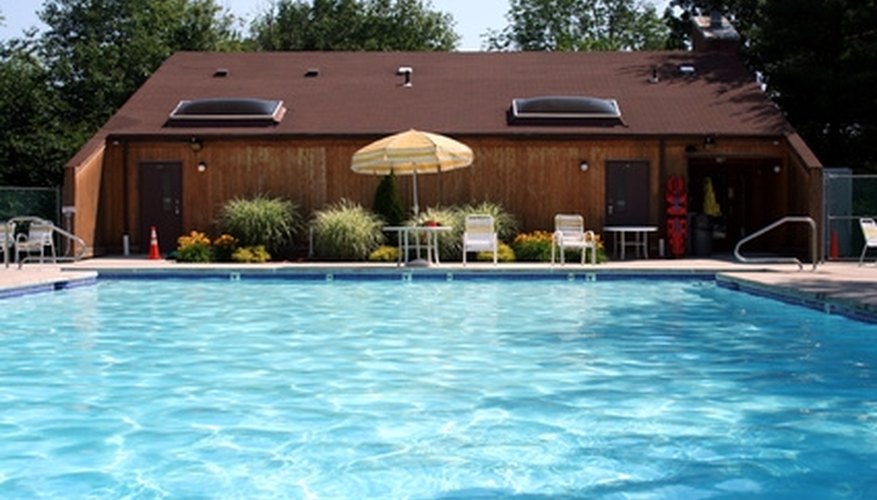 Appropriate Levels
The level of calcium carbonate in the water should measure between 200 and 400 parts per million. If it goes beyond these parameters the pool alkalinity, pH level and water balance will be difficult to maintain. Pools should be checked for calcium hardness when refilled and every four to eight weeks afterward.
Low Calcium Levels
When testing your pool water, if the total alkalinity and pH level are low, then a low calcium hardness level (less than 200 ppm) is also present. This can cause the water to be corrosive to the pool and all of its operating elements. It can foam, dissolve grout, pit a concrete pool or deck surface, cause etching in pool plaster or stain the pool surface. In addition, it can cause heaters to malfunction or even fail.
High Calcium Levels
High calcium hardness levels (more than 400 ppm) will create cloudy water, cause scale formation, clog filters and heating elements, reduce water circulation and perhaps even irritate the eyes and skin. It can also minimize the sanitary effectiveness of the pool water.
Raise Calcium Levels
When the calcium hardness level is too low it can be returned to acceptable levels by adding calcium chloride. Pool suppliers will typically package calcium chloride as a hardness increaser.
Lower Calcium Levels
Once pool water reaches a high calcium hardness level it takes a lot of work to return it to an alkalinity balance. Often this is done by at least partially draining the pool and refilling it with water that has a very low level of calcium hardness. Another way to deal with high calcium hardness is by lowering both the pH and alkalinity levels with chemicals.
How to Fertilize With Calcium Nitrate
Apply 1 tsp. of calcium nitrate per plant for use on vegetables. Spread the granules in a ring around the plant, taking care not to allow the fertilizer to touch the stalk or crown of the plant, as it can burn foliage. Give a second application two weeks later.
Spray foliage for quick-acting use. To make spray, dissolve 1/4 lb. of calcium nitrate per 5 gallons of water. Spray the leaves of the plants thoroughly.
Spread under fruit trees at a rate of 1/2 lb. for each year of tree growth. Do not apply more than 8 lbs. per tree.
Add calcium nitrate to hydroponic growing systems by dissolving 1/2 tbsp. of calcium nitrate in 2 gallons of water. Pour this mixture into the hydroponic water supply.
Apply 1/8 cup of calcium nitrate to tomato plants as soon as you see tomatoes start to develop on the vine. Reapply every four to six weeks through the growing season.
How to Remove the Calcium Spots From Our Gunite Pool
Keep the calcium harness level in your pool under 350 PPM to reduce calcium deposits.
Balance your pH levels in the pool between 7.4 and 7.8. At these levels, it will take a very long time for mineral deposits to build up.
Lower the water level in your pool to expose the calcium spots for removal.
Mix two parts muriatic acid with one part water in a plastic bucket.
Dampen a clean sponge in the acid solution and rub it onto the calcium deposit.
Scrub the spots with a polyblend fiber handheld brush.
Rub the existing calcium spots with a wet pumice stone to release the mineral deposits.
How to Remove Calcium From Pool Plaster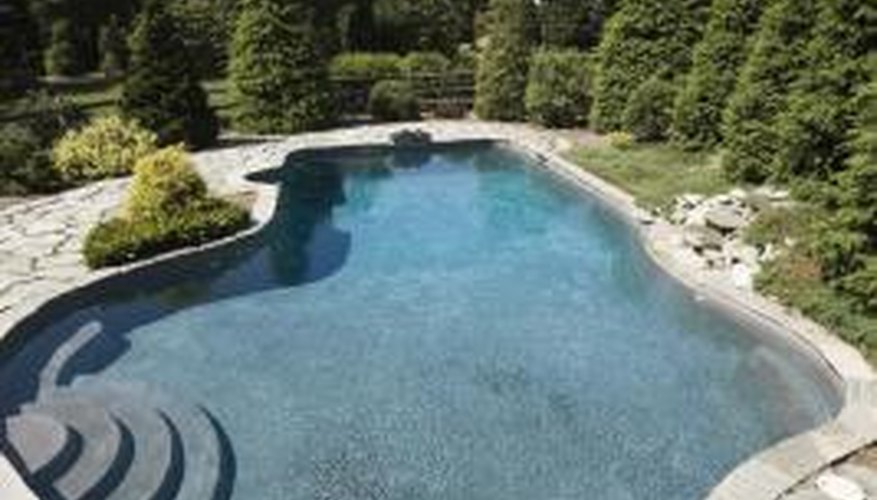 Step 1
Open the drain valve on the swimming pool and allow the water level to lower 1 to 2 feet so that you can easily access the calcium deposits, which occur mainly at the waterline.
Step 2
Look at the side of the pool plaster where the water previously reached and locate any white, chalky areas, or other areas that appear darker or lighter than the surrounding plaster. These are areas of calcium buildup.
Step 3
Pick up a long-handled pool brush, which also is called a tile brush. Place the brush directly on the areas of calcium buildup, and move it back and forth with firm pressure to dislodge it. Continue scrubbing all the way around the perimeter of the pool plaster to remove the calcium.
Step 4
Examine the plaster for any stubborn areas of calcium buildup that were not removed with brushing. Place a pumice stone on them and gently scrub the plaster until the calcium buildup flakes off. Run your hand over the surface of the plaster and, when it is smooth, the buildup is gone.
How to Remove Calcium Buildup on Plastic Flower Pots
Fill the bucket or sink with a combination of half white vinegar and half cool water. Mix the liquids around to completely incorporate them.
Place the plastic pots into the bucket or sink so they are completely beneath the liquid. Keep the plastic flower pots in the diluted vinegar for approximately eight hours.
Remove the plastic flower pots from the vinegar and use the scouring pad to scrub at the areas that had the calcium buildup. The buildup should wipe off easily as you rub it because it has been soaking in the vinegar.
Dip a damp toothbrush in baking soda and use this to scrub at any stubborn calcium buildup that you cannot remove with the scouring pad.
Rinse the plastic flower pots in cool water to remove all vinegar and baking soda. Allow the flower pots to air dry.
How to Soften Hard Water for General Hydroponics
Determine if you have hard water by observing your house. If you have mineral deposits such as scale on your shower, kitchen sink or coffee maker, you probably have hard water.
Test your water by dropping liquid soap into a glass of water. If suds are not produced by the fifth drop of liquid soap, you probably have hard water.
Check with your municipal water supplier to determine if you have hard water. If you have a well or are otherwise on private water, you can have your water tested by a your local farmer's cooperative or USDA agriculture extension service. Another source for water testing is a local company that sells water treatment equipment.
Mix 1 tsp. of baking soda with 5 gallons of water to soften the water before using it in your hydroponic solution.