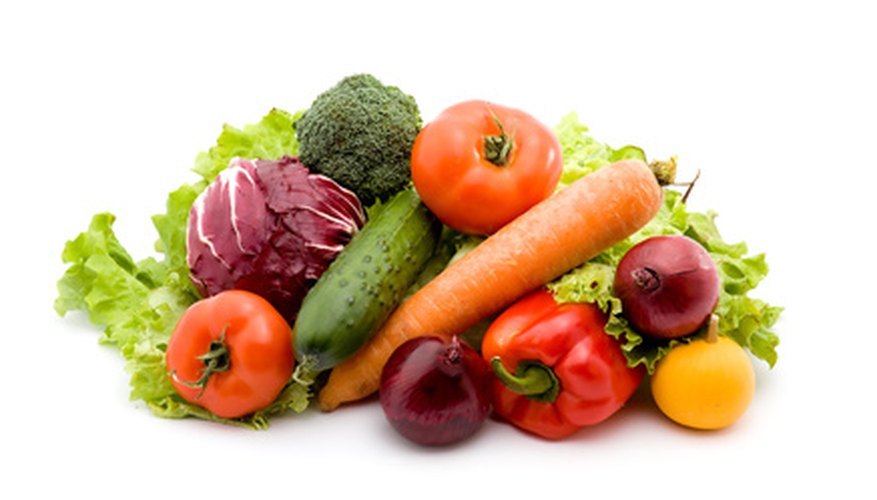 How to Roast Vegetables in an Advantium Oven
Place mixed vegetables in the casserole dish. Pour the salad dressing or marinade over the vegetable mixture. Toss with a spoon to coat, adding salt and pepper, if desired. (See reference 2)
Insert the black cooking tray in the oven. Place the casserole dish onto the tray and close the door. (See reference 3)
Press the "custom speedcook" button on the control panel of the oven. (See resource 1, page 16)
Set the time for cooking by turning the dial to select 35 minutes. Push the dial in to select the time. (See resource 1, pg 16)
Set the upper lamp to brown the top of the vegetables by turning the dial to set the upper heater (U) to "Med". Press the dial in to select. (See resource 1, page 16)
Set the lower heating lamp for cooking. Twist the dial clockwise to choose "Hi" for the lower lamp heater (L) and push the dial in to choose. Hit the "start" button to begin cooking the vegetables. (See resource 1, page 16)
Stir the vegetables halfway through cooking. (See reference 3) Remove the casserole dish from the oven, using oven mitts, when the oven signals the end of cooking time.
Planting Dates for Vegetables
Getting your plants in the ground at the right time is critical for the best harvest. There are a vast number of different vegetables to grow, so that's why it's important to check the planting dates, beginning with these, for the most common vegetables in gardens.
Onions
Onions can be planted 2 to 4 weeks before the last spring frost. They can grow in 40 degrees F weather temperature. Plant these 4 to 6 inches apart and at a depth of 1/4 inch.
Potatoes
Potatoes can be planted 2 weeks before the last spring frost. They are able to grow in temperatures around 40 to 50 degrees F. Plant them 12 to 15 inches apart and at a depth of 4 to 6 inches.
Corn
Corn can be planted at the last spring frost. They can grow in temperatures above 60 degrees F. Plant them 12 to 30 inches apart and at a depth of 1 to 1 1/2 inches.
Winter Squash
Winter squash should be planted when there is no chill to the air and temperatures are always above 55 degrees F. Typically this is around 2 weeks or more after the last spring frost.
Tomatoes
When the weather gets above 55 degrees F and stays without chill to it, plant tomatoes. It is generally 2 weeks or more past the date of the last spring frost before the ground is ready. Plant 24 inches apart and on a trellis.
Cucumbers
Plant the cucumbers at near the last spring frost date. Temperatures over 60 degrees F are optimal. Plant these 24 to 36 inches apart and at a depth of 1 inch.
Carrots
Plant the carrots around 2 weeks before the final spring frost. They can take temperatures 40 to 50 degrees F. Plant 2 to 3 inches apart and at a depth of 1/4 inch.
Homemade Orange Oil Pesticide for Vegetables
Place 3 tbsp. of liquid organic Castile soap in a garden sprayer. If this product isn't available locally, you can get it online.
Add 1 oz. of orange oil and a gallon of water to the garden sprayer.
Shake the garden sprayer to combine the three ingredients.
Pressurize the garden sprayer by pulling the pump up and down and begin spraying the vegetables with your homemade orange oil pesticide. You should begin to see results immediately.
How to Feed Your Garden Vegetables
Sprinkle organic matter on the soil and blend it in with a garden fork. Organic matter is anything that was once alive; good sources of organic matter are compost, animal manure and peat moss. Use enough organic matter to blanket your vegetable garden to a depth of about 1 inch.
Cover the ground with mulch. Mulch helps keep moisture and nutrients in the soil and also facilitates decomposition of organic matter in the soil.
Add commercial vegetable fertilizer three or four times in a growing season, carefully reading the label to make sure you distribute the appropriate quantity. Too much fertilizer can lead to too much leaf growth, at the expense of the actual fruit.
Water thoroughly. Vegetables absorb nutrients through their root systems, and root systems can only absorb nutrients if they are dissolved in water.
Planting Dates for Vegetables in Louisiana
Time Frame
Vegetables such as asparagus, turnips, cabbage, carrots, garden peas, Irish potatoes, spinach and radishes can be planted as early as Jan. 15. A month later, beets and broccoli can follow, and beginning at the end of March gardeners can plant watermelon, tomato, corn and cantaloupe. On April 1, vegetables like peppers, okra, cucumbers, eggplant, lima beans, pole beans and squash can be planted. Sweet potatoes should be planted last, around mid-April.
Considerations
Small areas on the Gulf Coast fall into zone 9, including cities like New Orleans and Lake Charles. In this area, vegetables are divided into warm season and cool season. Warm-season vegetables like sweet corn, okra, southern peas and watermelon can be planted in March, while cool-season vegetables like carrots, cabbage and leeks can be planted in September.
Potential
Many vegetables can be planted a second time even in the areas of Louisiana in Zone 8. Plant turnips, Irish potatoes, kale, beets, broccoli, collard greens and cauliflower in August, and mustard and cucumbers at the end of the month. Radishes, spinach and lettuce can be planted through September, while asparagus is hardy enough to be planted into November.
Vegetables to Grow in December
Indoor Vegetables
Vegetables that can be grown indoors can be grown in December. These varieties include bush beans, endive, radishes, small carrots or beets, Swiss chard and spinach. Use starter boxes to start the seeds; move the seedlings to larger individual containers when they are large enough.
Early-Start Spring Vegetables
Spring vegetables can be started in December. Seed boxes can be started for vegetables such as peppers, eggplant and tomatoes should be started six to eight weeks ahead of transplanting into the garden. Many bean varieties including snap beans, pole beans and Lima beans can be started indoors at this time to be ready for spring planting outdoors.
Bulbs
Garlic and onion can be sown around mid-December to late-December when grown in seed boxes and greenhouses according to the National Vegetable Society. Use cold frames to keep the frost off if the crops are planted directly in the ground.
Beginner's Guide to Succession Planting
Helpful Tips
Most vegetables can be planted closer together than you'd think, so pack them in there!  
Add compost between plantings to give the soil a boost.
Stagger your potential harvest so you are not inundated with more vegetables than you can eat or preserve at one time, leaving you to enjoy a particular vegetable for the entire summer and not just a week or two.
Consult the back of individual seed packets to see when the last plant date is to optimize your harvest.  
Toss the old plants on your compost pile and use the compost in next year's garden.
Vegetables You Can Plant in Early Spring and Again in the Fall
Cabbage, broccoli, carrots, spinach, peas, lettuce, beets, greens.
Vegetables You Can Plant Every 7 Days For a Continued Harvest
Lettuce, spinach, radish, bok choy, kale.
Vegetables You Can Plant Every 14 Days For a Continued Harvest
Beans, peas, beets, turnips, corn
Vegetables You Can Plant Every 21 Days For a Continued Harvest
Cucumbers, melons, carrots
Vegetables You Can Plant Every 30 Days For a Continued Harvest
Summer squash, Swiss chard
Just remember, succession planting is where it's at, whether it's spring, summer or fall.
Now get out there and grow!
Preserving Vegetables From the Garden
Prepare your Vegetables
Choose perfectly ripe vegetables, free of blemishes or rotting spots. If any small spots are present, cut them off. Peel vegetables with skins, such as tomatoes and squash. Chop vegetables into small, uniform pieces and wash thoroughly.
Fill the pot three-quarters full of water and bring to a full rolling boil. Drop the vegetables into the water to blanch, which stops enzymes that deteriorate food and preserves nutrients. The time to blanch your food varies depending on the food variety, and can be found in a food blanching chart from the National Center for Home Food Preservation, among other places. As soon as the blanching time is up, use the slotted spoon to remove the food from the boiling water and drop it into a bowl filled with ice water to stop it from cooking and to cool it.
When the food is cold, remove to a strainer and drain completely. Remove as much moisture as possible, then pack into freezer-safe containers, like freezer bags or plastic freezer containers. Pack food in serving-size amounts, making sure that there is as little room as possible for air in the package. Place the packages in the freezer immediately and leave until frozen solid.
Vegetable Garden Basics
Crops
Make a list of vegetables you like to eat. Look for the different types of these vegetables that suit your climate and growing conditions.
Site Size
Your vegetable preferences will affect the size of your garden site. Check the back of your seed packages to see how much room you need per vegetable type. Spacing your vegetables properly ensures a healthy harvest.
Light
Most vegetables need six to 12 hours of sunlight each day. The south and west sides of houses and slopes receive the most light.
Moisture
Vegetable gardens require at least 1 inch of water each week. Make sure your garden is within reach of a hose or irrigation pipe. Avoid low areas that collect water and high areas that have excessive drainage.
Soil
Good soil makes for a successful vegetable garden. Avoid heavy clay, loose sand and compacted soil. Use lots of compost to enhance the soil before planting.
How to Do Container Gardening With Vegetables
Select plant cultivars that are suited to containers. Dwarf cultivars of large vegetables are more appropriate for pots and containers than their full-size counterparts.
Choose a container that is the proper size for the vegetable that you plan to grow. Small pots and hanging baskets may be fine for strawberries and herbs, but heavy producing vegetable plants require larger containers. Large pots; ½ whiskey barrels; and even recycled buckets or trash cans can be used for container plantings. Be sure that the container has several holes in the bottom for proper drainage.
Mix equal amounts of peat moss, builder's sand and compost to create a nutrient-rich potting soil that is also high in humus, doesn't compact easily and allows good drainage. (Idelbrook) Vegetables are heavier feeders than many other garden plants and require a higher amount of nutrients and good drainage to thrive and produce.
Companion Planting for Bug Control in the Vegetable Garden
Identify companion plants to protect your selected garden plants. To deter cabbage moth, plant rosemary, sage, summer savory, chamomile and thyme. Plant tomatoes near cabbage to deter cabbage worm. Tomato hornworms will be forced away by dill, calendula, basil, French marigolds and petunias. Colorado potato beetle hates tansy, green beans, nasturtiums or French marigolds. Cucumber beetle is foiled by radishes, marigolds and nasturtiums. Radishes keep away squash borer or squash bugs. Mint will also deter these insects from squash. Snails and slugs hate fennel, garlic, rosemary and sage.
Draw a diagram of the garden and label where all vegetables and companion plants will be placed. Locate companion plants no farther than 2 feet from the plant it is protecting. Instead of planting in long rows of the same vegetable, stagger rows to include beneficial companion herbs and flowers.
Plant vegetables seeds and companion plants per package instructions, or plant transplant seedlings.
How to Freeze Vegetables From the Garden
Fruits and vegetables lose flavor and freshness quickly once they are picked. To capture the best flavor, prepare and freeze them immediately after harvest.
Wash vegetables in cold water and check for any insect damage or soft spots. Trim away leaves or stalks, then pare and cut into bite-size pieces. Vegetables like corn can be frozen whole. Prepare vegetables so they are ready to add to your favorite recipes.
Fill a large kettle with water and bring to a rolling boil. Place the vegetables into the boiling water and return to a rolling boil. Allow to blanch for two to three minutes. Individual needs vary. Always check the blanching times for the vegetable you are freezing. (See resources below.)
Prepare a large bowl with ice water. A tray or two of ice cubes added to cold water from the tap is fine.
Remove the vegetables from the boiling water with a slotted spoon or drain in a colander.
Plunge vegetable pieces into the bowl of cold water and chill until vegetables are cold in the center. Allow vegetables to sit in cold water the same amount of time they were blanched in boiling water.
Drain vegetables and pat dry with a soft cloth or paper towels. Place in zippered freezer bags and freeze.
Vegetables That Grow Well at the Beach
Asparagus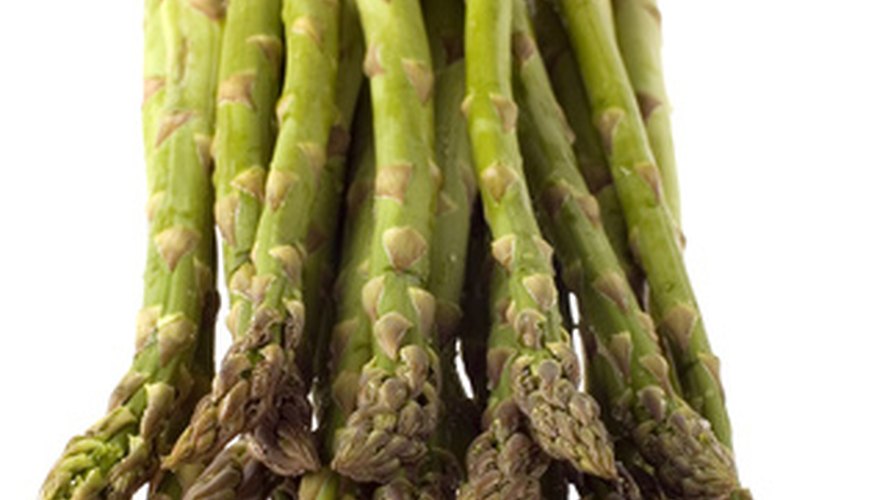 Asparagus is a perennial crop that is native to coastal regions and loves sandy soil. This vegetable is very nutritious, with a high content of magnesium, vitamins A, C and E and folic acid. Although you can start from seed in your sandy garden, it is better to plant one-year-old transplants about 2 feet apart to make maintenance easier. Once you plant this vegetable, it will be around to harvest for more than 15 years.
Radishes
Radishes add a bright splash of color to your garden and a hint of pepper to your food. This vegetable thrives in sandy soil and is also rich in nutrients like vitamin C and iodine. Plant radishes in spring or fall about 9 inches apart and 1/2 inch deep. Radishes are ready for harvest a mere 20 days after planting as transplants, so they are easy maintenance and provide a quick bounty.
Lettuce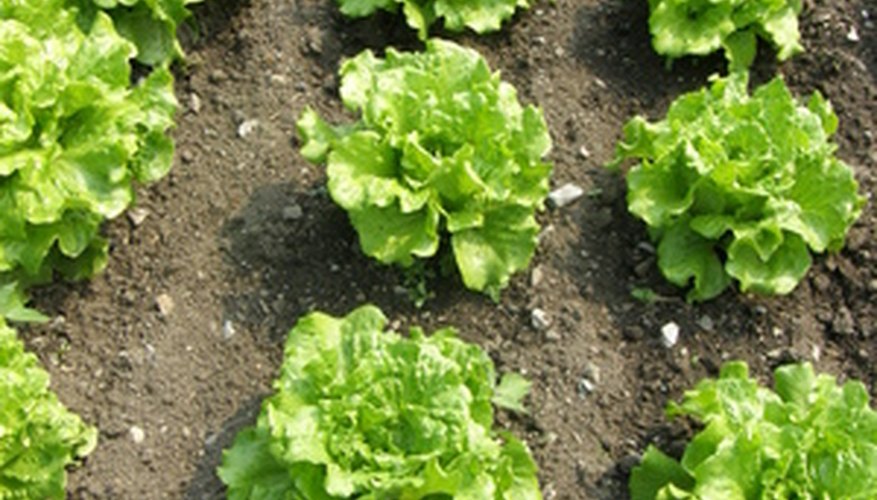 Lettuce is available in a wide range of varieties, and the rule of thumb is the darker the foliage, the higher the nutrients and folic acid content. Lettuce loves moist, sandy soils with good drainage. In warm climates, start lettuce seeds indoors before the last frost date in the spring season. Transplant the seedlings outdoors when they are about 4 to 5 inches tall. Lettuce is usually ready for harvest in about 2 to 2 1/2 months.
How to Plant Vegetables Together
Companion Vegetables
Pick vegetables that grow in opposite directions. Root vegetables can grow under vines such as bean, peas and tomatoes.
Plant shade-tolerant vegetables under bush vegetables, large or tall vegetable plants. Corn and sunflower can have lettuce growing around them. Broccoli can have a circle of radish around it.
Grow vines such as beans and tomatoes on trellises, then plant celery, asparagus, cucumber or eggplant underneath. Potatoes can be planted around beans but not tomatoes because the same diseases attack both vegetables. Garlic and shallots will stunt bean vines.
Allied Plants
Pick flowers and herbs that help certain vegetables by controlling pests. Flowers such as marigolds keep beetles away. Herbs such as dill, oregano and chives keep various insects away.
Plant rosemary, thyme and garlic around the edge of the garden to deter animals such as deer and rabbit. These plants mask the smell of many vegetables in the garden as well as taste bad.
Plant herbs and flowers within the garden to attract beneficial insects and pollinators. Ladybugs protect gardens by eating many pests, including aphids. Wasps, bees and hummingbirds act as pollinators.
The Best Soil for Growing Vegetables
Most vegetables grow best in soils that are slightly acidic and well supplied with organic materials such as peat moss, compost or manure. Organic matter releases nitrogen and other nutrients when it decays. The soil also should be well-drained, able to retain moisture and free of stones or other debris.
Nebraska Garden Calendar and When to Plant Vegetables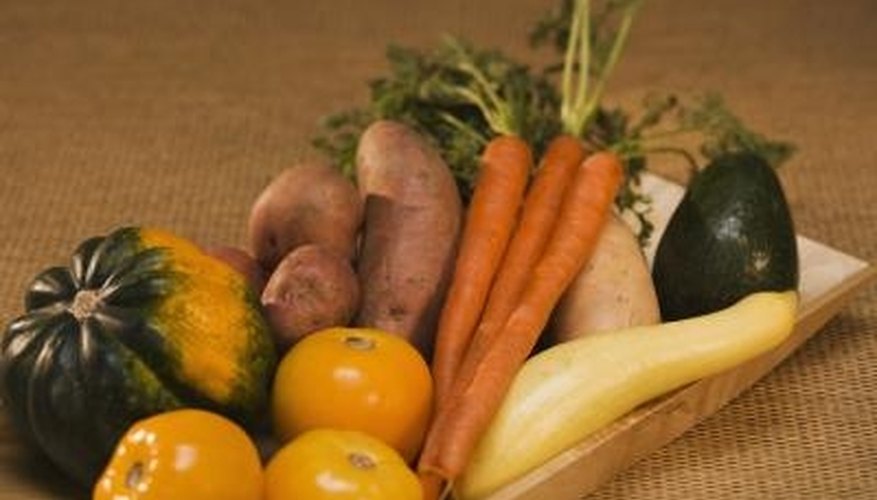 Early Vegetables
According to the University of Nebraska's website, you can start planting asparagus, collards, onions, peas, spinach and turnips as early as March 15. You can plant Leeks, mustard, potatoes and Swiss chard by March 20; and beets, cabbage, carrots and lettuce by April 1.
Late Vegetables
More tender vegetables should not be planted until around May 15, or after the last spring frost date in your part of Nebraska. Vegetables for May planting include tomatoes, peppers, squash, eggplant, beans, sweet corn and melons.
Fall Garden
Some of the hardier vegetables can be planted a second time in July or August for a fall harvest. cabbage, carrots, broccoli, turnips and cauliflower are ideal for fall gardening, along with Brussels sprouts, rutabagas and kale.
How to Grow Vegetables in Tires
Spray the tires down and make sure to rinse away any dust or debris.
Paint the outside of each tire with white paint. Two or three coats of paint is ideal to help shield away heat and sunlight from your plants.
Let the tires dry for two days.
Place each tire on the ground in a spot of your choice.
Fill each tire with equal amounts of soil and soil-additives. Each tire should have 5 pounds of soil and about 2 pounds of sand in it.
Water each tire thoroughly, turning the soil into thick sludge-mud.
Plant the potato tubers into the well of one of the tires, 2 inches beneath the soil.
Plant the turnip bulbs into the well of another tire, 2 inches beneath the soil.
Repeat steps 7 and 8 with the onions and ginger, using the remaining two tires.
Water the tire planters once a week, filling the well with water.
How to Improve the Flavor of Garden Vegetables
Step 1
Choose heirloom vegetable plants and seeds for your garden rather than hybrids. Select varieties that are known to have the tastes you prefer. because they'll likely grow true-to-type and offer better flavor, according to the University of Kentucky Cooperative Extension.
Step 2
Amend your soil with compost or organic matter to improve its fertility, recommends Rutgers, as fertile soil yields better-tasting plants. Fertilize regularly with a balanced, vegetable-safe fertilizer to maintain soil quality.
Step 3
Water your vegetable garden regularly, especially if it doesn't rain often in your area. Keep the soil evenly moist, as some plants, such as cucumbers and squash, develop a bitter taste when not adequately watered.
Step 4
Practice companion planting, or the art of placing certain plants next to each other for mutual benefit. Try planting summer savory next to beans to improve flavor, or chervil next to radishes, recommends the NDSU Master Gardeners.
Step 5
Know when each of your plants should be harvested for best flavor. Check your plants daily to see what needs harvested, as overripened vegetables can lose their flavor, turn bitter or even begin to rot.
When to Plant Vegetables in Massachusetts
Hardy Vegetables
The last spring frost in Massachusetts ranges from late April in New Bedford to late May in Hyannis and Greenfield, with the date in the Boston area falling around May 3. Plant hardy vegetables such as lettuce, spinach, radishes, onions, broccoli, peas and beets three to four weeks before the last frost, which will be sometime between late March and early May.
Start Seeds Indoors
Start seeds for warm-weather vegetables indoors sometime between early March and late April, about six to eight weeks before the last spring frost in the area. This gives plants such as tomatoes, eggplant and peppers a chance to become established before going outdoors and lengthens the growing season.
Tender Vegetables
Vegetables such as summer squash, tomatoes, peppers, eggplant, corn and cucumbers will not tolerate frost, so do not plant them outdoors until the danger of frost has passed. This will occur between late April and late May, depending on the specific location in Massachusetts. Check the upcoming weather forecast for potential frost before planting tender vegetables outdoors.