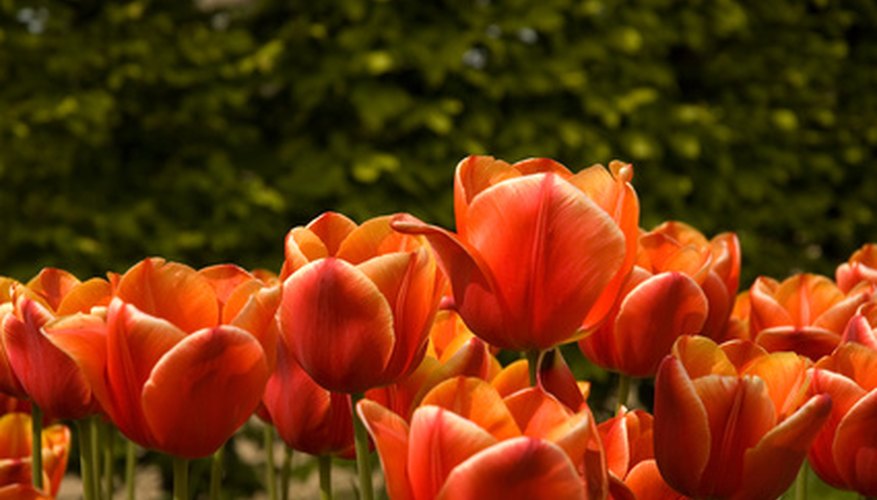 Creatures That Eat Tulip Bulbs
Though we think of tulips as Dutch flowers, they originated in Turkey. But the Dutch perfected the art of growing tulips and today they export approximately 3 billion tulip bulbs each year. The U.S. is the top importer of tulip bulbs from Holland. Gardeners plant thousands of tulip bulbs each fall, trusting that spring will bring a riot of colorful blossoms. But humans aren't the only ones who enjoy tulips. Some animal pests find the bulbs an irresistible, tasty snack.
Squirrels
Squirrels are a prevalent pest in many yards, raiding bird feeders and fruit trees during the summer. While some squirrels will ignore tulip bulbs, others develop a taste for them and will dig up and eat as many as they can find.
Mice
Mice find mole tunnels a convenient method of travel, especially during winter months. These underground passages also provide convenient access to tulip bulbs, which the mice will utilize as a convenient winter food.
Chipmunks
Like their rodent kin, the squirrels, chipmunks will sometimes dig up and munch on tulip bulbs.
Ground Squirrels and Gophers
These burrow-dwelling rodents are opportunistic eaters who enjoy a variety of plants. They will sometimes eat tulip bulbs.
Voles
These tiny rodents eat grain, bugs, and whatever happens to be handy--including tulip bulbs, which they seem to find particularly tasty.
How to Dig Up Tulip Bulbs for Replanting
Clip off the tulip leaves after they have turned brown or yellow in the fall. At that point, the bulb has stored sugar in the bulbs for next year's growth. Cut the leaves about 2 inches high.
Dig straight down around the tulip plant with a shovel or garden fork. Dig about 2 inches away from the stem. Tulip bulbs are usually 4 to 6 inches below the soil.
Push down on the handle of your shovel, garden fork or trowel to lift the bulbs out of the soil gently.
Shake off the excess soil from each bulb. Separate any bulbs that are attached to each other by gently pulling them apart with your hands.
Replant your tulip bulbs with the tips facing up in a sunny location with well draining soil. Plant them 4 to 6 inches deep and 4 to 6 inches apart.
Where Do Tulip Bulbs Come From?
While wild tulips grow in Europe, North Africa and Central Asia, Turkey introduced tulip bulbs to the commercial world. In Turkey, the first three decades of the 18th century were devoted to tulip parties, tulip shows and tulip literature. Those years are called the country's "Tulip Period."
How to Plant Tulip Bulbs Late
Prepare the tulip growing bed by digging the soil and turning it over to a depth of 8 inches deep. If a rototiller will fit into the tulip bed, work the soil to the same depth with the mechanical device.
Add 5 tbsp. of 10-10-10 fertilizer and two cups of bone meal into a 10-foot-square area of the tulip growing bed. Mix the nutrients into the soil with either the shovel or rototiller.
Plant the tulip bulbs by digging a single hole that is two times to three times the depth that the bulb is tall. In other words, if the tulip bulb is 2 inches in height, make the hole 4 inches to 6 inches deep. The bulbs should be planted no closer than 2 inches apart. Place one bulb per hole.
Press the soil down around the bulb. Water the bulbs immediately after planting. The water must reach to the bulb depth.
Dig a hole next to a few bulbs in various locations around the tulip bed to check the depth of moisture. Do not allow the growing bed to become over-watered or turn muddy. The bulbs will rot in the ground if too wet.
When Do You Dig Up Tulip Bulbs?
Dig up your tulip bulbs after the leaves have turned yellow and withered. After dividing the bulbs, either replant or store in a cool dry bin.
When Can You Plant Tulip Bulbs in Southern Ohio?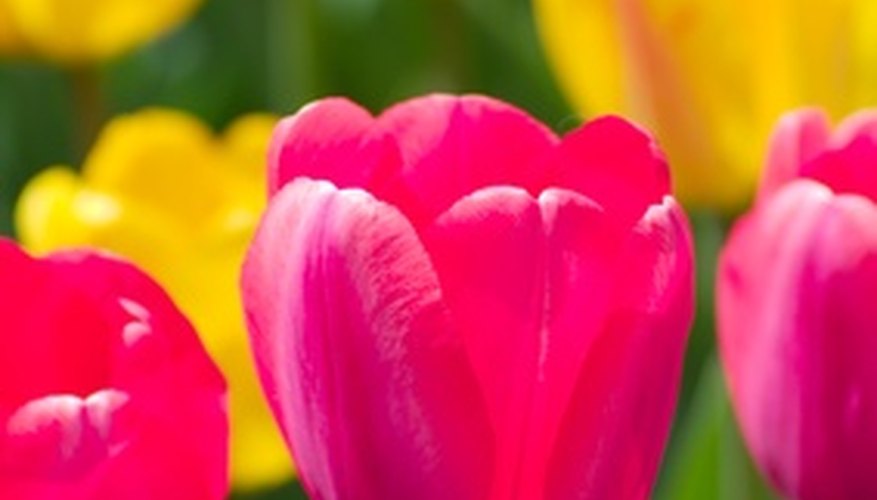 Tulips, like all spring-flowering bulbs, should be planted when the soil temperature at planting depth is around 60 degrees. In southern Ohio, the best time to plant is late September or October. Purchase bulbs early in the fall and store in a cool location such as a basement until planting time.
How to Plant Tulip Bulbs
Select a location to plant your tulip bulbs. It should be in full sun and have well-draining soil.
Till the soil 12 inches deep. This will help loosen the soil and make it more conducive to better drainage.
Amend the soil, if necessary. Dig a hole that is 2 feet deep and fill it with water. If after 24 hours any water remains, it is not well-draining. Mix in 3 to 4 inches of organic matter (such as peat moss or compost) to the top 12 inches you just tilled.
Plant the tulip bulbs 6 to 7 inches deep and about 5 inches apart. Place the bulbs so the tips face upward.
Backfill the soil and water the planting site well. Pack down the soil so that it is firm and free from any air pockets.
How to Plant Tulip Bulbs in a Vase Indoors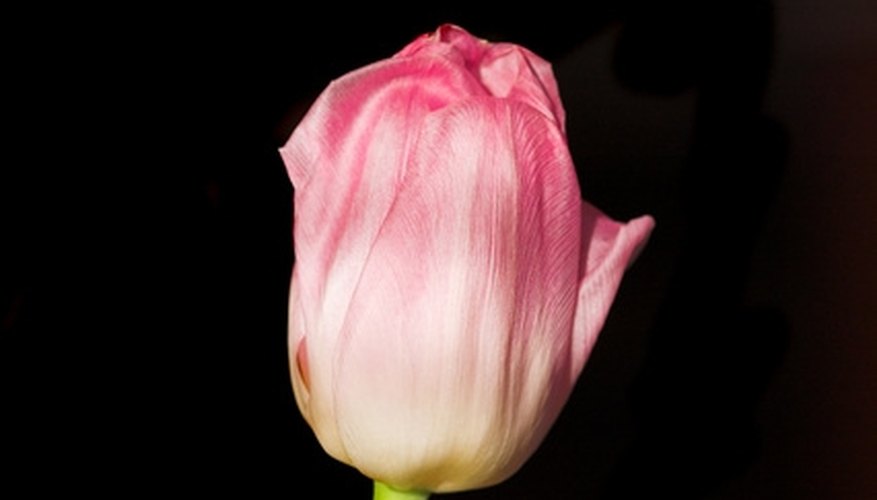 Pot tulip bulbs in October for flowers that will bloom during the winter months. Use only one variety of tulip bulbs per vase to ensure that all plants bloom at the same time.
Choose a vase large enough to accommodate the tulip bulbs. Six tulip bulbs can typically be grown in a 6-inch-wide vase without overcrowding.
Fill the vase with potting soil. Place the bulbs close together on top of the soil, with ¼-inch of space left at the top to allow for watering. Plant the bulbs with the "nose" of each bulb facing upwards. Cover each bulb with soil, but leave the nose free of dirt and uncovered.
Water the bulbs as soon as they are planted. Water regularly as they grow. Do not let the soil dry out.
Cover the vase with a plastic grocery bag that has a few holes punched in it. Place the covered vase into the refrigerator. Tulip bulbs must have 12 to 13 weeks of cold temperatures before they will bloom.
Remove the vase from refrigerator three to four weeks before you want the bulbs to bloom. Place the vase in a location where the temperature will stay between 50 to 60 degrees Fahrenheit until they begin to grow. The vase may then be moved to a sunny location that is out of direct sunlight. Continue to water as tulips grow.
When Do I Plant Tulip Bulbs in Northern Virginia?
Time Frame
Plant tulip bulbs when the soil reaches temperatures below 60 degrees Fahrenheit, which generally is between October and early November, according to the National Gardening Association.
Considerations
The U.S. Department of Agriculture hardiness zones take into account the average low temperatures in an area. Because the hardiness zone may be affected by your nearness to the ocean or mountain areas, check with a local nursery to determine if your area of Northern Virginia is zone 6 or 7, or put your zip code into the finder provided by Van Bourgondien (See Resources).
Instructions
Plant the bulbs root side down about 6 inches deep. Gardeners in zone 6 should top the soil with mulch or straw one month after planting, to protect the bulbs from extreme cold.
Suggestion
Plant tulips along side other bulbs that will bloom at various points in the season, according to the National Gardening Association. Position shorter bulbs in front of taller tulips.
Meaning of a White Tulip
Portray humility, purity and innocence through white flowers, including tulips. Tulips also claim your worthiness, sending the message "Let's take a chance."
Send a message of forgiveness with white tulips. If you buy this color tulip, you're asking someone to "please forgive me".
Use white tulips at a funeral to show respect and remembrance. Because the understated flowers are not shiny, they work well in funeral floral arrangements.
Add white tulips to wedding bouquets and arrangements because the color symbolizes purity. Choose between many variations. Single tulips have six petals. Other options include double flowers, lily-flowering types, ruffly parrot varieties and fringed petals.
Tell someone they have beautiful eyes by giving them variegated tulips, which combine color patterns. There are many varieties, including those with white and bright colors, and their meaning is different than pure white tulips.
What Is the Meaning of Red Tulips?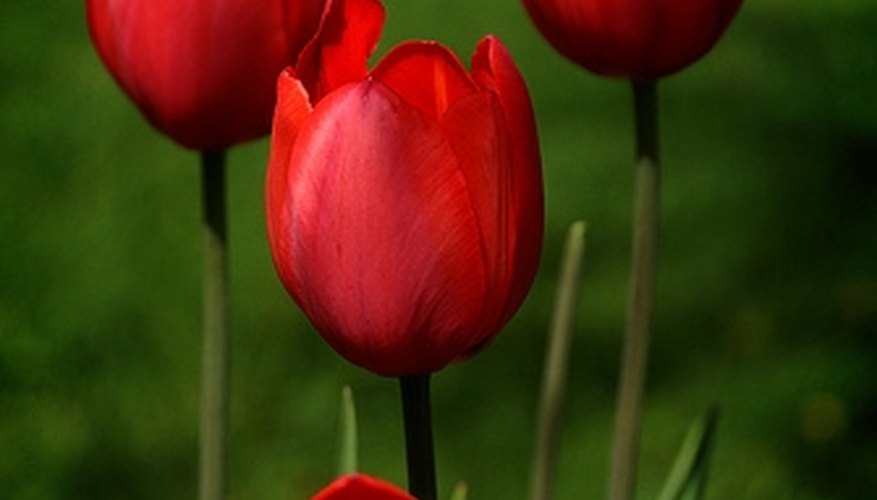 Origin
Tulips were first discovered in Persia and Turkey. They got their name from the Latin word for turban because Turkish men often adorned their turbans with tulips.
Tulipmania
In the 17th century, Europeans brought tulips to the Netherlands, where they became very popular. The price of tulips skyrocketed in a phenomenon known as Tulipmania.
Meaning
Red tulips represent true love and the belief in love. Give them to your sweetheart as a declaration of your love.
Symbolism
Tulips have also become a national symbol of Holland, due to their popularity in the Netherlands.
Gifts
Express true love with an arrangement of cut, red tulips or give loved ones a potted tulip plant.
What Is the Meaning of Pink Tulips?
Meaning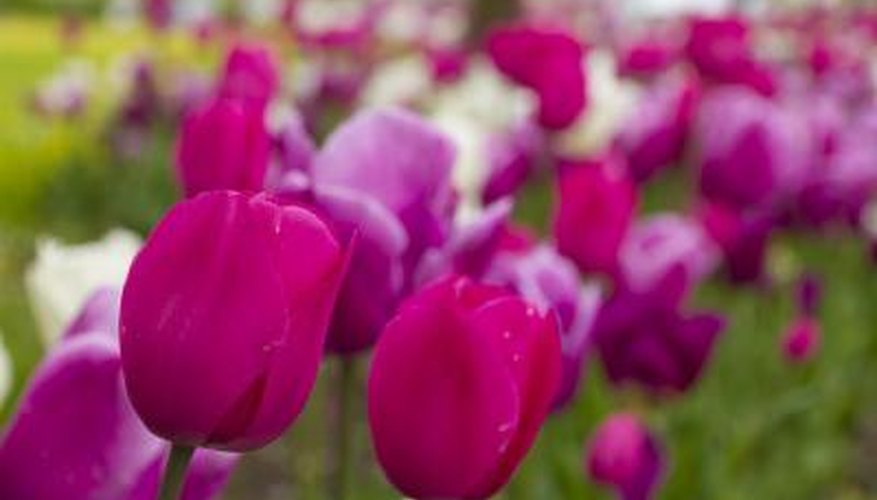 While tulips have a general meaning of love, the pink tulip specifically denotes feelings of caring, perfect happiness, or well wishes. Many florists consider this flower choice appropriate for all occasions.
History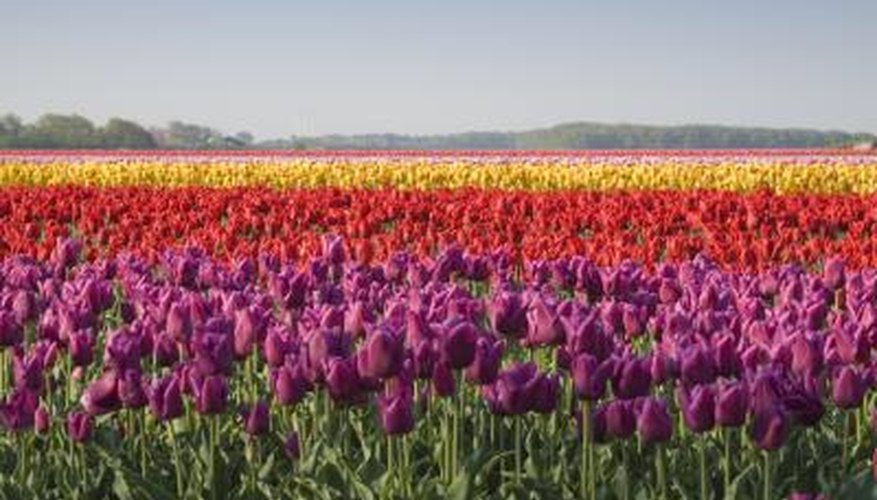 Tulips originated in Turkey and Persia, and became popular with Europeans in the 17th Century. Although tulips are now grown throughout the world, people normally refer to them as "Dutch Tulips".
Name Origination
The word "tulip" is actually a Persian word meaning turban.
Varieties
Pink tulips come in a variety of shades and sizes; flower sizes range from 18 inches to 36 inches tall.
Care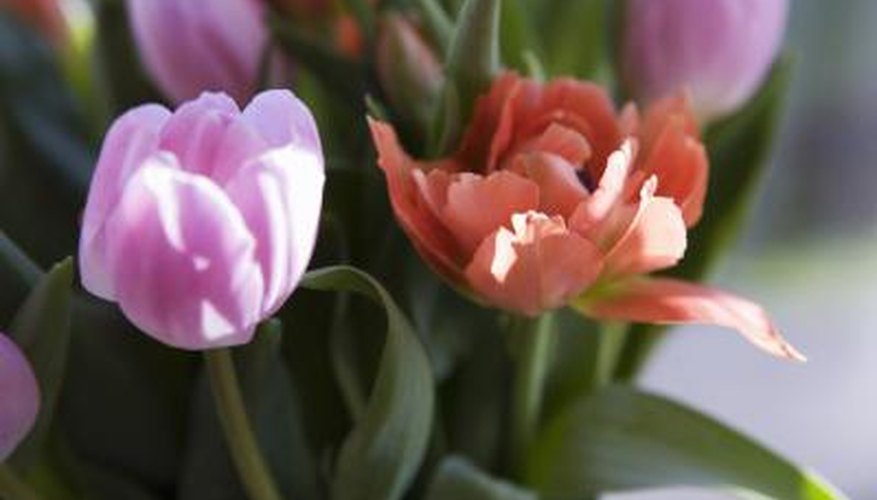 Your fresh tulip flowers should last in the vase for about seven to ten days. Only add commercial flower food to extend the life of your blooms. )
Popularity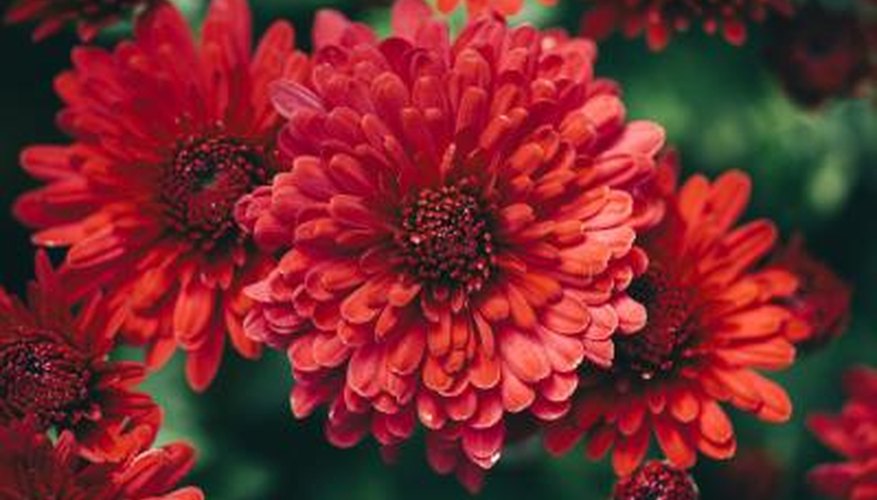 Only the rose and chrysanthemum are more popular than the tulip.
Meaning of Pink Tulips
History
Tulips originated more than 100 years ago in Turkey and Persia. The name tulip comes from the Persian word for turban. The flower's popularity soared during the 17th century. Pink tulips, in particular, were very popular during the 17th century in Holland and Europe.
Significance
Pink tulips can be given or displayed during any occasion. They carry the meaning of perfect happiness and of wishing someone well.
Theories/Speculation
Pink tulips have a less serious romantic meaning than their red counterpart, so they are perfect for new couples to purchase. Red depicts true love, whereas pink tulips show caring.
Potential
Use pink tulips to exude confidence. They are a good flower to give to someone as encouragement, to wish them success with an endeavor.
Size
Some tulips are larger than others. They are more splendid and showy, which has come to mean that the person who receives them is showy or likes attention.
What Flowers Go With Tulips
Aster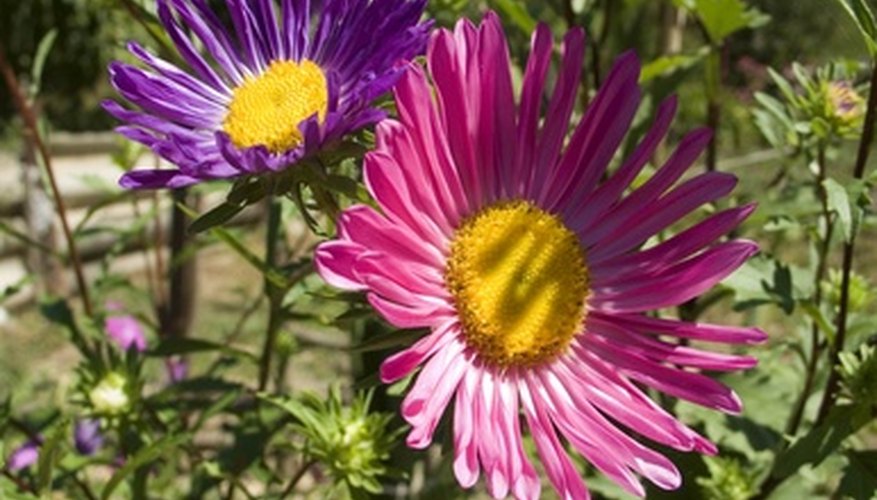 Aster flowers present small, delicate blooms and wispy green foliage. A hardy perennial in temperate climates, the aster varies in color from deep tones of fuchsia and pink to vibrant blue. Aster flowers attract hummingbirds, bees, butterflies and other pollinating fauna and provide tulip flowers with additional splashes of color and foliage.
Blue Star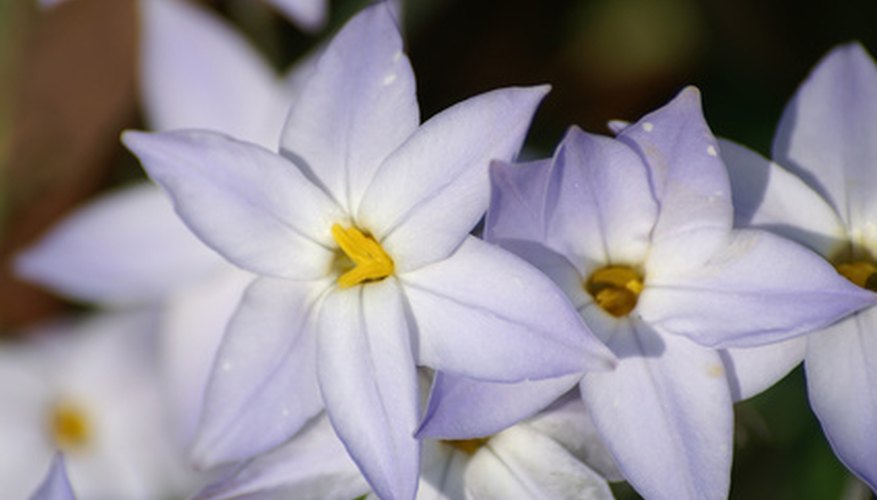 Alternatively known as blue ice, the blue star plant produces bright green foliage with oblong shaped leaves. The flowers of the blue star, as the name denotes, are delicate, star-shaped and blue in color. Blue star thrives better when planted in condensed clusters between and around tulip flowers of any color. They make an excellent border plant as well for floral gardens.
Crocosmia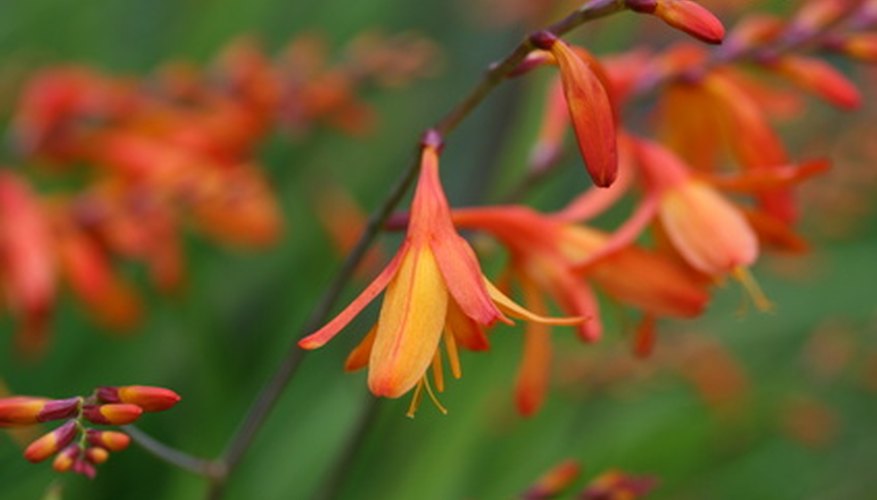 Crocosmia (Lucifer flower) grows up to four feet in height and provides shade for low-growing plants such as tulips, asters and other common garden varieties. The flowers hang like delicate trumpets of fire orange from the long, thin stems of the plant. It provides a splash of color to a bed of pastel-colored tulips in well-drained soil.
Easter Lily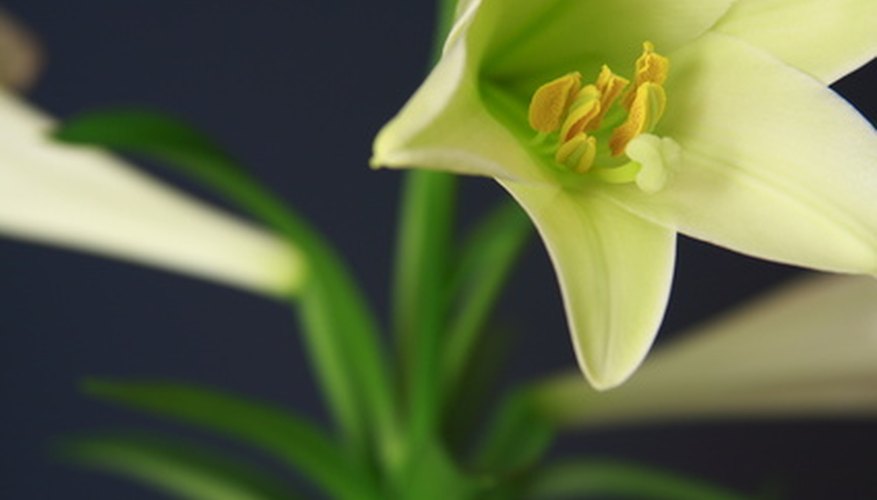 Like other lily varieties, the Easter lily presents itself as an attractive addition to a bed of tulip flowers of varying color. The bulb-propagated plants are perennial and provide flower gardens with season after season of attractive flora and fragrance.
Planting Instructions for Tulips
Choose a bed that is well-drained; it should receive full sun. Lay a 2-inch layer of mature compost over the bed. Work it in to the soil to a 10-inch depth. This improves soil drainage and provides necessary nutrients to the bed.
Dig a 5-inch hole for a 1-inch bulb. For a bulb over 2 inches, dig an 8-inch hole. Space the holes 4 to 8 inches apart.
Place a teaspoon of bulb fertilizer in the bottom of each hole, cover the fertilizer with a sprinkling of dirt. Alternately, use a general fertilizer or bone meal.
Place the bulbs in the holes with the pointed side facing up. Cover them with soil; water them until the soil is moist.
Cover the tulip bed with a 3-inch layer of straw or bark mulch; water it a second time. Mulching preserves soil moisture, and it protects the bed from temperature fluctuation over winter.
How to Take Care of Tulips
Just as your tulip leaves are beginning to poke out of the soil in the spring is a great time to fertilize them. Slightly loosen the soil around the foliage and sprinkle your fertilizer around the plant. Do not fertilize your tulips repeatedly, once in the spring is enough for them.
Protect your tulips from animals. Rabbits, gophers, deer and other little critters love to munch on the fresh green plants. Spray your tulips with an animal repellent spray or build a barrier around them to keep the snackers away from your beauties.
Tulips enjoy plenty of water. Spring rains usually take good care of the moisture requirements your tulips have. If you are having a particularly dry spring you might want to occasionally give them a sprinkle.
When your blooms begin to whither, cut the flowered stems from the plant. Leave the foliage in place so that it can continue to nourish the bulb during the warm season. At the end of the season you can trim the tulip leaves level with the earth using garden shears.