How to Use Tobacco Juice to Control Pests in the Garden
Most gardens, whether they be fruit, vegetable, herb or flower, are susceptible to pest problems. Gardens aren't the only areas with pest problems as some insects infest trees and grass. Pesticides are available, but they can be expensive or contain unnatural chemicals. A simple solution is to make your own pesticide with tobacco. The chemicals in tobacco are an effective repellent to most insects, caterpillars and aphids.
Fill a 1-gallon container with water.
Add 1 cup of tobacco to the water. The tobacco can be in any form, whether it be pure tobacco leaves, cigarettes or smokeless tobacco. Let the mixture sit for 24 hours, or until the water turns light brown.
Pour the water into a spray bottle. Spray the water on areas with pest problems once per week.
How to Harvest Tobacco
Begin the harvest about 60 days after transplanting. Harvest tobacco leaves from the bottom up. Each leaf has a different chemical content based on its position on the stem, and the leaves ripen at the bottom first.
Use a tobacco harvester designed with small seats on it for the workers. The seats can be adjusted to an appropriate height so the workers can pick the leaves from the bottom up.
Harvest tobacco leaves in the morning after the dew dries. This prevents the leaves from arriving wet to the curing barn. You can also pick in the afternoon when the sun isn't as strong.
Pierce tobacco stalks for stringing on tobacco sticks. Use a tobacco spear on the end of a tobacco stick and thread the stalks onto the stick.
Gather the sticks and remove them to the tobacco barn.
Air cure the tobacco in the barn for about 8 weeks. This allows all the moisture to be released from the tobacco leaf. It will change color during this period.
How Tall Does a Tobacco Plant Grow in One Year?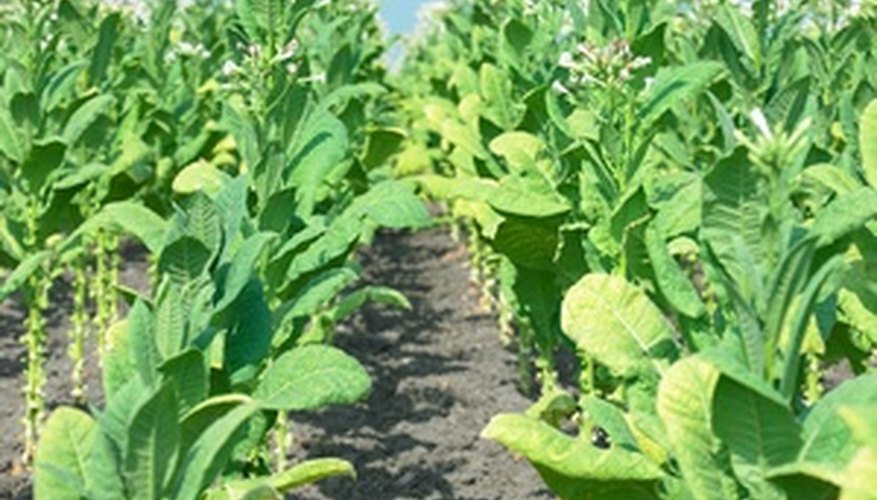 Tobacco (Nicotiana tabacum) is an annual plant that can grow up to 10 feet tall in one year, according to Floridata. Tobacco is the main ingredient used for cigarettes, cigars, chewing and in pipes.