Do Spider Mites Kill Arborvitaes?
The arborvitae is an evergreen that can be grown as tree or a shrub. It typically has a conical or cylindrical shape. The leaves look like needles and have a yellow-green hue. The plant bears small bluish green cones that change to brown as they mature. The arborvitae is troubled by a few pests. Though there are hundred of spider mite varieties, the spruce spider mite appears to be the only mite that can harm the arborvitae.
Arborvitae Pests
The arborvitae is prone to attack from the arborvitae aphid, scales, bark beetles, sawflies and several other insects. The spruce spider mite also feeds on the leaves of this species. It is a cool weather pest that hides in the bark and becomes dormant when temperatures exceed 90 degrees.
Spruce Spider Mites
Spider mites are tiny arachnids that feed primarily on vines, berries, fruit, and ornamental trees and vegetables. They live in colonies, and feed by piercing the cell tissue and sucking out the contents. In mild cases, tiny yellow or white speckles are left on leaves or needles.
Fatal Attraction
Arborvitae can be damaged by a serious infestation of spruce spider mites. The leaves become yellow or bronzed and can fall from the tree. If the population becomes excessive, this feeding can cause defoliation, which can result in serious damage and, in some cases, death.
What Are the Treatments for Spider Mites on Spruce Trees?
Water
Unless you suspect the population of spruce spider mites is very large, the most cost-efficient treatment is to spray high-pressure water on the underside of the leaves or needles of the affected plant or tree. Repeated, daily sprays will dislodge mites missed on previous occasions.
Insecticides/Miticides
The spraying of chemical insecticides or miticides is not recommended unless there is a large infestation of spider mites. Generally, sprays that contain clofentezine, bifenazate or Hexygon are most effective. Some insecticides and miticides are only available to licensed professionals.
Soaps
Insecticidal or miticidal soaps are more readily available to the public. Soaps are most effective when used during summer months, the height of the plant's growth cycle.
Horticultural Oil
Horticultural oils may also be applied during the summer months. For spruce spider mites, however, a dormant oil--comprised of petroleum products--is most effective. This is because the dormant oil kills the mites' eggs during the winter.
Biological
There are several natural predators of spider mites. These include the lacewing, the lady and rove beetles, minute pirate bugs and predatory mites. Predatory mites can be purchased. Never use insecticides if attempting biological control of spider mites.
How to Get Rid of Mites From Roses
Spray water directly on top of the rose plants. The water will knock the mites off and may cause them to drown.
Spray water on the entire plant three times per day, making sure to also spray the underside of the leaves. Mites are attracted to dry, dusty conditions, so a moist plant will deter them from coming back.
Release ladybugs in the area. Ladybugs, available in most garden supply stores, are one of the best natural pest controls available. They will eat the mites along with many other pests, but will not harm your plants.
Spray neem oil on the underside of the leaves. Neem oil is a natural, vegetable-based oil that repels mites.
Spider Mites on Evergreen Trees
Features
Spider mites can be red, brown, yellow or green. They are extremely difficult to see without the aid of microscope.
Evergreen Tree
The evergreen tree hosts many types of spider mites. When an evergreen tree goes through an infestation the needles will become discolored and die prematurely.
Spruce Spider Mite
The spruce spider mite is the most common type of mite that infests evergreen trees. These mites can cause severe damage and prefer the shade of evergreen trees.
Fact
Spider mites do damage to evergreen trees by bruising the cells of the tree and also by ingesting the evergreen tree's sap.
Prevention/Solution
Spider mites prefer the evergreen tree's shade and dryness. An infestation can be avoided by regular and routine waterings. This will help make the tree less desirable to the spider mite and also prevent webbing.
How to Care for a Spider Plant With Yellow Leaves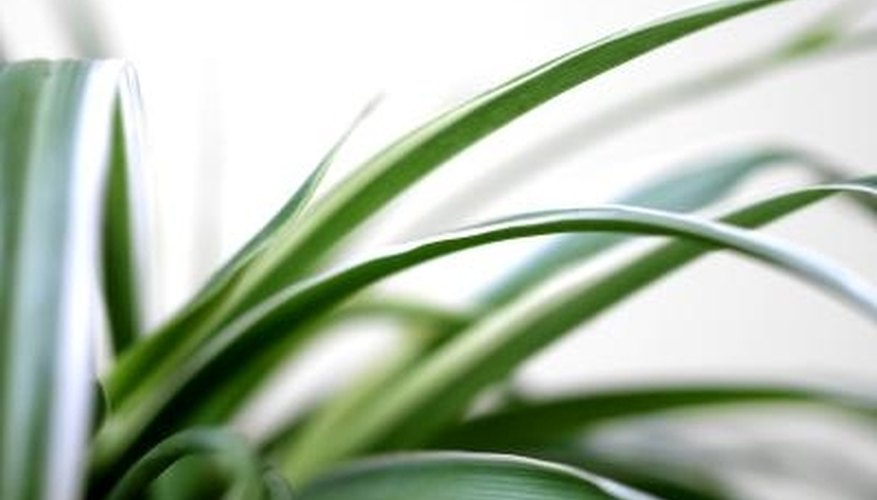 Move your potted spider plant to a location that gets bright, indirect light. An east-facing windowsill or a spot at the back of a room with a south- or west-facing window is ideal. Spider plants do not like a lot of light.They will even adapt to a location on a north-facing windowsill.
Water your spider plant when the soil dries out. Too much water may also be a reason its leaves are yellow.
Fertilize the spider plant when you water it, with a diluted solution of houseplant fertilizer. Read the directions on the fertilizer box for proper application amounts, and cut them in half. Fertilizer feeds the plant, keeping it healthy, and stops the leaves from turning yellow.
Prune off any yellow leaves that do not turn green. The spider plant will grow new ones to replace the ones you cut off. Only prune away a third of the plant at a time. Spider plants need leaves to carry out the process of photosynthesis and feed its roots.
Repot the spider plant in the spring when its roots occupy more than half the pot. Spider plants that are pot-bound do not grow well.
Care Instructions for a Spider Plant
Plant the spider plant in a sturdy hanging container that has bottom drainage. Fill the container with general purpose commercial potting soil.
Place the spider plant in bright, indirect light. Avoid placing the plant directly in a sunny window, as excessive bright light can scorch the leaves.
Check the potting soil daily. Feed the spider plant warm water when the top of the soil feels dry to the touch. Add water until it runs through the bottom of the drainage holes. Allow the plant to drain completely, then pour out any water remaining in the drainage saucer. Never allow the container to stand in water.
Keep the spider plant in a moderately warm room with daytime temperatures between 65 and 75 degrees F, and about 10 degrees cooler during the night.
Fertilize the spider plant every week during spring and summer, using a general purpose liquid fertilizer for indoor plants. Feed the plant a granular time-release fertilizer, which will only need to be applied in early spring, if you prefer. Follow the fertilizer's label instructions for dosage.
What Do Spider Mites Look Like?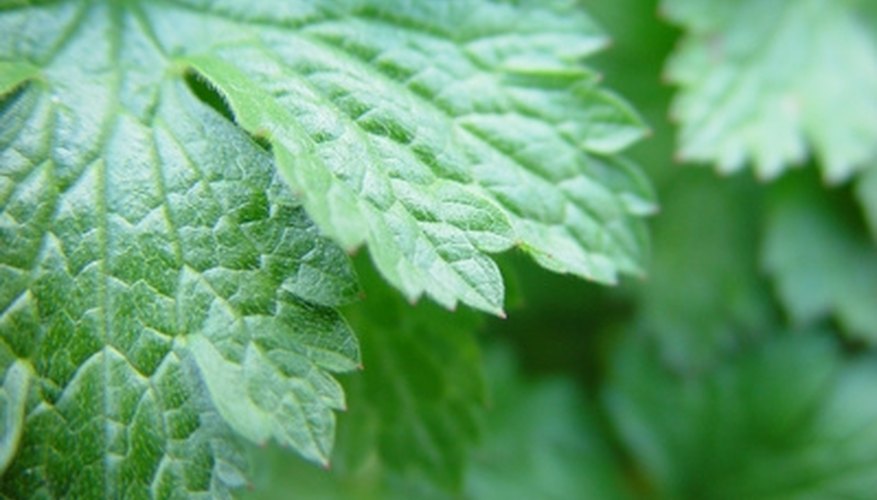 Size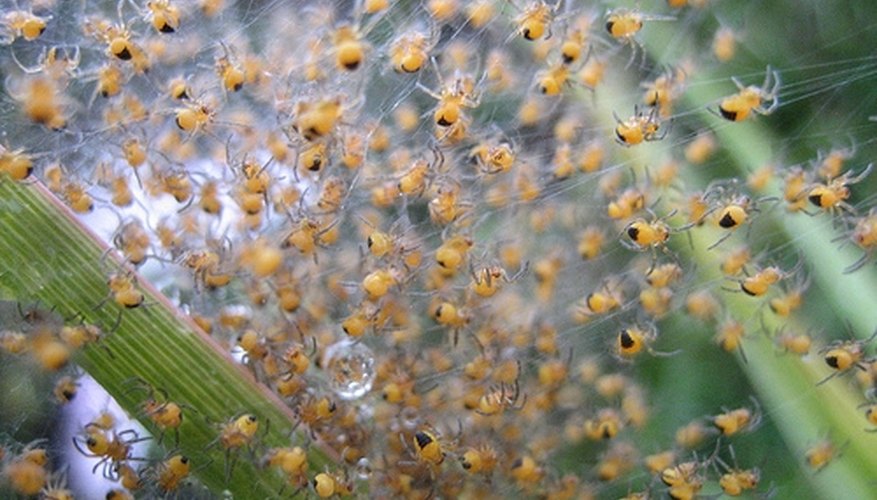 Spider mites are 1/50 of an inch--about the size of a flea. Heavily infested plants look like they are speckled with brown dots.
Spider Mite Traits
Spider mites are related to arachnids, and they are not insects. They have four pairs of legs like spiders, no antennas and have oval bodies.
Twospotted Spider Mite
This warm-season mite, whether an adult or nymph, is white with two greenish spots. In the winter, females can turn reddish-orange and be mistaken for other species of mites.
Spruce Spider Mite
This cool-season mite spends most of its time in the egg stage, attached to the host plant.
Habitat
Spider mites spend their entire lives under leaves. They do best in hot, dry, dusty conditions.
Spider Mites & Italian Cypress
Identification
Spider mites are closely related to the tick and spider and are not considered insects, according to Ohio State University Extension. Some species of spider mites measure less than 1/50 of an inch and are too small to be seen with the naked eye. Round to oval in shape, these mites are usually yellow, red, green or brown in color. University of Florida Extension cites Italian cypress trees as very sensitive to spider mite infestations.
Plant Damage
Sucking the sap from the leaves and fruit of the tree, is the way spider mites cause damage to the Italian Cypress, states Maricopa County Cooperative Extension Home Horticulture. Stunting of tree growth, brown branches, twisting of leaves, twisting of branches and yellow spots on the leaves are all signs an Italian cypress tree is infested with spider mites.
Solution
Rinsing large plants or trees such as the Italian cypress weekly with a forceful stream of water helps eliminate spider mites, recommends Maricopa County Cooperative Extension Home Horticulture. Use an insecticidal soap and miticide for heavy infestations. Check for signs of spider mites on a regular basis, as the Italian cypress often does not exhibit symptoms until the infestation is heavy.
Spider Flower Fast Facts
Description
Spider flowers are large, sturdy plants, ranging from 3 to 6 feet tall and 1 1/2 to 3 feet wide. The fragrant flowers are 1 to 2 inches across with stamens of 2 to 3 inches. The palmate leaves have five to seven leaflets.
Features
Spider flowers are native to South America. They grow fast and have stout taproots that anchor the plants so they do not need staking. The flowers bloom from the lower end of the stem to the top, and are followed by slender seed pods.
Varieties
The Queen series of spider flowers are large plants, up to 5 feet tall, with pink or rose flowers. The Sparkler series is smaller, only 3 feet tall, with flowers of white, rose or pink.
Growing Conditions
Spider flowers prefer full sun but will grow in any type of soil. Once established, spider flowers are heat- and drought-tolerant. In Zones 4 to 7, spider flowers are treated as tender annuals. They are annuals in Zones 8 to 11, but reseed easily.
Pests and Diseases
Spider flowers are fairly trouble-free. They may be affected by fungal spots or mildews. Aphids, spider mites or whiteflies may damage the leaves and flowers.
How to Stop Spider Mites on Outdoor Plants
Isolate the affected plants, if possible, and spray them with water. Hose off all the leaves and stems. Make sure you also spray the undersides of the leaves.
Introduce natural spider mite predators to the affected plants. Ladybugs and predatory mites feed off spider mites, and they can be purchased online or at local nurseries.
Spray the affected plants with neem oil or insecticidal oil. These substances cling to the plant and will drown the mites.
Provide shade to plants during the late hot afternoon sun. This can be accomplished by moving the plants to a shady location or erecting shade cloth to block the sunlight. Doing this helps the plant maintain moisture easier and ward off the spider mites.
How to Rid Spidermites From Fruit Trees
Spray the infected plant with a water hose. Thoroughly spray the plant, including the underside of the leaves. Be careful, however, not to cause additional damage to the tree by using a stream of water that is too forceful. Spider mites do not like cold, wet environments. Treat infected trees, daily, for 1 week.
Introduce Phytoseiulus persimilis, a natural predator of the two-spot mite, into the environment. (Purchase phytoseiulus persimilis from a local nursery or through a mail-order company that supplies beneficial bugs.) Release the Phytoseiulus onto the leaves of the infected plant when temperatures are between 50 and 90 degrees. Observe activity of the Phytoseiulus, which smells its prey, then quickly devours it over a two-to-three-week period.
Spray WiltPruf or UltraFine according to the manufacturer's directions to remove spider mites from fruit trees. Rose Defense Spray will get rid of the pest but is gentle on plants. (WiltPruf, UltraFine and Rose Defense Spray are readily available at any garden center.) Make a solution of isopropyl alcohol, water and a few drops of dishwashing detergent for a treatment that is less harsh but still effective. Spray the solution early in the morning or late in the day for the best effect.