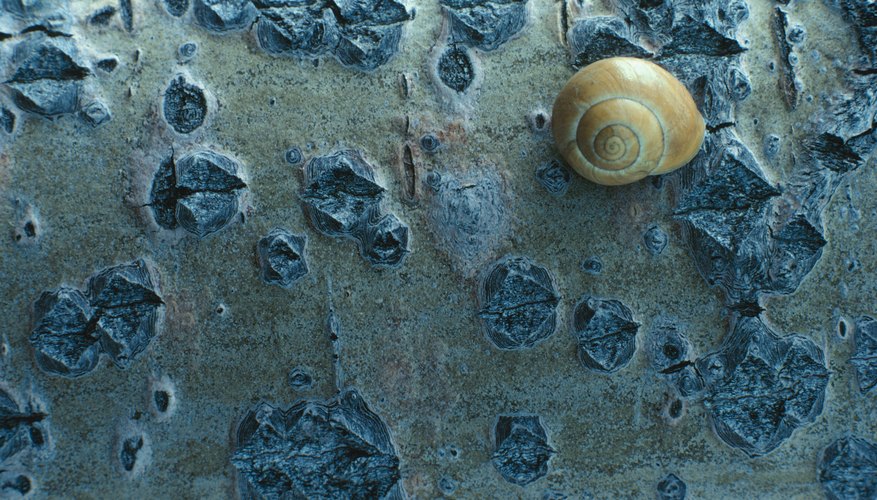 How to Keep Slugs and Snails Off Fruit Trees
Slugs and snails find fruit trees to be delicious. They feed on your fruit and leave their telltale slime tracks behind. If you have ever grown a fruit tree or are planning on it, you have to do something to keep these pests away. There is a simple remedy to keep slugs and snails off your fruit trees.
Purchase copper wire, thin copper sheeting or copper tape. Most hardware stores and home improvement stores sell copper wire and sheeting.
Wrap the copper foil, copper sheeting or copper barrier tape around the base of your fruit tree. The copper barrier needs to be approximately 3 to 4 inches wide, so you can bury a portion of it under the soil level. Wrap the tree snugly but not overly tight, because if it is too tight in will cause damage to the tree.
If you are using copper sheeting, punch a hole in each end of the sheeting. After wrapping it around the base of the tree, slip string or a twist tie through the holes to pull the ends together. Tie a knot in the string or twist the twist tie together to secure it in place. Attach copper foil by stapling one end to the tree and using paper clips to secure the two ends together after wrapping around the tree. The tape has adhesive on the back to secure it to the tree.
How to Get Rid of Snails & Slugs That Eat Hosta Plants
Replace organic mulches, such as bark, wood chips and pine needles with inorganic mulches, such as gravel or pebbles. Snails and slugs prefer and often live under organic mulches.
Remove the slugs and snails from your hosta bed manually--at night or in the early mornings is ideal. Wear gloves, and then stick them in a bucket. Throw them away or for the faint-hearted, set them loose in the woods or on a farm. You can also boil them, and then in a few days when the smell is unbearable, sprinkle the water and remains around the planting bed, but not on the hostas themselves.
Set up slug and snail traps. There are commercial traps available or you can make your own. Bury a tin can near each hosta plant. Then fill it with about an inch of beer. The snails and slugs will fall in and die.
Purchase a worm called a nematode worm. It will attack a slug and enter its body. It will kill it and then reproduce. Then more nematodes go on the hunt for slugs. This is best started in the spring.
How to Kill Slugs
Get some sawdust. You can make it yourself or you can go to any lumber yard and they'll propbably just give some to you.
Go out to the infected area and ring your plants with sawdust. Typically I create a ring about four inches away from the stalk of the plant. Try to make your ring about 1 inch wide and 1/2 inch tall.
If you have the patience and the weathers nice you can Just sit bak and observe. Watch the slug slide over the ring of sawdust and begin to writh in agony as the moisture is absorbed from it body.
If you want to make it espessialy painfull on the slug top off your sawdust ring with a layer of salt. You can almost hear them scream.
How to Keep Slugs & Snails From Eating Hosta Plants
Rid your garden of debris. Vegetation that is decaying, fallen leaves and rotting wood are favorite hiding places for slugs. Removing potential nighttime homes helps deter slugs.
Thin their population by handpicking them at night. Go out to your garden around 10 p.m. and gather all the slugs you can.
Make a beer trap. Also commonly referred to as a "slug pub," a beer trap will lure slugs and drown them. Place an old pie tin or similar dish about a quarter inch into the ground and fill it with beer.
Turn an old cantaloupe shell into a trap. Place the cantaloupe rind in your garden with the hollow side down. Remove slugs daily. This trap will last for three days.
Sprinkle diatomaceous earth around your hostas. While these ground-up diatoms are sharp enough to cut and kill slugs and snails, they will not affect other animals and are safe to use around pets and children.
Use a commercial slug killer. Metaldehyde products kill slugs by dehydrating them. Deadline RainTough or Meta are two brand names. Follow manufacturer directions in applying the product, and reapply after rain.
Home Remedy for Insects on a Tomatillo Plant
Use a shepherd's hook to hang your tomatillo plant on. Keeping the plant off the ground will prevent snail and slug damage.
Spray water from a bottle all over your tomatillo plant daily, especially on warm summer days.
Add cool running water to a high-pressure water sprayer if you notice the presence of spider mites. Don't add any chemicals to the water that could affect your plant.
Spray the high-pressured water beneath the plant and on the back of the leaves. Make sure that all of the bugs are sprayed off in the process.
Wear protective gloves and pick off any stickbugs using your hands. Spread a thin layer of sabadilla on the surface over the leaves after the fruit begins to ripen.