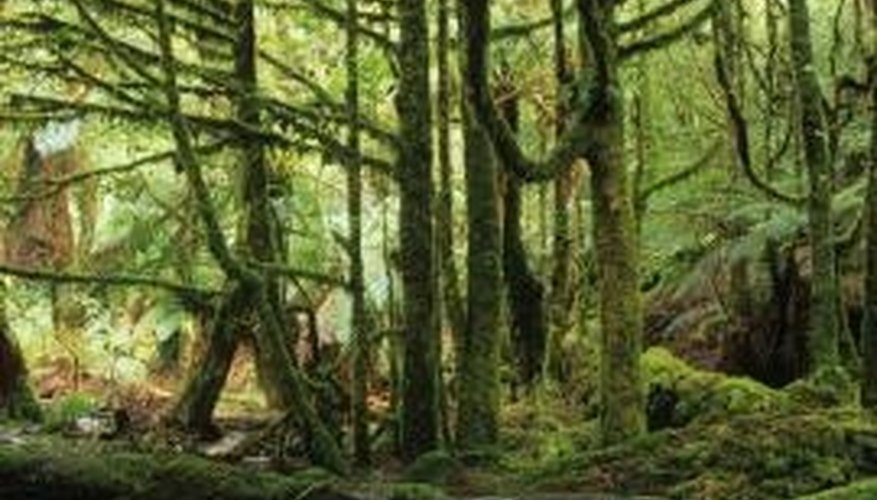 Sassafras Tree Uses
People and animals have used almost every part of the sassafras tree for hundreds of years. Its uses are wide and varied. According to the University of Florida, however, "medicinal use of sassafras has declined in recent years because of the possibility that it may contain carcinogens (cancer-causing agents)."
Medicinal Uses
Historically, herbalists used sassafras for various medicinal purposes. It is said to relieve pain, act as a stimulant and help treat rheumatism. According to the University of Florida, doctors have administered a sassafras tonic to treat syphilis since 1600 A.D., and that reports claim that chewing sassafras bark can help relieve addiction to tobacco. Lately, however, sassafras medicinal uses have dwindled.
Food
The fruit, or drupes, from the tree provide food for birds and other wildlife. Deer eat the twigs in winter and the leaves and succulent growth during spring and summer. Humans steep the bark in hot water for a calming tea. They also use crushed leaves to thicken soups and stews.
Ornamental Landscape Plant
Sassafras trees may be difficult to establish due to a sparse root system, but once rooted they provide an aesthetically pleasing addition to your yard. They can grow 40 to 50 feet tall with showy bark and an interesting branching pattern. In the fall, the foliage turns from green to brilliant reds, yellows and oranges.
Wood
The wood from this tree is very durable. Commercial lumber companies, therefore, use it for buckets, posts, poles, furniture and cross-ties. Its orange color also makes it popular for indoor cabinetry.
Miscellaneous
The wood, bark and roots of sassafras produce an oil extract. Companies use this extract for flavoring and to add scent to perfumes and soaps. Some people also extract yellow dye from the tree.
How to Harvest the Sassafras Root
Wait until the fall and locate a small sassafras tree with a 2-inch diameter trunk. Sassafras trees have a combination of three flower shapes: oval, a leaf with two lobes that look like a mitten and a leaf that has three lobes. When you find a tree with all three, tear a leaf to see if it smells like root beer.
Insert a shovel into the ground 1 foot away from the base of the sassafras tree and lean back on it to lift the base of the seedling out of the soil. You may need to loosen the soil on the other side of the tree before lifting it.
Brush off the excess dirt from the root system so that you can easily identify the larger roots.
Cut off the largest horizontal roots near the base of the sassafras tree using a sharp knife or hand pruners.
What Are the Dangers of Sassafras Tea?
Gastrointestinal and Skin Reactions
Sassafras can cause vomiting, diarrhea, nausea and abdominal pain. The oil also will burn the skin. The amount needed to bring about these reactions varies according to the individual.
Lungs, Nervous System and Kidney's
Changes in breathing patterns, such as becoming too rapid or too shallow, can occur in high doses. Users also can experience dizziness, hallucinations and unconsciousness. Kidney damage can result and it will take months to recover. Be advised that biological changes from toxic levels of sassafras also can cause death.
Cancer
Researchers do not know how much sassafras needs to be consumed by humans in order to cause cancer but the Food and Drug Administration has discovered that sassafras causes cancer in rats. One cup of sassafras contains at least 200 mg of safrole and that is four times the amount considered hazardous.
How to Prune Sassafras
Prune your sassafras tree when it is young by removing all but a single trunk of the tree. Cut the sections off by cutting at an angle with your pruning scissors. Pruning down to a single trunk works well for landscaping trees. Leave the other branches, however, if you want your tree to grow out more dramatically.
Pinch off the stem tips with your fingers while your tree is still young, so they will branch out more later in their growth.
Use your pruning scissors to remove any dead branches as your tree grows. This will help to keep your tree healthy.