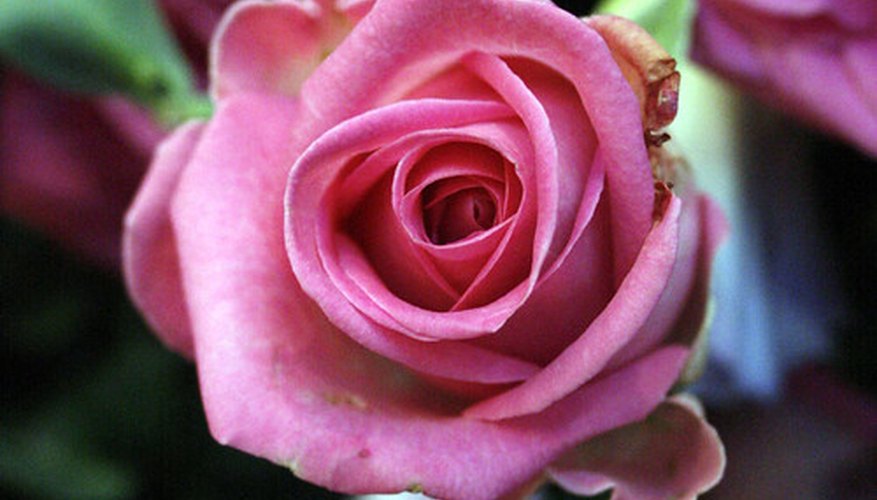 How to Make Rose Bushes Bloom
Poets have made of the rose. Robert Frost wrote on the subject of rose blooms: "A flower unplucked is but left to the falling, And nothing is gained by not gathering roses." And while roses have an undeserved reputation for fussiness, they can produce many showy sprays of flowers if given simple care.
Plant roses in well-drained soil in the fall to promote winter root growth.
Fertilize roses in midwinter by mixing a cup of large alfalfa feed pellets, a cup of super phosphorous, ½ cup fish meal, ½ cup bloodmeal and ½ cup Epsom salts. Rake this mixture around the perimeter of your bushes to a depth of 2 inches. Water roses well.
From the second year of your rose's life onward, apply a commercial grade rose fertilizer twice monthly. Water deeply the day before fertilizing and immediately afterward.
Pinch off buds the first year after you have planted your rosebush. This encourages it to develop deep roots and produce a prettier display of roses in the future.
Prune rosebushes in early spring. Cut away any branches that cross one another or rub together, as well as dead or damaged canes. Remove any branches that are thinner than a pencil.
Deadhead spent rose blooms to promote more blooms rather than allowing roses to go to seed.
Water whenever the top inch of soil feels dry. Roses prefer a long, slow, deep watering. To water this way, leave a garden hose running over the roots for several minutes.
Pesticides Used for Rose Bushes
Common Pests
Aphids, thrips, rose midges, caterpillars and beetles--to name a few--all love your roses as much as you do. Japanese beetles and caterpillars can leave you with nothing but stalks. Tiny aphids can kill leaves and possibly the entire plant. Thrips will brown the edges of your blooms, causing the bloom not to open. Rose midge or rose maggot larvae cause damage to rose tips.
Pesticides
Malathion, Sevin dust, Talstar and Merit will control a variety of insects that are harmful to roses. Avid, Floramite and Hexygon are used to target mite infestations.
A microbial or biopesticide called Bacillus subtilis can be applied if you prefer not to use a chemical product. This specialty product may be difficult to locate at a local garden store, but is available through select distributors online. Milky Spore is a product that works to eliminate beetles in their larval form, but it is not a solution unless your neighbors are also using it.
Alternative Methods
Monitor your roses for beetles and shake them off into a bucket of soapy water to drown them. Aphids can be sprayed off with a jet of water. Lady bugs can be purchased and added to your flower bed to eat aphids.
Benefits
With the proper application of pesticides, commercial growers have been able to increase their output of crops and the quality of their roses.
Consideratons
Some pesticides can be toxic to humans and animals. An improperly mixed pesticide can also damage your plants. Always read the warning labels and mix, apply and store these chemicals exactly as directed. Plant-care.com recommends covering exposed skin and eyes and using a respirator when applying chemical products.
How to Get Rid of Bugs on a Rose Bush
Aim a strong stream of water at bugs to knock them off the plant if you only have a few bugs on your roses.
Mix up a non-toxic spray to battle more than the occasional bug on your rose bush. Toxic insecticides can harm the natural predators of aphids and spider mites, such as lady beetles.
Place three tablespoons of dried Chrysanthemum cinerariefolium in 16 ounces of water. Slowly warm the water until it is hot but not boiling.
Remove the pot from the heat and let the water cool. Strain the dried flowers out of the water and pour the water into a spray bottle or pressure sprayer.
Thoroughly spray the effected rose bushes, including the underside of the leaves. In a week, the aphids and other pests should be gone.
Variegated Rose Bushes
Features
Variegated roses are standard roses that display striped or mottled flowers. The blooms may incorporate different shades of the same color or a variety of different colors. This hybrid occurs both naturally and through selective breeding.
History
According to Old Garden Roses and Beyond, no one truly understands how this mutation originally took place. Possibilities include a natural change, roses seeking to return to their original color, and rose viruses. Roses are bred for variegation through cross-pollination in controlled environments.
Types
Some standard and popular variegated rose varieties include Vick's Caprice, Lambelin, Rainbow, Rosa Mundi, York and Lancaster. Many Old Gallica roses are naturally striped as well.
Bush Versus Climbing
Since the term "variegated" refers only to bloom color and pattern, a variegated rose's form adheres to the same rules as that of a standard rose. Variegated roses may be bushes--shrubs that grow in a roughly vase shape up to 6 feet--or climbing--wood bases that grow clinging, reaching vines.
Growing Needs
Variegated roses require six to eight hours of sun every day for full blooming, and do best in quick-draining areas with rich, loose soil. According to the University of Illinois, roses should receive two to four feedings a year and 2 inches of water a week.
How to Cut Roses from a Rose Bush
Cut the flowers with sharp pruning shears when the buds are well-formed but not fully open. Flowers that are 1/3 open are best for vases.
Cut roses at a 45-degree angle near the end of the stem, leaving two to three leaves on the plant. The leaves left behind will help the rose bush produce new growth.
Pinch off leaves that will be below the water line in your vase. Pour in a little lemon juice and sugar, or lemon-lime soda, to extend the life of the blooms.
Place your roses in a dim, cool place for the first few hours after cutting. This will help them adjust to being cut.
Take the flowers out of the vase and cut 1/4 inch off the bottoms of the stems if the blooms begin to wilt. Premature wilting is caused when the stems are blocked and not able to transfer water to the flower.
How to Revive Wilted Roses
Remove the wilted roses from the floral arrangement.
Hold one rose at a time with the end beneath a steady stream of cool water. Clip the bottom 1 inch off the end of the rose stem with the pruning shears, cutting it at a 45-degree angle. Repeat the cutting process with each wilting rose.
Fill the dishpan with warm water.
Place the recut roses into the warm water, submerging them completely beneath the surface of the water.
Leave the roses soaking in the warm water for 20 to 60 minutes. This soaking period will rehydrate the roses from top to bottom.
Replace the water in the vase with fresh water. Add another packet of flower food to the water and stir to dissolve the flower food.
Remove the revived roses from the warm water. Place the roses and the other flowers back into the vase of water. Arrange the flowers in a pleasing arrangement.
Homemade Plant Food for Roses
Add 1 tbsp. of chelated iron to a dry mix of organic fertilizer that is also slow releasing (see References). Make sure the fertilizer is slight moist before adding it to your roses.
Apply a slow release fertilizer to the base of your rose bushes before you add the homemade plant food to the roses. The best time to add the fertilizer to rose bushes is in spring, midsummer and in the fall.
Mix 1 gal. of water, 1 tsp. of baking powder, 1 tsp. of Epsom salt, 1 tsp. of saltpeter and 1/2 tsp. ammonia in a large bucket. Stir the mixture with a wooden spoon or paint stick. Pour the mixture into a spray bottle.
Apply at least a 1/4 cup of the mixture to your rose bush. Simply moisten the soil around your roses, and the roots will draw in the mixture and absorb the nutrients.
Give the roses the homemade mixture every 4 to 6 weeks. If you continue feeding your roses this homemade mixture, you'll prolong the lifespan of you roses.
How to Deadhead Floribunda Roses
Clean pruning shears with rubbing alcohol.
Remove the roses as soon as they fade. Use clean, sharp pruning shears and avoid crushing or damaging the cane.
Remove flowers by cutting just above the uppermost set of leaves with three leaflets during the first year after planting. Cut at a 45-degree angle approximately 1/4 inch above the leaf bud, cutting away the flower and cane below it.
Cut above the first outward facing bud of a leaf with five leaflets after the first year. Trim older roses as desired, leaving at least two sets of leaves with five leaflets on each cane.
When to Plant Roses in California
Types of Roses
You can buy bare root and container roses. Bare root roses can be bought online or with catalogs and are shipped to your home. The roots should be soaked overnight to rehydrate the roots. According to rosemagazine.com, you can also add a solution of rooting activator to the water to help rehydrate the roots. When purchasing roses from a nursery, buy container roses, which have leaves and some blooms on them. Container roses do not require any preparation before planting.
Bare Root Roses
According to rose.org, bare root roses prefer an early season planting, which means late winter is the best time to plant. Roses like four to five hours of direct sunlight. Dig a hole at least 15 inches deep before planting bare root roses. Rose-gardening-made-easy.com suggests that January and February are good times to plant bare root roses in California because the temperature won't dip below 10 degrees Fahrenheit.
Container Roses
Container roses are available all year at garden centers. According to rose.org, they do best when planted in early spring in California. Rose-gardening-made-easy.com suggests planting roses in California to allow the longest growing season to become established. Certain areas in California can be very hot in the summer, so keeping the roots wet will keep the plant healthy.
How to Take Care of Roses
Partial Shade Groundcover Roses
Rosa "The Fairy"
The fairy rose is a shrub rose form that grows vigorously in a spreading and gently arching habit. The flowers bloom in pale pink with a double layer of petals. The foliage is relatively small in a medium green hue and the canes produce small thorns. It has insignificant or no fragrance at all and reaches 2 1/2 to 3 feet in maximum height.
Rosa "Noala"
Also commonly known as coral flower carpet, Rosa noala is a repeat flowering rose that ages from a clear coral pink to deep red coral and has a mild fragrance. It reaches a maximum of 3 feet in height and 4 feet in spread. It has dark green and very shiny leaves and is self-cleaning so the spent flowers do not need to be deadheaded.
Rosa "Moorcar"
Also known as magic carousel rose, Rosa moorcar is a repeat blooming miniature rose shrub that flowers in hues of cream to pale yellow with deep pink edges. It possesses a light fragrance and reaches just 1 1/2 feet in height at maturity. It is cold hardy and tolerates heat as well as shade. The leaves are a shiny green and the small shrub has a dense standing as opposed to sprawling growth habit.
Rare Rose Types
Types
A few types of rare roses are "Vi's Violet," "Christine," Amelia," "Blush Hip," "Griff's Red," "First Prize," "Welsh Gold" and "White Cap."
Features
As with any rose, the features of rare roses vary from flower to flower. For example, "Amelia" has bright pink, double petals that exude a strong scent. "Welsh Gold" is a unique peach-colored rose with wavy petals in multiple rows.
Size
Rare roses come in a variety of sizes, just as more common roses do. "Vi's Violet" is a miniature, light purple rose that is rare in color as well. "Christine," on the other hand, is a shrub rose bush, with large, open petals that are curled on the edges.
Geography
Many rare roses can only be found in certain parts of the country or world. For instance, "White Cap" has been bred to be a hardier variety so it can grow in extremely cold climates. "Griff's Red" was bred in Iowa but is mainly found in California.
Meaning
The color of the rose does change the meaning of the flower. Pink roses stand for elegance and gentleness, while orange means eagerness and energy. This is something to consider when looking for rare roses and combining the rarity with the color's symbolism.
How to Grow Indoor Mini Roses
Plant the miniature roses in 4- or 6-inch pots with a well-draining potting medium such as peat moss.
Place the miniature rose in a bright, sunny location for eight to 12 hours per day or under grow lights for 12 to 16 hours per day.
Keep the soil evenly moist while the rose is flowering but not overly soggy or the plant could suffer from root rot. Never let water stand on the surface of the soil or in the container's tray. Allow the soil to dry out between waterings when the rose enters its dormant period in late fall. Cut it back to about one-third of its height.
Fertilize the rose weekly from spring through the summer with a water-soluble fertilizer high in potassium. Apply only one-quarter of the recommended amount.
Rinse the miniature rose bush once a week or so with an insecticidal soap.
What Is the Meaning of a Pink Rose?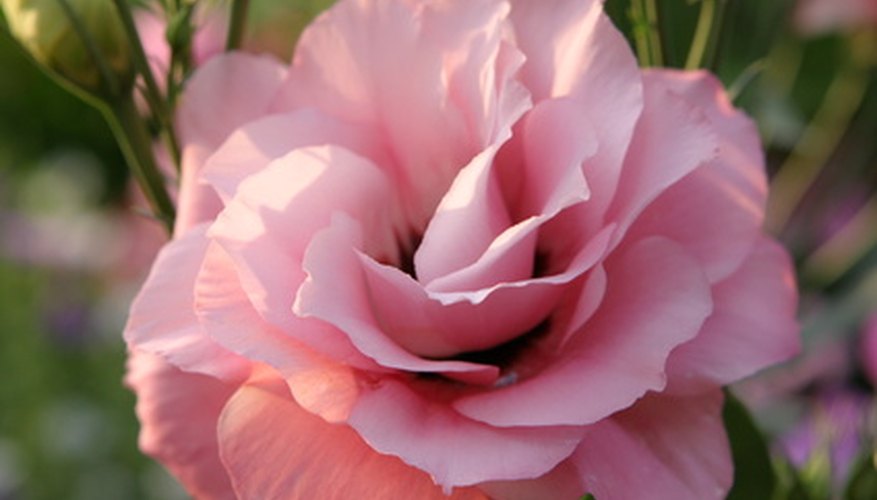 Identification
Roses come in a variety of colors and are identified by their thorns, five petal blossoms and edible fruits. They are flowering shrubs that can range in size from single stems to climbing vines.
Color
Pink represents love, excitement and romance between people.
Significance
Pink roses represent love in a softer, calmer form than other roses, such as red roses. They are often used in weddings to represent eternal love.
Warning
Many types of larvae, such as moth or butterfly, eat roses. Also, roses are subject to different types of fungal disease.
Geography
Roses are cultivated all over the world for their flowers and fruit but they are native to Asia, with a few species in North America, Africa and Europe.
Facts on Flowers: Rose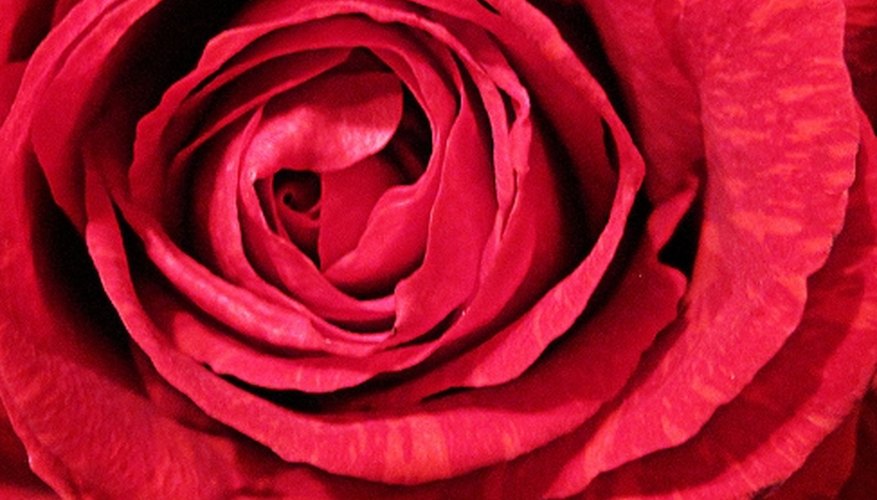 Types
There are over 100 species of roses in existence, with countless cultivated varieties of different colors within those species.
Features
Wild roses generally have five petals, while cultivated roses have more, often arranged in multiple petal sets. Many species of both wild and cultivated roses have thorns on their stems, though some have been bred without them.
History
Roses have been considered important for millennia, and have even been found in the tombs of ancient Egyptians. Cultivation of roses dates back to ancient Persia, and the hybridization of cultivated roses began in earnest in England in the 15th century.
Symbolism
Different colors of roses have different meanings in contemporary culture. Red roses, for example, have long been the symbol of love and passion, while white roses symbolize purity and humility.
Fun Fact
The largest exporter of cultivated roses is the Netherlands, where a total of 8,000 hectares (about 19,768.5 acres) is devoted to growing roses.
How to Dethorn Roses
Hold the blade above the thorn, gently touching the stem and the top of the thorn.
Scrape the blade downward, along the stem and going under the thorn, to remove the thorn.
Move to the next thorn and repeat.
How Deep Do You Plant Roses?
Plant roses depending on zone. For warm climates, plant buds one inch above soil level. For moderate climates, plant at soil level. For cold climates, plant two inches below soil.
How to Grow Roses in a Cottage Garden
Choose fragrant, old-fashioned varieties such as Damask or cabbage roses. You should also include shrub roses and at least one climbing variety.
Train climbing varieties to scramble up trellises or unusual support structures. Create an outdoor alcove by planting a rose on an arbor with a garden bench beneath it.
Grow at least three bushes of each rose variety in your cottage garden. This mass-planting technique will make each variety more prominent than a single rose bush planted by itself.
Plant roses closer to each other and other types of flowers in a cottage garden than you would in a traditional rose garden or perennial border. One of the hallmarks of cottage gardens is that the plants are spaced so close together that no soil is visible.
Grow all of your favorite colors of roses. Cottage gardens are a hodgepodge of color, form and texture. For the best effect, do not adhere to a strict color scheme. Grow many colors of all types of flowers, including roses.
How to Take Care of Cut Roses
Cut off any leaves that would otherwise be submerged in water, taking care not to knick the bark of the stem as this can inhibit the ability of the flower to take in water.
Measure out one quart of warm water and then add three teaspoons of lemon-lime soda and one teaspoon of chlorine bleach to the water. Stir the mixture until well blended and the transfer to a clean vase.
Place the stems of the roses under cool, running water and snip approximately one inch off the bottom of the stems. Use a sharp pair of scissors and cut at a 45 degree angle. Be sure to keep the cut ends wet until they are placed in the vase.
Put the roses in the vase as soon as the stems are cut. Place the vase in a cool, slightly dark room for one to three hours to give the flowers time to adjust.
Check the water level every day. Add more preservative solution as needed. If the water becomes cloudy, change the solution, wash the vase and the stems and then re-cut the stems of the flowers.
The Uses for Rose Plants
Rose Hedge
Shrub roses can be grown into a dense hedge used for privacy, fencing or just as a boarder around your home. There are a wide variety of shrub roses available including wild roses, hybrids and cultivars. Wild roses have simpler blooms than hybrids and cultivars, but they are easier to care for. Shrub rose cultivars can have either single or double clusters of blooms, according to the University of Illinois.
Rose Bushes
Bush roses come in many types, from the standard size to miniature and tea roses. They can be used in the garden planted alongside annuals or other perennials for a splash of color during their growing season. Bush roses can also be used as container plants as they will grow well in pots. Use container grown bush roses to line a walkway or a drive.
Roses Trellis
Climbing roses are a great way to add color and interest to a trellis, fence or wall. There are many varieties of climbing roses including climbing tea roses, ramblers and trailing roses. Use them to cover an arbor or fence and in a few years time they will be like the Santa Clara University's climbing rose fence.
Fall Rose Care
for more information on growing roses see Roses by Neil Moran
Begin by removing leaves that have fallen to the ground around the plant and any foliage still attached to the stems. This will reduce the chances of disease. Apply a light feeding (preferably 0-10-10) around each plant and water well. Prune to 1/2 their height and tie the canes together with twine. In areas where winter temperatures don't go below 20 degrees F, no winter protection is required for most roses. In areas with colder temperatures, start your preparations just before the first hard freeze. Most of the newer shrub roses as well as many of the floribundas and miniatures don't need winter protection, so the following guidelines are most applicable to hybrid tea and grandiflora roses, as well as for any other rose varieties of questionable hardiness. (If in doubt, protect it.)
IF WINTER TEMPERATURES DROP TO 0 DEGREES F The base of each rose must be protected by an 8-inch mound of soil (imported from another part of the garden), coarse compost, leaf mold from a 1 year old pile, shredded bark, or other organic material. This protection will have to be removed in the spring.
IF WINTER TEMPERATURES DROP BELOW 0 DEGREES F Increase the mound size to 12 inches. The 12 inch mound can be covered with another 8-10 inches of loose mulch, such as pine needles, oak leaves, pine branches, or straw. If winds are severe top the pile with baskets or other coverings.
LARGE-FLOWERING, REPEAT-BLOOMING CLIMBERS If temperatures drop below -5 degrees F these roses will need special care. Remove the canes from the supports and lay them on the ground.Cover the entire plant with soil or mulch.
Pruning Roses
When you remove your winter protection in the spring, give your roses a good pruning. Cut at a 30 to 45 degree angle just above a bud eye. Have the cutting blade of the pruning shears on the lower side of the cut.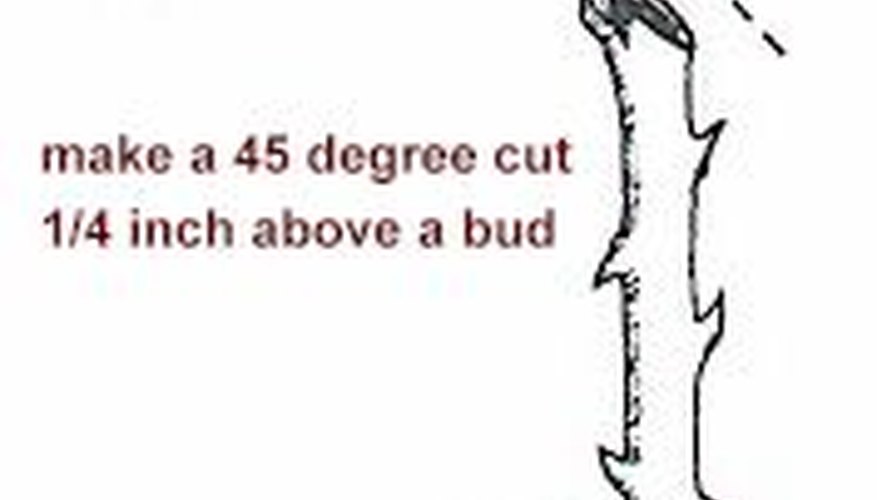 Light pruning gives you many small flowers, while a heavy pruning will result in fewer but larger flowers.
Most Fragrant Roses
Captain Harry Stebbings
Captain Harry Stebbings is a hybrid tea cultivar. The flower is a very deep pink, also known as cerise. This is a highly fragrant rose, easy to grow and disease resistant. Captain Harry Stebbings is hardy to USDA zones 6a to 10b.
Fragrant Cloud
Another hybrid tea cultivar, Fragrant Cloud, has an almost citrus scent. The American Rose Society claims it to be one of the most fragrant roses ever. The flower is a deep, dark coral. The color will deepen in cooler temperatures. Fragrant Cloud roses are hardy to USDA zones 4 to 9.
Mr. Lincoln
Mr. Lincoln is the classic rose: long-stemmed and deep red with an incredible fragrance. This is another-disease resistant plant that can grow to 4 to 6 feet in height. Mr. Lincoln does best in warm weather and is hardy to USDA zones 5 to 11.
Can You Plant Roses in July?
Bare-root roses should be planted in late winter or early spring. Potted roses should be planted in mid-spring. Later plantings may not allow the plant to establish itself before going dormant in the fall.
Meaning of Orange Roses
History
After the discovery of yellow roses in the late 18th century, rose cultivators experimented with hybrids in various colors. In the late 19th century, orange roses were produced and earned a warm reception by gardeners as well as flower lovers.
Significance
Orange roses have a special significance. As they are a combination of red roses, which symbolize passion and love, and yellow roses, which symbolize friendship, orange roses have a meaning that combines the two. The meaning of orange roses is desire and romantic interest.
Types
Orange roses come in a variety of shades, including subdued coral hues, spicy carrot colors, apricot and burnt orange. There are many types of orange roses such as "Mandarin Sunblaze," which is a miniature rose, and "Oranges n' Lemons," which boasts stripes of orange and yellow.
Considerations
Because of their autumnal hues, orange roses create a lovely Thanksgiving centerpiece or Halloween bouquet.
Fun Fact
Since 1982, "Roses UK" has named one variety of flower "Rose of the Year." Several orange roses have won this honor such as "Harvest Fayre," "Sunset Boulevard" and "Dawn Chorus."
How to Plant Bare-Root Roses
Soak the bare-root roses in water for 1 to 6 hours. A five-gallon bucket works well for just a few roses, while a garbage can is a handy container if planting several roses.
Choose the right site in your garden or yard. Roses like full sun (at least 6 hours of direct light a day).
Prepare a planting hole two feet deep. Work in several spadesful of compost to improve soil fertility and texture.
Backfill the hole slightly to form a mound down in the hole. Spread the rose roots over the mound as evenly as possible.
Locate the graft union, the knobby part of the rose where the roots meet the stem.
Position the graft union 1-2 inches below soil level in USDA Zones 5 and colder. In Zones 6 and warmer, position the graft union just above soil level.
Fill in remaining soil.
Prune if necessary. Most bare-root roses these days are sold "pre-pruned" so you don't have to do any pruning at the time of planting. However, if your bare-root rose has more than a few canes, or any of the canes are damaged or rubbing against each other, prune them so that you have just 3 to 6 strong canes (rose stems) that curve outward.
Mound the soil over the base of the rose to prevent drying out. Water gently but well.
Remove the soil in a few weeks once the rose begins to send out new growth by gently pushing away the soil with your hand.
Best Time to Plant Roses
Time Frame
The best time to plant roses is in the early spring. The ground should not be frozen.
Winter Planting
Planting roses in the winter should be done with care. The regular root-stock roses can be planted in late fall. These plants should be covered to protect them from the cold. A grafted rose may die, if planted when the weather is too cold. A root-stock rose has the ability to come back, even if the tops are killed by inclement weather.
Geography
Think about where you live before you plant your roses. Southern states allow for planting at any time. The hotter the weather, the more watering needs to be done at the time of planting. It is best to plant in the early mornings, if the weather is warm.
Considerations
Planting when the days are longer (spring) allows the roses to establish their root system for an entire growing season before cold weather strikes.
Features
Most roses are sold in the dormant state. It is best to keep the plants in this state until the roses are properly planted, which should be done as soon as possible.