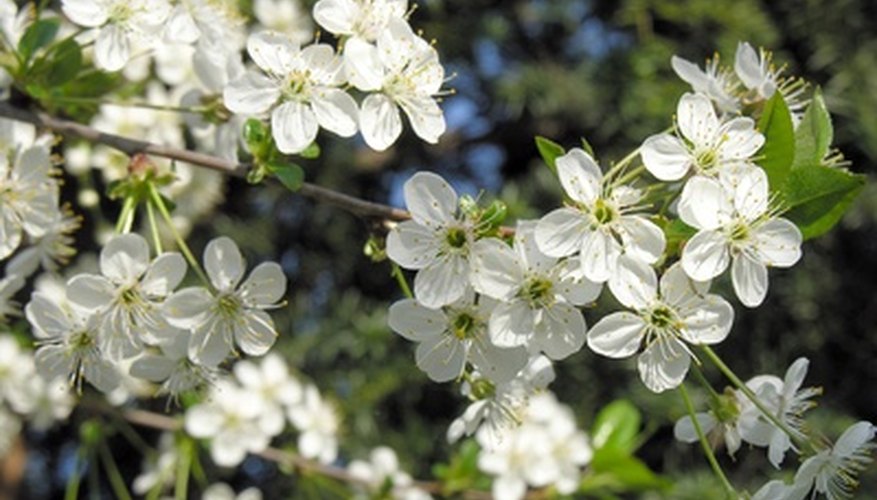 List of Self Pollinating Fruit Trees
Most types of fruit-bearing trees require the presence of another compatible variety to utilize its pollen in order to set fruit. A few species and varieties of fruit trees are referred to as "self-pollinating," because they use their own pollen to set fruit and do not depend on pollen from another variety. Gardeners with room for only one fruit tree will still be able to grow some types of fruit, but not others.
Sour Cherries
Hardier than sweet cherries, sour cherries are grown primarily for making pies, jams and jellies. All varieties are self-pollinating and will produce a crop even if only one variety is planted. Sour cherries will not pollinate sweet cherry varieties.
Nectarines
Many common varieties of nectarines will self-pollinate. These include Tilton, Royal, Wenatchee and Moorpark. Some varieties of nectarines are not self-pollinating and require an additional variety planted nearby in order to set fruit. Self-unfruitful varieties of nectarines include Perfection, Rival and Riland.
Plum
Most European varieties of plums will not self-pollinate–with the exception of the varieties 'Stanley,' 'Green Gage' and 'Damson.' These varieties will also pollinate all other varieties of European plums. European plum varieties will not pollinate Asian plum varieties, due to their different blooming times.
How Do Trees Bear Fruit?
Pollination Spurs Seed & Ovary Growth
The pollen deposits on the reproductive organ primarily the stamen triggers the formation of seed in the lower flower structure located under the sepals. The seed encases small sacs of the plant's DNA material considered to be an embryo. The base of the spent flower swells making a coating of varying shape, texture, thickness and size forms around the seed or seeds. This protective coating is called an ovary. The ovary protects the seed and inner embryo from temperature fluctuations and other physical damage while it matures.
Fruits Mature, Protect & Release Seed
Over a period of weeks or many months the ovary swells and matures becoming either tough, dry and hard such as a walnut or soft, moist and fleshy like a peach. This developing ovary is what we recognize as a fruit. The ovary fruit, inner seed and protected embryos mature at the same pace. When ripe, the fruit ovary begins to degrade by desiccating or rotting to facilitate the release of the seed or seeds to the soil and wind.
Facts about Sunflower Pollen
Significance
Honeybees gather the pollen of sunflowers as soon as it develops. A pleasant-flavored honey results from the honeybee's pollination of the flower. Seed-setting in sunflowers is dependent on the transfer of pollen by the honeybee or other pollinators.
Features
Sunflower pollen falls easily if not gathered by honeybees and other pollen collectors. Although pollen-free hybrids now exist, garden classics are still popular. The pollen from sunflowers leaves stains.
Effects
Sunflower pollen can produce an allergic reaction. Symptoms vary but may include itching, wheezing and headache.
Function
Sunflower pollen has been used in studies to track local and long-range movements of the H. armigera moth in Queensland, Australia. This moth is a major pest species in that region.
Benefits
Sunflower pollen is high in amino acids, vitamins, minerals and good fats.
What Pollinating Agent Is in Most Flowering Plants?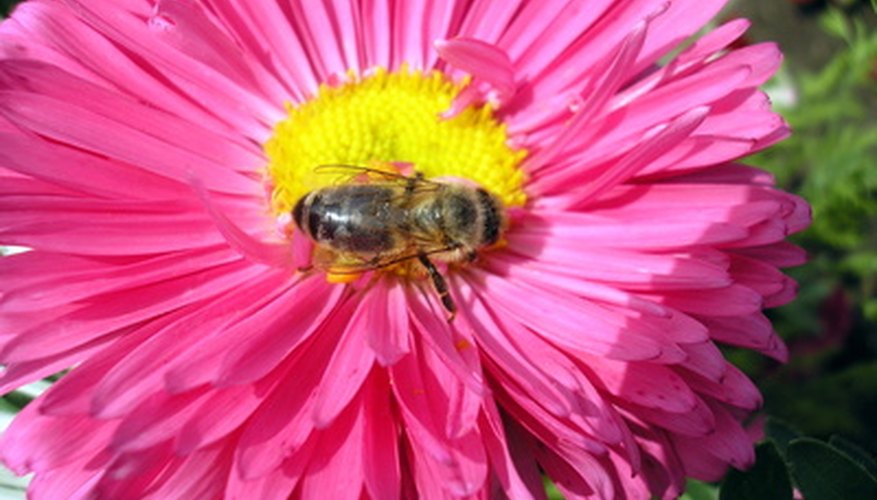 A pollinating agent carries pollen from one flower to another. In most fruiting flowers, this agent is the bee, which transfers pollen on the fur of its legs between flowers, pollinating them. Birds, beetles, bats and strong winds are also important pollinators.
How to Collect Pine Tree Pollen
Wait until spring, when pine tree pollen production is at its height.
Look for the trees male cones. They're easy to spot because they're covered in yellow pollen.
Pinch the cone off the pine tree. If you have mild allergies, you may want to tie a scarf around your nose and mouth before doing so.
Shake the make cone into the plastic bucket.
Check the pollen for bugs and remove any foreign material.
How to Winterize Sneezeweed
Add compost to soil. Before the first frost, mix fresh compost into the soil to give your sneezeweed a boost of nutrients and a healthy start in winter.
Cut back stems. After the first frost, sneezeweed will shed its flowers. Snip the upright stems and seed heads down to the lower ring of leaves called the "rosette."
Spread mulch. Add a 2- to 3-inch layer of mulch around the base of your sneezeweed to help keep ground heat close to the roots of the plant.
Remove dead leaves. In early spring, snip off any brown or yellow leaves on the rosette.
Fertilize. As soon as spring arrives, spread an evenly balanced fertilizer on the soil of your Sneezeweed to encourage rapid growth. Hopefully the plants will have survived winter and will quickly put out new leaves and blooms.
How Is Pollen Produced?
Loculi
Within the anthers, there are two or more loculi, which are tissues that are capable of forming pollen. On the inner side of each of these are large cells called the tapetum, which give nutrients to the new grain of pollen and surround it with a cell wall. Also within the loculi are pollenmothercells that divide to form the nucleus of the pollen grains.
First Stages
Each of the pollenmothercells divide twice, forming four daughter cells, called spores. Once these have separated, the tapetum deposits the other wall that protects the spore from drying, bruising and ultraviolet damage. It may also deposit a sticky substance that helps the grain attach to insects and adhere to the pistil.
Ripening & Release
Next, the spore divides into large vegetative surrounding a smaller fertile cell. The tapetum continues to deposit material, resulting in a thick, sculptured cell wall. After drying for a few days, the pollen grains are freed through either pores or slits in the anthers.
What Is the Mature Microspore of a Seed Plant Called?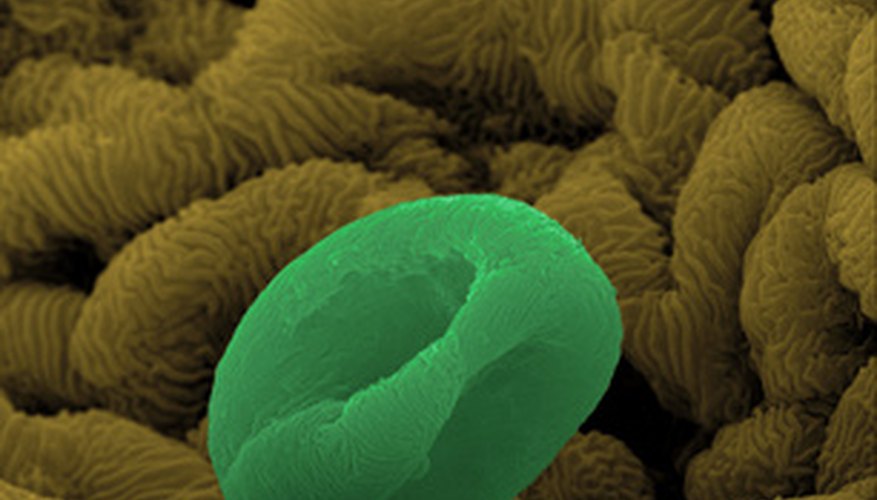 Seed-bearing plants produce microspores during meiosis as part of the reproductive process. These become the pollen grains, according to Michael J. Gregory, Ph.D. at Clinton Community College of the State University of New York. These pollen grains fertilize the egg cells, which produce seeds.