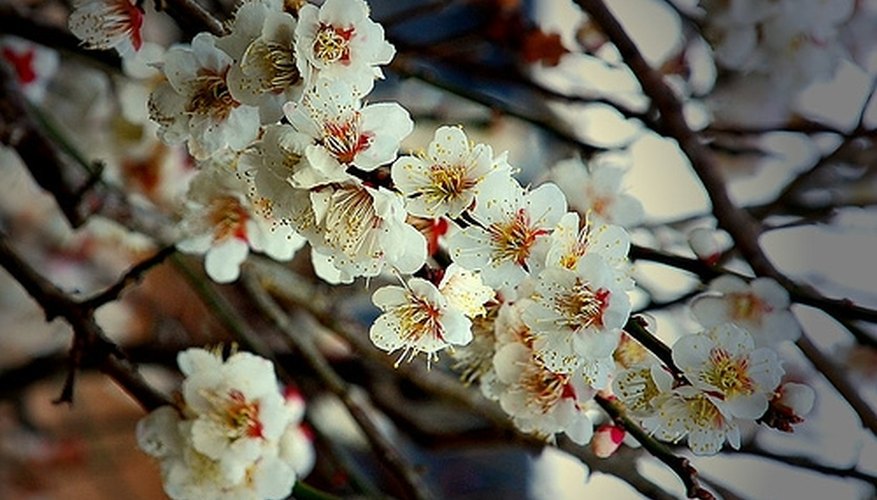 How to Peel Plums
Whether you're making homemade preserves or you don't like to eat peels, peeling a plum is simple. The peel of a plum is what has all the nutrition, but some people can't eat the peels due to dietary restrictions. The peels also don't soften very well when put in pies, jams and other cooked recipes. There are several ways to peel a plum, or similar fruit like peaches and nectarines.
Dunk the plum into the pot of scalding water for about 30 seconds. Use the tongs or a spoon to keep your hands safe.
Remove the plum from the hot water, and transfer it quickly to the pot of ice water. Let it sit in the iced water for about a minute.
Remove the plum from the ice water.
Pat the plum with a towel until it is completely dry.
Scrape the potato peeler against the surface of the plum's skin. The skin should slide right off and may even be removable without using a peeler.
Flowering Plum Tree Facts
Features
The flowers can be single or double blooms and come in white, dark, medium or light pink or a combination of white and pink. They can grow from 25 to 40 feet in height. Some varieties will produce a fruit--some edible, some not.
Environment
The tree can tolerate a short drought period. The tree can be grown in zones 4 to 9, all but the coldest and hottest parts of the country.
Planting
Ornamental plum needs full sun, at least 6 hours of sun a day. It can take any kind of soil, as long as it is well drained.
Care
The flowering plum needs very little care or pruning. Water just occasionally, but so that the water goes deep into the soil.
Uses
The trees are used as small shade trees or specimen trees. The edible fruits are used to make jelly.
How to Care for Plum Trees
Fertilize your plum once in early spring and once in midsummer. You can use commercial fertilizer or compost, which you should apply around the base of the tree but not touching the trunk. Water during dry spells. Water plum trees growing near walls or fences more often.
Thin the fruit. Thinning the plums keeps branches from breaking and ensures a healthy crop of fruit. You can thin the plums first in mid-May and again in July. Remove diseased or damaged plums first and then thin the plums to leave three inches of space between each plum.
Prune your plum tree to shape it and prevent silver leaf disease. Do major pruning in the spring, while the trees are still dormant. While pruning, avoid splintering the wood by cutting as cleanly as possible. Burn the dead or diseased wood. Use a protective sealer on cuts after pruning larger branches.
Cut away suckers and watersprouts. Suckers are tall shoots that grow near the base of grafted plum trees. Watersprouts grow from the main branches and trunk.
Control weeds and grass to keep both at least three feet away from the base of the tree. Place mulch around the base of the tree, but make sure the mulch doesn't touch the trunk of the tree.
How to Plant Plum Trees
Is a Plum Tree Edible or Ornamental?
Desirable Characteristics
Plum trees (Prunus spp.) are regarded for the beauty of their springtime flower display. If pollinated by bees, these flowers develop into edible fruits of varying size, color and flavor.
Edible Plums
Plum trees that demonstrate a regular, annual production of quality, tasty fruits after flowering are generally called "edible plum" varieties. These trees also produce larger numbers of fruits.
Ornamental Plums
Ornamental plums are selected for gardens based on aesthetics, such as prolific flowering, foliage color or sheen. These trees may set fruits, but often they are very small, sporadic, or taste poor.
Dual Purpose
Plum trees that produce flowers followed by edible fruits serve a dual purpose of providing ornamental beauty in spring while in blossom, followed by productivity in fruits.
Personal Choice
Although a plum tree may be marketed as an edible fruit tree selection, the personal taste of a gardener can trump the designation. If you do not like the amount, color, size or flavor of the fruit the edible fruit tree produces, arguably it serves only an ornamental purpose: enjoying the flowers and the fall foliage color, for example.
How to Prune a Damson Plum Tree
Prune your Damson plum in the winter or very early spring before new growth has begun. This will encourage your tree to put on a healthy crop of plums.
Remove any dead branches or any branches which appear diseased. Cut back to the trunk or at least 4 inches into good (living) wood.
Remove all branches that cross each other or that touch.
Remove branches that grow across the center of the tree and any branches that grow downward.
Remove any suckers which grow from the roots of which grow out of the trunk of the tree. Suckers do not have bark and can usually be pulled off the tree easily by hand.
Rake up and remove all rotting fruit that is on the ground and any dead or diseased wood you have removed from the tree.
How to Plant Wild Plum Seeds
Collect plum seeds from a plum. Wash them thoroughly in the sink. Let them dry for about two weeks on a paper towel in a dry, cool area.
Find a well-drained area to plant the tree that is in full sun. The ideal soil for growing a plum tree is loamy, and sandy or clay soil is the least ideal.
Use a shovel or till to loosen the soil about 12 inches. Insert the plum seed about 4 inches deep and cover with soil. Use a sprinkler to water the seeds for about 10 minutes in the morning and 10 minutes in the evening for the first four days. After that, water every other day for 10 minutes in the morning. You want to keep the soil moist but not in puddles.
Create a barrier around the plum seed so squirrels cannot get to them and dig them up. Use chicken wire and wooden stakes to build a 1-foot-by-1-foot dome around the seed. The point is just to protect it from animals digging up the seeds.
How to Water Plum Trees
Provide young or newly planted plum trees with generous water during any dry spells and immediately after planting. If your plum tree is growing against a wall or fence, then you will need to provide it with almost twice as much regular watering throughout the tree's life than a plum tree that isn't planted by one.
The tree needs deep watering every 7 to 10 days. Let regular rains provide the water for your tree if you live in a wet climate. If you aren't getting any rain, let a slow-running hose or root feeder (without fertilizer) soak the soil for 15 to 20 minutes at a time.
Observe your plum tree to make sure it is not getting too much water or too little. If the leaves curl up and turn brown, the tree needs water. If they grow yellow and start to drop, it has been watered too often.
Maintain your watering schedule into mid-October so that the tree goes into the winter with a good moisture supply.
What to Do When a Plum Tree Won't Bear Fruit
Age Matters
Plum trees typically don't bear fruit until they are 3 to 5 years old. Your plum tree might simply be too young to bear fruit. Continue caring for it and it will produce fruit.
Lack of Plums Indicates a Problem
In order to bear fruit, your plum tree must be healthy. Fertilize your tree in the spring as soon as new leaves bud to add nutrients to the soil. Check your tree for insects or fungal infections that may stress it enough to keep it from flowering. Many plum trees need another plum cultivar nearby to cross-pollinate for fruit to develop.
Bottom Line
Know what variety of plum you have in order to provide optimal growing, flowering and fruit-producing conditions. Lack of fruit on an immature tree doesn't indicate a problem; however, lack of fruit on an adult tree indicates a problem requiring action.
Purple Plum Tree Is Losing Leaves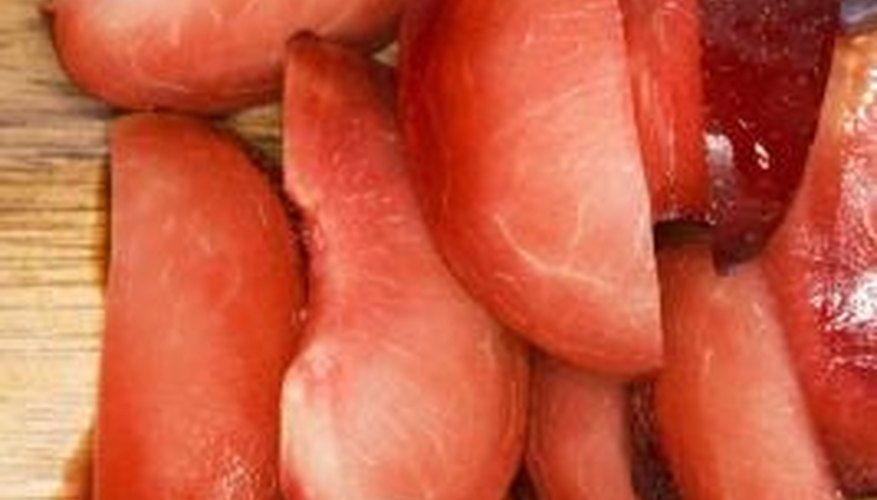 Frost
A late frost can damage a plum tree and cause it to drop its leaves, especially newly forming and young leaves. Pruning the tree helps to promote new growth, but severe frost may stop a plum from producing leaves.
Light Needs
Purple plum trees that do not receive enough light sometimes drop their leaves early. Purple plums grow best in full sun, and shaded plums are more likely to lose their leaves. Plum trees should receive full sunlight throughout the day.
Nutrient Deficiency
A deficiency of the major nutrients needed by fruit trees, including nitrogen, phosphorus and potassium, can cause a plum tree to lose its leaves. Adding fertilizer and compost to the soil helps keep purple leaf plum trees healthy.
Information About a Coco Plum Plant
Identification
Coco plum plants usually grow in a shrub formation, but they may also form small trees. The stems are gray or brown, and twigs appear green and change to deep red as they mature. Coco plum leaves are dark-green, shiny and slightly under 1 inch long. Tiny, light-green flowers are almost unnoticeable.
Fruit
Coco plum fruit ranges from white to purple and although it is edible, it is nearly tasteless when fully ripe. The shape of the fruit resembles plums, giving this shrub its common name.
Habitat
This sun-loving perennial shrub may be found growing in coastal dunes and rocky soils in warm climates such as Florida.
Cultivation
Coco plums grow wild as the seeds are dispersed by birds, bats and wind. The home gardener may grow coco plums from seed. This shrub is rather delicate, slow-growing and prone to falling victim to competing plants.
How to Spray Plum Trees
Prune last season's new growth by approximately 20 percent during the dormant season. Remove all broken and diseased branches.
Spray plum trees during the dormant period with dormant oil for trees. This will prevent aphid and mite egg production.
Spray trees in the spring with a fungicide to prevent brown rot as the blossoms begin to appear. Spray two to three times if the weather is rainy to make sure that the trees get a thorough application.
Spray organic neem oil or zinc sulfate on the tree if aphids are present on the tree in the spring.
Spray the trees with fixed copper at the time of leaf fall or before heavy rains begin. This will prevent shot hole fungus growth.
How to Feed Plum Trees
Fertilize your plum tree in early spring before buds begin to break out and when hard frosts are no longer expected.
Use your rake to pull back any mulch around the bottom of the tree.
Spread the 10-10-10 fertilizer evenly, beginning 2 feet out from the trunk and spreading away from the tree, until you are slightly out from under the tree's branches. Use 1 cup of fertilizer for each year the tree has been planted. If you planted the tree two years ago, use 2 cups of fertilizer. The maximum amount of fertilizer is 1 pound on trees older than 10 years.
Replace the mulch around the bottom of the tree.
How to Grow Plum Trees in Containers
Mix 1 part sand, 1 part peat and 1 part bark in a 5 gal. bucket to create your potting medium.
Place a 1- to 2-inch layer of gravel in the bottom of the 5 gal. planter. Fill the container 1/2 of the way with potting mix.
Trim the largest roots and loosen other roots to promote new growth.
Place the plum tree in the container, spreading the roots over the potting mix. Add potting mix until it is 1 to 4 inches from the top.
Water thoroughly, then fill the planter to the top with mulch.
Fertilize once new growth has become obvious. Potted fruit trees need to be fertilized every four to six weeks.
How to Trim a Wild Plum Tree
Remove suckers that grow up from the roots whenever they occur. Wild plum trees have shallow roots which sprout easily. Unless suckers are removed regularly, the tree will spread into an undesirable thicket.
Trim wild plum trees in June to establish a pleasing shape and control growth to an acceptable size. Make cuts clean with pruning shears, or use a small hand saw for larger wood. Try not to crush or split the wood. Make all cuts immediately above a healthy bud that faces outward.
Prune branches to increase production. Remove new growth that does not have blooms or fruit. Trim leading shoots, removing approximately a third of the growth. Trim other shoots as needed to establish a good shape.
Remove branches in the center of the tree to open up the tree and let in light. Trim away branches that cross or rub against another branch. Remove all dead and diseased wood.
Seal large cuts with sealing compound to protect the cuts from disease.
Remove all trimmings and debris from the area, and burn it to prevent the spread of disease.
Japanese Flowering Plum Trees
Atropurpurea
Atropurpurea is a pink flowering plum with early spring blooms. The leaves change color as they mature, beginning as a deep red, then turning a dark reddish eggplant color in the late summer, followed by a bronze green hue in fall. It produces plum fruits suitable for eating in the summer. Its height at maturity is 30 feet.
Thundercloud
Thundercloud is a pink flowering Japanese plum whose fragrant flowers open on bare branches before the leaves unfurl. It has purple leaves all season and will produce fruit sporadically. It reaches a height of 20 feet at maturity.
Newport
Newport is thought to be the most cold tolerant of the species and will grow in the northern-most states including Minnesota and New England. It produces pink flowers in the early spring and has deep-purple-hued leaves throughout the growing season. Newport will develop purple-skinned fruits in summer and reaches approximately 20 feet in height at maturity.
The Best Time to Plant a Plum Tree
Plum trees may be planted when the soil is dry enough to work. You can plant plum trees from late autumn to early spring. The earlier you can plant the tree, the better--preferably when the ground still retains some heat from the summer.
Japanese Plum Varieties
Satsuma plum
The Satsuma is a large plum, often nicknamed the "blood plum" because of its dark red color. The juicy taste is a mix of spicy and sweet. Satsuma plum trees produce fruit in mid-season but can continue to bear fruit as late as July and early August, depending on the location.
Kelsey plum
The Kelsey plum is distinctively heart-shaped with greenish-yellow skin. As the fruit ripens, the color changes from green-yellow to a blush red. What is unique about this sweet Japanese plum variety is its low acidity. Kelsey plums have green skin that changes into a beautiful yellow color with red when ripe.
Friar plum
The Friar plum, or Prunus salicina, is a large heart-shaped plum, typically with black skin and amber flesh. The Friar variety can produce plums with a green to yellow color, or a deep red, but the black fruit is the most popular type. This plant can grow to be up to 20 feet and tends to spread fairly wide. These plums are best enjoyed fresh.
How to Use Insecticides on Plum Trees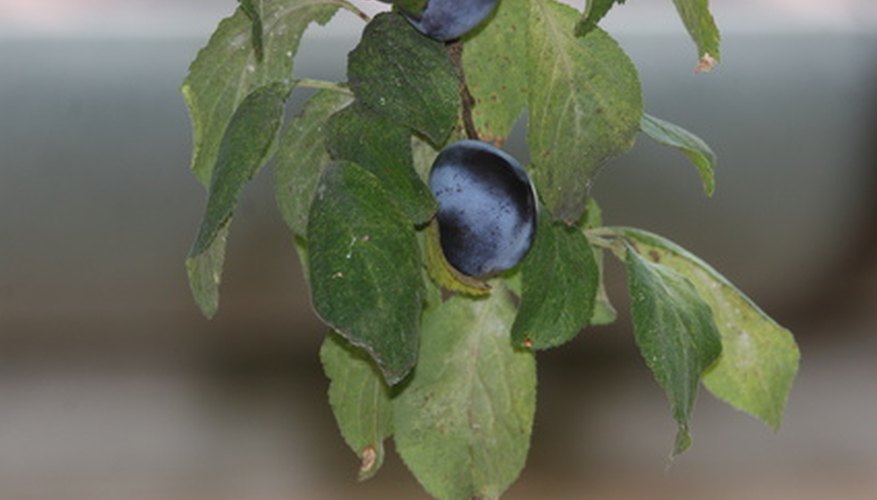 Step 1
Spray the plum tree with dormant oil in the spring before new growth emerges.
Step 2
After the tree is done blossoming, spray with an insecticide. Sevin is a well-known brand that has great results. Spray again seven days later to remove any persistent insects. Most insecticides come in a concentrate and are applied with a garden hose sprayer attachment.
Step 3
Spray the tree with horticultural oil if mites are becoming an invasive pest on your plum tree. The oil will prevent them from sucking the juices out of the tree leaves.
Step 4
Keep checking your plum tree throughout the season and eradicate the pests before they become too numerous.
Step 5
Remove damaged limbs and clean up fallen fruit to control pests and prevent them from spreading to other areas of the plum tree.
Information About Plum Trees
Size
Plum trees vary in height from 8 feet to 35 feet. Most plum tree species have a spread ranging from 10 to 20 feet in width.
Features
Plum tree bloom delicate, white flowers in clusters of two or three. Japanese plum trees have a tougher bark than the other types of plum trees.
Problems
Plum trees are highly susceptible to plum pox, black knot disease, botrytis blight and powdery mildew.
Effects
Black knot disease causes black knots to form on twigs, while botrytis blight causes the formation of grayish-silver spore masses. Powdery mildew often looks like a grayish-white film of dust on the leaves.
Geography
European plums grow well in the northern regions of the United States (US), while the Japanese varieties fare better in the warmer southern states. The Damson plum tree varieties thrive in USDA hardiness zones 5 to 7.
Maintenance
Many plum tree diseases are caused by excess moisture, so plum trees need to be planted in a location with good drainage. Organic mulches, such as wood chips or sawdust, can help control moisture levels around the plum tree.
How to Take Care of Plum Trees
Apply a layer of compost around the trunk of the plum tree in early spring, making sure the compost doesn't touch the trunk's base.
Water the plum tree each day when it is a young sapling. Once the spring and summer season begin and the tree is producing plums, it will need to be watered one to two times per day. In the winter, water a couple times a week.
Prune the branches of the plum tree in mid-June to early July to prevent silver leaf disease and to thin out the branches producing fruit. Cut away broken, diseased or dead branches. In crowded or heavy areas, cut away every second branch. Repeat this again in early August.
Remove suckers from the roots of the tree regularly with pruning scissors. These suckers take much-needed energy and nutrients from the healthy parts of the tree.
What Causes Holes in the Leaves of a Purple Plum Tree?
Either plum pox virus or bacterial spot could cause dead spots on plum leaves, which quickly rot away, leaving holes in the leaves.
How to Grow a Plum Tree From a Branch
How to Prune Mature Japanese Plum Trees
How to Prune Italian Plum Trees
Combine 1 part bleach with 10 parts water in a bucket to make a sanitizing solution, and place your pruning tools in the bucket. Immerse your pruners in the sanitizing solution in between each cut to keep from spreading disease to healthy parts of the tree.
Note dead, diseased or damaged growth on your Italian plum tree. Diseased and damaged wood appears blemished, wounded or scarred, while dead wood feels hollow to the touch. Clip off this wood at its base, or cut back to a healthy lateral branch.
Remove suckers growing from the tree trunk, since these will not bear fruit.
Cut off low growing branches that impede movement under the tree, along with downward-growing limbs and branches that rub up against other branches.
Head back long limbs by pruning their tips with anvil pruners. Cut back to just before a lateral branch or swollen tissue node.