How Do Flowers Get Energy From the Sun?
Flowers produce the energy they need to sustain life by means of photosynthesis. This biological process begins when the plant absorbs the sunlight that strikes its leaves. The plant uses that light to produce the carbohydrates on which it feeds.
Enter Sunlight
The pigment chlorophyll, which is usually green (but sometimes brown), is abundant in the leaves of almost all kinds of plants. This pigment absorbs the sunlight that strikes the leaves and transfers the energy from the sunlight into the cells of the plant. That energy ultimately fuels the chemical reactions that produce food for the flower.
The Players
Chemical compounds are substances made up of different combinations of atoms. Two specific compounds have to be present for photosynthesis to take place. The first is water, which the plant absorbs through its roots. Water (H20) contains two atoms of hydrogen and one atom of oxygen. Carbon dioxide (CO2) contains one atom of carbon and two of oxygen.
Mixing It Up
The chemical reactions by which flowers create energy involve breaking the water molecules apart into its component hydrogen and oxygen atoms, breaking the carbon dioxide into carbon and oxygen atoms, and then combining all these components to create carbohydrates, which are long molecules comprised mostly of carbon. The flower feeds on the resulting carbohydrates, converting them into energy.
Exhalling O2
The process of photosynthesis doesn't use all the resulting free oxygen atoms, which naturally bond into pairs (O2). The plant then expels the excess oxygen back into the atmosphere. This is one reason why green plants are beneficial to life on earth—they absorb, or inhale, carbon dioxide and release, or exhale, oxygen, which other living things need to survive.
How Do Green Plants Play a Part in the Ecosystem?
Food
Plants provide food for the masses. From elephants to mice, animals eat grass, nuts, berries and twigs to fuel the body and activities. Meat eaters dine on grazers.
Shelter
Tall, towering trees provide shade from hot summer sun. Shrubs house smaller animals, protecting and camouflaging them from predators. Groves of trees and bunches of brush provide a measure of warmth and protection from wind.
Oxygen
Through photosynthesis, plants produce oxygen. Animal life, including humans, breathes oxygen. A single resting human breathes 6 lb. of oxygen a day.
Filter and Stabilizer
Plants filter water, removing toxins and impurities, making safe drinking water and helping to reduce the effect of man on the natural world. Plants also stabilize soil.
Benefits
Plants consume carbon dioxide as part of photosynthesis. Humans not only exhale carbon dioxide, many machines also emit the gas. The more plants in existence, the less effect the gas has on global warming.
Songs to Help a Plant Grow
Plants Absorb Carbon Dioxide
Plants need carbon dioxide to grow. When you talk or sing to a plant, you breathe out carbon dioxide from your body, which the plant can absorb. Talking or singing to a plant is also good for you because in turn, the plant expels oxygen that humans need. However, you would have to spend hours per day talking or singing to your plants. You would also need to be very close to them for them (and you) to benefit. The idea of talking to plants came about in 1848, when German professor Gustav Fechner wrote that plants, like humans, benefited from being showered with attention and talk. Other studies tried to prove that soothing music was beneficial to plants.
No Clear Answers
No one is really quite sure whether talking and singing to plants helps them grow. While many scientific studies have been made, there are no clear answers. However, proponents of the theory swear that forming a symbiant relationship with your plants, meaning a close, long-term relationship between two different species, benefits both the plant and the person caring for the plant.
Soothing Music For Your Plants
Soothing music seems to be most beneficial for plants. Just like infants, singing lullabies to plants may help them grow. Come in close contact with the plant as you are singing. Songs with lots of "h" sounds in them, that cause you to expel the greatest amount of carbon dioxide, will be the most helpful. In her book "The Sound Of Music And Plants," Dorothy Retallack wrote that plants subjected to soft, soothing music grew faster and healthier, and that they actually leaned toward the source of the music just as plants lean toward the source of sunlight. Conversely, Ms. Retallack noted that playing loud, violent music, like hard rock, caused plants to actually lean away from the music source and to wither and die.
Do Plants Go Through Aerobic Respiration?
Identification
Aerobic respiration is the process by which plants take the energy they obtain during photosynthesis and transform it into usable energy. Unlike anaerobic respiration and fermentation, which also utilize plant energy, aerobic respiration requires oxygen in order to take place.
Function
The respiration process is essentially the opposite of photosynthesis. Plants take the sugars they have obtained through photosynthesis and convert them into carbon dioxide. Unlike photosynthesis, aerobic respiration can occur without light.
Control
Plants need oxygen in order to undergo aerobic respiration. This is where quality soil and good cultural practices play an important role. Overwatered plants or compacted soils will not allow the plant roots to access oxygen, resulting in stunted growth or even plant death.
How Does Water Help Plants?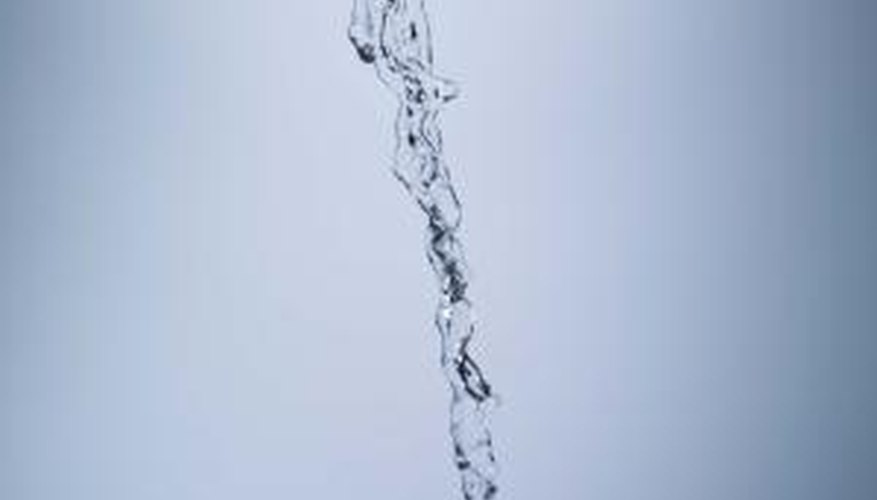 Food Production
Plants discard the oxygen from the split water molecules as waste and use the hydrogen to manufacture sugar from carbon dioxide present in the air. Without enough water, food production, photosynthesis, stops, making water the most important factor in plant growth, states the Michigan State University Extension website.
Transport
Water moves freely in and out of a plant's roots before it travels through the stems to the leaves. Cutting off or limiting a plant's water supply robs it of moisture and the nutrients it takes from the soil. Water also carries the sugars manufactured during photosynthesis throughout the plant, and provides strength so it can support its own weight.
Benefts
Water also helps plants by keeping them at the right temperature during evaporation. As it exits the plant's leaves into the air, more water is drawn up from the roots in a constant cycle of replacing what is lost.
How Photosynthesis Is Affected by the Amount of Water
Electron Supply
During photosynthesis, water supplies electrons in green plants in the photolysis stage. For the process to succeed, an adequate supply of water has to be available to facilitate electron transfers.
Photosynthesis Rate
In reactions independent of light, water supply increases the concentration of carbon dioxide in carboxysomes. Carboxysomes are bacterial micro compartments that contain enzymes that aid in carbon fixation during photosynthesis. Water increases the rate of photosynthesis because the carboxysomes increase the concentration of carbon dioxide around the rubisco, an enzyme that catalyzes the initial part of carbon fixation process in photosynthesis.
Absorption of Carbon Dioxide
During the carbon fixation stage in photosynthesis, water helps in the absorption of carbon dioxide. This is carried out through the release of electrons in the oxidation process. Absorption of carbon dioxide increases the production of oxygen gas during the photosynthesis process.
Carbon Dioxide
Carbon concentration in plants is regulated by water intake. When adequate supplies of water are absorbed, respiration through the stomata regulates carbon dioxide concentration.
Temperature
High temperatures favor a higher water intake. However, if temperatures are low and the water supply is high, the humid conditions stifle photosynthesis because water cannot be expelled from the leaves.
Wilting
An adequate water supply helps prevent plants from wilting. This preserves not only water levels but also plant pigment that is essential to photosynthesis.
What Gas Do Green Plants Give Off?
Photosynthesis
Photosynthesis is the process plants use to synthesize food from carbon dioxide and water. Sunlight is used as a energy source. Photosynthesis releases oxygen as a byproduct.
Peak Production
According to blueplanetbiomes.org, the most favorable temperature for photosynthesis to occur is between 70 to 80 degrees F.
Trees
A single mature tree produces 260 pounds of oxygen each year, which is enough for two people annually. A single tree uses 48 pounds of carbon dioxide every year.
Plants
Leaves produce 5 ml of oxygen per hour. How much each individual plant produces depends on how many leaves it possesses. A single-leaf plant produces 43,800 ml or 43.8 L of oxygen in a year.
Plant Species
An estimated 230,000 plant species exist on earth. Of these, 23,000 are trees. The remaining 207,000 plant species include flowers, scrubs and grasses.
How Do Leaves Help Photosynthesis?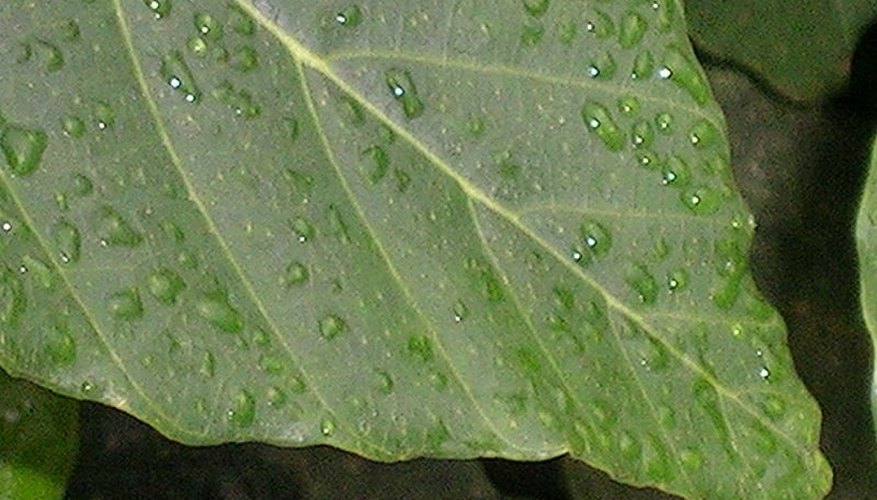 Photosynthesis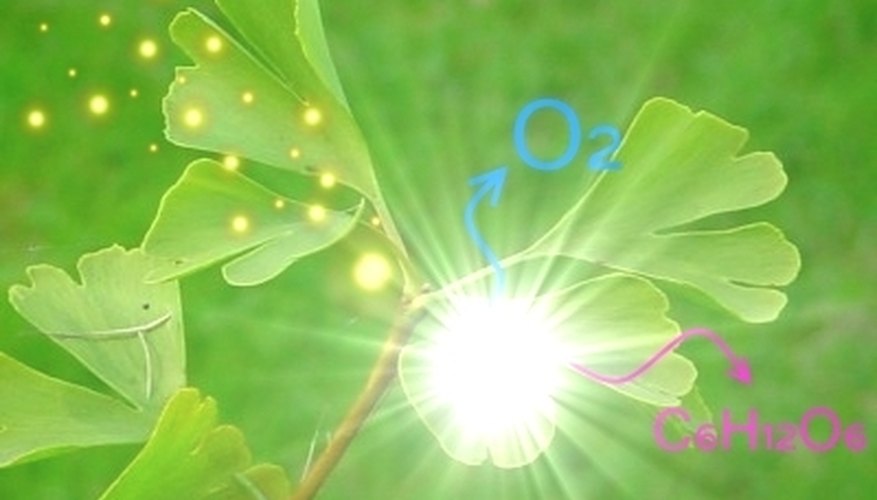 Photosynthesis provides a plant with a means of producing its own food from water, carbon dioxide, light and minerals. This process occurs in the chloroplasts, located in the green portions of the plant, including the leaves. The structure of the leaf aides in photosynthesis by helping the plant to acquire all of the required materials to manufacture its own food.
External Leaf Shape
Leaves best suited for photosynthesis have wide, flat green areas to allow for maximum exposure to light. Thin leaves allow for efficient transfer of carbon dioxide to the chloroplasts inside the leaves, which the plant uses with light to create food. Oxygen released as waste from photosynthesis rises to the surface best in a thin leaf and dissipates better from leaves with a large surface area of the leaves. The veins of the leaves carry water and mineral nutrients absorbed through the plant's roots throughout the leaves. This action provides the other requirements for photosynthesis not acquired by the leaves.
Internal Leaf Structure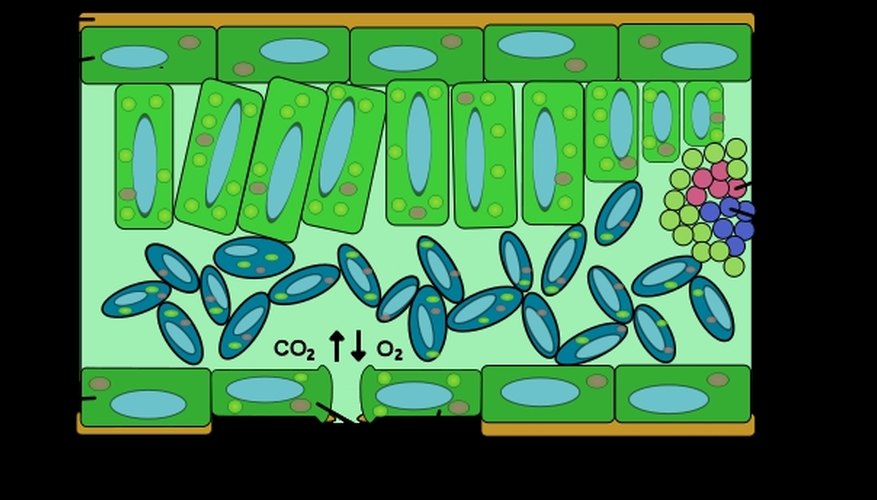 In green plants, photosynthesis occurs in the chloroplasts. These reside inside the mesophyll cells sandwiched by a top and bottom protective layer of epidermis. The location of the mesophyll in the middle of the leaves allow them to get the sit in the path of carbon dioxide taken in by the leaf and give them an exit path for the wasted oxygen.
How Flowers Get Rid of Waste
Types
A flower is the specialized reproductive structure of a flowering plant. Like all other cells in a plant, the cells in a flower extract energy from sugar molecules through cellular respiration, which consumes oxygen and releases carbon dioxide. Plants produce the sugar they need for cellular respiration through photosynthesis, which consumes carbon dioxide and releases oxygen. During the daytime, the volume of oxygen from photosynthesis greatly exceeds the volume of carbon dioxide produced by cellular respiration.
Features
Carbon dioxide and oxygen gas can diffuse across cell membranes and cell walls, so plant cells that are close to the air can rapidly rid themselves of excess oxygen or carbon dioxide. Since proteins and nucleic acids contain nitrogen, the breakdown of these molecules releases nitrogenous waste. Animals expel nitrogenous wastes through urination, but plants have developed other strategies to deal with this problem.
Function
Nitrogenous wastes are stored in the vacuole, which is a large membrane-enclosed sac inside the cell, and can be used to make other compounds like plant alkaloids, many of which are used for self-defense. Plants can also store these waste products in structures they will shed, like leaves that die and fall off.
The Effects of Pollution on Trees
Smog
Smog in urban areas causes chlorosis in trees. Smog blows into pine forests, such as those in the San Bernardino Mountains in California or the Blue Ridge Mountains of Virginia, and causes browning of the leaves and premature needle drop. It also leaves trees more susceptible to pests and shortens their life spans.
Ozone
Ozone is an oxidant that occurs when car pollution and sunlight mix together and form a gas. Ozone damages trees, both deciduous and coniferous, by causing slow growth, browning leaves or molted needles. According to Colorado State University, "white ash, aspen, Ohio buckeye, Kentucky coffee, Crimean linden, imperial honey locust, weeping willow and hybrid poplar trees" are all affected by ozone damage.
Sulfur Dioxide
Sulfur dioxide comes from burning coal and smelting ores. Besides being the main cause of acid rain, sulfur dioxide also affects both deciduous and coniferous trees by causing leaf or needle damage, such as orange tips on pine needles. Sometimes sulfur dioxide can damage trees in as little as three to four days of exposure.
What Do Plants Need to Make Sugar & Release Oxygen?
Plant organs in leaves called chloroplasts, which contain the pigment chlorophyll, use energy from light to convert water, taken in by the root system, and carbon dioxide, drawn in through the leaves, into sugar. The leaves then release oxygen as a by-product. This process is known as photosynthesis.
Vascular Plants Characteristics
Physical Organization
All vascular plants are differentiated from non-vascular plants in that they contain roots, stems, leaves and an internal vascular network. The root system takes in water and nutrients from the soil, while the shoot system, made up of stems and leaves, specializes in photosynthesis. The vascular network is made up of conducting tissues referred to as xylem and phloem. Xylem carries water and nutrients upward from the roots, while phloem carries the products of photosynthesis to all parts of the plant as needed.
Reproduction
All vascular plants reproduce using either seeds or spores. They are all oogamous (having a larger female gamete or egg, and a smaller motile male gamete or sperm). Haploid cells (the male and female sperm and egg) each carry half the genetic material of the parent and unite to form a zygote with the full complement of chromosomes.
Plant Height
Xylem tracheary elements have rigid walls containing cellulose. When the tracheids die, their walls persist and serve as a support structure. A good example of this is the wood of trees. The presence of cellulose allows the plant to grow upright, producing more leaves for photosynthesis. Non-vascular plants are limited to one or two centimeters in height.
What Is the Difference Between Flowers & Plants?
The Plant Kingdom
The Plant Kingdom is divided into two basic groups, non-vascular plants, like moss and lichens, and vascular plants, which include flowering plants. Both groups have rigid cell walls, usually grow in soil and almost all use energy from the sun in a process called photosynthesis.
Plants and Reproduction
Non-vascular plants reproduce through spores. Vascular plants reproduction includes flowers, plant runners, bulbs and tubers that multiply underground, to plants that produce cones that in maturity, open and disperse seeds. Flowers are the most evolved reproductive system in the plant world, with separate male and female organs, however a flower is only part of a plant and does not have an independent life of it's own.
Flowers and Function
A flower is made up of four basic parts: sepals, petals, carpels and stamen. The sepal is the bud covering that unfurls to form the base of the blossom, the petals open and help attract pollinators like insects and butterflies. The stamen is the flower's male reproductive organ and it produces the pollen necessary for fertilization. The carpel is the female reproductive organ of a flower that, once fertilized, matures to produce fruit and seeds.
Flowers Bear Fruit
The covering of a seed produced by a flowering plant is categorized as a fruit, no matter what the signs say your local supermarket. Tomatoes, peppers, eggplants are all technically fruits, since they are formed from a fertilized blossom of a flowering plant and they contain seeds.
Botanical Timeline
Plant life first developed over 400 million years ago but it took more than a couple of hundred million more before the first flowers started to bloom. The exact date for the flowering plant is a matter of some debate, but a 125 million year old fossil found in China shows the clear imprint of a flowering plant.
Definition & Characteristics of Ray Fungi
Structure of Ray Fungi
Ray fungi are prokaryotes, meaning their genetic material floats freely in the cell, not enclosed in a nucleus. Prokaryote cells are smaller and simpler than eukaryote cells. The cells are rod-like or filamentous and branching, fostering the confusion with fungi.
Ray Fungi Habitat
Ray fungi are in soil all over the world. Species of the genus Streptomyces give the "fresh dirt" smell after a rain.
Commensal Ray Fungi
Actinomycetes are part of the normal flora in the human mouth. Normally they are harmless unless a patient has a compromised immune system.
Drugs From Ray Fungi
Actinomycetes produce many antibiotic compounds including streptomycin, actinomycin and chloromycin. Adriamycin is used in cancer treatment, and rapamycin is used for immunosuppression before organ transplant.
Actonomycete Infections
Infections by actinomycetes--actinomycosis--rarely occur in the mouth and jaw after dental surgery. Infections may result from a puncture wound or from breathing cells. Since actinomycetes are prokaryotes, antibiotics are usually effective.
Ecological Uses of Seedless Vascular Plants
Pterophyta
Plants in the Pterophyta division are the most familiar seedless vascular plants. They are commonly called ferns and have divided, feathery leaves called fronds. Ferns grow well in damp shady areas, such as woodlands or along stream banks, and the rhizomes and roots of ferns help prevent soil erosion. Coal was formed from the decayed remains of ferns eons ago.
Lycophyta
Plants in the Lycophyta division have single-veined leaves and grow in a wide variety of habitats. Lycopodiums and Selagineums are groundcover type plants and resemble ferns. Other plants in the Lycophyta division are club mosses, spike mosses and quillworts. These plants also help prevent erosion and are a component of coal.
Sphenophyta
Equisetum is the only genus in the Sphenophyta division. It is commonly called scouring rush, because the stems contain silica, or horsetail. It grows in marshy or waterlogged soil and can spread aggressively. Equisetums are also a component of soil.
Psilophyta
Plants in the Psilophyta division of seedless vascular plants do not have true leaves or roots and are the simplest vascular plants. Whisk Ferns (Psilotum spp.) are members of this division and native to Florida and other tropical areas.
Where Does Photosynthesis Occur in Mosses?
Moss are non-vascular plants that grow rhizoids--growths that mimic the anchoring effects of plant roots--from which leaf-like photosynthetic growths emerge, according to Wharton County Junior College. These growths take on a green hue.
How Do Plant Cells Divide?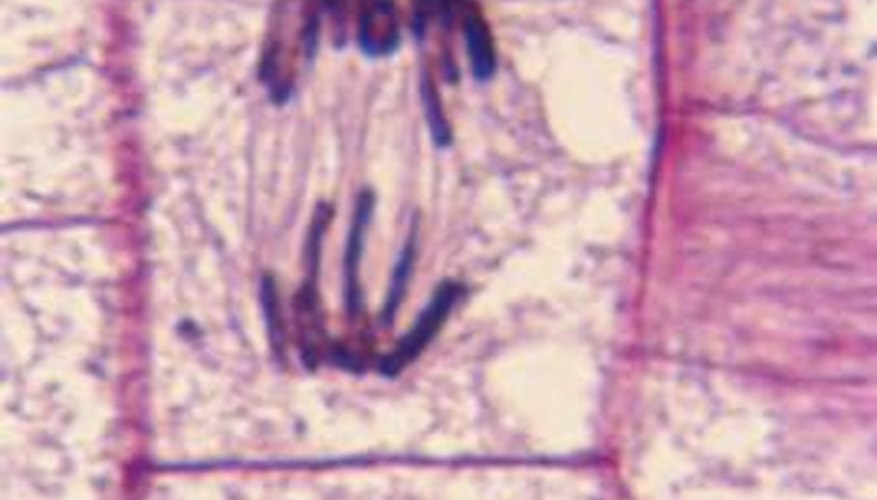 Types
Mitosis is divided into four phases: prophase, metaphase, anaphase and telophase. Meiosis, by contrast, takes place in two distinct stages, meiosis I and meiosis II. Each stage has four phases, so that meiosis I is divided into prophase I, metaphase I, anaphase I and telophase I, while meiosis II is divided into prophase II, metaphase II, anaphase II and telophase II.
Features
During both processes, the chromatin fibers of the chromosome become condensed and the chromosomes are lined up along the center of the cell by spindle fibers. The spindle fibers pull the chromosomes apart, so that half of the chromosomes go to one daughter cell and half to the other. A new cell wall forms between the two dividing cells through formation of a cell plate from sacs called vesicles.
Considerations
Meiosis and mitosis exhibit a number of crucial differences. No DNA replication takes place between meiosis I and meiosis II, so the end effect of meiosis is to create four daughter cells, each of which will have half as many chromosomes as the parent cell. During meiosis I, sections of the paternal and maternal copies of a chromosome can be exchanged to create recombinant chromosomes through a process called homologous recombination. This process increases genetic diversity in the plant's offspring and thus plays an important role in evolution.
How Do Plants Get Water & Food?
Photosynthesis
The process of photosynthesis allows the plant to manufacture its own food using sunlight to drive the process. Carbon dioxide taken in by the stomata mixes with water in the plant and is bombarded by light in the foliage cells to produce the simple sugar glucose and oxygen.
Vascular Transport of Sap
The vascular tissues of the plant, called xylem, move water and minerals from the plant roots to the foliage. Phloem tissues move simple and complex sugar molecules, plant hormones and acids up and down the plant foliage. Sap is the mixture of elements in the xylem and phloem. Veins in the plant are a key part of this vascular system, akin to nutritional highways in the leaves where the majority of photosynthesis occurs.
Where Does Meiosis Occur in Vascular Plants?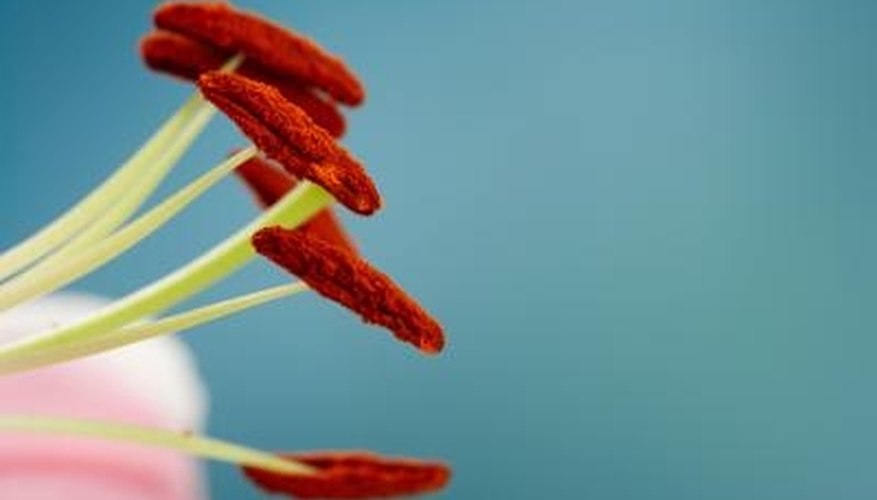 Function
While most cell division allows plants to grow, meiosis occurs specifically for producing sex cells. When an egg and sperm unite during sexual reproduction, the half-sets of chromosomes found in each cell unite to give the resulting offspring a full set of genetic material. Where meiosis occurs in a vascular plant depends on the type of vascular plant.
Ferns
Spore-producing vascular plants such as the ferns develop small spots called sori on the undersides of their leaves. These sori consist of many tiny structures called sporangia. Meiosis occurs in the sporangia, producing spores with the potential to develop into structures that produce the fern's sex cells.
Seed Plants
In seed plants, separate male and female structures within the plant undergo meiosis to produce sperm and egg cells, respectively. Microsporangia -- located in the male cones for gymnosperms and the anthers for flowering plants -- produce sperm cells through meiosis. Inside of the female cone or the ovary of the flower, megasporangia give rise to egg cells through meiosis.
The Process of Transpiration in Vascular Plants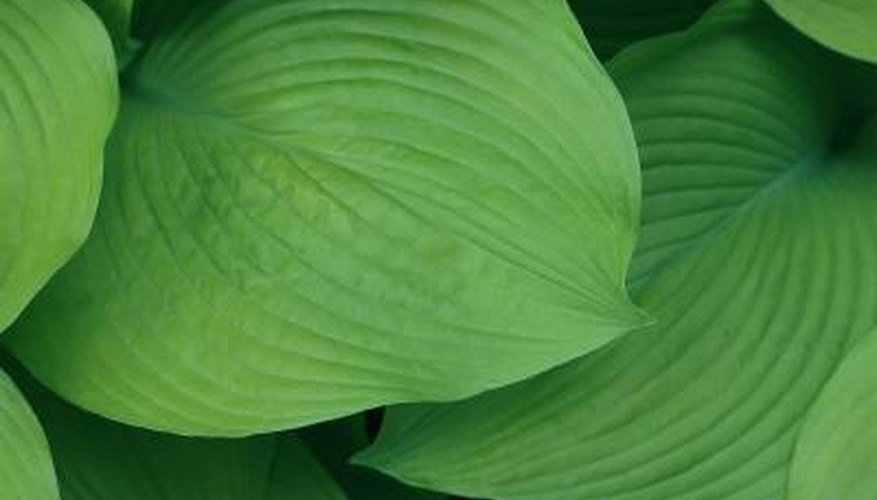 Features
Each leaf has microscopic pores in its underside called stomata ringed by sausage-like cells called guard cells. The leaf cells need carbon dioxide for photosynthesis, so gas exchange takes place through these pores. The air comes in contact with plant cell surfaces at air spaces inside the leaf. Since the cells are full of water, these air spaces quickly become saturated with water vapor.
Function
Most of the time, the air outside the leaf is drier and poorer in water vapor than the air spaces inside the leaf, so water vapor diffuses outwards in a process called transpiration. Plants can limit the amount of water vapor they lose by closing their stomata. Many plants do so at night, when they are no longer performing photosynthesis.
Significance
Transpiration helps generate the force needed to pull water up the plant's stem. In leaf cells, the surface of the water in the pores of their cell walls curves inwards as the cell loses water to transpiration. Water has high surface tension, so this curvature pulls more water out of the cell, generating a negative pressure that draws water up the stem like sucking it through a narrow straw.