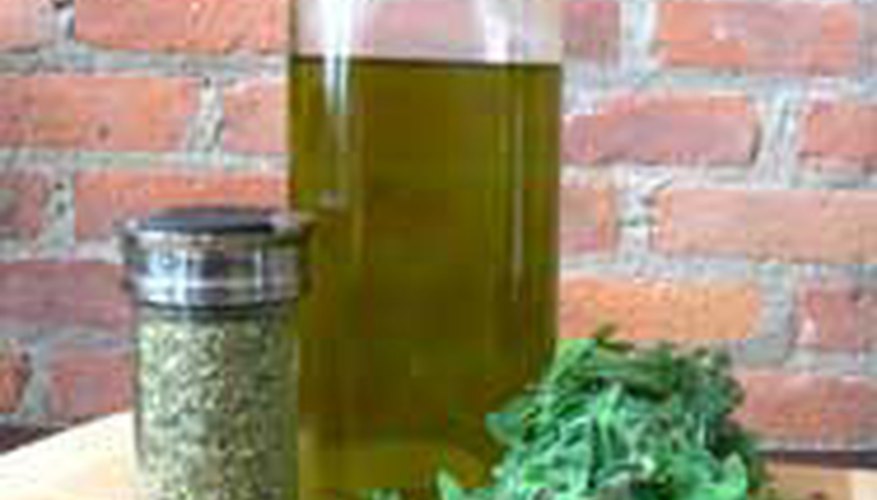 How to Use Oregano Oil in a Humidifier
Oregano oil, as extracted from wild oregano plants and sold commercially, may be used in humidifiers to ease sinus problems, to stave off colds and to promote a healthy immune system. Oregano oil has antimicrobial agents that have been shown to protect and preserve good health (see links in Resources). Using it in a humidifier is the same as using other essential oils in humidifiers. Either cool or warm mist humidifiers will work well. The oil will help relieve minor sinus issues and the aroma will uplift your home's atmosphere.
Can I Use Olive Oil to Fertilize Plants?
You shouldn't use olive oil to fertilize plants. Oil displaces water and can draw rodents and additional pests to the soil. It can be used in compost, but only in small amounts.
You shouldn't use olive oil to fertilize plants. Oil displaces water and can draw rodents and additional pests to the soil. It can be used in compost, but only in small amounts.
How to Make Nettle Oil Infusion
Step 1
Crush 1 cup of dried nettle leaves, and place the crushed leaves in a clean glass jar with a tight-fitting lid.
Step 2
Boil 1 quart of water in a pot. Pour the boiled water over the crushed nettle leaves in the jar. Place the lid on the jar tightly.
Step 3
Steep the crushed nettle leaves in the water for at least four hours and up to 10 hours. Keep the jar at room temperature on a shelf or counter until the oil infusion is steeped.
Step 4
Strain the liquid from the crushed leaves. Remove the plant material, and dispose of it, Use the nettle oil infusion immediately or store it for up to three days in a refrigerator.
Home Remedy to Remove Oil Stains From Concrete
Cleaners
Oven cleaner works well to remove older oil stains, as it reaches past the top layer of the concrete. For fresh oil spills, use a dish soap designed to cut through grease and tap water.
Cleaning Method
For oven cleaner, apply a thin layer of the cleaner to the top of the stain, cover with a tarp and wait 24 hours. For newer stains, apply dish soap and pour a small amount of water on top. Gently work the soap into a lather and rinse with fresh water.
Considerations
If the oil stain is fresh, apply cat litter or sawdust over it, which absorbs the oil. Sweep the sawdust away and then clean. For older or dried stains, clean as directed and then use cat litter or sawdust to absorb the liquid.
How to Extract Mint Oil from Mint Leaves
Set up a double boiler on your stove top, making sure the bottom pan has sufficient water to boil for an hour. Pour 1 to 2 cups of olive or almond oil into the top pot of the double boiler.
Drop 1 cup of crushed, dried, unwashed, de-stemmed mint leaves into the oil. Keep the heat on low to medium low.
Heat the oil in the double boiler for at least one hour for average potency. For stronger infusions, continue to heat the oil for another hour. Add water to the bottom pot if necessary.
Turn off the burner when you are satisfied with the infusion and let the oil cool down. Pour it through a strainer so the mint leaves are taken out of the mint oil.
Pour the oil into a jar or bottle to use for massage, cooking, aromatherapy a salve or therapeutic oil.
How to Color Vegetable Oil
How to Clean Oil Spots From Colored Concrete
Spread a generous coating of cat litter, sawdust or cornmeal. Use a broom to spread it around, so the absorbent substance will soak up the oil.
Leave the absorbent substance on the spot for 24 hours. Sweep it up with a broom and dust pan.
Fill a bucket with hot water. Saturate the oil spot with bleach-free, grease-cutting dish soap, then scrub it well with a stiff scrub brush. Pour the bucket of hot water over the spot and scrub the stain again.
Rinse the spot with clean water, then let it air-dry completely. Inspect the concrete once it has dried for any traces of the oil.
Sprinkle bleach-free powdered laundry detergent onto the spot if it's still there. Drizzle water over the detergent, then scrub the paste into the concrete. Let the detergent paste sit on the concrete overnight, then scrub with a stiff scrub brush the next day. Rinse with clean water and let the area dry completely. Repeat this process again, if necessary.
Difference Between Flaxseed & Linseed
Flax
Flaxseed oil and linseed oil are pressed from the flax plant, which may have originated in Egypt. Ancient Egyptians used the flax plant for medicinal and nutritional purposes, according to the University of Maryland Medical Center. The oil that results from the pressing of the seeds is referred to as flaxseed oil. Flaxseed oil is used as a nutritional supplement.
Linseed Oil
Linseed oil also comes from the flax plant, but has its uses in the production of products like paints, coatings, linoleum, according to North Dakota State University. In order to turn flaxseed oil into linseed oil, a petroleum solvent is used to further extract the liquid. Industrial linseed oil does not have nutritional uses, but the extracted oil may serve as an additive in animal feed.
Benefits
Flaxseed oil offers omega-3 fatty acids, an essential enyzme commonly found in fish. Linseed oil can work as an ideal supplement for people who need omega-3s but do not enjoy or cannot afford fish. Omega-3 fatty acids promote a healthy immune system and can protect against cardiovascular disease, arthritis and cancer. Flaxseed oil may also promote healthy digestion. Linseed oil works as a powerful preservative with strong water resistance.
Application
You can find flaxseed oil in certain vitamins and health supplements. The products may advertise "linseed oil" or "flaxseed oil," but the product is the same. You can also find pure flaxseed oil, not advertised as part of a larger supplement. If you purchase whole flaxseed at health food stores, you can grind it inside of a coffee maker and add it to your food. You can find linseed oil within the ingredients of products like sealants, paints and inks.
How to Plant Rapeseed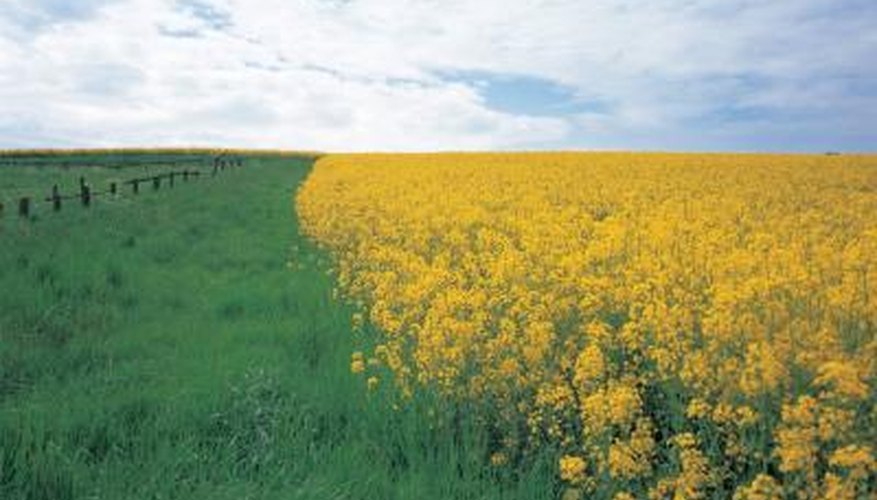 Step 1
Plant rapeseed in a site that has moist, fertile soil and is in full sun. The soil needs to be well-draining. Prepare the soil in early spring or late fall by hoeing or discing with a garden tractor to break up the surface.
Step 2
Incorporate the appropriate fertilizer to areas for rapeseed plantings in the amounts needed to adjust any soil deficiencies. Rapeseed typically responds well to nitrogen fertilizers. Add the herbicide trifluralin at 1 lb. per acre for weed control.
Step 3
Broadcast rapeseed, either by hand or mechanically, at a ratio of 4 to 6 lbs. of seed per acre. Cover the rapeseed with 1 to 1-1/2 inches of soil.
Step 4
Water rape seed immediately after planting and once a month during the growing season to keep the soil moist. Reduce watering during significant rainfall and increase if a dry spell occurs.
Step 5
Harvest the dried and swollen seed pods from August and cull the seeds from the pods for processing.
How to Troubleshoot the Honda GX 160
Remove the oil filler cap. A dipstick goes into the oil reservoir on the bottom side of the oil filler cap.
Use a rag to wipe off the dip stick and then replace the oil filler cap to acquire an adequate reading of the oil level.
Remove the oil filler cap and look at the dip stick. If the oil level shows on the "Add" mark on the dipstick then add more oil to the motor before starting it again.
Replace the oil filler cap after the oil has been filled and the readings on the dipstick are in the "Full" range.
How to Use Formby's Tung Oil
Prepare your woodworking project by stripping away the old varnish. To do this, soak a cleaning cloth in paint thinner and rub the woodworking project until the varnish is gone.
Rough up your surface by rubbing with a fine grit sandpaper.
Rub your surface with another clean cloth to remove dust particles.
Soak a cleaning cloth or lint-free applicator pad in Formby's Tung Oil. Rub the oil into the surface of the woodworking project. Apply liberally. Wait 20 minutes and wipe away excess oil.
Wait 30 minutes and wipe away moisture that has seeped from your woodworking project.
Wait about 12 hours for the Formby's Tung Oil to dry. Buff with 000 steel wool and apply a second coat. You may apply up to four coats for an indoor project. Outdoor projects may require up to seven coats.
Apply a new coat of Formby's Tung Oil annually.
What Is the Shelf Life of EMU Oil?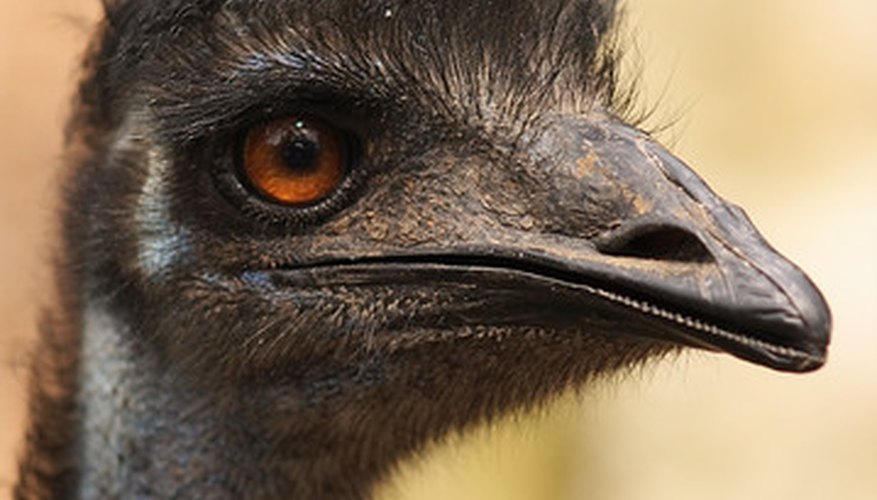 What Is Emu Oil?
Emu oil comes from the emu bird, found in the Australian Outback. The flightless bird is a relative of the ostrich family and the oil extracted from it is known for its healing qualities, particularly among the native Aborigines.
Healing Properties of Emu Oil
Emu oil is well-known for its anti-inflammatory properties. It is also helpful in treating chronic skin ailments, burns, wounds, wrinkles, and insect bites. Emu oil contains Vitamin E, Vitamin A, and oleic acid, which provide powerful anti-oxidants that are said to regenerate skin cells and help reduce the signs of aging.
Shelf Life
Emu oil is said to have an exceptionally long shelf life. It should be stored at room temperature and can have a shelf life of one to three years, depending on the grade and quality of the oil. Emu oil is said to be exceptionally resistant to bacteria because it is low in bacteria-rich fatty acids.
What to Look For
The consistency of emu oil will vary depending on the conditions in which it is stored. Emu oil begins to liquefy at 75 to 80 degrees F and should be cream/light yellow in color, odorless and bland in taste. Emu oil will appear thicker in cold temperatures and liquid in warm temperatures.
Side Effects
There are no known side effects to ingesting or using topical emu oil.
Where to Buy Emu Oil
It is best to order emu oil directly from an certified emu farm to ensure the quality of the product. You can email your mailing address to the AEA (CBM@aea-emu.net ) and they will send you a list of approved emu farms in your area.