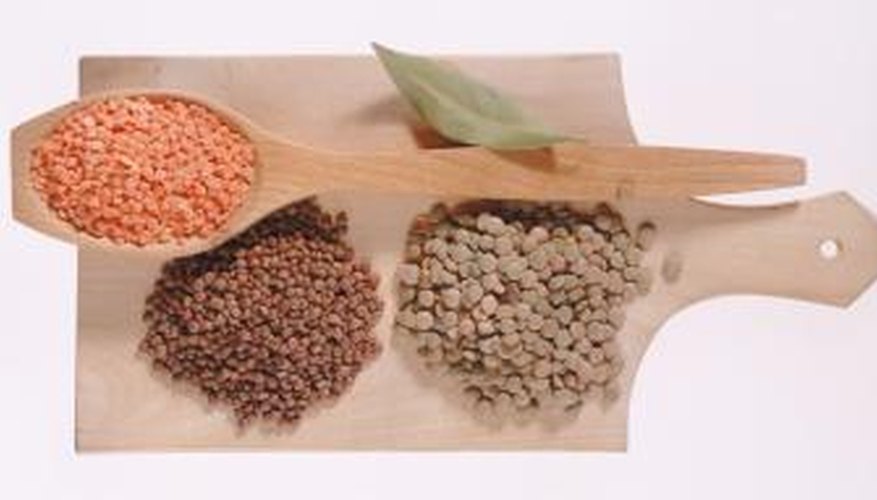 How to Make Dried Peas
Peas are a cool-weather crop that is part of the legume family. While many gardeners enjoy their peas fresh from the vine, they can be easily dried and stored for use year-round. Drying peas is one of the simplest ways to store peas, as there is no need for canning or other special equipment to prepare them. You can make the dried peas into soups and other cooked dishes long after the garden quits producing in winter.
Drying Peas
Step 1
Allow peas to fully mature on the vine for approximately one month longer than when you would pick them for fresh use. Pick the pea pods once they begin to dry and the peas rattle inside.
Step 2
Split open the pods and spread the peas out on paper towels. Allow them to finish curing in a warm, dry room for two weeks.
Step 3
Place the dried peas in a self-sealing plastic bag or tightly sealed container. Store in a cool, dry place until ready to use.
Cooking Dry Peas
Step 1
Place two cups of dried peas in a pot. Fill with six cups of water and cover. Let sit overnight at room temperature to pre-soak the peas in preparation for cooking.
Step 2
Drain off the soaking water from the peas. Replace with six cups of fresh water and add one tablespoon of cooking oil to the water to prevent foaming. Use any type of oil you prefer.
Step 3
Cover the pot and place it on a burner on your stove. Bring the pot to a simmer. Allow it to simmer for 30 minutes to two hours, or until the peas are done.
Step 4
Stir the peas every 30 minutes while they are cooking. Peas are ready to use when they are tender enough to pierce with a fork.
How to Plant Blackeye Peas
Choose a well-drained location with fertile soil.
Test the soil pH and fertility. Add organic compost or fertilizer as recommended by the fertility test. Adjust the soil pH to between 5.8 and 6.3, if needed, by adding lime or acid-producing materials.
Plant black-eyed peas when the soil has warmed up to at least 60 degrees F. Plant bush varieties in rows, about 2 to 4 inches apart and 1 to 1 1/2 inches deep. Plant vine-type varieties 6 to 12 inches apart. Space rows 24 inches apart.
Hand pull weeds or lightly hoe to control weeds until the plants are established.
Water during periods of drought only. Black-eyed peas have a deep tap root and usually need no irrigation.
Harvest black-eyed peas as soon as the pods are filled out and easily shelled. It is common to harvest a few tender immature pods, snap them and mix them into the shelled peas. At the end of the season, peas left on the plant will dry and provide seed for next year's crop.
How to Stake Up Pea Plants
Measure the length of the row of peas. You will need a length of gardening netting equal to the length of the row, and one pole for every 4 feet.
Drive metal poles into the soil, next to the row of peas. Space the metal poles 4 feet apart and drive each 2 feet into the ground.
Affix the length of netting to the poles, by looping over the pole hooks.
Run a line of twine, 12 inches above ground level, tying the twine from one metal post to the next. Do this when the peas are about 15 inches tall. Situate the peas between the twine and the garden netting.
Repeat the previous step, moving up another 12 inches from the first strand of twine, when the peas have grown slightly beyond that point. Do this every time the peas grow another foot.
How Many Times Will Pea Plants Produce Peas?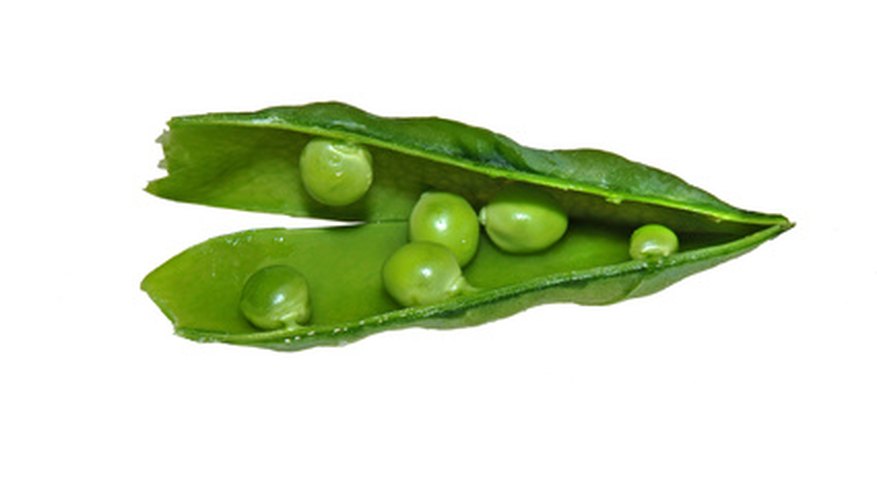 A cooler weather plant, peas will produce continuously from early to later summer with the heat of late summer drying out the plant. Expect about 20 pounds of shelled peas per 100 planted feet for garden peas and 30 pounds of snap or snow pea pods. As an annual plant, pea plants only live for one season.
Harvesting Peas
You can begin picking green peas about three weeks after the plants blossom. Look for plump, bright green pods, and use scissors to clip peas from the vine to avoid damaging the plants. Harvesting daily will keep the plants producing longer. If left on the vine too long the peas become hard and starchy.
Peas quickly lose flavor after they are picked, so if possible, cook them the day they are harvested. You can freeze any excess:
Blanch in boiling water for 1 1/2 minutes.
Drain and allow to cool.
Package in plastic containers or freezer bags.
Freeze.
If peas become overripe you can dry them to use in soups and stews. Spread shelled peas on a flat surface where they can remain undisturbed for about three weeks to dry. Store them in an air tight container.
Recipes
Is it a Good Idea to Soak Seeds Before Planting?
Seeds such as peas, beans and squash benefit from an overnight soak in water to prep them for planting. Soak seeds to soften the shells, or soak until they sprout.
How to Soak Peas for Planting
Step 1
Discard any pebbles, debris or soft seeds from the seeds. Pea seed should be dry and firm. The peas may be slightly different shades of pale green to nearly white.
Step 2
Place the pea seed in large bowl or bucket. Fill the bowl no more than halfway with seeds. When soaked, the seeds double in size.
Step 3
Cover the seeds with tepid water and allow them overnight. Seeds can be soaked longer, but never soak seeds longer than 24 hours. They may rot and be useless for planting.
Step 4
Drain excess water from the pea seeds, and spread them on a towel to remove excess water. The peas are ready to plant.