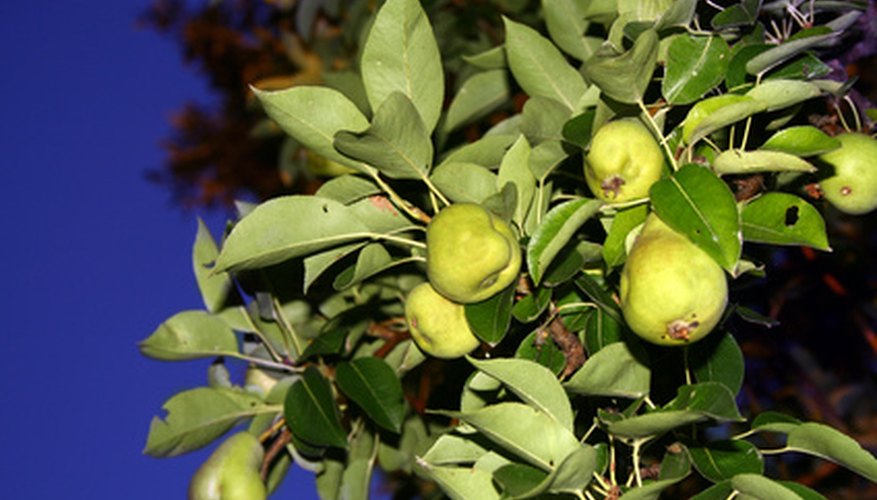 How to Grow a Pear Tree From a Seed
Growing pear trees takes patience. They are the easiest fruit trees to grow, but they take two to four years to bear fruit. You can purchase pear seeds or get them directly from the fruit. To germinate, pear seeds have to go through a period called stratification at about 40 degrees F.
Collect or buy your pear seeds right before autumn so you can plant them during the current growing season.
Decide where you want each pear tree seed to go. Make sure the area is free from grass and weeds. Dig a hole about 2 inches deep and add decomposed compost mixed equally with fresh potting soil. Place the seed in the hole and bury it. This ensures that stratification will occur naturally in the winter.
Mulch the soil and soak it thoroughly with water. Use a flag or post to mark the area where you planted the tree. Water the seed twice a week.
Watch for sprouting in the spring and continue watering. During dry spells, make sure you water the seedling more than usual. Consider staking the young tree so strong winds don't knock it over. During the first year, add fruit tree fertilizer to the area extending about a foot from the base of the tree.
Pear Tree Leaf Identification
Color
Pear leaves are dark green and glossy. They have lighter green veins that run down the center of the leaf and branch to the sides. The undersides of the pear leaves are matte, not glossy. They are also lighter in color.
Shape
Pear leaves look like teardrops, with pointy edges and a rounded base. The leaves have a lightly serrated edge, with no jagged teeth. The leaves are symmetrical, meaning that the right and left halves have the same shape.
Arrangement
Pear leaves grow on either side of the stem in an alternating pattern. This gives them a staggered appearance in contrast to opposite-arranged leaves, which appear along the stem in pairs--one on the right directly across from one on the left.
Size
Pear leaves average 1 to 4 inches in length.
Flowers
Flowers will help you identify pear trees. In the spring months, the trees display small creamy white flowers. The flowers will either emerge just before the leaves do or at the same time they appear.
Ayers Pear Tree Information
Branches
The Ayers pear tree consists of strong, vertical branches that need very little pruning.
Ripening
Don't let your Ayers pears ripen while they're still on the tree. Put them in storage where they can ripen more evenly.
Lighting and Soil
Plant an Ayers tree where it will receive more than six hours of direct sunlight every day. It tolerates heat and humidity and likes growing in fertile, well-drained soil with a pH range of 5.5 to 7.
Flowers and Foliage
The Ayers pear tree produces fragrant pink and white flowers with medium-sized, green leaves.
Diseases and Pests
The Ayers pear tree can suffer from fire blight and is vulnerable to attack from leaf rollers, blister mites, caterpillars, powdery mildew, aphids, die back, scab and scale insects.
Pear Tree Diseases
Fire Blight
Fire blight (Erwinia amylovora) is a bacterial disease that causes severe symptoms. Blighted pear blossoms are brown, shriveled and wilted, while blighted pear shoots turn black.
Fabraea Leaf Spot
Fabraea leaf spot (Fabraea maculate) causes affected pear trees to defoliate early, resulting in smaller fruit and fewer fruit buds. It can be identified by small, circular purplish-black spots on leaves, fruits and shoots.
Pear Scab
Pear scab, often called black spot, is caused by a fungus (Venturia pirina). This fungal disease causes round, brown lesions to form on the pear tree's petioles and leaves.
Stony Pit
Stony pit is a viral disease common to the Bosc pear variety. Stony pit causes pear pit cells to fuse into a stony, cone-shaped mass.
Management
Several management practices can reduce the risk of pear tree diseases, including controlling the insect population. Pear trees should not be overfertilized or watered with overhead sprinklers.
How to Prune Pear Trees
How to Prune Ornamental Pear Trees
Place a ladder 6 inches from the area where you wish to begin pruning.
Start pruning the section of the tree located at the base of the tree, moving upward as you have finished each section. Do not bother picking up each pruned section; just let it fall to the ground.
Move the ladder clockwise to the next section of the tree and repeat pruning, starting with the base of the tree and moving in an upward direction. Allow pruned branches to fall to the ground.
Move the ladder a final time until you have made a full circle around the tree, depending on the size of the tree. Prune the same amount on the final side as you have the previous sides, and work your way upward to the top of the tree.
Collect the pruned branches and flower buds, and dispose of them into a trash bag or compost bin.
Diseases of Pear Trees
Blossom Blast Disease
A bacteria called Pseudomonas syringae causes blossom blast disease in pear trees. Symptoms include brown flowers, leaf spots, twig dieback, and bark lesions. The bacteria produce a toxin called syringomycin, which damages plant tissue.
Pear Decline Disease
Candidatus Phytoplasma pyri causes pear decline. It is marked by wilting and abnormal red leaves at the top of the pear tree. The foliage spread reduces in size and a brown line is present in the phloem tissue.
Pear Scab Disease
A fungus called Venturia pirina causes scab disease in pear trees. Symptoms include spots that appear on fruits, flowers, and stems. The spots gradually grow and eventually crack the tissue, resulting in scabs.
Vein Yellows Disease
Vein yellows disease is caused by the vein yellows virus, which produces small yellow spots on leaves. The affected leaves are half the size of normal leaves. A similar strain of the virus, called red mottle virus, produces red spots on pear tree leaves.
Treatment
Pruning infected twigs and affected fruits will help prevent the spread of disease. Use resistant rootstock when planting new pear trees. Applying fungicide to the soil can help reduce risk of infection.
Information on Ornamental Dwarf Pear Trees
Types
There are two types of ornamental dwarf pear trees. Some produce fruit and others are fruitless.
Considerations
The fruitless dwarf pear trees require very little maintenance, although some varieties may have thorns. Fruiting dwarf pear trees such as the Kieffer dwarf pear does require another dwarf pear tree as a pollinator.
Soil
Most dwarf pear trees require moderately fertile soil, and soil that is well drained. However, the Callery dwarf pear tree (which does not bear fruit) will tolerate poor soil.
Pruning
Fruiting trees will require pruning to thin out the crown and to head back terminal branches. Fruitless trees will require pruning to maintain its size within your landscape, to remove dead, diseased or damaged branches.
Use
Ornamental dwarf pear trees are not for commercial growers, they are mainly used in the home garden/landscape. They can be planted and enjoyed as a specimen planting (fruitless trees), or planted to enjoy the fruit that fruiting trees produce.
Is a Pear Tree Deciduous or Evergreen?
Pear trees can be deciduous or evergreen. Most pear trees are deciduous, but the Pyrus Kawakamii is an evergreen pear tree. Also, ornamental pear trees can be either deciduous or evergreen.
How Long Does it Take for a Pear Tree to Produce Fruit?
Age at Planting
Expect a newly planted pear tree to bear fruit four to six years after planting. A 1-year-old nursery whip must develop lateral branches before it bears fruit. A 2- to 3-year-old potted tree should bear fruit three to four years after transplanting.
Tree Type
Dwarf trees generally bear fruit earlier than standard-size trees. If you plant a two-year-old dwarf pear tree in a container to use as a patio plant, it may bear fruit in two to three years. Standard-sized trees grafted to Old Home rootstock may take up to eight years to fruit after transplanting.
Pollination
Although some pear varieties are self-fertile, most pears must have a different variety planted nearby for proper pollination and ample fruit set. No matter how old the trees are, Bartlett and Seckel varieties will not pollinate each other, and Magness is not a good pollinating variety.
How to Fertilize Pear Trees
Mix a small amount of fish emulsion (a few tablespoons) with water and apply every other watering when helping a newly planted pear tree get established. Continue this practice from the planting through the tree's dormancy in winter.
Apply organic compost or well-dried manure to the base of the tree, raking it in to a depth of about 6 inches, if you notice poor growth. Alternately, apply a commercial fertilizer blend designated for fruit trees according to package directions.
Wait for the tree to reap the benefits of the fertilizer and watch for growth and fruiting before applying fertilizer again.
Fertilize only if you notice poor growth on the tree; otherwise, let the tree take care of itself by pulling up nutrients from the soil.
Do Kieffer Pear Trees Need a Pollinator?
A European and Oriental pear tree hybrid, Kieffer pear is self-fertile. It bears yellow, coarsely textured September fruit without a pollinator. Planting it with other pear varieties that bloom at the same time, however, leads to cross-pollination and heavier fruit sets.
How to Grow Kieffer Pear Trees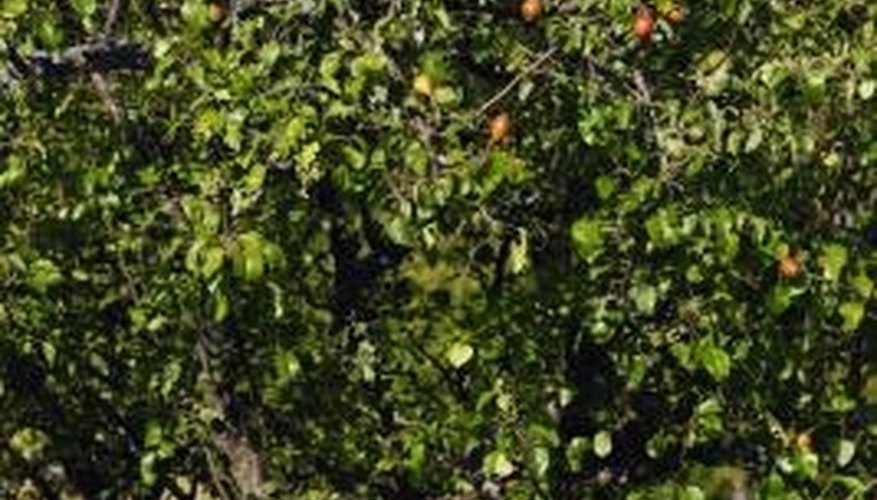 Mix 1 part peat moss or other organic amendment and 4 parts soil into an area of your garden that receives at least six to eight hours of daily sunlight. This is an ideal location for Kieffer pear, and the organic amendments will ensure good drainage. Use a soil tiller to ensure the amendments are fully mixed at least 10 inches below the soil.
Dig a hole in your soil twice as wide as the root spread of your tree and to the same depth as the tree in the bag, container or at the nursery. Spread out the roots and settle the tree into the hole. If you plant multiple trees, space them at least 8 feet apart.
Backfill the hole halfway and fill the hole with water. When the water drains, refill the hole completely and provide another 4 to 5 inches of water. This heavy watering will encourage the roots to spread and take hold.
Water the pear tree with 1 inch of water per week. Trees are highly drought-resistant, so don't fret if you are a few days late.
Surround the tree with a 2-inch layer of organic mulch, which will help the soil retain moisture and prevent weed growth.
Prune your Kieffer tree in late winter, just before the new growth of spring. Remove dead or damaged branches as well as any low-hanging branches that touch the ground.
Pear Tree Facts
Planting
Pear trees are susceptible to damage from strong winds. All varieties should be staked for the first three to five years.
Sizes
Dwarf pear trees rarely exceed 8 feet in height and can be grown in containers. Standard trees can exceed 20 feet.
Requirements
Pear trees should be planted in full sun with good drainage. Pears are grown in zones 5 through 9 and prefer a soil pH of 5.5 to 6.5.
Fertilizers
Pears should be fertilized in early springs, about 2 weeks before flowering. Fertilizers that contain high amounts of nitrogen will encourage suckering.
Pruning
Pear trees are commonly pruned into a "wine goblet" shape. The technique removes center branches to encourage air circulation.
Pollination
Most pear cultivars are self-unfruitful, meaning they need another cultivar to bear fruit. Self-fertile varieties do not require it, but will produce better crops when a matching variety is nearby.
Louisiana Pear Tree Varieties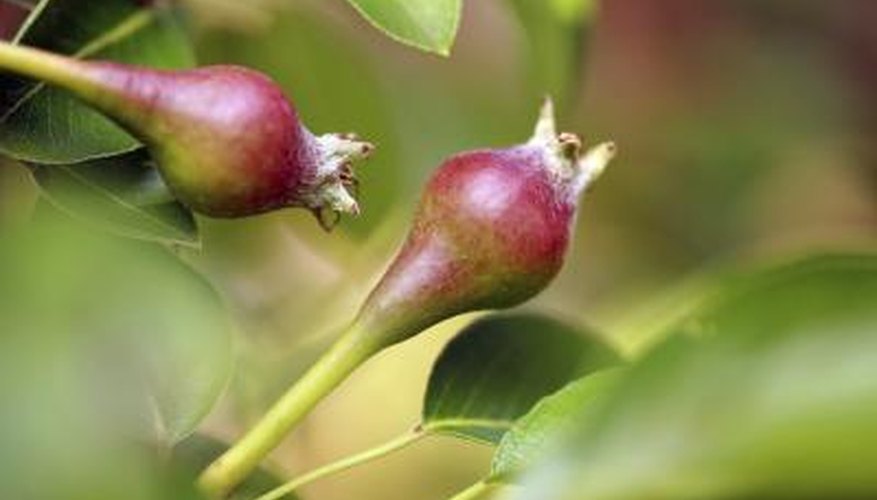 Moonglow
Moonglow is a variety of pear that has a high resistance to fire blight. Growing to a height of 10 to 15 feet with a spread of 8 to 12 feet, it produces a medium-sized fruit with a soft red blush and a smooth, juicy white flesh. Moonglow makes an excellent dessert fruit. It ripens in August to early September.
Kieffer
Kieffer is an older variety of pear that is popular due to its wide range of uses, including desserts, preserves, canning and baking. Growing to a height of 10 to 15 feet with an 8 to 12 feet spread, it is very resistant to fire blight. Kieffer ripens in late September to October and bears a long medium to large fruit with a red blush and a crisp, coarse white flesh.
Orient
Highly resistant to fire blight, Orient produces a dessert-quality medium to large fruit that is russeted with a coarse-textured, cream-colored flesh. It is good eaten fresh or used for canning. Orient grows to a height of 12 to 20 feet with an equal spread. The fruit ripens in late August to September.
Ayers
Ayers, sometimes referred to as the "Sugar Pear," grows to a height of 15 to 20 feet. It produces a medium-sized russeted fruit that has a very sweet flesh, and is good as a dessert fruit and for drying to use in fruitcake. Ayers ripens in August, and is highly resistant to fire blight.
How to Remove Pear Tree Roots
Remove the soil around the base of a remaining pear tree stump, or the location where a pear tree stump once was, using a shovel and pickax. This is called a root collar excavation (RCX). The RCX will uncover the roots of the pear tree.
Continue to dig out the dirt around the roots of the pear tree with the shovel, weeding hoe and pickax. Because pear tree roots spread out along the surface of the soil rather than develop a tap root, you will not have to dig very deeply.
Cut away tree roots in sections using a branch lopper.
Remove larger tree roots with an ax or a mattock.
Push the soil back in place over the tunnels where the roots once were.
What Does a Kieffer Pear Tree Need to Pollinate?
Significance
The Kieffer pear tree is one of the few considered self-fertile, meaning its own flowers provide the pollen for fertilization and fruit production. One tree can yield fruits. Kieffer makes a good pollinating tree for other varieties of common pear that require cross-pollination.
Considerations
For more prolific flowering, a Kieffer pear tree needs exposure to a minimum of 500 hours of temperatures below 45 degrees. Insects, especially bees, play a key role in pollinating pear trees. Cool, rainy weather during early spring flowering limits bee visitation to flowering fruit trees.
Solution
Pesticides in the landscape may also reduce populations of honeybees and native bees. Even though Kieffer is considered self-fertile, an additional tree nearby improves pollination and fruit set. Regional climate and soils play roles in uneven flowering or poor fruit set on pear trees, too. The colder the winter dormancy, the better.
The Best Time to Prune a Pear Tree
Planting
Pear trees tolerate a wide range of soil varieties but do not tolerate poorly drained soil. They require full sunlight and sandy soils to thrive. Plant the pear tree in early spring and before new growth begins to ensure a successful establishment.
Pruning
Prune the pear tree in later winter, before new growth begins. Begin pruning the young tree to control its form and develop well-balanced and strong branches. Thin out pear trees in summer and remove all suckers that grow from the base of the tree.
Fertilization
Fertilize young pear trees with a balanced garden fertilizer such as 10-10-10. Every spring, apply the fertilizer in a 2-foot circle around each tree to prevent fertilizer burn. If you suspect a blight problem, use little to no fertilizer until the problem is resolved.
How to Prune Pear Trees in Winter
Information on a Keifer Pear Tree's Growth
Rates of Growth
There are three rates of growth: slow, medium and fast. These rates are determined by the number of inches that a tree grows within a year: slow is 12 inches or less; medium, 13 to 24 inches; and fast, 25 inches or more.
Kieffer Pear
The Kieffer pear is designated as a fast grower. This means that it will grow 25 inches or more within a year.
Mature Size
A mature Kieffer pear tree generally grows 15 to 30 feet in height. The spread of a mature tree will be 12 to 20 feet.
Growing Conditions
A Kieffer pear tree requires full sun and prefers soil that is minimally acidic, heavy and well drained.
Description
The large, yellow fruit of the Kieffer pear is produced in late September to October. This pear tree is one of the few that self pollinate and is hardy in zones 4 through 9.
Ornamental Pear Tree Information
Description
A compact tree with pyramidical crown, ornamental pear grows to a height of 50 feet. The wood is soft and prone to wind damage.
Flowers
Small, white flowers appear in mid-March. They have an unpleasant smell.
Foliage and Fruit
Glossy, oval-shaped leaves turn red and orange in late November. Small, brown fruits are eaten by birds. The fruits appear in clusters and are not suitable for human consumption.
Requirements
An ornamental pear tree will grow in dry or moist soil and is tolerant of dense, compacted soil. It needs full sun for best growth and shape.
Hardiness and Use
Suitable for use in zones 6 through 8, ornamental pears are used as landscape accents and street trees. Fast growers, they are sometimes used for screening purposes.
Cultivars
Bradford Pear is the best known of the species, but the University of Arkansas recommends stronger, more durable cultivars such as Chanticleer, Cleveland Select and Aristocrat.
Information on Pear Trees
Geography
Pear trees originate in Asia, Europe and northern Africa.
Size
They can grow from 8 to 30 feet tall and 8 to 25 feet wide. Pear trees grow slowly.
Time Frame
Standard-size pear trees produce fruit in five to six years. Dwarf varieties can be harvested in three to four years.
Types
Pear trees come in many different types like Aurora, Bartlett, Bosc, Comice, Duchess, Moonglow, Seckel, Mericourt and Anjou.
Statistics
Ninety-percent of the pear crop produced in the United States is grown in the Pacific Northwest.
Problems
Fire blight and pear psylla are two diseases that affect pear trees. The infected branches need to be pruned and destroyed.
How to Prune a Kieffer Pear Tree
Choose a dominate branch at the top of the tree that is the most vertical. This branch will be your central leader. Cut the tip of your central leader if you wish to slow the tree from getting taller.
Cut any dead branches or any branches which appear diseased, broken or weak.
Cut any branches that cross other branches or grow straight sideways or downward. Cut branches that grow across the center of the tree. Branches should be cut at or near the trunk.
Cut any branches that grow out of the trunk below the first major union of the central leader and the main branch.
Cut suckers that sprout from the roots at ground level.
Cut the tips of remaining major branches to encourage a fuller look and to slow the rate of growth.
Where Are Pears Grown in the World?
Pears in the United States
In the United States, pears are mostly grown in the western part of the country. Half of the pears produced in the U.S. are grown in Washington. Oregon and California also produce a large number of pears. Pears are also grown throughout Idaho, primarily in the southwest Snake River Valley.
Pears Around the World
In Europe, the countries that produce the most pears are Italy, Spain and Germany. France, Belgium, The Netherlands, Portugal, Greece, Poland and Austria also produce a large amount of pears. In South America, pears are widely produced in Argentina and Chile. These countries produce pears that supply most of the U.S. pear import market. In Asia, pears are grown throughout China and many are imported to the United States.
Nutrition
Pears provide several sources of nutrition. They contain dietary fiber and are a source of potassium. Fresh pears also provide Vitamin C, and have no cholesterol, sodium or saturated fat.
Best Way to Ripen Pears Off the Tree
Press your thumb into the middle of the pear, and harvest when the fruit no longer feels rock-hard but more closely resembles a softball in texture. Gently twist a pear and pull it off when the stem releases from the branch. Leave pears on the tree that do not twist off without difficulty.
Refrigerate winter pear varieties such as Bosc, Comice and Anjou for two to six weeks to fully develop their internal sugars, according to Oregon State University.
Complete ripening off the tree by moving the pears to room temperature until they yield to gentle pressure, about one to two weeks, according to Texas A & M.
Ripen pears faster by placing them into a paper bag with an apple or a banana and closing the bag until the pear is fragrant and yields to gentle pressure at the stem.
Store fully ripened pears in the refrigerator for three to five days.
Are Pears Citrus Fruits?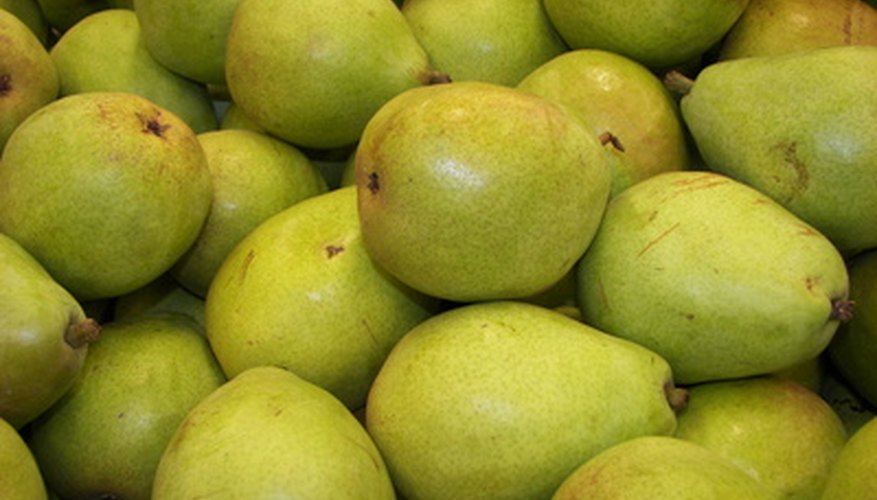 Pears (Pryus sp.) are not a citrus fruits; they are considered a pome fruit. A pome fruit has a thick flesh that surrounds a seed filled core or ovary. Apples and quinces are also considered pome fruits.