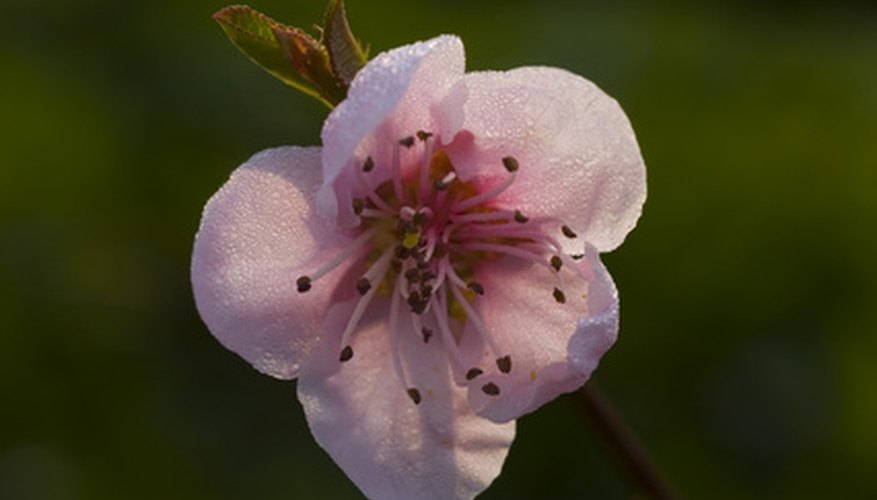 Meaning of a Peach Rose
Roses are symbolic flowers because they each have their own meaning and convey a message. That's why they are such popular gifts. Peach roses are a close cousin to the orange rose and were developed sometime in the mid-20th century. This was a popular time for rose breeders to create new techniques to increase the pigment in rose hybrids. Orange roses now range from deep orange to corals and peach tones. People who receive peach roses should stand up with pride.
Significance
Peach roses express sincerity and admiration. Give them to someone you look up to, such as a mentor or teacher.
Potential
Peach roses also convey friendship and sociability. They send the message "Let's get together."
Expert Insight
Pale peach roses symbolize something different than their darker counterparts. They stand for modesty.
Considerations
Include peach roses in a funeral bouquet or send them to someone in times of despair. They convey your sympathy.
Function
Use peach roses if you want to close a deal with a colleague. They are also a great way to say thank you because they symbolize appreciation and gratitude.
How Long Does it Take a Peach Tree to Grow?
Peach trees grow from 1 to 1 1/2 feet each year and will take from two to four years to begin to bear fruit.
How to Control Fungus on Peach Trees
Fertilize the tree with nitrogen by June 15, according to plant pathologists at Penn State University. Apply the fertilizer at the rate suggested and according to the instructions on the package.
Thin the fruit on infected trees. Thinning the fruit will compensate for the loss of foliage and reduce the demand on heavily infected trees.
Prune the peach tree prior to applying the fungicide.
Prevent peach leaf curl by spraying the peach tree with fungicide every year after the leaves fall. Scientists with the University of California at Davis recommend fungicides with copper as the main ingredient, at the rate recommended on the package. Cover all parts of the peach tree with the spray.
How to Treat Common Peach Tree Pests
Step 1
Spray your peach trees with a borer preventative every July and August. Once established, borers are difficult to eradicate. Peach tree borers are beetle larvae that furrow into the tree trunk and eat away at the tender inside wood.
Step 2
Spray insecticide to prevent plum curculio, a worm that feeds on peach fruits. Make the first application when the blooms are pink, again when three-quarters of the petals have dropped and at two-week intervals thereafter.
Step 3
Remove fruit affected by brown rot, a fungal disease that causes the fruit to disintegrate, from the ground and off the tree; spray fungicide every two weeks.
Step 4
Spray fungicide in the fall when the leaves are dropping to prevent peach leaf curl, which affects new growth in early spring, causing it to be grossly misshapen and puffy.
Step 5
Spray insecticide every few weeks to control the stink bug population. Stink bugs sting peaches, and the resulting spot decays and becomes malodorous.
Step 6
Apply dormant oil in the winter to thwart scale insects that entrench themselves in the trees' limbs and trunk.
How to Harvest from a Peach Tree
Thin the fruits on your peach tree in the mid-summer to increase the harvest and fruit quality. In mid to late June, remove selected immature peaches so that there is one peach for every 6 inches of branch.
Harvest the tree when the peaches are fully ripe. Test for ripeness by gently squeezing the top of the fruit near where it attaches to the stem. If there is no give in the fruit, put off harvesting for a few more days.
Pick the fruits by hand. Grasp the fruit in your hand and gently pull it away from the stem. Place the delicate peaches in a box and store them in a chilled place. Process or eat peaches within 3 to 5 days of harvest.
The Best Soil for Peach Trees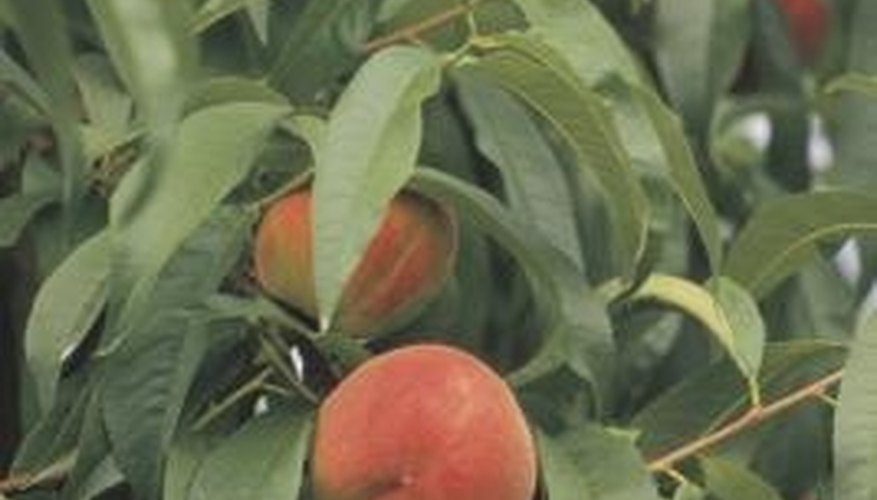 Soil Conditions
Peach trees require well-drained soil that is moist and acidic. They tolerate both clay and sandy soils. The soil needs a pH level at or above 6.0 for optimum results. Anything under 6.0 and you should add lime before planting, according to Texas A&M University Extension horticulturists.
Location
While peach trees prefer full sun, they tolerate partial-sun or partial-shade locations. In order for them to get the right amount of sun, thin out the branches each year. They do best in U.S. Department of Agriculture plant hardiness zones 5 through 8.
Fertilizing
If you want to fertilize your peach tree, use a half a pound concentration of 10-10-10 about a week after planting and again 40 days after planting. After the tree's first year, use 3/4 pound in March and again in May.
Information on Peach Trees
Bloom Time
Peach trees flower in early spring. Encourage good growth and reduce the chance of rot and infection by thinning the fruit crop.
Common Problems
Bacterial leaf spot and brown rot are two common problems that affect peach trees. Some peach trees are plagued by shot hole, a fungal disease, or the fruit pest plum curculio.
Red Haven Peach
The red haven peach is the ideal variety to grown in a home garden. It requires well-drained soil and regular fertilizing. The red haven peach tree also needs heavy pruning.
Elberta Peach
The elberta peach is a yellow-gold freestone cultivar. It has been grown in Georgia since the late 1800s and remains one of the most well-known peaches today.
Reliance
Grown in the upper midwest, the fruit of a reliance peach tree is a poplar choice for baking. The yellow-fleshed fruit has a dark red skin and grows in a medium to large size.
When & How to Plant Peach Seeds?
Harvest mature peach pits from fresh and fully ripe fruit in the summer. Remove the flesh around the pits and rinse them clean in clean water. Harvest several more pits than you may want in resulting trees to compensate for any germination failures.
Prepare a well tilled planting area in good quality garden soil. If planting in poor soil, amend with compost or well aged manure to boost the nutritional value.
Bury the pit 4 inches deep in the soil and allow an interval of 4 inches between multiple pits. Cover over with displaced soil and tamp down lightly.
Top-dress the planting with at 1 inch of straw, pine needles or shredded bark to insulate the pit over the winter.
Water over the top-dressing until the soil below is moist to wet. Water the area during the winter when the weather is dry, warm or there has been a lack of snow or rainfall.
Monitor the area carefully in late spring for signs of green shoots coming up through the top-dressing. This may also take two years to occur. Transplant the seedling to a pot or another permanent ground location in the late spring.
What Is the Correct pH Level for a Peach Tree?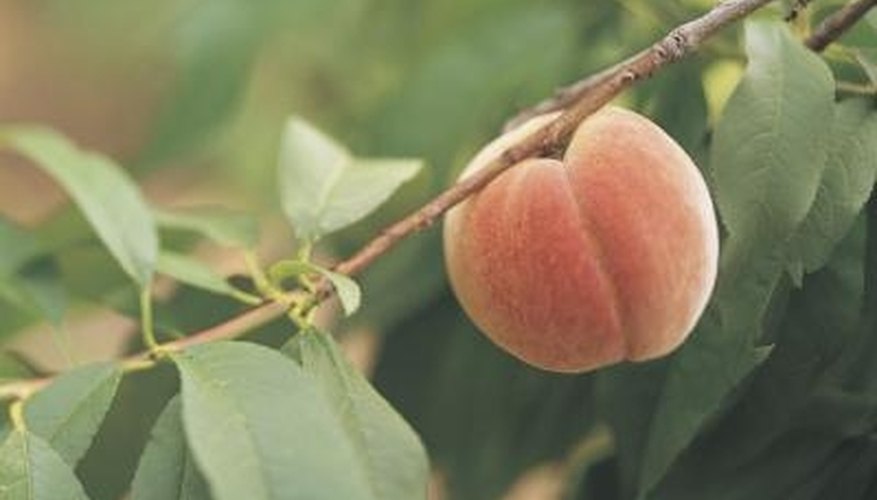 pH Levels
A pH lower than 6.6 is acidic, while soil with a pH higher than 7.3 is alkaline. The range in-between is neutral. Peach trees thrive in soil that is neutral to slightly acidic, with an ideal pH of about 6.5.
Altering pH
Many areas where peaches are grown have acidic soils, which can be amended by adding lime. This raises pH by neutralizing the acid. If your soil is too alkaline, lower the pH by applying elemental sulfur or nitrogen fertilizer.
Other Considerations
Peach trees need full sunlight exposure and moist but well-drained soil. Peach trees are extremely sensitive to poorly drained soils, which can cause the roots to suffocate. The best soils are deep, sandy loam or sandy, clay loam.
Late Blooming Peach Trees
Belle of Georgia
Belle of Georgia produces large, freestone fruits with white flesh. This hardy variety has brilliant red flowers and is not drought tolerant. It grows best in USDA Hardiness Zones 5 to 8.
Ranger
Ranger produces medium-sized, full-flavored yellow freestone fruits. Its flowers are pink, and it is somewhat drought tolerant. It grows in USDA zones 5 to 9.
Veteran
Veteran is not only late-blooming, but is also an excellent choice for cold climates. Its freestone fruits have yellow flesh and rich flavor. Its flowers are pink, and it is somewhat drought tolerant. It grows in USDA zones 5 to 9.
Redskin
Redskin is a heavy producer of large, flavorful yellow freestone fruits. Its flowers are pink and white, and it is not drought tolerant. It grows in USDA zones 5 to 9, but is best for the southest, mid-Atlantic and lower Midwest.
Madison
Madison produces medium-sized yellow freestone fruits. Its flowers are pink and white, and it is not drought tolerant, although it is hardy. It grows in USDA zones 6 to 9.
Dixired
Dixired is a medium-sized clingstone with yellow, moderately flavorful fruits. Its flowers are pink, and it is somewhat drought tolerant. It grows in USDA zones 5 to 9.
How Big Do Peach Trees Get?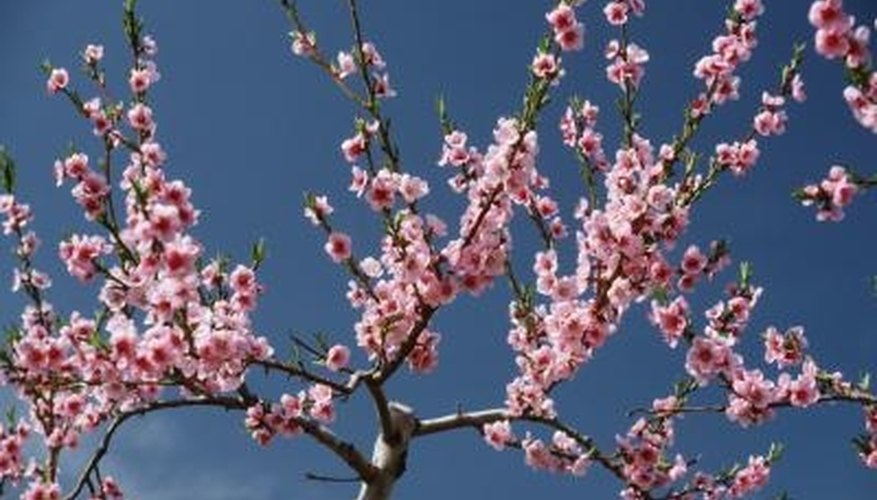 Identification
The common peach originated in China but, after its introduction to America, spread across much of the East and into parts of the Southwest. This peach tree grows to 30 feet high, according to the "National Audubon Society Field Guide to Trees: Eastern Region." Trunk diameters of the common peach usually remain less than 1 foot.
Types and Sizes
The many hybrids of the common peach, developed for their fruit production and their ornamental value, come in varying sizes. The Belle of Georgia hybrid, for example, grows between 18 and 25 feet, while the dwarf cultivar called Reliance stays between 8 and 10 feet high when mature. Another type of peach species known as David's peach (Prunus davidiana), a Chinese variety, grows from 20 to 30 feet tall.
Uses and Sizes
Peach tree size dictates its different uses in the landscape. Some work as shade trees in addition to providing edible fruit and attractive spring blossoms, such as the Belle of Georgia cultivar. Others are small enough to be suitable for any place in a yard, including patios, such as the Reliance hybrid.
How Long Do Peach Trees Live?
Peach trees live from eight to 15 years. The specific life span will depend on the region in which it is planted and the pest and diseases present.
Do Peach Trees Need a Pollinator?
Most peach trees do not need a pollinator. Plant another type of peach tree next to such varieties as Stark Honeydew Hale or Marsun to ensure pollination.
How Large Do Peach Trees Grow?
Mature, standard peach trees can reach a height of 25 feet, while dwarf species grow to approximately 10 feet. Trunks of fully grown trees are about 1 foot in diameter.
How Fast Do Peach Trees Grow?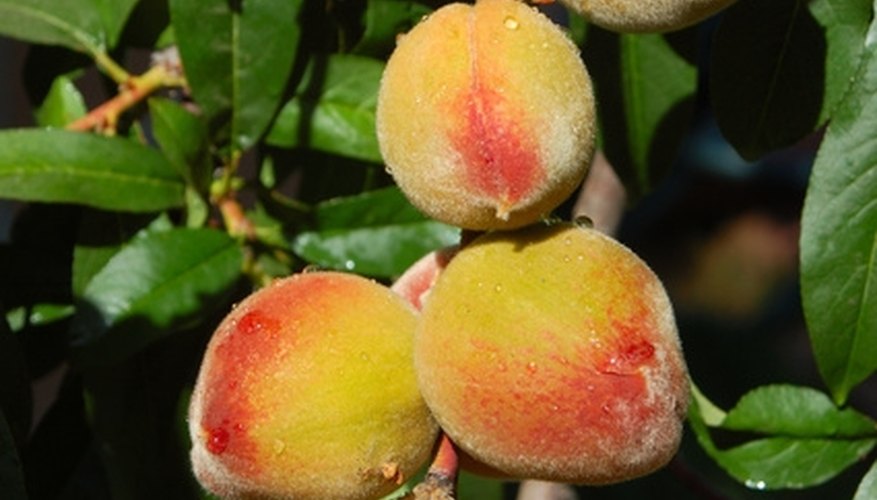 Growth
Peach trees grow about one foot a year, according to University of New Hampshire Cooperative Extension. Provide proper care including annual pruning, frequent watering and fertilization twice annually to encourage your peach tree to grow up to 18 inches per year. This ensures the best possible fruit production.
Planting
You should purchase a 1-year-old peach tree approximately 3 feet in height, according to Ohio State University Extension. Trees at this stage transplant well and are ready to be pruned in to the well-known vase shape necessary for proper fruit production on a peach tree.
Maturity
Peach trees mature by about the fourth year and then begin producing fruit. You should allow the peach tree to grow to a height of 9 or 10 feet, maintaining this height through annual pruning. Thin the tree as necessary to provide ample room for peaches to grow and mature.
How to Save a Damaged Peach Tree
Prune off the old fruit from the tree before the new growing season. Spray the tree with the brown rot fungicide such as benomyl every week at the beginning and during the rainy season. Follow the label instructions for dosage. Decrease the spraying to every two weeks until harvest time.
Prune back any damaged, diseased and crowded branches to keep any disease from spreading.
Check for any insect damage, such as holes in leaves or insect eggs. Spray with a fruit tree insecticide such as endosulfan.
Check the peach tree for holes, which are signs of borers. Wiggle a long, skinny wire such as a coat hanger in the holes to kill the larvae. Fill the holes with plumber's putty.
Check for peach leaf curl, which is an intermittent disease. Spray the tree with a peach leaf curl product that has high concentrations of sulfur and line. Follow the label instructions.
Why Would a Peach Tree Fruit Not Ripen?
The chief reasons peach tree fruit does not ripen is insect infestation and a lack of sunlight, both of which stunts development and causes the fruit to drop before it gets a chance to fully mature.
Is a Nectarine a Fruit or a Vegetable?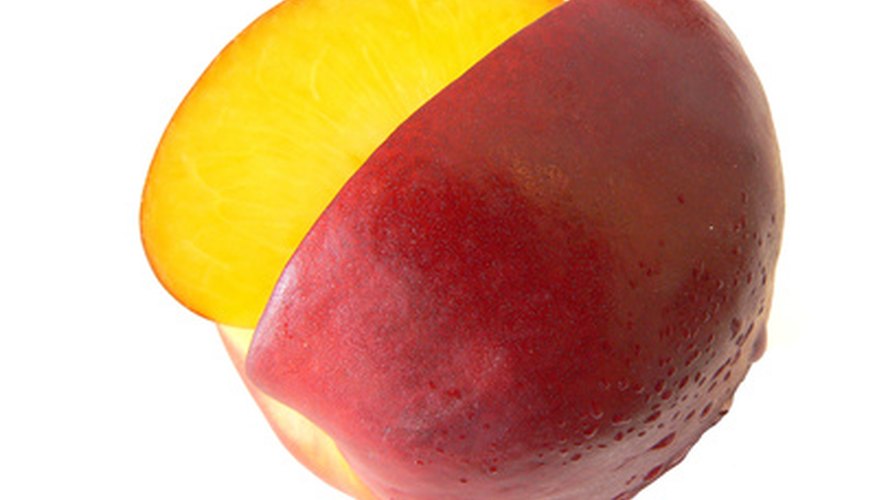 The nectarine (P. persica var. nucipersica ) is a fruit variety related to the peach (P. persica). Nectarines and peaches look similar except that the peach has a fuzzy skin, while the nectarine's skin appears smooth. Nectarines, like peaches, come in a range of colors including pink, yellow, red and white.
What is the Flower Color of Peach Trees?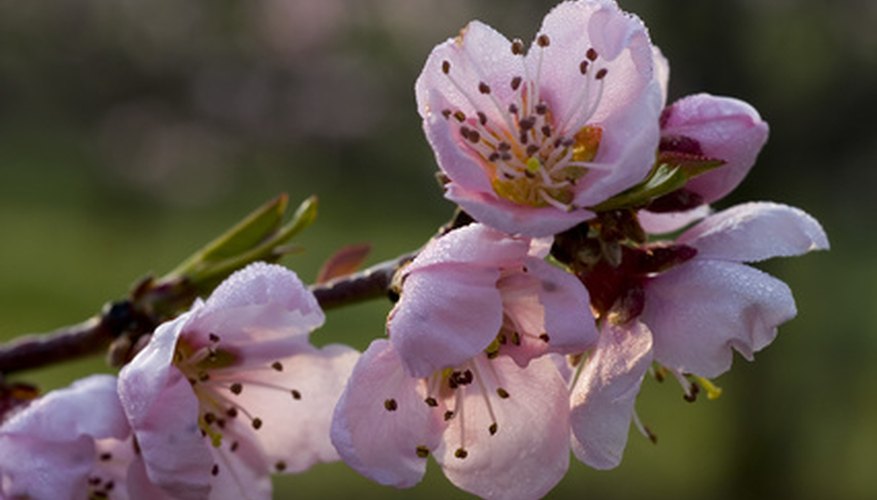 Peach blossoms can be a variety of colors, including creamy white, pale pink, deep pink or dark red. The showy flowers of the peach tree usually begin to bloom in April and the fruits mature by August.
When to Spray Peach Trees
Peach trees can be sprayed any time of year they are not blooming. Spraying while in bloom can prevent bees from pollinating the flowers and thus, prevent fruit growth.
How Much Water Do Peach Trees Need?
Peach trees need enough water to saturate the ground within their canopy, or root zone, to a depth of 24 inches. This means a good, long soaking about once every two weeks.
How to Protect Peach & Nectarine Trees
Prune back your peach or nectarine trees every year during their dormancy. Cut off dead, broken or diseased branches. Prune out crowded center branches to make way for sunlight and air circulation throughout the entire tree.
Apply a dormant spray in the winter in an even coat all over the trunk and branches, as well as the leaves. These can be found at your local gardening store.
Layer fertilizer near the base of the peach or nectarine tree about one to two months after planting it. Keep it from touching the trunk. Reapply every year in the spring and fall.
Use fungicide or herbicide if necessary during the year, particularly in the spring and summer seasons when insects and fungus are most apparent. Apply evenly over the entire fruit tree.
Use chicken wire to prevent pests such as gophers from damaging the trees. Place the wire into the ground about two feet back from the tree's trunk, buried at least two feet under the soil (so pests can't tunnel to it).
Coat mulch around the tree's base and roots to deter weed growth, which can damage the peach or nectarine trees.