Chinese Ground Orchid
(Beletilla striata)
These easy-care orchids are a good bit smaller than the traditional florist's orchids, with bloom reaching a size of 1-2 inches. Plants grow to a height of 12 inches with clusters of 7-12 pink or purple lowers per stem. Leaves are long and narrow with lengthwise pleats. B. striata blooms from early to midsummer, and B. striata 'alba' (white) blooms from midsummer until frost. Both are very fragrant and long-lasting as cut flowers. They make delightful and decorative pot plants.
Choose a location in part shade. Chinese ground orchids prefer a moist, well-composted soil. Plant the roots about 6 inches apart and 4 inches deep in fall or early spring. In zones 6-7 they can be left outdoors over winter if mulched heavily. Gardeners in colder zones will need to dig the bulbs and bring them indoors for winter storage. Propagate in fall or spring by dividing clumps of pseudobulbs.
Homemade Potting Soil for Orchids
With a variety of exotic looking blooms, orchids have delighted the senses for ages. Part of the allure of these beautiful plants is their ability to grow virtually in mid-air. Epiphytic species require bark-based potting medium to rest their roots on, while terrestrial varieties prefer a soil-based mixture. Create these potting soils at home for successful indoor orchid cultivation.
Blend an epiphytic orchid potting medium by combining five parts fir bark, one part perlite (a component that aids in drainage) and 1 oz. dolomitic limestone per 4 gallons of mix.
Mix terrestrial potting medium by soaking osmunda tree fern fiber in water 12 hours in advance.
Combine the fiber with one part redwood bark and 1 oz. dolomitic limestone per 4 gallons of mix.
Add a 10-10-10 liquid fertilizer every six weeks after potting the orchids. University of Georgia Cooperative Extension experts suggest that fir bark–based mixtures present an exception, requiring 30-10-10 rate fertilizer at the six-week mark after planting your orchid.
Store the potting mix in a tightly sealed container or use immediately.
How to Press Orchids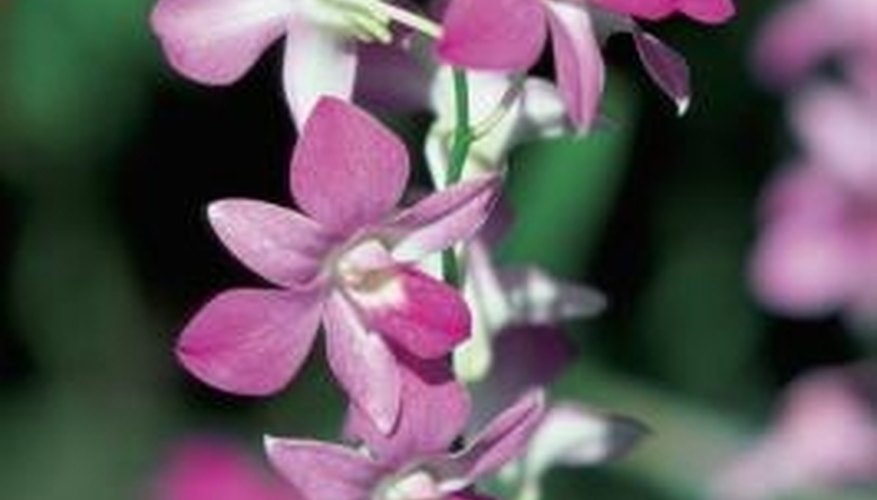 Lay two sheets of newspaper on a table.
Set one orchid on top of the newspaper. Remove the leaves, and cover with two more sheets of newspaper.
Open a heavy book and slide the newspaper containing the orchid between the pages. Close the book. Phone books, encyclopedias and complete dictionaries work well for pressing flowers.
Put the book containing the orchid on a desk, and set several other heavy books on top of it.
Wait two weeks before checking to see if the orchid has dried out. If any moisture remains, place the orchid in fresh paper and place back in the pages of the book for an additional two weeks.
Will Orchids Bloom With Miracle Grow?
Why Fertilize Your Orchid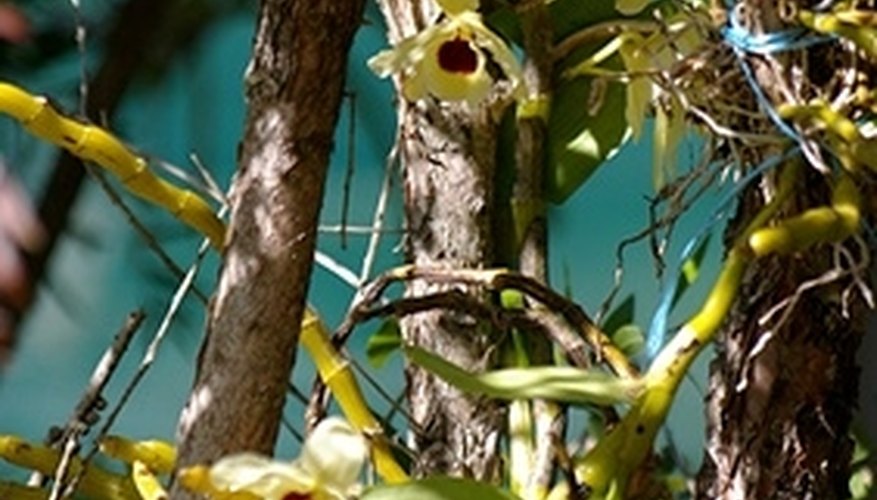 Most retail orchids are epiphytes, normally growing in the branches of trees. To mimic this situation, they are potted in very light, airy mixes. These potting mixes don't have much in the way of nutrition, so to help the plant build up enough energy to bloom you must feed it.
When to Fertilize Your Orchid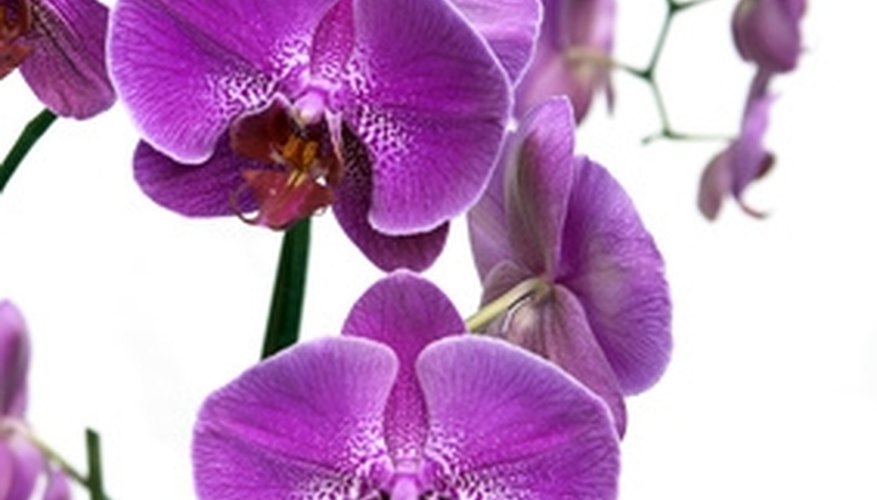 In the winter, orchids are less active and less needy. Once spring arrives, the orchid starts its growth efforts and needs to be fertilized. Brennan's Orchids website recommends feeding your orchids every other watering, spring through fall, with a balanced plant or orchid-specific food.
Miracle Grow as an Orchid Food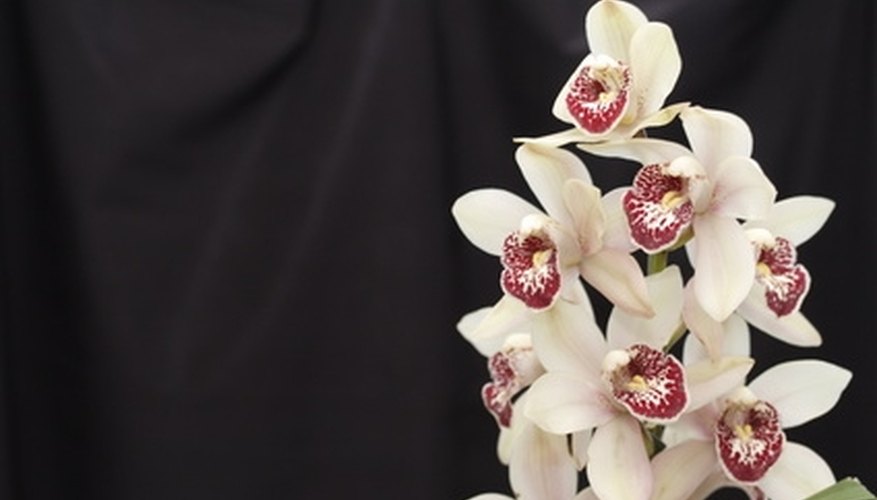 Miracle Grow is a fine product but is not specifically formulated for orchids. You can use it successfully on orchids if you dilute to no more than half the usual strength. Orchid roots burn easily and this protects them from damage.
How to Care for Fresh Cut Dendrobium Orchids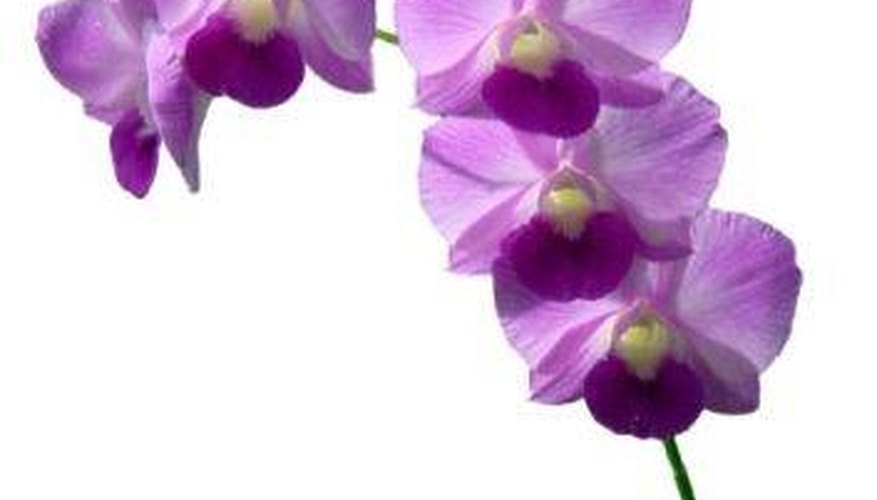 Step 1
Submerge the dendrobium orchids in water for 10 to 15 minutes. According to Beautiful Orchids (see Resources), this will help refresh the blooms. Handle the flowers carefully to avoid damaging the stems or blossoms.
Step 2
Cut a half inch off the base of the orchids' stems, using a sharp knife or scissors. Cut the stems at an angle, which will allow the flowers to absorb a greater amount of water.
Step 3
Fill a clean vase more than half full with hot water; Beautiful Orchids recommends the temperature of the water to be 100 degrees. Some cut orchids come with a packet of flower food that is added to the water. If the flowers do not have this, Grower's Box (see Resources) suggests using generic spring water.
Step 4
Remove any leaves that will be underwater, and place the orchids in the water.
Step 5
Place the vase of orchids in a cool spot out of sunlight and away from drafts, including drafts caused by ceiling fans, to prevent the flowers from dehydrating. Grower's Box recommends storing the orchids at a temperature below 65 degrees.
Step 6
Refresh the blooms of the orchids by misting them daily with water. Change the water in the vase every two to three days. Recut the stems each time you change the water.
How to Preserve Orchids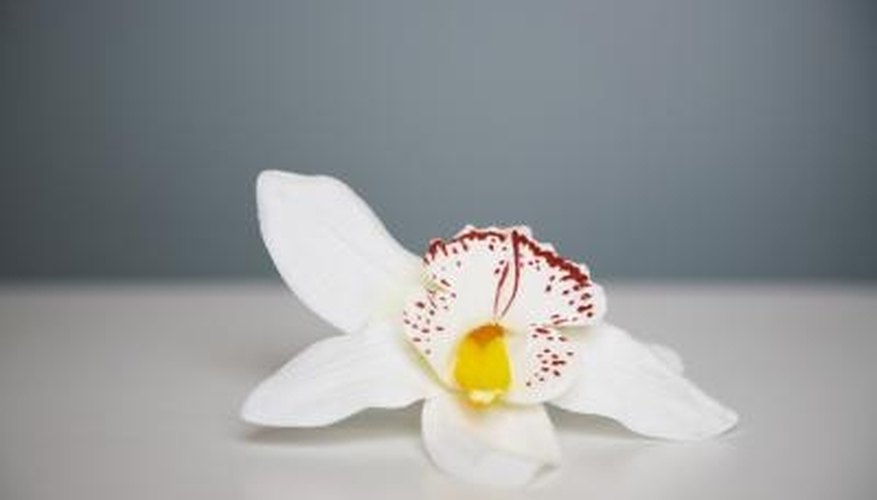 Open the flower press. Some have Velcro closures and others have nuts and bolts.
Set a piece of cardboard on the bottom of the flower press. Place a sheet of newspaper over the top of it.
Remove any green foliage from the orchids you want to preserve. Set one to three orchids on the sheet of newspaper. Smaller presses will only accommodate one flower, while larger presses may accommodate three. The orchids should be at least 1 to 2 inches apart.
Cover the orchids with a sheet of newspaper, followed by a piece of cardboard.
Close the press by fastening the Velcro, or replacing the nuts and bolts. Set aside for two weeks.
Open your flower press and feel the orchids to see if they are dry. If not, replace the sheets of newspaper with fresh ones, and press again for another three to five days. Repeat until the orchids are completely dry.
How to Prune Dendrobium Orchids
Cut the flower stalk to within 1 inch of where it grew from the plant.
Remove dead or diseased leaves or branches.
Remove the dendrobium from its pot and gently cut away any dead roots. Repot, back into the original pot, with fresh fir bark or other orchid-growing medium.
Water the plant until the water drains from the bottom of the pot.
What Do Orchid Flowers Symbolize?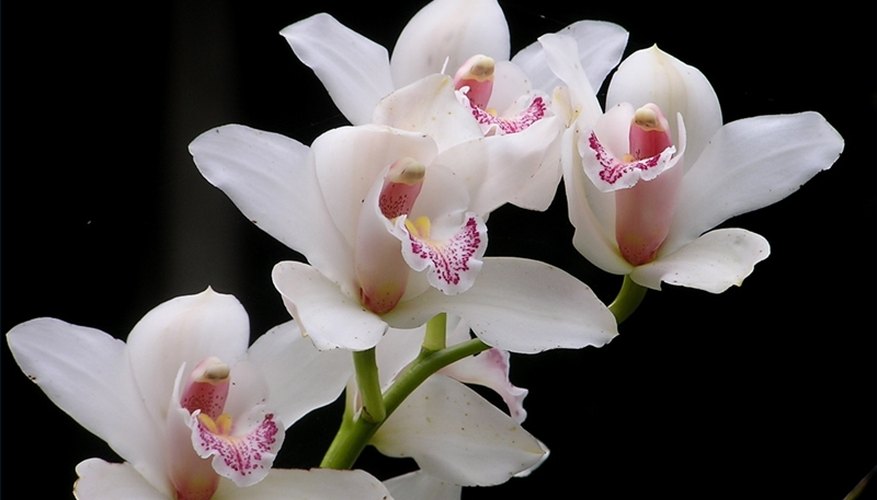 Etymology
The word "orchid" is derived from the Greek word "orchis," meaning "testicle." Ancient Greeks thought they could control the sex of an unborn child by eating different types of orchid roots.
Ancient China
The Chinese believed that orchids had healing properties, particularly against illnesses affecting the heart. Orchids may also have signified refinement and innocence.
Victorian England
Orchids were prized as luxury items in England during the 1800s. The plants were gathered from tropical climates and shipped to England, where they had to be carefully cultivated or they would die quickly.
Modern Meaning
Today, orchids symbolize rare beauty and elegance, despite their relative abundance as cultivated plants in home landscapes as well as commercial settings.
Fun Fact
Vanilla flavor comes from the Vanilla genus of orchids found in the Americas. The Aztecs mixed it with chocolate, which they drank for strength.
Spring King Orchid Care
Spring King Orchid
Spring king orchids, or dendrobiums, are so called for their blooming time and very large flowers. Dendrobiums are some of the largest orchids, with shoots of up to 10 inches and flowers that measure 5 inches in spread.
Pot and Growing Foundation
All orchids require dry, porous and supportive foundations that hold the roots but drain quickly and allow for good air circulation. Plant dendrobium orchids in 6-inch clay pots with drainage holes, using vermiculite, peat or fern moss, or wood chips.
Light
Spring king orchids prefer daytime temperatures of 75 to 85 degrees Fahrenheit and nighttime temperatures of 60 to 65 degrees Fahrenheit. Beautiful Orchids suggests morning sun with afternoon shade, or artificial lighting, for these plants.
Water
Orchids prefer dry conditions to wet, and suffer in standing water or a muddy growing foundation. Monitor an orchid's soil and water it only if the pot is dry. Waterings generally range from every five days to every 12 days, depending on the season and temperature of the growing environment. Give lilies 1/2 to 1 inch of water, and avoid pouring water directly on their leaves or stems.
Fertilizer
Regular feedings are an important part of a spring king orchid's life. Feed the orchid with orchid-specific or 25-9-9 fertilizer once a month. Always mix fertilizer with water per manufacturer directions before you feed the plant.
How to Separate Orchid Plants
Tip the orchid pot on it side and slide the entire plant out in one piece. Knock off the planting medium to expose the roots and get a clear view of where the pseudobulbs connect to one another.
Break apart the pseudobulbs along their natural borders.
Fill a new pot 1/4 of the way full with fresh coarse orchid medium made from bark and charcoal. Set the pseudobulb into the pot with the youngest growth in the center of the pot. Spread the roots evenly and gently in the mix. Back fill orchid medium around the roots to secure the plant. Use your fingers to tuck the medium into and around the roots to make good contact.
Water the new plants well with tepid water until the medium is saturated. Allow the excess water to drain away and place in a location with indirect light. Resume weekly watering and monthly feeding with an orchid food diluted with water at 25 percent of the recommended label strength.