Mosquito Repellent & Dryer Sheets
Despite claims on the Internet stating otherwise, dryer sheets have no properties that lend themselves to being used as a mosquito repellent. These claims have been proven false several times by different independent studies.
Misconceptions
An article on the urban legend database site Snopes.com by site co-founder Barbara Mikkelson reprints an anonymous email that began circulating in 2003 during heavy media reporting of the West Nile virus, a disease spread by mosquito bites. According to the anonymous email, rubbing yourself with a dryer sheet is a cheap and effective way to stop mosquito bites. In the article, Mikkelson says that dryer sheets and many other home remedies to stop mosquitoes from biting work only for a few minutes at most.
Expert Insight
Dryer sheets contain several chemicals, but none are cleared by any agency to work as a mosquito repellent. An article on the Canadian Broadcasting Company (CBC) website written with the cooperation with Health Canada, the department of the Canadian government responsible for national public health, also debunks the claim that dryer sheets can be used as a mosquito repellent. Health Canada also says that any other so-called alternative or natural mosquito repellent will only work for 30 minutes to an hour at most.
Alternatives
The only proven mosquito repellent that has been shown to consistently work is DEET, a strong chemical insect repellent found in most bug sprays. Mikkelson's article on Snopes cites a study done at the University of Florida that showed any repellent with DEET worked hours longer than any alternative method of mosquito control.
Home Wasp Repellent
Repellent
Create homemade wasp repellent by chopping three garlic bulbs. Place them in 2 cups of white vinegar overnight, then strain the vinegar into a spray bottle and add an equal amount of water to it. For added repellent power, add a few drops of citrus oil to the spray bottle.
Application
The odor of this repellent is quite strong when first applied. It works best when sprayed around the exterior of your home or near outdoor areas like the grill or a picnic table where you do not wish to encounter wasps. Do not spray the solution on your pets; it is not harmful, but they will not like it.
Considerations
If you need a solution that will both repel wasps and kill any that come too near, add a teaspoon of dishwashing liquid to the mixture. This makes the repellent spray deadly. Dish soap penetrates the soft body of a wasp and poisons it.
What Plant Does Patchouli Come From?
Geography
The patchouli plant (Pogostemon cablin) is native to the more tropical areas of Asia. It is currently cultivated in warm, tropical areas such as the Philippines, Caribbean countries, China, India and Malaysia.
Identification
The plant itself is a member of the mint family and grows as a bushy herb. The plant can get up to 3 feet tall and has small pinkish white flowers. The plant has large, furry leaves that can grow to 4 or 5 inches in length and width.
History
Patchouli oil has been used as a fragrance for centuries. The leaves have also been used as a preservative and an insect repellent. The oil had been used in traditional Eastern medicine for centuries as well. The scent became popular in both perfume and incense during the 1960s counterculture and hippie movement.
Function
Patchouli is used in the modern world as a perfume, an aromatherapy oil, an insect repellent, hair conditioner and skin health. A tonic from the leaves has been used to help treat diarrhea, colds and upset stomachs.
Warning
Never use patchouli tonics without the supervision and recommendation of a qualified herbalist or physician.
What Are Whitefly Repellent Plants?
Marigold
When planted near other crops, marigolds can be very effective pest deterrents. The marigolds must be a scented variety to work, as whiteflies seem to hate the scent of the flowers. Planting marigolds with tomatoes or in the greenhouse can help keep whiteflies away.
Nasturtium
Nasturtium is a useful plant as a whitefly repellent, especially to plants in the cabbage family. A low-growing plant, nasturtium makes an excellent ground cover beneath crops to deter whiteflies.
Herbs
Many herbs give off a strong smell, deterring or repelling whiteflies. Herbs that can be beneficial in the garden for this reason include basil, peppermint, oregano, thyme and wormwood. It should be noted, however, that mint tends to be invasive, and although it works well as a whitefly deterrent, mint could take over your garden.
Natural Honeybee Repellent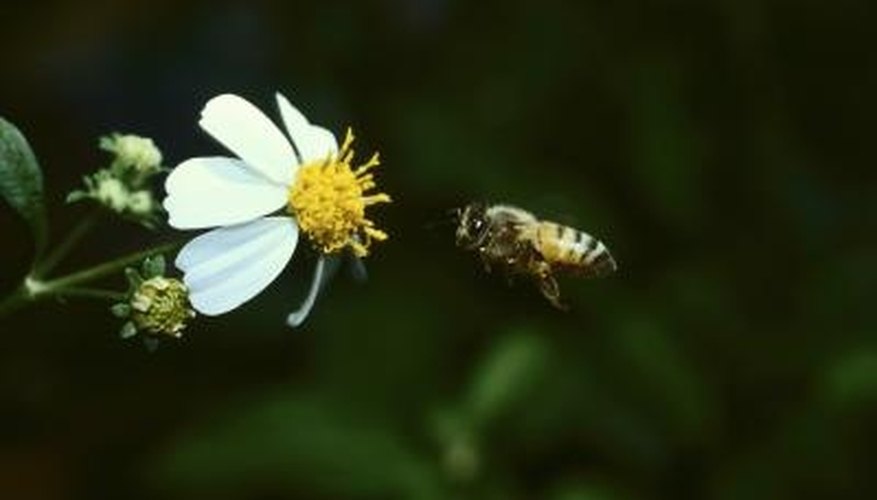 Repellent
The acidity of vinegar is a natural honeybee repellent. Capsaicin is a compound found in hot peppers. It makes your lips and tongue burn and it will also make honeybees feel a burning sensation. Combining vinegar and capsaicin creates a natural bee repellent.
Application
Cut up about 1/2 cup of hot peppers and pour 2 cups of boiling water over them. After the mixture cools, add an equal amount of white vinegar and pour the solution into a spray bottle. Spray down outside areas that you wish to keep free of honeybees, like picnic areas or doorway and window openings.
Considerations
Take care when spraying honeybee repellent because it will burn if you get any into your eyes. Keep children and pets out of the area when you are spraying. If you need a more permanent solution for bees, add 1 tsp. of dish soap to the mixture. It will repel bees and kill any that come in contact with it.
How to Add Insecticide to Deer Repellent
Place the water, garlic cloves, onions, and hot pepper powder in a blender. Blend until completely combined.
Pour the deer repellent into a container that has a lid. Place the lid on the container and let the mixture sit on your counter for one day.
Strain your deer repellent to remove any bits and pieces of the onion or garlic.
Add a gallon of water to the strained mixture. Then add neem oil to the deer repellent. Neem oil is an all-natural insecticide. Mix the ingredients together.
Pour the mixture into a spray bottle. Spray all over your property to repel deer and insects.
How to Make an Herbal Insect Repellant
Pour 1/2 tsp. of citronella, cedarwood, eucalyptus, rosemary and lavender essential oils into an empty spray bottle.
Add 4 oz. distilled witch hazel to the spray bottle. Mix the ingredients together.
Place the lid on the spray bottle and spritz your body or clothing whenever you are going into an area that contains insects.
Reapply the herbal insect repellent every two hours if you remain outside.
Biting Gnat Repellent
Identification
Biting gnats are small and humpbacked. Their bites usually focus on the head area. They usually feed during sunny, warm days, especially in mid-morning and evening. Biting intensifies before storms and during overcast conditions.
Chemical Repellent
Common insect repellents that contain DEET offer some protection against gnats, although the may swarm around you even when you're using a repellent.
Clothing
Dark colors attract biting gnats, so light-colored clothing is the best choice if you know you will be in an area where they are likely to be present. Because they like to attack the head, a light-colored hat that covers the ears can be particularly helpful.
Buffalo Gnat Repellent
Identification
Buffalo gnats have 1/8-inch, blackish gray or yellow bodies. They have broad clear wings, large round eyes and a humpbacked appearance. They usually appear in large numbers in spring and early summer.
Chemical Repellent
Personal insect repellents that contain DEET, citronella oil, ethyl hexanediol or dimathyl phtalate provide protection against buffalo gnats for about 2 to 2 1/2 hours. Buffalo gnats sometimes still bite hosts who use insect repellents, however.
Other Methods
Unpainted aluminum attracts buffalo gnats, and smearing a thin film of fuel oil on the material traps the flies. A hat from unpainted aluminum would provide protection from buffalo gnats. A hat with fine mesh netting over a person's face and shoulders also helps prevent bites.