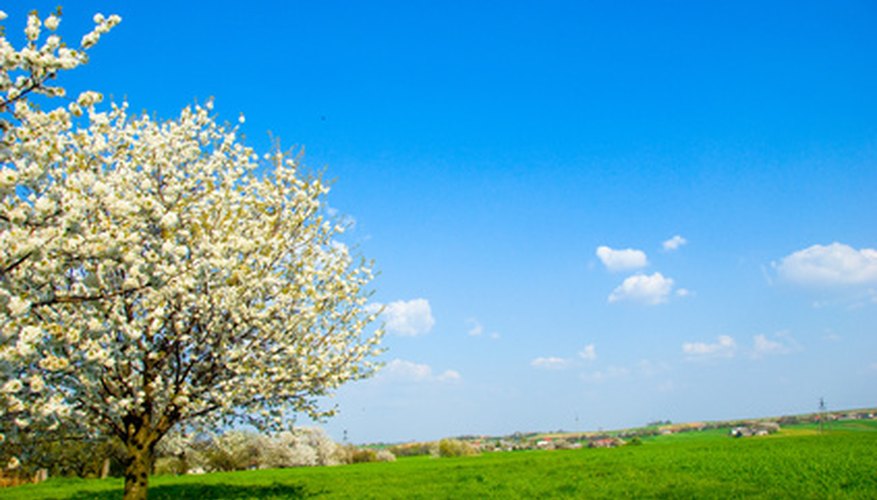 Farm Landscaping Ideas
There are many people who live on farm land but do not grow crops. Stable owners, ranchers and breeders are just a few people who may own a large amount of land that is not used for growing food. Keep your large yard looking green and lush without a lot of work with some simple farm landscaping that will benefit your property and any animals you may have.
Sod
Sod are sheets of grass cut into rolls that can be installed directly onto a yard. Sod can be especially useful for the front yard of a farm to provide customers and visitors with an attractive first impression. Consider a sod variety that is drought resistant and low maintenance, such as turf grass. For even less time spent caring for the yard, install sprinklers to water the lawn.
Trees
Medium-sized trees and shrubs can provide color, texture and occasionally fruit to a large farm. Flower shrubs such as holly produce foliage, flowers and berries at various times throughout the year. Heather is a low-maintenance, drought-resistant shrub that produces white fragrant blossoms. Finally, evergreens are excellent for those who prefer to avoid raking up leaves.
Bamboo
Bamboo is a quick-growing and quick-spreading grass that is ideal in both decorative beds and for fencing. Some bamboo varieties are highly drought resistant and can reach as high as 8 feet. When growing bamboo, it is important to keep it maintained to avoid it spreading into unwanted areas.
Lake Landscaping Ideas
Vegetative Buffer Strip
Install a buffer strip at least 15 feet wide and up to 30-feet wide between the lakeshore and the turf area of your lawn. Plant trees, shrubs, grasses and/or flowers in this buffer strip that are native to your area. Contact your local County Extension Agent for recommendations of indigenous plants that are suited to areas with high water tables near lakeshores . This will protect the lake from fertilizer runoff from your cultivated garden plants, trees and lawns.
Hardscape Materials
Use gravel, wood chips or other porous materials rather than pavement for driveways and pathways. Pavement is non-porous and causes water to run-off, which can increase the amount of pollutants or excess fertilizer that is carried into the lake.
Lawns
Choose to install a lawn using a type of grass that is low maintenance and performs well in your location. Lawns near lakes should produce a minimum of thatch to maximize the amount of rainfall or water that soaks into the lawn and minimize the amount of water running off into the lake. Your local County Extension Agent can recommend varieties of grass best suited to growing near a lake in your area.
How to Set Marble Chips for Yard Landscaping
Step 1
Outline the area where you would like to install the marble chips by spraying with landscaping spray paint to create the borders.
Step 2
Dig out the soil inside the outline to a depth of 6 inches using a shovel. Keep the sides firm and straight up and down. Fill in the area with a 2 1/2-inch layer of crushed stone for the base. Dampen the crushed stone with water by spraying the area lightly with a hose. This helps in keeping the dust settled and compaction of the stones.
Step 3
Pack down the crushed stone with a hand tamper until it compresses into a 2-inch layer. Strike the surface of the stone pack evenly with the tamper to compact it.
Step 4
Roll landscaping fabric over the crushed stone pack. Trim the fabric to fit inside the space, using a utility knife. The fabric helps block weeds from growing up into the marble and keeps the stone pack in place.
Step 5
Insert your chosen edging around the edges of the area. Hammer the edging into the ground with a mallet until the top edge is flush with ground level. If using plastic edging, drive stakes at a slight downward angle through the edging near the bottom every 24 to 48 inches using a mallet.
Step 6
Fill in the remaining depth of the area with marble chips. Leave approximately 1/2 inch between the top of your edging and the marble chips. Rake and even out the marble chip surface using a bow rake.
What Rock Is Cobblestone Made From?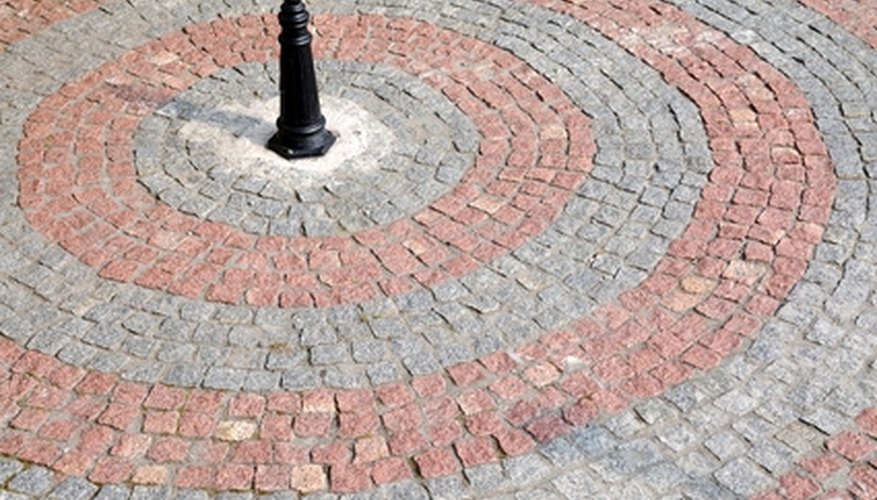 History
Cobblestone construction developed in the late Medieval era and remained popular into the 19th century. In England, a type of cobblestone paving called a macadam road is still used today. If you wander around Europe, you will find a number of cobblestone roadways that are preserved for their beauty and historic value.
Types
Early cobblestones were gathered from riverbeds, lakes and fields and "cobbled" together by chiseling them into desired shapes and binding them together with mortar. Today's cobblestone pavers are cut from granite, sandstone and limestone.
Function
You can buy cobblestone in many different sizes and colors. Some dealers specialize in recycled cobblestones gathered from old buildings and roads. Cobblestones add functionality and charm to driveways, patios, walls and garden pathways.
Significance
The colors and textures of cobblestone pavers allow you to combine them creatively to add durable curb appeal to your landscaping. Pavers may also help you prevent erosion in some of those problem areas around your house.
How to Landscape for $500
Do as much of the work yourself to save money on your landscaping. Clear grass or other plants from an area to create flower beds, haul the rocks to border the bed yourself, and pick up and deliver all the soil and wood chip mulch you plan to use.
Call around and research your area to find free supplies if possible. Look for stone for free down by a lake shore; your city may give away free compost and wood chips (mulch); look at construction sites for free dirt to use as fill. Make sure it is clean soil so not to contaminate your yard.
Draw a plan that will help in designing the landscape, finding how many plants will be needed, and what supplies need to be found for free. A simple drawing can make the difference between making your budget and going over it.
Buy your plants with longevity in mind. Look for local plants that keep their green year around and mix in some perennials that will come back every spring for color. Most of perennial plant prices will discount up to 75 percent in the fall in regions that experience freezing temperatures. Set the plants in the ground as soon as possible to get their roots set in before frost.
Nurture your new plants before frost so they live to see spring. Water frequently until the plants are established and mulch with the free wood chips to retain moisture.