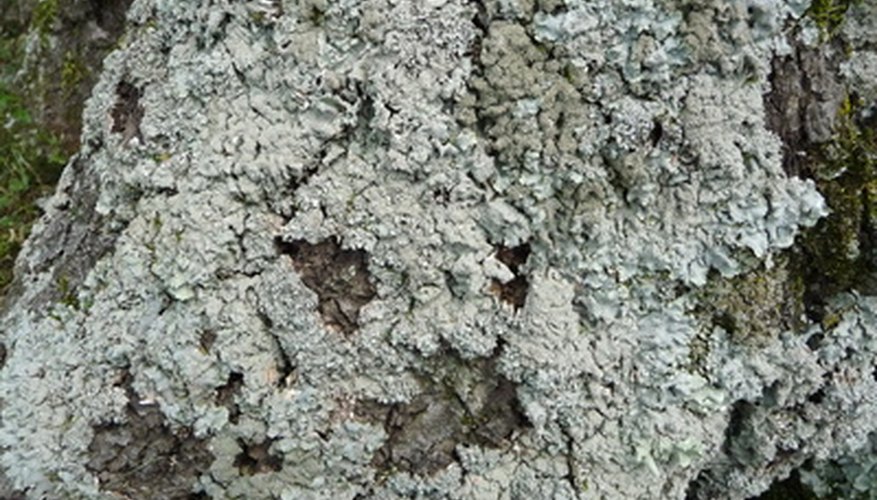 How to Rid Oak Trees of Green Fungus
If you have oak trees in your lawn or landscape, chances are you have seen the unsightly green fungus-like growth on the trees trunk and bark. This light green growth is not entirely a fungus, but is a lichen, which is a symbiotic relationship of fungus and algae. Although lichens will not harm your tree, when left to grow undisturbed, the lichens will quickly cover the entire tree with a green, mold-like substance.
Use a bristle brush with stiff bristles to scrub away the lichen from the tree. Do not apply pressure to the brush, and you will not damage the oak's bark.
Spray the oak tree with water to soak the lichens. Scrub the tree's bark again, to remove any leftover lichen from the first scrubbing.
Cut away any branches that have lichen growing on them. Lichens begin growing on oaks because the tree's foliage is thin enough to allow light to reach the trunk and branches. Thinning out affected branches will promote new, thicker growth of the tree. Use garden loppers to cut away the branches flush with the main branch or trunk.
Spray the oak tree with a copper-based fungicide to prevent the lichens from reoccurring. You can purchase a copper-based fungicide at a garden specialty store.
How to Kill Grass Fungus
Measure the pH of your soil with a test kit obtained from a nursery or garden center. Soil needs to be balanced (with a pH between 6.5 and 7.0) before killing grass fungus. Measure your grass twice per season.
Raise the soil pH if it is below 6.5. Apply liquid lime with a sprayer weekly until the soil's pH is high enough for fungicide applications.
Determine the square footage of your property, which is necessary when formulating how much fungicide to use. Multiply the length by the width.
Apply a quick-release liquid fertilizer to the unhealthy grass. Follow the dosage instructions on the label. The lawn will absorb it and become stronger, less likely to fall victim to fungus again. The food also helps kill the disease.
Spray a liquid fungicide over the affected grass. Choose one that has the active ingredient Chloronthalonil. It kills fungus upon contact. The fungicide will also seep into the soil and continue working for up to two weeks.
Re-apply the fungicide seven days later. Treat every two weeks until the weather changes to avoid any more fungus outbreaks this season.
How to Treat Soil Fungus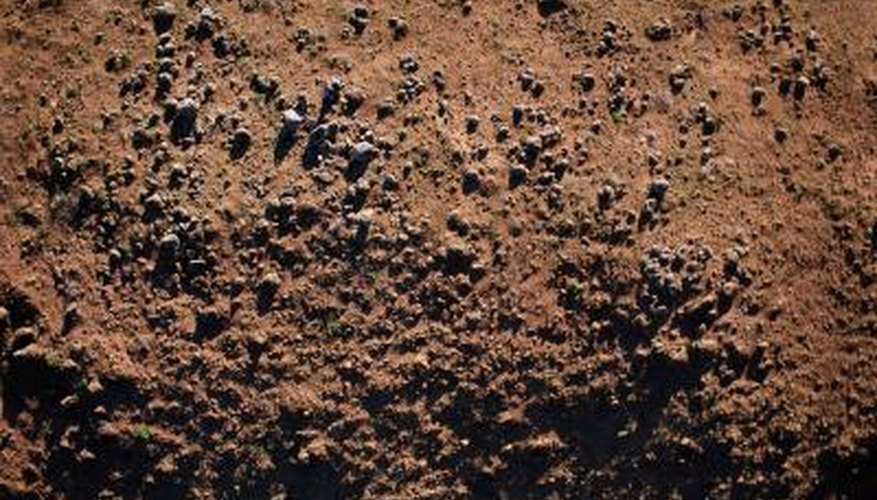 Step 1
Purchase a fungicide approved for use on the type of grass and plants you have and apply it to your yard according to the manufacturer's directions.
Step 2
Mix water and baking powder together in a spray bottle and apply it directly to areas with soil fungus problems. Use 2 to 3 tablespoons of baking powder in a 16 to 20 ounce spray bottle. Do not add so much baking powder that the mixture becomes too thick to spray easily.
Step 3
Sprinkle corn meal over fungus-infested areas. The cornmeal will soak up the moisture and help kill certain types of fungi.
Step 4
Add nitrogen to woody mulches to prevent the mulch from taking nitrogen from your plants. Add grass clippings to your wood mulch before composting or use poultry manure or urea to add nitrogen.
Step 5
Saturate compost and mulch with water right after applying them to your soil. Water helps promote the growth of helpful bacteria that attack harmful fungi, reducing the chance of developing a fungus problem.
Fruit Flies Breeding in House Plants
Identification
Fungus gnats (Bradysia) are pests that resemble small mosquitoes, but don't bite. The adults are 1/8-inch-long with spindly legs and antennae. Fungus gnat larvae, which develop in houseplant soil, are white with shiny black heads and are about 1/4-inch long.
Damage
Fungus gnat larvae damage houseplants when they feed on roots and root hairs. According to the Purdue Plant and Pest Diagnostic Laboratory, larvae can also penetrate stems and disrupt nutrient and water uptake, and both adults and larvae transmit disease.
Life Cycle
Fungus gnat larvae generally live and feed in the top 2 to 3 inches of moist soil. Within two to three weeks, they become adult fungus gnats. Female fungus gnats then lay eggs in moist soil and repeat the cycle.
Prevention/Solution
Prevent fungus gnat larvae from living and transforming into adults by letting the top 2 to 3 inches of soil dry. Dry soil also discourages adults from laying more eggs. Adults can be caught on yellow sticky traps known as gnat sticks, and certain insecticides kill adult gnats.
How to Eliminate White Fungus from Garden Soil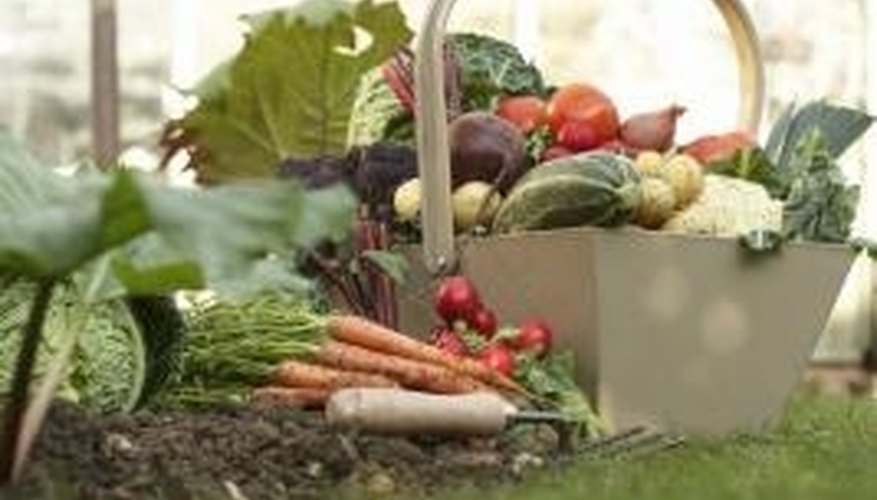 Removal
Wear a pair of gardening gloves and remove all plants--including their roots--that have the white fungus present. Place these plants in a burn pile or garbage bag. Do not compost the plants.
Scoop the surrounding soil with a garden shovel. Remove 5 to 6 inches of the soil. Place the soil inside the garbage bag. Scoop up any of the soil that was clinging to the infected plants that fell to the ground.
Replace the infected soil with fresh soil appropriate for your garden.
Prevention
Provide adequate drainage for the soil. Poor drainage or an increase of moisture--such as heavy rainfall--will increase the chance of mold and fungus growth.
Plant the vegetation in a different area of the garden than it was planted the previous season. The mold can lay dormant in the soil for many years. Moving the plants every season will reduce the chance of awakening the fungus.
Lay garden plastic on the ground to act as a barrier to prevent the white fungus spores from germinating in the soil.
Remove weeds. Weeds are known hosts for a variety of pests, including white fungus. Removing them from your garden will reduce the risk of pests and diseases.
Tubular Red Fungus in a Garden
Identification
Stinkhorn fungi are often seen in flower beds and gardens. This is a tall, fungal growth that has a black spore mass growing on the end. These spores emit a foul odor, which is where stinkhorn received its name. Stinkhorn are usually red or white and are often found growing in areas covered with bark mulch.
Fun Fact
Although stinkhorns smell terrible, they are actually considered a delicacy in China. According to University of Wisconsin botany professor Tom Volk, the Chinese often eat this fungus while in the immature state, which resembles an egg. Many consume it in its red, tubular state after the black spores are removed.
Control
Nuisance fungi is often difficult to control or eliminate. Many people wish to eliminate stinkhorn because of its foul odor. Placing pine bark or pine straw instead of hardwood mulch often reduces fungal development. There are currently no fungicides recommended for removal of stinkhorn in the landscape.
How to Kill Fungus With Clove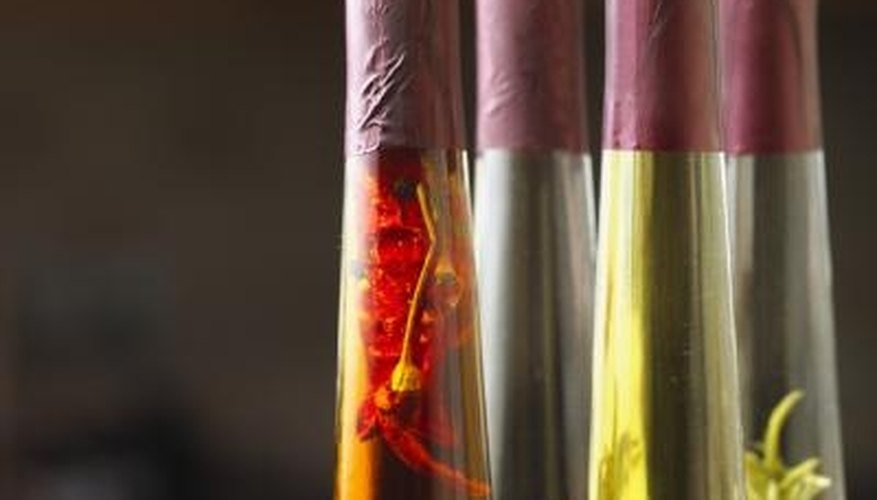 Clean the nail with warm, soapy water, and towel dry. Try not to let the cloth or towel that came in contact with the infected nail touch any other nails. Doing so could spread the fungus.
Dilute 5 to 10 drops of clove oil in 1 cup of olive oil. Fill an eyedropper with the mixture.
Apply one to two drops of the mixture to the infected nail. Spread the mixture with a cotton swab to cover the entire nail.
Wash hands immediately after you have applied the mixture, and whenever you touch the infected nail.
Reapply the mixture to the nail once a day until the symptoms subside.
How to Kill Tiny House Plant Flies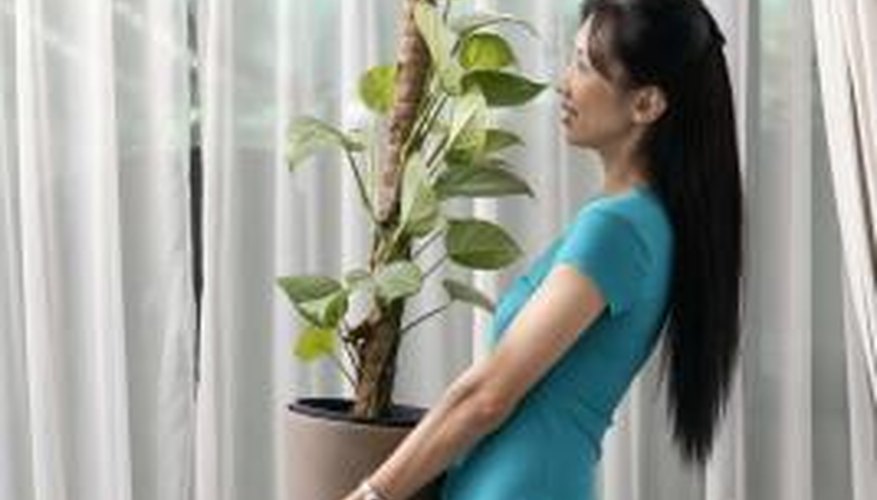 Step 1
Cease watering the houseplant. The eggs and larvae of the fungus gnat requires moist soil to survive and grow. Allow the top 2 inches of the plant's soil to dry out completely to kill the larvae and eggs.
Step 2
Drench the soil using a microbial insecticide that contains Bacillus thuringiensis to kill the larvae. Consider drenching the soil with a parasitic nematode, Steinernema feltiae, to naturally kill the fungus gnat larvae. Follow the directions on the label of the product for application instructions.
Step 3
Spray or drench the soil around the houseplant using a pesticide that contains lambdacyhalothrin, cyfluthrin, bifenthrin or permethrin. Follow the directions on the label for application instructions.
Step 4
Hang yellow insect sticky traps near houseplants. The yellow will attract the adult fungus gnat which will become ensnared in its sticky surface and perish.
How to Use Mosquito Dunks to Control Gnat Infestations in Houseplants
Put on a pair of plastic gloves before working with Mosquito Dunk. It can cause skin irritation in humans.
Cut the dunk in to quarters. Keep the knife you use with the Mosquito Dunks separate, so that you never use it for food.
Set 1 quarter of a dunk in 1 gallon of water and allow it to mix with the water naturally overnight.
Pour this treated water in a watering can and use it to water your houseplants.
Repeat once per week to keep the fungus gnats away.
How to Kill Fungus and Gnat Larvae
Indoor Plants
Step 1
Till the soil with the spade and apply a fungicide to the soil to combat the fungus.
Step 2
Allow the soil to dry out a bit, then water.
Step 3
Apply an insecticide to the plant.
Step 4
Repeat as directed by the insecticide and fungicide sprays.
Step 5
Cut down on moisture in the room if it is a very humid environment. Remove all containers of stagnant liquid as well.
Outdoor Plants
Step 1
Till the soil with the shovel in areas where you have noticed a lot of gnat activity.
Step 2
Spray the ground with a fungicide that will not harm surrounding vegetation.
Step 3
Spray all of the plants with an organic insecticide so your plants are not harmed.
Step 4
Repeat the insecticide as directed on the label.
How to Kill Fungus on Grass
Fill an empty, clean spray bottle with 2 cups water.
Add 1/2 cup fungicide. Ensure that spray bottle nozzle is closed and shake well.
From a distance of 6 to 8 inches, spray fungicide solution directly onto affected patches of grass.
Leave to dry; do not rinse off.
Spread old newspaper over the sprayed area and weigh down with bricks or heavy weights.
Leave in place for one to two weeks. The lawn fungus will slowly die over this period.
Perform spot checks on a weekly basis to ensure that the fungus has been completely eliminated from your lawn. If necessary, repeat spraying and spreading of newspaper to eliminate any potential new growth until your lawn is fungus free.
How to Treat Fungus On House Plants Naturally
Remove infected leaves from the plant and place them in a plastic bag to prevent the fungus from spreading. Leaves will contain discolored spots or spores or will show signs of rot. Dispose of the plastic bag immediately to prevent further fungal infection.
Check the soil for excess moisture and make sure that leaves are dry. Do not mist your plant while it is suffering from a fungal infection.
Remove plant from its pot if the infection continues or if roots show signs of rot. Remove infected parts of the roots and check leaves for further infection. Remove any infected leaves as before.
Plant in a new pot with new soil. Do not overwater and be sure to keep leaves dry.
Watch plant for further signs of infection and continue to remove infected leaves as they appear.
Fungus Gnat Information
From our friends at GardensAlive.com
Fungus gnats are small, gray, midge-shaped flies approximately 1/4" long. They love moist soil, and soil rich in organic matter (peat moss, etc.). The larvae feed on young seedlings and this can kill a young plant, but rarely will harm an established plant. Adult fungus gnats can transmit plant disease, but mostly they are an unsightly nuisance.
Adult female fungus gnats deposit approximately 100 to 150 eggs on the surface of the soil close to the stem of the plant. The life cycle of the gnat continues as they hatch in 4 to 6 days into the larval stage, which feed on fungi, organic material and plant tissue for 2 weeks. The fungus gnat then pupates and emerges as an adult a few days later.
Biological Control:
Reduce watering — fungus gnats love moisture — so, allow the soil to dry out, at least the top inch or so, between watering and then water infrequently.
Apply Bt— Knock-Out Gnats is a strain of Bt, which provides a very effective control of fungus gnats for houseplants and home greenhouses, use it as a soil drench.
Use Yellow Sticky Traps. These traps placed horizontally on the plant pot will attract many adults and the adult stage of many other small flying insects, thus another way to reduce the fungus gnat population.
With the above-mentioned Knock-Out Gnats you can interrupt the life cycle of the fungus gnat and greatly reduce, if not eliminate the unwelcome pest.
How to Eliminate Tree Fungus
Purchase a fungicide with the active ingredient captan. This fungicide is used to treat a variety of fungal diseases in trees and shrubs.
Take proper safety precautions. You will need to wear a long-sleeved shirt, long pants, shoes and socks, waterproof gloves and goggles. Fungicides are harsh chemicals that can cause skin irritations, damage to the eye and allergic reactions.
Mix 4 lbs. of captan fungicide with 20 gallons of water. If your spray tank doesn't hold 20 gallons of water, you can mix 2 lbs. of fungicide with 10 gallons of water, or 1 lb. of fungicide with 5 gallons of water.
Spray the fungicide directly on your tree's leaves and trunk. Cover every area where you see the fungus.
Repeat every two weeks until the fungus has cleared up.
Information About Bracket Fungus
Fungus Facts
Many species of bracket fungus develop multi-colored circles on the tops, which are actually growth rings. The largest bracket fungus found weighed 300 pounds. Bracket fungi provide microhabitats for insects, spiders and mites.
Tree Damage
Once the bracket fungus infects the tree, no chemical treatments will save the tree. The fungus enters through a wound, then rots the inner wood and finally breaks through the bark.
Sulphur Shelf Bracket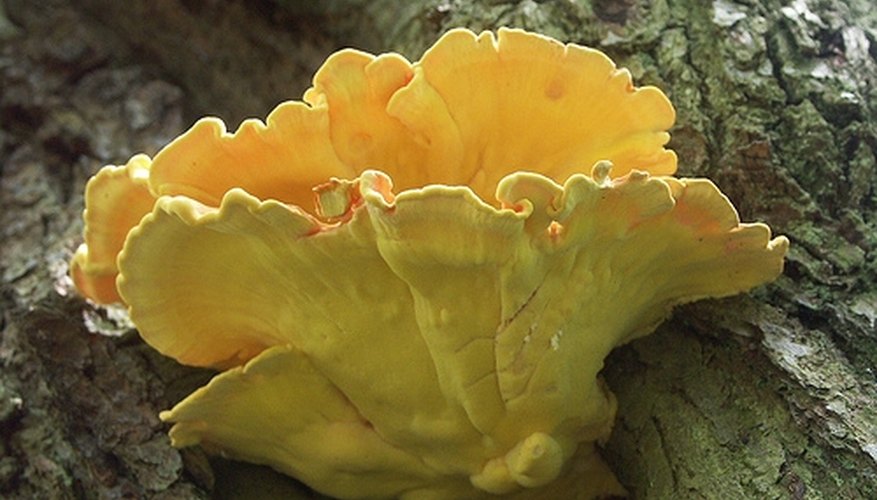 Sulphur shelf is characterized by bright yellow and orange-ringed caps. It is found on oak, chestnut, willow and yew trees in large overlapping groups.
Birch Bracket
Birch bracket, the most common bracket fungus, grows exclusively on birch trees. The fungus starts in a trunk wound, causing brown rot and eventually the death of the tree.
Artist Conk Bracket
Ganoderma applanatum is more commonly known as artist's conk because the surface color changes when bruised by sharp instrument. Usually this fungus is found on beech and poplar trees. Sometimes it can be found on maples, oaks, walnuts and elms.
Turkey Tail Bracket
The turkey tail name comes from its cup-like shape with concentric zones of colors fanning across the shelf. Colors range from shades of browns, grays and even some greens. It is commonly found on maples, elms, oaks, pines and walnuts.