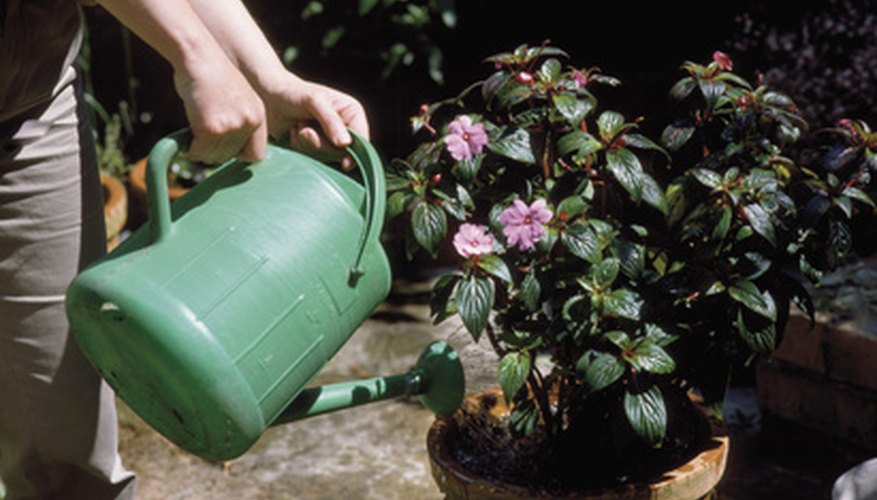 How to Use Peroxide for Plant Food
An easy way to increase the health of your plants is to add hydrogen peroxide to the water. Because it contains substantially more oxygen than water, peroxide provides more oxygen to plant roots. Peroxide also naturally fights off bacteria and fungus that can harm your plants. Take precautions when using hydrogen peroxide as it is a caustic substance that can be harmful in large amounts.
Put on rubber gloves and safety goggles. Hydrogen peroxide can cause irritation if it gets in your eyes or sits on your skin for too long.
Pour 1 gallon of water into a bucket or large pot. Add 2 tbsp. of 35 percent food grade hydrogen peroxide and mix it up with your hand. Food grade peroxide is much more stable than the common 3 percent hydrogen peroxide. Also, 3 percent hydrogen peroxide has added chemicals that may not be good for your plants.
Pour the mixture into a watering pot and water normally.
Repeat once a week.
Store unused portions of the liquid in a bucket or jar.
How to Use Peroxide Instead of Chlorine in a Swimming Pool
Determine the gallon capacity of your pool, if you don't know already know it. If necessary, consult the pool supply company you bought the pool from. You can also use different formulas to calculate your pool's gallon capacity, depending on your pool's shape (see Resources).
Measure 1 cup of hydrogen peroxide into your liquid measuring cup for every 500 gallons of water in your swimming pool, and add this directly to the water. For instance, if your pool's capacity is 12,000 gallons, you will add 24 cups of hydrogen peroxide. Use gloves and protective goggles when adding the hydrogen peroxide.
Test the concentration of peroxide in your swimming pool using your test strips, following the packaging instructions. (They are typically used exactly as chlorine test strips.) Your target concentration is 30 parts per million, which may be determined by following the guide to reading the color scale on the test strips.
Turn off your swimming pool's pump after you have added the hydrogen peroxide. Leave it off for a 24 hours. Allow the water to sit, undisturbed, before turning the pump back on. Do not use the pool during this time period.
Check the balance of your pool weekly using the test strips, and add hydrogen peroxide accordingly.
How to Grow Mushrooms with Hydrogen Peroxide
Measure out 1 quart of stove pellets and put them in the clear plastic bag.
Boil two separate pots of water with 3 1/2 cups of water in each. Carefully pour one pot of water into the bag of pellets. Close the bag, and allow it to cool. The pellets will expand significantly.
Add 1 tablespoon of hydrated lime and 3 tablespoons of dried, non-fat milk to the bag. When the second pot of boiled water has cooled, add 2 tablespoons of hydrogen peroxide solution to it, and pour it into the bag of pellets. Allow the bag of pellets to cool.
Open the bag and gently mix in the mushroom spawn. Seal the bag with a twist tie, and place it in a pan. Store the pan in a dark, cool room.
Move the bag to a place with dim light after 2 weeks. Once you notice the mushroom "bumps" about to appear, open the bag and leave it open to encourage air circulation. Spray the mix with some water twice a day. Harvest the mushrooms when they have reached full size, and the caps begins to separate from the stems.
How to Wash Fruits & Vegetables With Peroxide
Pour one gallon of water into a plastic bucket, dish or plugged kitchen sink.
Put on gloves and add 1/2 cup of food-grade, 7 percent strength hydrogen peroxide to the water. Mix the solution thoroughly.
Immerse the fruits and vegetables into the water and peroxide mixture for 30 seconds. If the vegetables or fruits are hard, such as melons and squashes, scrub them with a cloth. Otherwise, use your hand and gently rub the vegetable or fruit to loosen surface debris.
Remove the fruits or vegetables from the water. Blot them dry with a clean cloth and place them in your refrigerator.
How to Use H202 for Root Rot
Fill your watering can with half H202 and half water.
Add an anti-fungicide like benomyl (follow the manufacturer's instructions for the amount of water that you are using).
Add a fertilizer with rooting hormone like Root Booster to the soil (follow the manufacturer's instructions for the amount of water that you are using).
Water the plant heavily with the H202 solution. Do not stop until water comes pouring out of the drainage holes in the pot. Then empty the drainage tray. Do not water the plant again until the top two inches of the soil are dry.
Continue to water your plants as usual, using a solution that is half peroxide and half water.
Discontinue using the peroxide solution when your plants perk back up.
Hygrozyme Directions
Step 1
Add 4 to 6 mL of Hygrozyme to 1 gallon of distilled water.
Step 2
Use the mixture to rinse all equipment before use.
Step 3
Create another Hygrozyme-distilled water blend depending on your needs.
Add 6 mL of Hygrozyme to 1 gallon of distilled water for soaking seedling trays, or to prepare cutting media.
Add 8 to 10 mL of Hygrozyme to 1 gallon of distilled water for nutrient change out. This mixture level can be used for soaking, cleaning or in drop-feed systems. Add this mixture as part of your normal feed schedule.
Step 4
Add 4 to 6 mL of Hygrozyme to 1 gallon of distilled water to rinse all equipment after use.