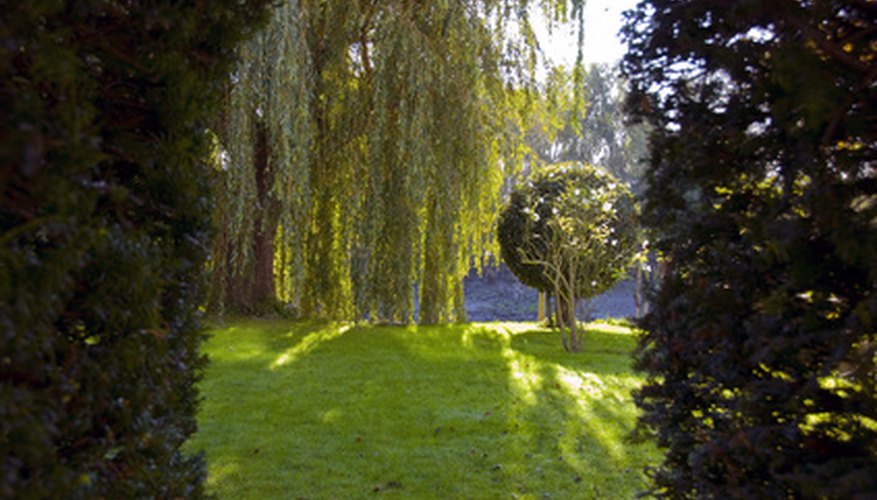 How to Grow Grass in Hard Dirt
How to Get Weeds to Not Grow in Grass
How to Grow Grass on Dog Urine Spots
How to Grow Grass Along the Curb
How to Grow Grass in a Wooded Lot
How to Grow Grass From Scratch
Thorough preparation and high-quality seeds are the primary factors in growing a lush green lawn. You must decide the way you want to use your lawn and how much maintenance you're willing to do. As the old adage goes, anything worth doing is worth doing right.
Perform a soil test to determine what fertilizers need to be added to the soil for nourishment.
Till the soil to a 4- to 6-inch depth. Incorporate fertilizer and 2 to 3 inches of organic matter like peat moss or decayed leaves as you work.
Smooth the site with a rake. A roller at this point works well to recognize high and low spots.
Apply a commercial turf starter, following the manufacturer's instructions.
Fill a drop spreader with half of your grass seed and sow them in one direction. Place the remaining seeds in the spreader and sow them in the opposite direction. Rake the seeds gently to cover with 1/4 inch of soil to keep the seeds in place.
Mulch your site using one bale of hay or straw per 1,000 square feet to retain moisture and prevent erosion. The mulch should be spread thin, exposing half the soil beneath it. Roll the entire site.
Water the site thoroughly so that it is moist, not wet, to a depth of at least 1/2 inch at all times, until the lawn seed germinates and your seedlings are well established.
How to Grow Grass Where Moss Grows
How to Grow Grass