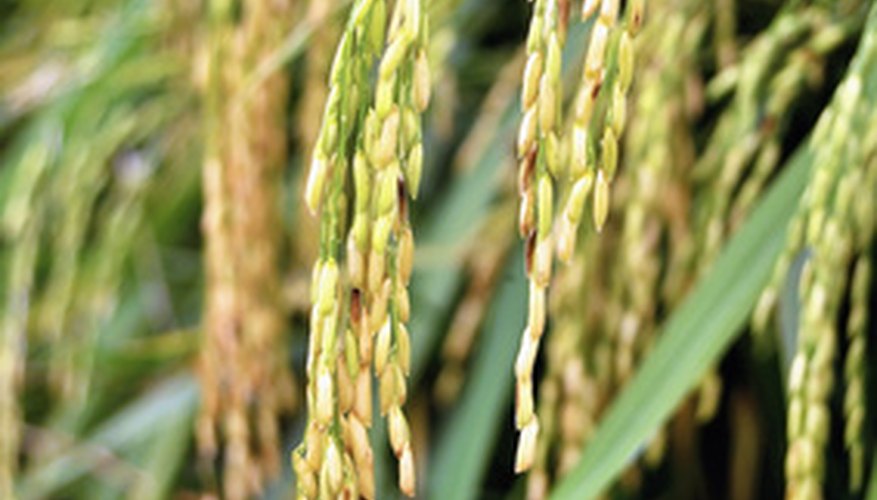 How to Grow Rice Indoors
Rice is the seed, or grain, from a type of grass (Oryza sativa) that is grown as a major food crop around the world. Growing rice requires lots of sunshine and warm temperatures. Growing it indoors allows you to control the growing environment by utilizing grow lights. Rice can be grown in any large container, from a bucket to an aquarium.
Mix together 3 inches of potting soil and 3 inches of compost and pour it into the growing container. Use the tallest container that you can find as the rice plants will grow to 3 feet in height.
Add water that is at least 75 degrees Fahrenheit until it is 2 inches above the soil.
Scatter 1/2 cup of rice seed evenly over the surface of the water and allow it to sink onto the soil.
Place the container in an area where it will receive all-day sun, or 6 inches below grow lights which are left on at least 12 hours a day. The rice should germinate within three to seven days.
Add warm water periodically to keep it 2 inches above the soil. When the plants reach 6 inches in height, increase the water level to 4 inches above the soil, again using warm water. Allow this water to evaporate completely.
Harvest the rice when the stalks turn gold. This will occur within four to five months.
How to Install Floor Lighting in Concrete
Step 1
Have a certified electrician wire power supply lines from your existing power lines to the exterior location. Turn off the power to the supply lines before working with the power wires.
Step 2
Excavate an 18-inch trench to the area where the light fixture will be placed. Install the conduit along the bottom of the trench, running the supply wires through the conduit and to the point where you will install the light.
Step 3
Remove the internal components of the lighting fixture. You will install the housing in the concrete and then wire the fixture after the concrete has set. Position the light housing in the trench and use re-bar to anchor it in place.
Step 4
Pull all wiring through the entryway of the housing. Seal the wire entryway with duct-seal compound. Fill the conduit entry point with two-part potting compound. This protects the conduit and wiring from moisture.
Step 5
Pour a minimum of 3 inches of drainage material into the bottom of the trench. Do not allow the drainage material to be as high as the light housing.
Step 6
Pour the concrete into the trench, making sure the lip of the light housing is flush against the concrete. Allow the concrete to set.
Step 7
Install the electrical components into the light housing. Install the correct lamp bulb and cover the lamp with the trim ring or protective cover, if included.
Fairy Lights for Trees
Holiday Branches of Light
A string of light for each tree that graces your property illuminating bare winter branches makes a pleasing spectacle. String the fairy lights through the tree branches as you would on a Christmas tree. You can experiment with wrapping them around the tree, around individual branches or draping them vertically for different looks.
For a more intense effect, fairy lights can be strung on smaller shrubs or trees so more light covers less area. Wrap lights around individual branches on very tiny trees, so they look like they're filled with fairies or fire flies.
Flower Fairy Lights
For outdoor lighting during the spring or summer months, you can make your own flower garland lights with fairy lights and faux flowers. Remove the plastic bottoms of faux buds, and place the flower over an individual bulb on a string of fairy lights. Tuck flowers into branches and wrap them around the tree.
Or, string several lengths of lights in a grid between trees to create a canopy or ceiling; this is particularly effective for adding a soft glow of light to an area you'd like to feature, like an outside dinner table.
Fairy Light Chandelier
Instead of tucking fairy lights into a tree, you can hang a cluster of them from high branches to create a visual centerpiece in your garden or outdoor lounge area. Wrap and tuck fairy lights into an old chandelier frame (wiring removed). Hang the chandelier from a strong, high branch. The chandelier must be securely attached so that it doesn't fall -- even if it gets a bit windy.
Use several small chandeliers around one tree, or illuminate a walking path or driveway by placing one chandelier on each tree lining the way.
What are the Best T8 Bulbs for Growing Plants?
Philips Aquarelle
Philips Aquarelle fluorescent lights are stated as one of the best T8 bulbs in value, cost, energy efficiency and color rendering. These bulbs stimulate oxygen output in plants. The bulbs contain mercury vapory fluorescence and can produce around 10,000 Kelvins.
Sylvania Aquastar Fluorescent Tube
Specifically designed to promote the growth of aquatic plants with red and blue light emissions, Sylvania Aquastar lights produce 10,000 Kelvins in 15-, 18-, 30- and 36-watt varieties. They are well known to help in the development of indoor coral growth.
Interpet Aquatic
Interpet Aquatic T8 bulbs are designed for growing plants without the same levels of mercury per tube, resulting in less hazardous light emissions. 36-watt bulbs produce enough natural light to promote plant growth at around 6,000 Kelvins; noticeably lower than other varieties. These bulbs have some of the best light-output ratios available on the market.
DIY Grow Light
Using Fluorescent Fixtures
Obtain a fluorescent fixture with cool-spectrum fluorescent bulbs.
Attach lightweight chains to the fixtures and hooks to the ceiling or shelf above.
Adjust the fixture height so that the lights are approximately 6 to 8 inches above the top of the plants. Move the fixture up as the plants grow.
Compact Fluorescent Lights
Obtain clamp-on shop lights and compact fluorescent lights. Install the CFL bulb in the shop light.
Clamp the shop light onto the plant shelf or a fixture nearby and adjust the light toward the plants.
Allow the light to heat up, then place your hand at leaf height to check the heat on the plants. If it's too hot for you, it is too hot for the plants. Ideally the light will be 4 to 6 inches from the plant. Maintain the light as close to the plants as possible without burning them.
How Long Do Tomatoes Need to Be Under Grow Lights?
Time Span
Leave the lights on for most of the day. Tomato plants outside can survive on six to 10 hours of sunlight. GrowYourTomatoes.com recommends 12 to 16 hours of light a day under grow lights to maximize the number of tomatoes for harvesting. Healthy tomato plants under grow lights are capable of producing fruit in as little as four to five hours under consistent light.
According to the Web site Planet Natural, tomato plans take 90 to 140 days from seed to mature plant. Transplanted plants or those that are already past the seed stage will begin producing fruit within 60-90 days.
During the growth period until the end of fruit production, plants need to be under grow lights for the majority of each day. Fruit production periods can last a few weeks to a few months depending on the health of the plant.
Setup
Install lamps in an area where the distance between the tops of the plants and the lights is two to three inches. The plant's shelf or the lamp fixture should be movable to adjust as the plants get taller. Having the plants closer than two inches from the surface of the lamp can cause a fire hazard as well as damage the plants.
A 48-inch long fluorescent light fixture with GE Aquarium and Plant tubes is recommended by GrowYourTomatoes. Connect the lights to a light timer and set the timer to keep the lights on for 12-16 hours a day. For example, set the timer to turn on at 6 a.m. and turn off at 8 p.m. Do not leave them on all the time.
How to Tell if Your Christmas Lights Are Incandescent
Plug in your string of Christmas lights. You should be sure to plug them into an inside outlet for this test, since you do not want external factors like outdoor temperature affecting the outcome.
Allow the lights to warm up for about 10 minutes. You can simply leave them coiled on a step stool or chair while they warm up. If you want, you can take this time to note if any bulbs are out or missing.
Put your thumb directly on top of a bulb. If it is almost hot to the touch, it will be an incandescent bulb. If it is almost cool or barely warm to the touch, it will be an LED light. Once you know what type of lights you have, you can proceed with your Christmas decorating and be sure that all your replacement bulbs are the right type. The small, incandescent lights will never give off enough heat to burn skin, so while you should be cautious, there is no reason to fear getting burned.
How to Take Christmas Icicle Lights Down the Right Way
Begin with the highest level of icicle lights that are hung. Remove the clips that keep the icicle lights on the house one by one and place them in the freezer bag, except for one clip.
Wrap each section of lights around your arm until it forms a loose, even loop. Be careful to not break any of the icicle lights. Plug the electrical ends into each other and use the clip to help keep the loop together. Do this for each strand and place them all on the ground.
Plug each strand into a socket to ensure all the bulbs are still in working order. Replace any broken bulbs now so that you don't have to do it nine months later.
Straighten out the loops until as thin as possible without getting tangled. Place the clipped loop of icicle lights on the plastic sheeting, stacking no more than two on top of each other. Roll the plastic evenly, ensuring the loops of icicle lights are relatively parallel as you roll them up. Tie the plastic wrapping with the twine and store in a dry place.
How to Hang Christmas Lights on Vinyl Siding
Purchase enough Christmas lights (for indoor/outdoor use) so that you can cover your chosen space. Be sure to also purchase light/gutter clips. They are available at most major hardware and department stores. You should have two light clips for every foot of Christmas lights.
Plug in your Christmas lights to make sure that they function properly. You don't want to spend hours hanging them up only to find that they do not turn on.
Untangle your Christmas lights before hanging them. This will save you lots of time once you are on the ladder.
Replace any bulbs that may not work. To do this, use needle nose pliers to pull the dead bulb out (at the base) and replace it with a new light bulb. Christmas lights often come with extra bulbs for this very purpose. You can also purchase some in the decorations department at most home improvement stores.
Wrap the Christmas lights into a neat coil to prevent them from tangling again.
Locate a dependable ladder and place it at one corner of your house. Make sure that it is balanced before you climb it.
Climb the ladder and place your light/gutter clips every 6 inches along the side of your vinyl house. They will snap on to the gutter and provide a hook for your Christmas lights. The light/gutter clips allow you to hang Christmas lights without damaging the vinyl siding. Those with wood houses are able to use nails, but that is not possible when working with vinyl.
Move your ladder along the side of your house until you finish hanging all of your light clips.
Hang your Christmas lights once you are finished placing the hooks. Simply repeat the process with your ladder, this time hooking the Christmas lights onto your light/gutter clips.
Use an extension cord if necessary to bring your lights to a power source. When you are finished placing the lights, turn them on and make any adjustments.
Do LED Lights Grow Plants?
Types of grow lights
Grow lights come in several forms. HID--high intensity discharge--lights are produced in two ways, metal halide and high pressure sodium (HPS). Fluorescent grow lights remain popular, and are much improved with the energy-efficient compact fluorescent light (CFL) and T5 fluorescent versions. Incandescent grow lights are the least expensive, but also the least efficient. LED grow lights are the newest type of grow lights.
Benefits of LED lights
LED grow lights work well at a reasonable cost. Some LED lights can last from six to 20 years without light degradation. LED lights do not emit a lot of heat, which reduces cooling costs. LED lights are also light in weight and do not contain dangerous chemicals such as mercury. LED lights are tougher than glass bulbs and do not break as easily.
Using LED grow lights
Because LED lights emit less heat you may need to add heat to the growing area by increasing the heat in the room or using a heat mat under your plants. Keep the temperature between 70 and 80 degrees F. Lower temperatures will cause slower plant growth. Be careful not to over-water your plants. Since LED lights use less heat, there is less water evaporation. Over-watering will slow root growth. Do not look directly at the LED lights for very long or at close proximity.
Amperage Requirements for HID Grow Lamps
Power
Power is expressed as watts and is a function of voltage and amperage. The formula for power is voltage multiplied by amperes for volt-amps or watts. To determine amperage, divide watts by voltage.
Systems
HID lights are a two-part system: the bulb and the ballast. The ballast contributes to the power requirements and depending on efficiency, the ballast can add to the current draw in amps by as much as 10 to 20 percent.
250 and 400 Watts
A 250-watt bulb and ballast requires about 300 watts of power and draws 2.66 amps at 120 volts or 1.32 amps at 240 volts. A 400-watt bulb and ballast requires 464 total watts of power and draw 3.8 amps at 120 volts or 1.9 amps at 240 volts.
600 and 1000 Watts
A 600-watt bulb and ballast uses about 670 watts of power and draw 5.5 amps at 120 volts and 2.85 amps at 240 volts. A 1,000-watt bulb and ballast uses 1100 watts of power, drawing 9.28 amps at 120 volts and 4.68 amps at 240 volts.