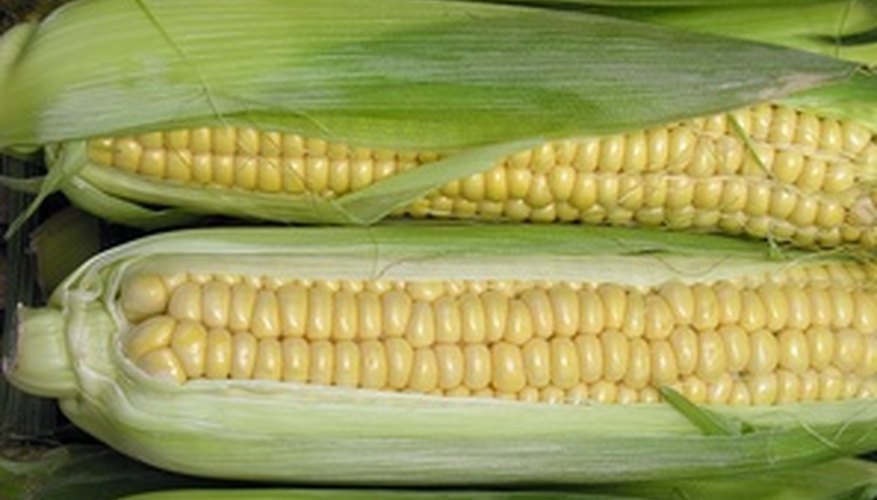 How to Grow Corn in a Greenhouse
Corn on the cob is a favorite part of BBQs, tailgating, family gatherings and picnics. This crop cane easily be grown at home, and even in places without year-round warm weather, if you're able to grow it in a greenhouse. Doing so requires some simple materials, but most importantly, a greenhouse, which can be hard to obtain.
Prepare your greenhouse planting site. Corn requires full sun to grow, so your greenhouse will need clear glass or growing lights. Also make sure you have a greenhouse fan or windows that can open, as corn is pollinated via wind.
Combine equal parts composted manure, organic material (such as grass and leaves) and good quality potting soil in a growing tray, or dig a hole approximately 3 fee deep and fill the hole with this mixture.
Plant the corn seeds about 1 inch into the soil and 4 inches apart (seed is available at nurseries and garden stores). Keep the rows of corn 1 foot apart.
Water the seeds often to keep them moist, but not soaked. Since greenhouses are controlled growing, you can use irrigation systems to do this.
Continue to water your corn plants this way until they are about knee high. At this point, use a nitrogen supplement fertilizer and mulch around the base to protect the roots.
How to Organize a Greenhouse
Draw out your greenhouse on paper. Use one 12-square-by-12-square grid to represent each square foot of your greenhouse. Design a plan for your greenhouse based on its shape and layout. Include shelves or benches to fit lower and higher areas of the greenhouse. Decide if you have adequate space for multiple rows of shelving with walkways between them.
Choose shelving or benches to fit your greenhouse. Use wood, metal or plastic shelving as you prefer. Opt for slatted shelving if at all possible to allow for adequate water drainage.
Install lower shelves along the eaves of your greenhouse, then higher ones near the center. Allow at least 18 inches of walking room to one side or another of your shelves or benches.
Create a work area near the entrance of your greenhouse. Set up a potting bench and separate tool rack, or purchase a bench with included storage. Store tools, watering cans and other supplies in this work center.
Store pots, sealed bags of potting soil and other supplies under your greenhouse shelves and benches.
What Plants Grow Best in a Greenhouse?
Begonias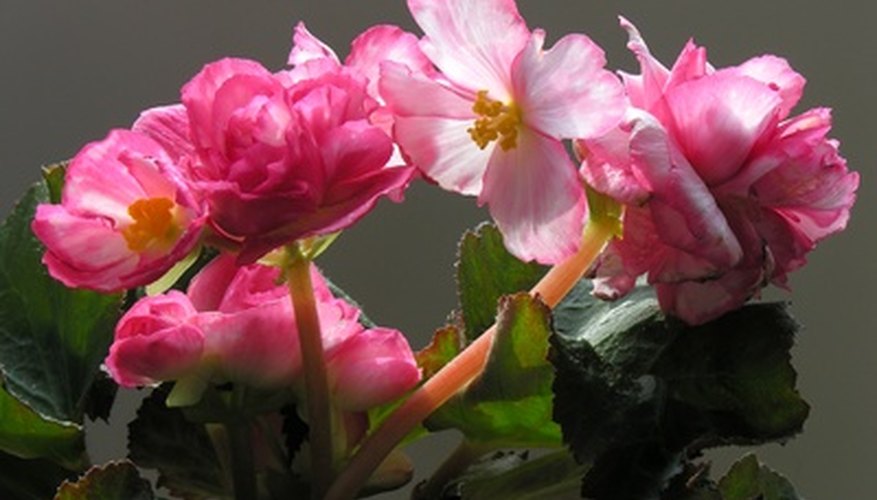 Begonias are tropical flowers that are native to South America, southern Asia and Africa. They grow in a wide variety of bright colors (white, blue, yellow, purple, red, pink and orange), and emit a sweet fragrance. There are dozens of varieties of begonias. Its jagged foliage has a waxy to slightly hairy texture. Begonias flourish in greenhouses year-round, and prefer full shade.
Ferns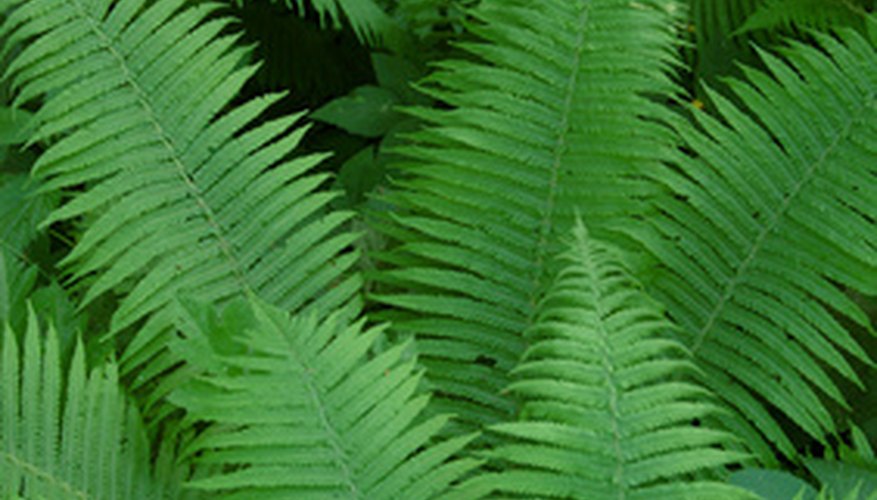 Ferns are tropical jungle plants, but are also popular to grow indoors as houseplants. Ferns flourish in humidity, heat and low lighting, thanks to its natural low-growing place under the jungle canopy. A greenhouse is ideal for this plant, especially when the ferns are misted regularly. Ferns range in color from lime green to almost black-green, with large leaves and various foliage textures. Common greenhouse fern varieties include maidenhair, staghorn and Boston.
Orchids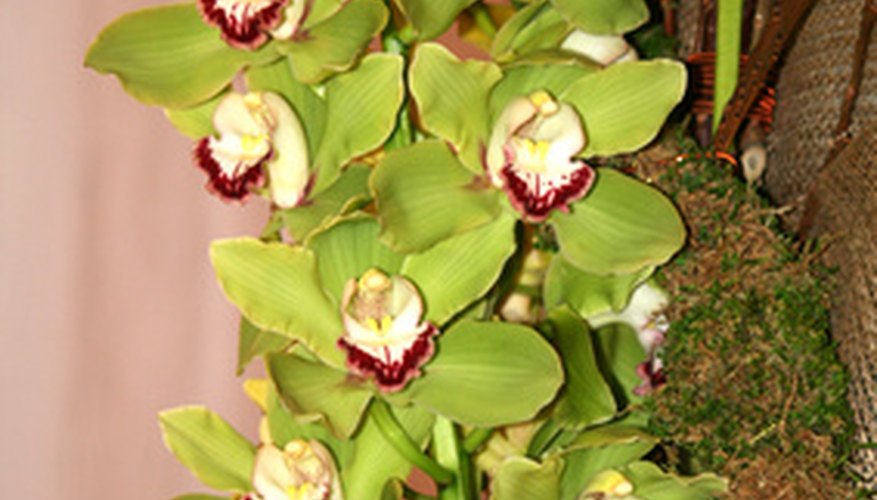 Since orchids are known as one of the most delicate flowers in the garden world, a greenhouse's controlled environment is one of the best places to grow one. Orchids need protection, controlled temperature and special care, so they are best planted in humidity trays in the greenhouse. Choose tropical orchids for the largest, most colorful varieties. Popular greenhouse orchids include the cattleya, phalaenopsis and cymbidium.
Is a Greenhouse Too Hot for Butterflies?
Significance
A greenhouse or conservatory is a miniaturized ecosystem with a controlled environment. Temperature, humidity, soils, watering and plant species are all contrived and maintained per the facility owner's preferences. If plants survive, insects including butterflies also may survive and live in unison.
Features
Greenhouses maintained with temperatures between 70 and 90 degrees Fahrenheit can support butterflies. Window or roof vents, shade cloths and evaporative coolers help lower temperatures in a greenhouse in summer to keep the indoor facility from getting too hot.
Warning
If the greenhouse becomes too hot, such as above 90 to 95 F, butterflies and the plants that provide nectar food or caterpillar forage can wither and die. Water puddles provide needed drinking opportunities for butterflies. Unfortunately, fan blades and strong cross-ventilation breezes can damage wings or crush the insects against a screen.
Greenhouse Tomato Varieties
Geronimo
Geronimo is one of the most widely used beefsteak tomato varieties for greenhouse cultivation. The fruits are round and firm. Geronimo tomatoes display resistance to powdery mildew and can stand being crowded in their growing environment. Geronimo plants bear a lot of fruit, which makes them popular with gardeners.
Cello
A plum/cherry hybrid, cello has a sweet flavor and is resistant to cracking. Used commonly in greenhouse environments, cello has a long shelf life once picked. Gardeners can grow cello tomatoes loose or staked.
Clarance
Clarance is a cluster tomato ideal for greenhouse growing. The tomatoes are firmly attached to the stem. Clarance plants produce a high volume of deep red tomatoes that each weigh about 5 oz. Clarance tomatoes are moderately resistant to end rot and fairly stable producers, which makes them popular with growers.
Trust
Trust is a beefsteak tomato that's been a staple greenhouse tomato for years, according to the University of Florida. The fruit is large and uniformly shaped, and resists cracking. Developed in Holland, the trust tomato has an ideal tomato flavor and the plants produce a large volume.
How to Anchor a Greenhouse
Go to a corner of your greenhouse. Place the drive steel inside the anchor. Strike the drive steel with your hammer to drive it into the ground. Keep hammering until the end of the cable slightly touches the greenhouse base edge.
Grab the drive steel and pull it out of the ground. Insert it into the cable loop and pull the cable out of the soil 2 to 3 inches. Doing this rotates the anchor into a horizontal position, which will lock it into the ground.
Secure the cable wire loop to the greenhouse base. Insert the lag bolt into the driver on the cordless drill. Place the washer over the lag bolt. Screw the lag bolt into the greenhouse base so that the loop in the cable wire is between the washer and the greenhouse base.
Repeat the above steps for the other three corners. Your greenhouse should now be properly secured.
The Best Strawberry Plants for a Greenhouse
Jewel
This variety is patented by Cornell University. Their studies have shown that "Jewel" does quite well in the greenhouse environment. "Jewel" produces large berries and has a moderate yield. According to a Cornell University taste test, the berries scored "very good" for frozen fruit quality. So, what doesn't get devoured at harvest can always be frozen for later use.
Tristar
"Tristar" is a variety that growers prize for its hardiness. Generally disease-resistant, this plant is a workhorse, producing over and over. Since you will be growing them in a greenhouse, the berries could be a nice off-season crop. The berries are smaller than those of "Jewel," but sweeter. "Tristar" was developed by plant scientists with the U.S. Department of Agriculture.
Camarosa
This strawberry plant is a cultivar of the University of California, so will feel right at home in the greenhouse. A high-yielding plant, it produces large, firm berries with a conical shape. "Camarosa" crowns tend to be a bit pricey.
How to Get Rid of Aphids in a Greenhouse
Remove all weeds that are bordering the outside of the greenhouse in a 5- to 10-foot swath. Maintain a weed-free environment inside the greenhouse.
Seal all openings in the greenhouse to minimize the amount of aphids entering the area. Block out aphids' access to the greenhouse with a netting material that has a minimum mesh size of 434 mm, according to the Ontario Ministry of Agriculture. Cover all vents, windows and pipe entrances.
Release biological controls such as Aphidius spp parasitic wasp, Harmonia axyridis and Hippodamia convergens ladybeetle species into the greenhouse to naturally eradicate aphids. These insects can be obtained from many garden stores and nurseries.
Treat the greenhouse plants with chemical controls for faster removal. Spray the plants with a standard garden insecticidal soap if the infestation is light. Mist all exposed surfaces of the plant to smother aphids upon contact. Spray with a commercial garden insecticide formulated with kinoprene or pirimicarb and labeled for use against aphids if the infestation is heavy. Follow the product application guidelines for dosage, since toxicity varies by product.
What Can I Grow in a Greenhouse?
Seedlings
A greenhouse is a great place to start seedlings. Starting seedlings in your greenhouse will give you a head start on the growing season for plants you want to move to an outdoor garden. Starting plants from seeds is also less expensive than purchasing seedlings from a nursery. Keep the plant's final growing destination in mind: While you can start virtually any plant in a greenhouse, some will do better if they are moved outdoors and others will be content to remain in the greenhouse.
Winter Color
Some less hardy plants can be brought into your greenhouse for protection from the cold weather of winter. You also might consider growing some winter flowering plants like pansies or sweet peas to add some winter color to your greenhouse. Depending on the conditions in your greenhouse, you also may force plants that you could bring into your home during the winter months. Many growers like to have tropical plants in their greenhouse; these plants can reward you with flowers and colorful foliage when little else is in bloom.
Vegetables
Many popular salad vegetables--including lettuce, greens and tomatoes--grow very well in a greenhouse. If you want to grow tomatoes in your greenhouse, be sure to choose seeds indicated for greenhouse use. Use newly purchased soil, and sanitize any containers with a solution of bleach and water to prevent the spread of plant diseases. Tomatoes grown in a greenhouse need additional calcium to prevent blossom end rot; try adding bone meal to the soil. Good tomato varieties for greenhouse growing include Miracle Sweet, Trust and Cabernet. The Vidi sweet bell pepper also grows well in a greenhouse. Most early varieties of eggplants do well in a greenhouse. If you would like to grow cucumbers, choose a greenhouse variety that does not require pollination. Basil grows well in a greenhouse; choose a fusarium-resistant variety to avoid problems with this common basil disease.
The Best Color Plastic For a Greenhouse
Colored plastics are not recommended for greenhouses. Reduction or blocking one color from light reaching plants can result in spindly or stunted growth. Use the clearest plastic possible to allow the full spectrum of colors into the greenhouse.
How to Make a Greenhouse in an Attic
Looking for a spot to grow seedlings while the weather is still chilly? An attic is a great place for a greenhouse because it's warm and out of the way of daily activities. Setting up a basic greenhouse is simple enough for a lay person, and you might be able to find most of the materials around the house. The only things you'll probably have to buy are shop lights and full-spectrum grow bulbs.
How to Pollinate Greenhouse Plants
Observe your plants as they flower and start to produce pollen. If you do not already know, research the plant to see if the species in question has separate male and female plants.
Swab a little of the pollen from the stamen carefully with a clean paintbrush.
Apply the pollen to the inside of the flower you want to pollinate. This is called the carpal, or pistil. Some plants are self-fertile, meaning they reproduce without another plant. On these plants, move the pollen from the stamen of a single flower into the pistil of that same flower and it will reproduce. Self-sterile plants require you to use pollen from one plant to stimulate reproduction in a separate plant.
Repeat the process for all of your plants as they come into bloom. Use a separate paintbrush for each species, and wash them well between uses.
How to Insulate Greenhouses
Measure the walls and ceiling of the greenhouse to determine how much bubble wrap will be needed to completely insulate the greenhouse.
Cut the bubble wrap to the appropriate size. Use a utility knife to make a clean, even cuts in the bubble wrap.
Attach the bubble wrap to the walls and ceiling using a staple gun, if the frame of the greenhouse if constructed of wood. If the frame of the greenhouse is made of a form of metal, use adhesive velcro strips to secure the bubble wrap to the walls and ceiling of the greenhouse.
Cut out areas in the bubble wrap for windows and venting systems, and ensure that you secure the bubble wrap around the outline of the window or venting system to provide the best possible insulation.
How to Grow Grass Plugs in a Greenhouse
Fill each cell of the seed-starting tray to within 1/4 inch of the top. Water the soil well and allow the excess water to drain from the bottom.
Sprinkle the seeds in each cell. Apply enough seed so that you can barely see the soil, but don't pile them on top of one another.
Cover the seeds with a light sprinkling of the soil/compost mixture and pat the soil with your hands. This will assure good contact between the seed and the soil.
Place the seeding tray under lights, in an area of the greenhouse where the temperature will remain between 40 and 50 degrees F.
Mist the soil to maintain its moisture. Never allow the seeds to dry out.
How to Maintain a Greenhouse
Choose a dry day in autumn and take everything out of the greenhouse. Wash the inside walls with a mild, biodegradable detergent and warm water. Remove any debris, such as dead leaves or plant markers. Check the floor of the greenhouse to see if you need to replenish pea stones or other ground coverings.
Insulate the greenhouse. Recaulk any areas on the frame where you can feel a draft. Check and replace the foam insulation around the doors and windows as needed.
Wash the benches and shelves with warm, soapy water. Wipe down the outside of plant pots. Before returning the plants to the greenhouse, prune all dead leaves. Water the plants and return them to the greenhouse shelves.
If you use a greenhouse heater, autumn is the time to make sure it is clean and in proper operating condition. If the heater is electric, check the cords and connections. Do not use a heater with a cracked cord or exposed wire. For kerosene heaters, make sure they are clean and running without smoke. Check your fuel supply so you don't run out unexpectedly during the winter.
Clean your tools. Store them in a box in a separate shed or garage.
What Are the 3 Major Greenhouse Gases?
Methane
Methane, which comes from natural gas, landfills and cow flatulence, is one of the top three greenhouse gases, according to the Popular Science website. Methane has a Global Warming Potential (GWP) rating of 21. GWP is determined by how much heat a gas molecule traps, "preventing infrared radiation from escaping the planet," noted Slate magazine writer Brendan I. Koerner.
Carbon Dioxide
Carbon dioxide (CO2), which comes mainly from burning fossils fuels, is one of the top three greenhouse gases. Though not as high on the GWP scale as methane, CO2 accounts for the majority of greenhouse gas emissions in the United States -- 85 percent, noted Koerner. Vehicles are the biggest contributor.
Water Vapor
Surprisingly, the number-one greenhouse gas is steam, or water vapor, which Popular Science says accounts for 36 to 70 percent of greenhouse gases. The water droplets are dense, keeping the earth's radiation from escaping. The warmer it gets, the more water vapor is created and the more radiation absorption takes place. NOAA refers to this as a "positive feedback loop."
Other Greenhouse Gases
Rounding out the top 10 greenhouse gases, as reported by Popular Science, are sulfuryl fluoride, sulfur hexafluoride, hexafluoroethane, trichlorofluoromethane, trifluoromethane, ozone and nitrous oxide.
How to Clean & Disinfect a Greenhouse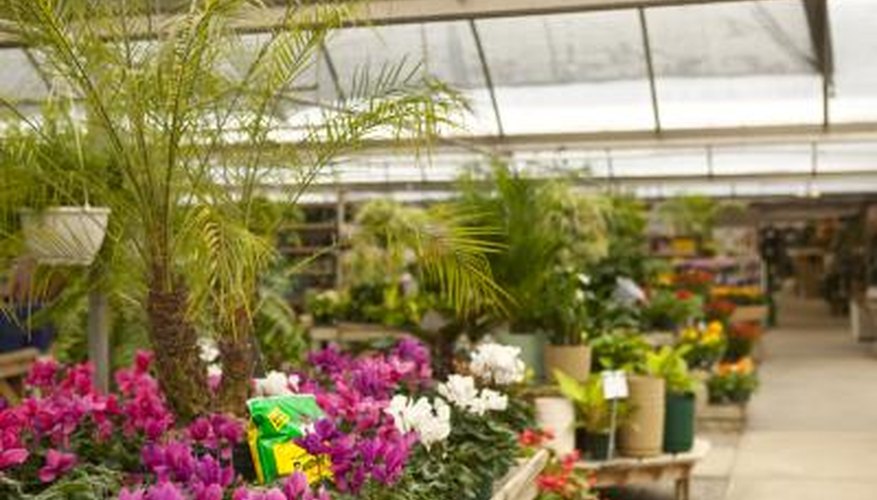 Step 1
Clear the greenhouse of any plants, trees and pots. The chemicals you're going to be dealing with can harm plants. Open any available windows and leave the doors open to air out the greenhouse. Allow circulation while you're dealing with chemicals.
Step 2
Use the razor blade to scrape any mold, dirt or other growths from the inside walls of the greenhouse. Be careful to scrape away any mold or suspicious growth; leaving anything behind can result in regrowth. Discard of the scrapings.
Step 3
Combine equal parts dish or laundry detergent with warm water to make a cleansing solution. Use a cloth, sponge or mop to clean the windows of your greenhouse. Leave the solution to dry on the glass.
Step 4
Mix a second solution of 1/4 cup bleach to 1 gallon of water in your bucket. Wash the panes of glass with the bleach solution to disinfect the greenhouse. Allow the solution to dry for 20 minutes, and then repeat with another disinfecting rinse. Allow the second rinsing to dry for another 20 minutes.
Step 5
Mix a third solution, using 70 percent borate-based laundry or dish soap (check the label for borate) with 30 percent warm water. Use the sponge, cloth or mop to wash the greenhouse windows once again with this solution. Allow the solution to dry to prevent any future mold growth.
Can Any Kind of Plant Grow in a Greenhouse?
Only plants that can survive a warm, wet climate can grow in a greenhouse. A greenhouse keeps the growing climate constant, so plants must not need cold or dry periods to grow.
How Does an Indoor Greenhouse Work?
Light
Greenhouses allow short-wave infrared light into the structure through the glass or plastic windows, and convert the light into longer infrared waves. Those waves are unable to escape the greenhouse, and remain inside, heating the air inside the greenhouse. This can occur by natural sunlight filtering into the structure, or by specially placed fluorescent bulbs or bulbs designed especially for plants.
Heat
Greenhouses hold in heat, as stated above, by not allowing long wave infrared light to escape from the structure. If the structure is well sealed, the temperature can be kept high enough to mimic hot summer and even tropical weather. It can be lowered to suit the needs of just about any plant. Thermometers are necessary when having a greenhouse to make sure the temperature doesn't get too high or too low to sustain the plant life.
Ventilation
A key to maintaining the health of the plants is making sure your greenhouse is properly ventilated. Ventilation can help control the temperature of the greenhouse. Increase the ventilation, and you decrease the temperature as more fresh air from outside the greenhouse is let in, and some of those long wave infrared light waves are let out. Ventilation helps deliver a healthy supply of oxygen to the plants, and good ventilation will help control excess moisture and humidity in the greenhouse, preventing soil mold.
Humidity
By controlling the heat and ventilation in the greenhouse, you can also control the humidity. Greenhouses work to keep in humidity by heating water in the soil of the plants, or in dishes added to your greenhouse specifically for the purpose of increasing humidity. This water evaporates, adding moisture to the air. Add more ventilation, and the greenhouse has less humidity. With less ventilation, the humidity in the greenhouse increase.
How to Grow Greenhouse Roses
Maintain a temperature of 70 degrees F and a humidity level of 60 percent in the greenhouse at all times to ensure the roses will not wilt or form fungus. Check the temperature and humidity regularly with a thermometer and barometer.
Prune all dead rose heads from the plants. Remove all dropped foliage and plant matter from the soil to prevent pests from thriving in the greenhouse.
Feed the roses a rose fertilizer twice during their growing season. Administer the first round of fertilizer as the roses form their first buds. Give the plant more fertilizer after the buds die to replenishe the rose plant for the next season. Follow the fertilizer's label instructions for dosage.
Water the plants consistently to a depth of 1 inch below the soil line after the soil dries out.
How to Grow Greenhouse Tomatoes
Place two to three medium stones at the bottom of the planting pots around the bottom irrigation hole.
Fill the pots with a mixture of half potting soil and half peat moss.
Place the tomato plants into their pots, one plant per pot.
Secure the plants to the ceiling of the greenhouse once they are 10 inches high, to prevent them from tipping.
Prune the plants so that they are growing vertically from one main stem. Remove other lateral branches once they approach 1 inch long.
Fertilize the greenhouse tomatoes two weeks before the first tomato will ripen, two weeks after it ripens, and one month later using a 10-5-10 fertilizer.
Rent or purchase bumblebees to pollinate your plants.
Prevent insects from feeding on the new crop by purchasing some biological control insects. The specific insects vary from region to region. For information on your local varieties, contact your county extension office.
How to Start Your Own Greenhouse
Choose a place to build your greenhouse. The south side of your property is optimal as this will allow for more sunlight. Decide on a design that would suit both your chosen location and intended use. Construct the greenhouse.
Install lighting, fans for ventilation and a watering system into your greenhouse. Install shelving units and tables. Leave 24-inch walkways between each row of shelves and tables to allow room to work. Check installations to ensure that lights, fans and the watering system are functional.
Fill seed trays and pots with potting soil. Place seed trays in the middle of shelving units and young plants along top shelves. Mature plants need to be planted according to their light requirements. Top shelves will receive more light than lower shelves.
How to Grow Tomatoes Year Round in a Greenhouse
Give your tomato seeds a good start by putting their seedling trays over heat mats. Allow your tomato seeds to grow for two to four weeks before transplanting them to 10-gallon pots (that have been disinfected with bleach) filled with fresh potting soil. Add a handful of bone meal to each tomato container to prevent calcium deficiency--a common greenhouse tomato problem.
Provide your greenhouse tomatoes with supplemental light during the winter months. High-pressure sodium lights are best for tomatoes as they stimulate flower and fruit production. Expose your tomatoes to 16 to 18 hours of artificial light per day.
Keep the temperature in your greenhouse between 60 and 90 degrees Fahrenheit. In the cold winter months, this may require some supplemental heating. If your greenhouse is not already heated, you will have to purchase a heater with the correct amount of BTUs for your greenhouse.
Greenhouse Plant Growth
Identification
Greenhouse plant growth usually appears as a lusher, greener, more pest-free crop. When plants are properly cared for in a greenhouse, fruit-bearing plants give more fruit per plant. Greenhouse plant growth can increase the length of the active blooming season of annual plants or delicate flowering plants like orchids.
Considerations
Design affects the growing environment. A greenhouse must be designed to receive enough air and light for plants to grow while limiting environmental changes like humidity fluctuations, temperature fluctuations, pests and parasites. Greenhouse plant growth is best in greenhouses dedicated to and designed for one type of plant, as with commercial greenhouse crops.
Function
Greenhouse grown plants can be planted in the ground, in a soil container, in a self-watering container or in a hydroponic system. With a greenhouse, plants will often use less water and achieve more growth. Types of watering techniques in a greenhouse include hand watering, sprinkler watering, hydroponics and self-watering containers.
Pests
Get rid of greenhouse-invading pests with beneficial insects. Greenhouse pests that can affect plant growth include whitefly, aphids and beetles; friendly insects can kill greenhouse pests. Find out the natural enemy of the pest in your greenhouse and release it inside.
Greenhouse Gas
In a closed-system greenhouse, gases can build up that affect plant growth. Flowers are particularly susceptible to growth problems due to greenhouse gas buildup. If greenhouse flowers begin wilting or dropping leaves, the greenhouse may have an excess of carbon dioxide and sulfur dioxide.
How to Grow Vegetables in Unheated Greenhouses
Fill 3- or 5-gallon pots with premium potting soil formulated for vegetables.
Plant cool-weather crop seeds, such as broccoli, cabbage, carrots, lettuces and radishes. Follow specific planting instructions on seed packets. Plant most seeds 1 inch deep. Make a small indentation with your finger in the middle of the pot's soil. Place the seed in the soil and pack a light layer of soil back over the seed.
Space seeds based on package instructions. Spacing needs vary widely among vegetables. Plant several seeds in one pot. For example, a 3-gallon pot can accommodate up to 20 carrot seeds, following spacing guidelines.
Water daily, unless soil appears moist. Use the finger test to determine moisture. Stick the tip of your finger in the soil. If you feel moisture, skip watering. If dry, add water.
The Best Brand of Fertilizer for Greenhouses
Fertilization in a greenhouse is an important part of healthy plant production. The best fertilizer to use in a greenhouse is a complete formula that contains equal parts of nitrogen, potassium and phosphorous such as 20-20-20.
How to Heat a Mini Greenhouse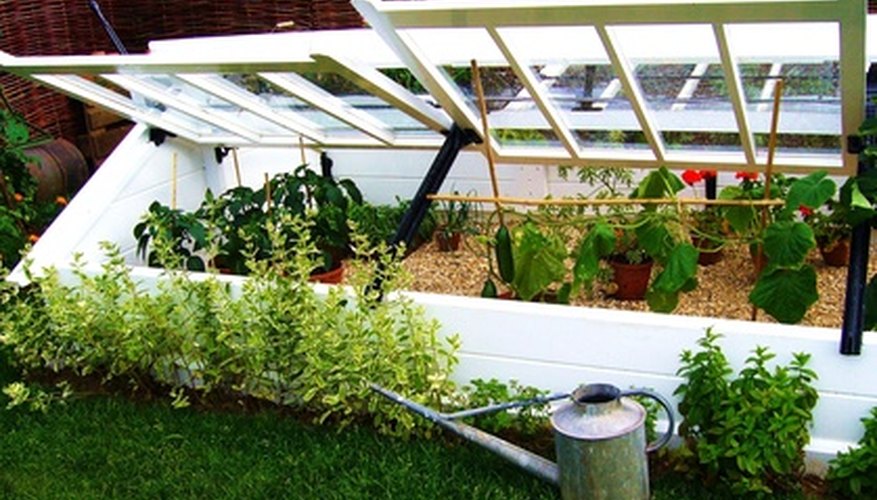 Step 1
Move your mini greenhouse to the south side of a fence or brick wall, which keeps it in the sun and puts the structure between it and the north wind. The structure will reflect heat into the greenhouse as well as absorbing heat throughout the day and radiating it at night. This will help to keep your greenhouse warm.
Step 2
Paint plastic milk cartons black, then fill them with water and place them throughout your mini greenhouse. The black cartons will absorb solar radiation during the day, which will heat the water inside. At night, the warm water will release its heat into the air, which will warm the greenhouse. This technique is known as heating by thermal mass.
Step 3
Cover the exterior of your mini greenhouse with layers of bubble wrap. The bubble wrap will serve as insulation to help hold warm air in the mini greenhouse at night. During daylight hours, the clear bubble wrap will let sunlight pass through to heat the greenhouse.
Step 4
Dig a hole at the mini greenhouse location that is 3 feet square and 18 inches deep. Fill the trench with an equal ratio of manure, such as chicken droppings, and straw. Soak the mixture so that it is as damp as a wrung-out sponge. Cover the trench with the floor of your mini greenhouse. As the manure decomposes, it will release heat to warm the greenhouse.