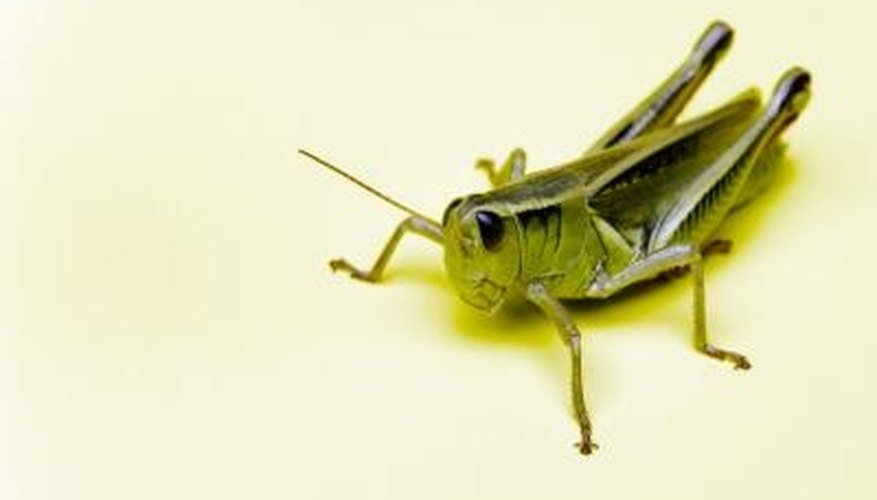 Grasshopper Damage to Roses
Grasshoppers can do significant damage to rose plants. The insects tend to flourish in rural communities and on farmland, as they require relatively large, undisturbed areas to breed, but they can be found in urban areas as well. They breed in tall grass and weeds and feed on roses at night.
Grasshopper Life Cycle
Grasshoppers produce one generation a year. The eggs are laid in the fall and late summer and hatch the following spring. It takes 40 to 60 days for grasshopper nymphs to reach adulthood. Adult grasshoppers are voracious feeders and begin feeding on roses and other plants in July. The insects are capable of a lot of damage to foliage in a short amount of time.
Damage
Although grasshoppers only feed once a season, they leave a rose plant looking ragged. They eat the foliage of the plant, chewing along the sides of the leaves and leaving an irregular border. They may also eat into the center of new shoots, causing them to collapse, and may nibble rose buds, causing damage to the forming petals.
Manual Removal
One method for removing grasshoppers from rose plants is to manually pick them off. This may decrease damage in minor infestations or when you have a small quantity of rose plants. Grasshoppers are most active at night. Using a flashlight, inspect the foliage of the plant. When you find a grasshopper, remove it and drop it into a container of soapy water. The soap in the water will prevent the insect from crawling out of the water.
Chemical Control
If the infestation is major, with grasshoppers doing severe damage, or if you have a large number of rose plants, consider chemical controls. Insecticidal soaps that contain potassium salts of fatty acids as the main ingredient are labeled as effective against grasshoppers. Spraying the plants with a pesticide is another option. Contact your county extension office for pesticide recommendations.
How to Kill Grasshoppers Without Poison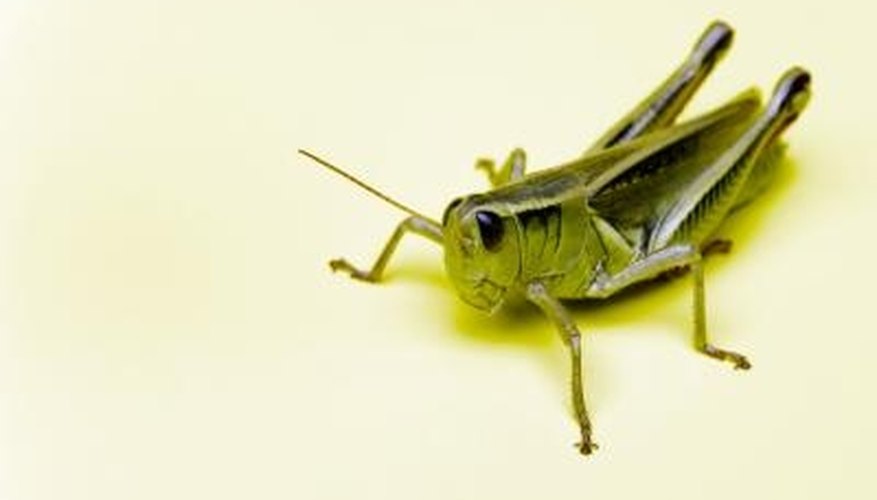 Step on any singular grasshoppers that you see around the lawn or garden. While crushing them will not be an efficient method for large groupings of grasshoppers, it is a quick and easy way of eliminating small numbers.
Introduce natural predators to the lawn or garden. Snakes, cats, toads and some types of birds all feast on grasshoppers and can get their numbers down in your yard. Blister beetles will also devour grasshopper eggs and help prevent the population from growing and spreading.
Apply nosema locustae to the area that is suffering the grasshopper infestation. It is a one-celled parasite that is lethal to grasshoppers when ingested. Grasshoppers will eat the bodies of those infected with it and then become infected themselves. It normally comes premixed in bran meal that will attract the grasshoppers to it.
How to Protect Trees From Grasshoppers
Go to your local garden center and get a pack of nematodes. Nematodes are actually tiny roundworms that will eat any grasshoppers on your property. They are safe to use around children and small pets. Just distribute them near the trees you want to protect.
Sprinkle diatomaceous earth around the base of your tree. This natural dirt contains sharp edges that pierce the skeleton of the grasshopper when the grasshopper jumps on it. This causes the grasshopper to not be able to stay hydrated. The grasshopper will then die.
Blend your habaneros peppers with your water. Pour the mixture into an empty spray bottle. Add liquid castile soap. Spray the mixture around the base of your tree, and on some of the lower leaves. This is an all-natural repellent that will keep the grasshoppers from bothering your trees.
Use a chemical insecticide that contains the ingredient pyrethrin to protect your trees. This will kill any grasshoppers in the area without damaging your tree. Just make sure you follow all of the instructions when applying the insecticide.