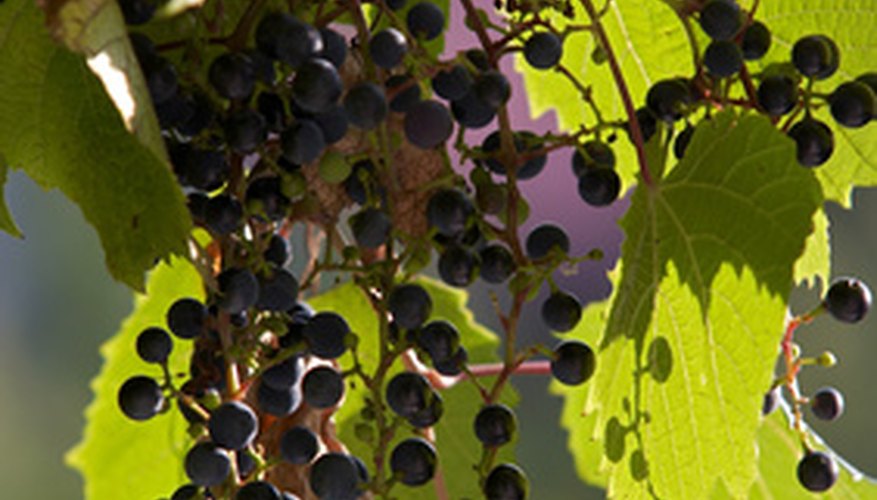 How to Destem Grapes for Wine
Stems in grapes can provide extra tannins when you are fermenting your wine, but they can also alter the flavor in undesirable ways. De-stemming your grapes helps to avoid this problem, and also allows you to closely examine your grapes before fermentation. That way, you can easily discard any imperfect grapes. De-stemming is not difficult, but it is time consuming. Consider inviting friends over and offering them some of the finished product if they help you de-stem your grapes.
Pick up your grapes and gently pull them, one at a time, from their stems. Make sure the entire stem comes away from the grape when you pull. Do not allow tiny pieces of stem to remain.
Place the grapes in a bowl or other large container to be processed in winemaking. Discard the stems, either in the garbage or through composting.
Wear gloves when handling more acidic grape varieties, such as scuppernong. Take care with all grapes, as continued exposure may irritate skin, especially with very acidic varieties.
How to Harvest Muscadine Grapes
Lay a tarp beneath the grape vines once you notice the grapes begin to drop. This usually occurs from mid-September to the end of October.
Shake the grape vines to release the ripe grapes. The grapes that do not fall are not quite ripe.
Bring the four corners of the tarp together and hold them in place while you transport the grapes away from the vine. As long as the corners of the tarp are together, the grapes should not fall out.
Repeat the process every couple of days until the end of harvesting season, usually at the end of October.
How to Grow Grapes in Iowa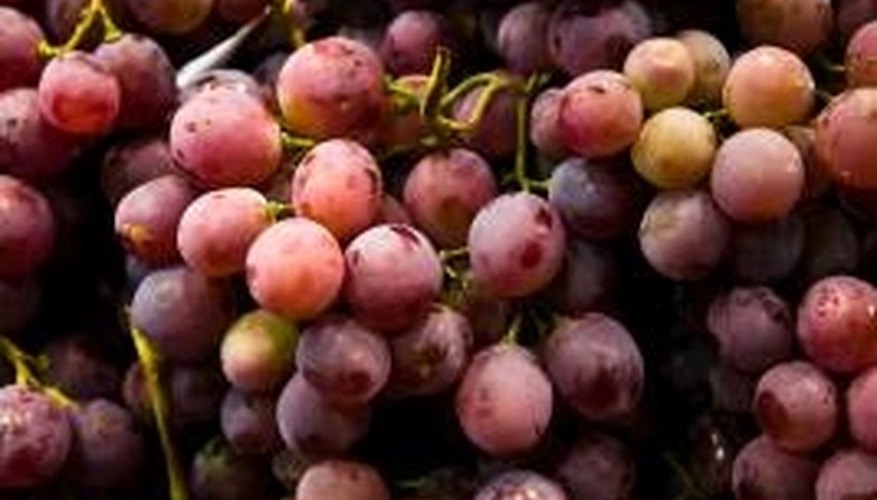 Select a planting site that will afford full sun light and well-drained soil. Grapes tolerate a wide range of soil types, but the pH level should be between 5.5 and 7.5. To lower soil pH, add sulfur, and to raise it add limestone.
Purchase a bare-root, dormant grapevine from a reputable vendor, such as a garden center. Varieties recommended for Iowa include concord, buffalo, vanessa and steuben. If you are gardening in northern Iowa, select a variety with winter hardiness that will ripen early in the season for the best results.
Plant grapevines in late March or early April. If not planted immediately after purchase, keep the roots moist by wetting them and storing the vines in a cool location until planting. Soak the roots in water for two to three hours immediately prior to planting.
Dig a planting hole slightly larger than the root system of the plant. Spread out the roots and set the plant in the ground. Backfill the hole with the original soil, firming the soil as you backfill. Plant multiple grapevines 6 to 8 feet apart.
Cut back the strongest cane to only include three buds and remove all other canes. Set a stake approximately 5 feet tall in the soil near the plant and tie new shoots to it as they emerge.
Supply the plant with one inch of water per week.
How to Grow Grapes for Profit
Pick the type of grape you want to grow. Decide whether you want grow table grapes or wine grapes and plant a variety of them. Remember to pick grapes that will grow best in your climate.
Plant your grapes. Research the best method on how to plant grapes. Grapes need a lot of sun to grow. Therefore, plant your grapes in the sun. If you plant your grapes in the shade, then they can possibly develop a fungal disease. This can harm your potential profits.
Tend to your grapes as they grow. Add supports for your grape vines. This will keep them from touching the ground. It is best to prune grape vines when they're inactive. Care for the wood that the grapes grow on, because grapes grow on year old wood you have properly maintained.
Harvest your grapes. It may take up to four years to produce a profitable yield of grapes. Once the grapes start to turn color you will know they are almost ready. Pick your grapes once they have ripened.
Sell your grapes by coming up with a marketing plan that will maximize your profits. You can make your own wine to sell. There are wine vineyards that you can possibly sell your grapes to. Farmers markets are also another place that you can take your grapes to.
How to Plant Seedless Grapes
Choose an appropriate location to plant your seedless grapes. The vines like full sun and well-drained, slightly acidic soil. (Reference 1)
Plant your seedless grapes in early spring, just as the soil thaws. Dig a hole 8 to 12 inches deep and 1 foot wide. Place the vine in the hole and cover it with soil. Pat the soil down firmly. Space your vines 6 to 8 feet apart. (Reference 1)
Fertilize your seedless grapes with 1/2 cup of water-soluble 10-10-10 fertilizer one month after planting. (Reference 1)
Train your grapes by tying the two strongest leads to a stake or trellis with twine. (Reference 2)
Water your seedless grapes once a week for 10 minutes. (Reference 2)
When to Plant Grapes in Colorado
Grapes should be planted in Colorado in the spring, between April and May. Plant them (and other vines in general) before high temperatures are reached.
How Can I Grow Sweeter Concord Grapes?
Grow concord grapes on a southern slope or next to buildings that face south, as they need long warm days to ripen completely. Avoid planting them on low slopes or by the northern side of buildings.
Water your concord grapes less than you normally do, because they only need a generous watering about every two weeks during the growing season. Too much water encourages inadequate ripening.
Prune the grapevines consistently so they do not tangle or start to droop, which will impede on the ripening process. Prune in early spring. Stake or trellis them and keep them secured high up off the ground.
Drag out the harvesting process as late as you can so the concord grapes have as long a ripening process as possible. The longer they are on the vine before cold weather arrives, the sweeter they will be. Once concord grapes are dark purple, let them stay on the vines for another couple of weeks before picking.
How to Plant Grapes
Types of Fruit Salads
Apple Salads
Apple salads are always in season, with apples available all year round. "The Joy of Cooking" cookbook recommends using a little lemon juice with fresh apples to keep the slices from discoloring. Apples work with protein such as chicken or cheese. A Waldorf salad includes apples, grapes, celery and nuts with a mayonnaise dressing.
Grape Salads
Grapes go well with an olive oil and vinegar dressing, in lettuce cups and with other citrus fruits. Grapes mix well with yogurt, nuts and cheese or strawberries and whipped topping. Grapes have the added advantage of not having to be chopped or peeled.
Citrus Salads
Oranges and grapefruit pair well with avocados, according to "The Joy of Cooking." Citrus slices, layered on lettuce and topped with avocado slices and French dressing, make a good salad. The juice from citrus means a dressing is not always needed.
Melon Salads
Melon baskets are both the container and the salad. The scooped-out melon is mixed with berries, pineapple and grapes, served with a mild fruit balsamic dressing and then spooned back into the empty melon.
Peach Salads
Peaches make a tasty salad with cream cheese and chopped nuts served on watercress with French dressing. Peaches also mix well with sweet onions, tomatoes and shredded cheddar cheese on tortilla chips.
Pear Salads
Mix pear slices, cream cheese, ginger, watercress and grapes, topped with French dressing or a mayonnaise-based dressing. Pears also mix well with apple slices, grapes, strawberries and a light strawberry balsamic dressing for a fresh side dish.
How Many Seeds Are in a Grape?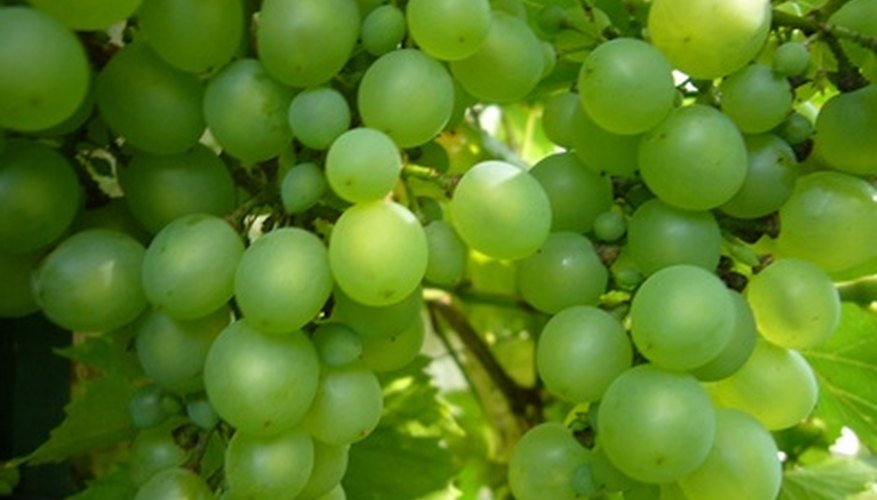 Grapes, during normal growth, develop at least four seeds. However, factors such as variety, environment, soil, nutrients and water affect how many seeds develop during the growth cycle. In seedless grape varieties, which are smaller than seeded grapes, the seed is aborted during the growth cycle.