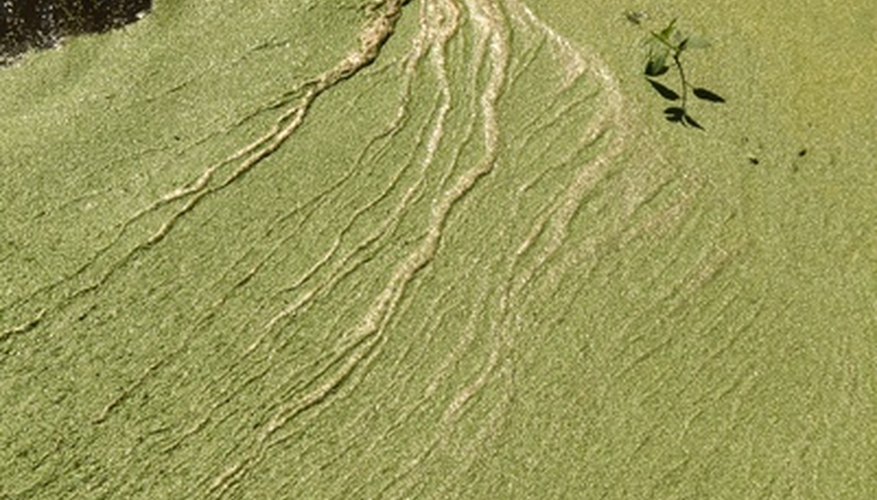 The Effects of Fertilizers on Aquatic Plants
Fertilizers are generally considered an effective tool in the fight for better lawns, vegetables, flowers and fruits. One of the unintended effects of fertilizer is the toll it takes on lakes, ponds and the wildlife they contain. Knowing the effects may cause you to think twice about applying fertilizer near open water.
Oxygen Depletion
Manure and fertilizer, when placed onto a lawn or in a garden, may wash off or drain into a nearby lake, causing oxygen depletion. When nutrients are released from the fertilizer, microorganisms feed on it and grow at a fast rate. As the microorganisms reproduce, their bodies dissolve the oxygen content of the water they're living in. This causes other plants and animals to die away over time.
Weed Growth
Fertilizers may also cause the excited growth of both aquatic plants and weeds. One pound of phosphorous added to lake or pond water can produce more than 100 lbs. of new aquatic plant life, which will compete with other plants and animals for oxygen. Also, algae may grow in the water with the addition of fertilizer. Blue-green algae can be toxic to humans, causing skin rashes, stomach and respiratory problems. It can also kill livestock that comes in contact with it.
Ammonia Toxicity
Fresh manure fertilizer contain ammonia, which can wash off into water supplies. Ammonia is toxic to wildlife, destroying their ability to absorb oxygen from the water. If enough plants die, this will kill the ecosystem for any fish living in the water, starving them to death. High enough volumes of ammonia will kill fish without starvation.
The Importance of Fertilizers to Farmers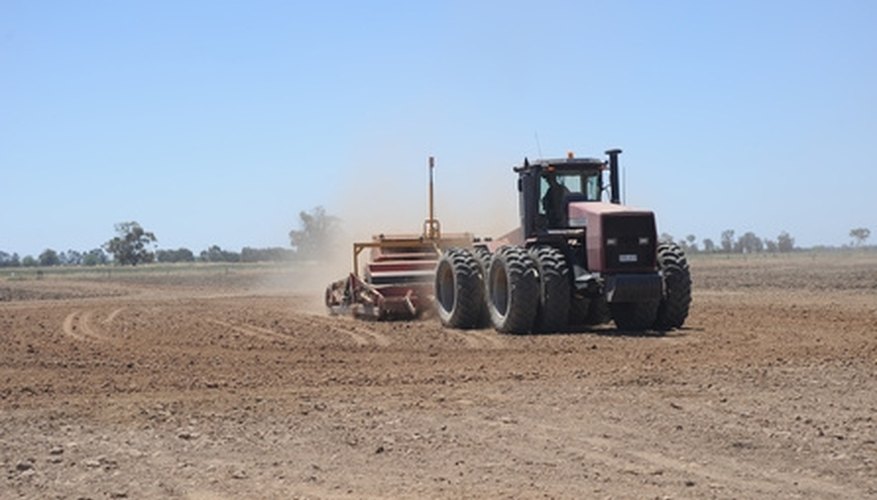 Benefits
Just like humans need nutrients and minerals, so do plants. Fertilization can produce a healthier crop that is able to withstand the effects of crop diseases and pests.
Chemical and Organic
Crop fertilization can be achieved by using chemical or organic fertilizers. Most chemical fertilizers are composed of a combination of phosphorus, potassium and nitrogen. Organic fertilizers include compost, manure, grass clippings or decaying leaves. A benefit of chemical fertilizers is that they work quickly, while organic fertilizers may be better for the environment.
Price Considerations
Fertilizers are expensive. A farmer must consider the amount of fertilizer that will be required for his particular crop. Some crops, such as corn, require a greater amount of fertilizer than other row crops.
Soil Analysis
A farmer's soil should be analyzed for pH balance, phosphorus and potassium levels. A soil that is already rich with these will not need fertilizer containing these ingredients.
Regulations
In America, all states have fertilizer regulatory programs protecting consumers and regulating quality standards. Most programs are administered by the state department of agriculture.
Who Discovered Fertilizers & Pesticides?
Uses of Fertilizer and Pesticides
Fertilizers and pesticides are used to promote healthy plant growth. Both fertilizers and pesticides have been employed by farmers for almost as long as people have been farming.
Who Discovered Fertilizer?
Fertilizer has been around as long as people and animals have been around. In its earliest form, fertilizer was made from animal manure. People simply took the manure from their farm animals and spread it on their crops. In modern days, people use fertilizers that contain nutrients that are essential for the growth of plants, like nitrogen.
Justus von Liebig
Justus von Liebig can be credited with creating some of the first chemical fertilizers, along with his research partner Friedrich Wohler. These men came up with the prototypes for nitrogen-based fertilizers. Many of the theories Liebig and Wohler worked on are still applied in modern-day fertilizers.
Who Discovered Pesticides?
Pesticides, like fertilizers, have been around for a long time. One of the first documented uses of pesticides was in 2500 BC, when people would dust their plants with sulfur to get rid of the insects in their crops.
Problems with Pesticides
Pesticides can contain chemicals that can be harmful to some plants. When used too much, pesticides can even kill plants. Some producers are working with pesticides that contain natural ingredients that are less harmful to the plants. Pesticides also come with instructions concerning how often they should be used, which, when heeded, can help minimize the damage to plants.
Lawn Fertilizer Facts
Purpose
A healthy, well-fed lawn is resistant to drought and disease, weed and insect invasion. A soil test will help determine what nutrients are present or missing from your soil.
Components
Lawn fertilizers contain the components nitrogen, phosphorus and potassium, usually listed as "NPK." Nitrogen (N) promotes green, above-ground growth, phosphorus (P) feeds the roots and potassium (K) aids in photosynthesis and root development.
Fast or Slow Release Nitrogen
Fertilizers contain "fast release" or "slow release" nitrogen. The University of Illinois Extension suggests: "For lawns, fertilizers containing controlled-release nitrogen sources are suggested for most applications."
When to Feed
Lawns should be fertilized in spring and fall. Spring fertilizers help lawns "green up" quickly while fall fertilizers build strong roots for winter resiliency.
Forms
Several forms of fertilizer are available, including liquid and granular. Liquid fertilizers are fast acting, but granular formulas are easier to measure and apply.
What Is Fertilizer Made of?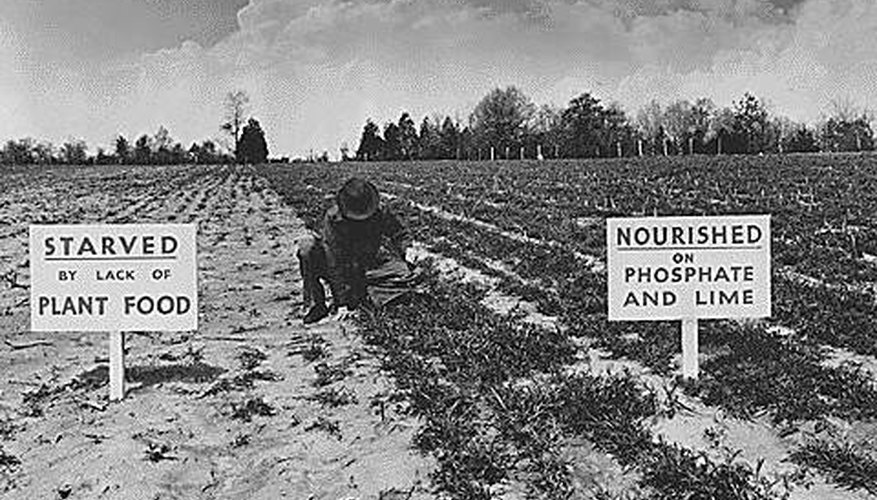 History
Ancient humans used decomposing matter to encourage their crops, but the first manufactured fertilizer was an early 19th century "super-phosphate," made of bones and sulfuric acid. Chemical fertilizers developed by the Tennessee Valley Authority revolutionized fertilizer production.
Features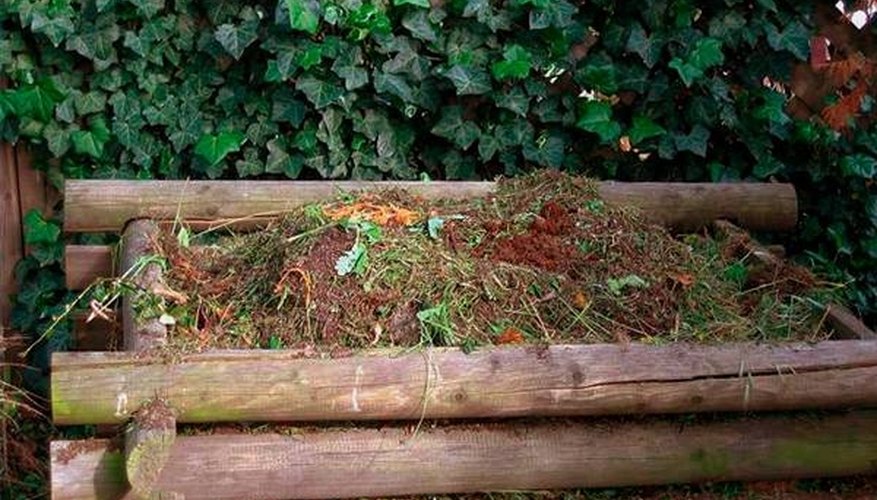 Modern fertilizer is manufactured or processed in liquid or dry forms and applied with water or broadcast from mechanical "spreaders." Slow-release forms minimize fertilizer "burn," or overfeeding.
Types
Fertilizers may be chemical, using ammonia nitrates and phosphates, granular urea or other chemicals and minerals. Organic fertilizers use decaying plants, fish, bone or other animal waste.
Components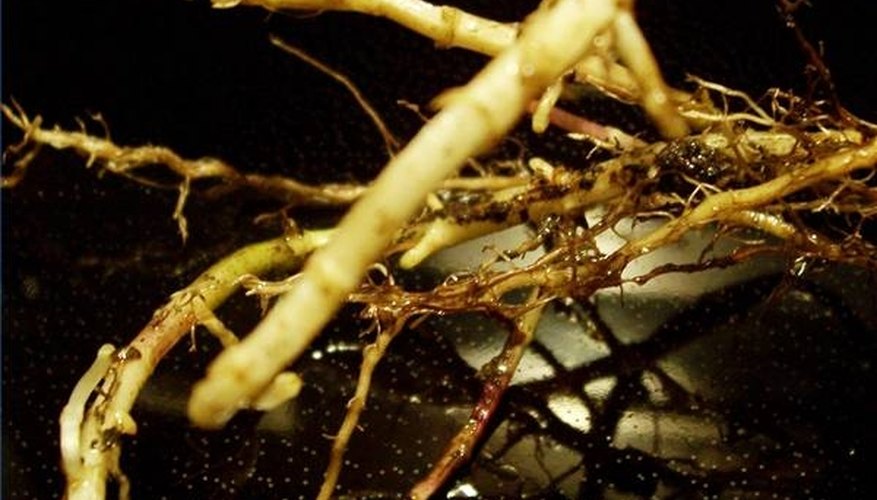 Commercial and homemade fertilizers contain nitrogen, phosphorus and potassium (N-P-K) mixed in proportion to function. Limestone and nitrates are often added as soil conditioners.
Benefits
Nutrients benefit different aspects of growth. Nitrogen and potassium encourage basic plant growth. Potassium promotes root growth, and phosphorous aids growth and fruiting (blooms). N-P-K numbers on packaging guide gardeners to the proper use of different blends.
Warning
Time fertilizers right to avoid overfeeding or "burning" plants. Overfeeding can contaminate groundwater and cause harmful plant growth in waterways.
How to Treat Organic Soil in a Greenhouse
Make or buy compost. Compostable materials include farm animal manure, straw, pesticide free crop residues or fruit and vegetable waste, grass clippings, sawdust or wood waste, newspaper, and leaves. Consider adding plants culled in the process of selecting strong, healthy plants to your compost pile. As long as your culled plants go into a frequently turned compost pile or composting system, you should have no problems with weeds.
Mix your compost with soil and other soil augmenters. Although you can grow directly in compost, most seeds, seedlings, and plants do better with soil mixes optimized for the type and age of the plant. Soil augmentation can include sand, sphagnum moss, perlite, vermiculite or coir fiber.
Add organic fertilizers as needed. Although compost offers good soil nutrition, some plants do better with additional fertilization. Common greenhouse organic fertilizers include meals, like alfalfa, blood, cottonseed, and fish meal. Dried manure and bat guano are commonly used to augment greenhouse soils as are things like rock phosphate, wood ash, and worm casings. If you need organic, water soluble fertilizers, use fish or kelp emulsion.
Why Do We Use Fertilizers?
Nutrition
Like animals, plants require nutrients to live. A plant that regularly gets needed nutrients will thrive and tend to be bigger, healthier and more resilient to disease. A nutrient-deprived plant will be smaller and more susceptible to the ravages of disease and other ailments. Most of these nutrients are taken from the soil. The most important nutrients are nitrogen, phosphorus, potassium, sulfur, magnesium and calcium. Others, however, need to be present in small amounts for the plant to be healthy.
Soils
Soils that naturally contains all the nutrients that plants need in the correct amounts are rare. Because plants use these nutrients, they can quickly be depleted from the soi. To offset this, replenishing fertilizers can be added to restock the nutrients.
Advantages
By using fertilizers, farmers are able to grow more food on far less land, and this minimizes the environmental impact of farming and makes it less expensive and easier to feed larger populations.
Criticisms
Fertilizers are not without their critics. Excessive fertilization can damage plants, and many of the chemicals used in fertilizers can be hazardous if humans or animals are exposed to them in large amounts. In large amounts, fertilizers can pollute water supplies because of runoff from rain. Some proponents of organic agriculture argue for replacing industrially produced fertilizers with alternatives more analogous to naturally occurring substances.