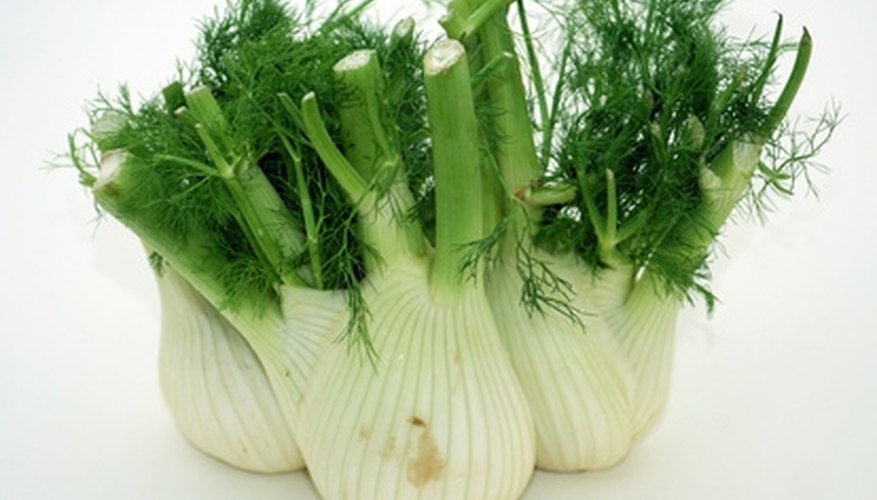 How to Grow Fennel in Pots
Fennel (Foeniculum vulgare) is a hardy perennial herb that typically is grown as an annual. Fennel seeds and young leaves are used in a wide variety of cuisine as a spice. Fennel plants usually are grown from seed. The plants don't handle transplanting very well after they're more than 5 inches tall. Fennel can be grown easily in containers as long as it gets enough light. Growing fennel in pots indoors will allow for the harvest of herbs year-round.
Fill a 12-inch-diameter planter pot that has drainage holes in the bottom with well-draining, moderately fertile potting soil. Place two to three fennel seeds on the soil surface. Cover the seeds lightly with ¼ of an inch of potting soil.
Water the potting soil to evenly moisten it. Set the planter pot in full sunlight in a south-facing window or outdoors if all danger of frost has passed.
Water the potting soil once or twice each week to keep it evenly and moderately moistened at all times. Don't allow the soil to dry out while the fennel seeds are germinating, which usually takes eight to 12 days.
Thin the fennel seedlings to select the strongest one to remain in the pot after the seedlings are about 1 to 2 inches tall. Gradually reduce watering the fennel to only once every two weeks as it becomes established.
Begin to harvest the fennel leaves when the plants are about 6 inches tall, picking off only the top 2 inches of leaves. Harvest the seeds as soon as they turn from green to brown, which usually takes about 65 to 70 days. Remove the fennel plant heads and place them upside-down in a paper bag until they dry.
How to Trim Fennel
Cut the stalks off at the soil level if you are leaving the bulbs in the ground. Otherwise, dig up the entire bulb and bring the whole plant inside.
Rinse any dirt or debris off the fennel in cool, running water. Trim off any roots attached to the bulb with a sharp knife.
Cut the stalks off the bulb if you harvested the entire plant. Trim the feather-like leaves off the top of each stalk then cut the stalks into small slices.
Cut off the root end of the fennel bulb. Slit one side of the fennel bulb with a knife and peel of the layer, similar to peeling an onion.
Cut the bulb into quarters or into slices, depending on what your recipe calls for. Store the trimmed bulbs, stalks and leaves in the refrigerator for five to seven days.
What to Do With Fennel Frond Stems?
Serve Them In Recipes
Fennel fronds and stems are edible, according to the website NPR. The stalks have a fibrous texture like celery and can be added to salads. Add fennel fronds to dishes such as sea bass to give the dish a Mediterranean flavor.
Use Them as a Flea Repellent
The website Green Living Ideas suggests using fennel as a flea repellent. Rub the fronds and stems all over your pet. The strong smell will naturally repel fleas.
Bottom Line
Fennel fronds and stems are useful as garnishes, tasty in salads and add flavor to soups. Most importantly, they are rich in B vitamins, potassium and fiber. They may be useful in reducing cholesterol and preventing some kinds of cancer, according to The World's Healthiest Foods website. While rubbing them on your pet might keep fleas at bay, you'll find it more yummy to add these vegetables to your diet--you'll increase your culinary expertise and keep a bit more healthy.
Fennel (Foeniculum vulgare)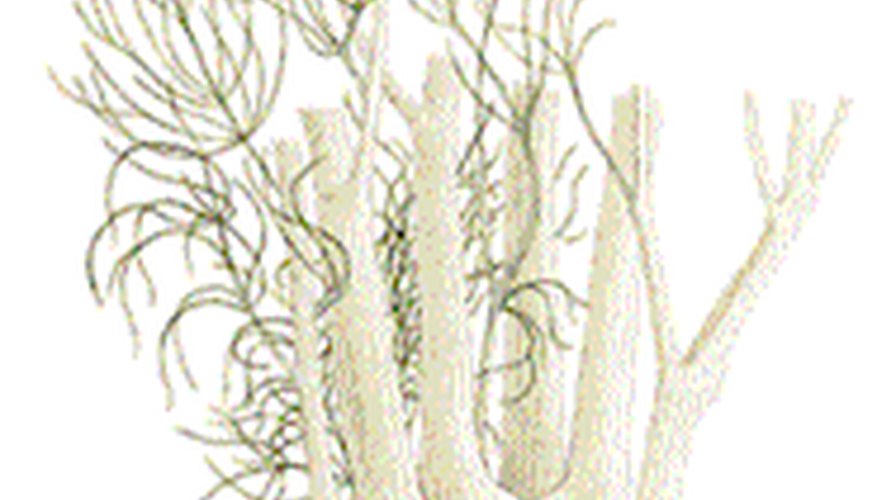 With its umbels of tiny yellow flowers and dark green or bronze wispy leaves, fennel is a decorative addition to the herbaceous border where it makes a good background plant. Be warned, however, that many other plants dislike fennel and grow poorly when forced to share space with this strong herb. Never plant fennel near coriander or dill.
Cultivation
Fennel will grow in most any soil, but the richer the soil, the more tender the foliage. Seeds should be sown directly in the garden in the late spring. Seedlings do not transplant well. The deep taproots are difficult to pull up, so remove unwanted seedlings while young. The plant will self-sow generously. To maintain a continuous supply of fresh leaves throughout the season, sow a few seeds every 10 days. If seeds are not desired, remove flowerheads to promote bushier growth. Fennel can be grown as an annual, although the established roots will overwinter easily. Divide roots in fall after the seeds have been harvested.
Culinary Uses
Use the leaves with pork, veal and fish. They are also good in fish stock, sauces and stuffings, and in mayonnaise, flavored butters and salad dressings. The dried stalks are placed under grilled or barbecued fish. The seeds are used as a spice, particularly in breads. At the two-leafed stage, the seedlings make a pungent salad, reminiscent of mustard.
Culinary Oils and Vinegars
Mediterranean Vegetables with Tahini
A tea made with a few fresh sprigs of fennel or a level teaspoon of seeds will relieve indigestion. An infusion of the seeds is an excellent carminative, especially for babies. Use 1 teaspoon (5ml) of infusion for colic and gas.
Fennel is an effective treatment for respiratory congestion and is a common ingredient in cough remedies.
A tea made from fennel helps to stimulate the flow of breast milk. It is sometimes added to baby formula to aid digestion.
An infusion makes a soothing eyewash.
Other Uses
Chew the seeds as a breath freshener.
How to Plant the Herb Fennel
Choose a spot in your garden that has rich, well-drained soil and full sun. Improve your soil by working in 3 to 4 inches of compost or manure per square foot to a depth of 5 to 6 inches.
Prepare the area by raking the soil.
Sprinkle fennel seeds into the soil about 18 inches apart and cover with ¼ inch of soil.
Water the fennel until the soil is moist.